Abstract
Purpose
We aimed to explore whether sarcopenia diagnosed with the third lumbar vertebra skeletal muscle index (L3 SMI) can be a predictor of prognosis for colorectal cancer (CRC) patients.
Methods
A systematic review and meta-analysis was conducted using PubMed, Embase, and the Web of Science databases. All original comparative studies published in English that were related to sarcopenia versus non-sarcopenia in non-metastatic CRC patients based on postoperative and survival outcomes were included. Data synthesis and statistical analysis were carried out using Stata software.
Results
A total of 12 studies including 5337 patients were included in our meta-analysis. In our overall analyses of postoperative outcomes, we indicated that CRC patients with sarcopenia would have longer hospital stays, higher incidence of total postoperative morbidity (OR = 1.70, 95% CI = 1.07–2.70, P < 0.01), mortality (OR = 3.45, 95% CI = 1.69–7.02, P < 0.01), and infection (OR = 2.21, 95% CI = 1.50–3.25, P < 0.01) but not anastomosis leakage or intestinal obstruction when compared to non-sarcopenia patients. Regarding survival outcomes, our results showed that sarcopenia predicted a decreased overall survival (HR = 1.63, 95% CI = 1.24–2.14, P < 0.01), disease-free survival, and cancer-specific survival for non-metastatic CRC patients. Moreover, our subgroup analyses showed similar tendency with our overall analyzed results.
Conclusions
Sarcopenia diagnosed with L3 SMI can be a negative predictor of postoperative and survival outcomes for non-metastatic CRC patients. Prospective studies with a uniform definition of sarcopenia are needed to update our findings.
Access options
Buy single article
Instant access to the full article PDF.
USD 39.95
Price excludes VAT (USA)
Tax calculation will be finalised during checkout.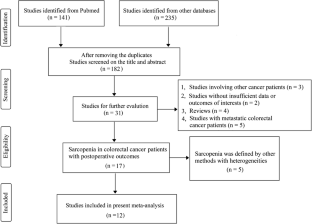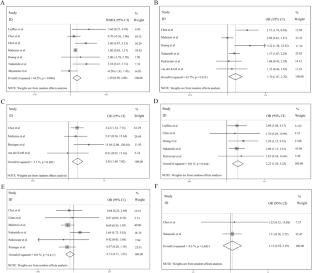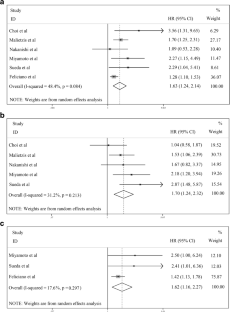 References
Siegel RL, Miller KD, Jemal A (2017) Cancer statistics, 2017. CA Cancer J Clin 67(1):7–30. https://doi.org/10.3322/caac.21387

Dornfeld M, Lovely JK, Huebner M, Larson DW (2017) Surgical site infection in colorectal surgery: a study in antibiotic duration. Dis Colon Rectum 60(9):971–978. https://doi.org/10.1097/DCR.0000000000000807

Eto K, Urashima M, Kosuge M, Ohkuma M, Noaki R, Neki K, Ito D, Takeda Y, Sugano H, Yanaga K (2018) Standardization of surgical procedures to reduce risk of anastomotic leakage, reoperation, and surgical site infection in colorectal cancer surgery: a retrospective cohort study of 1189 patients. Int J Color Dis 33:755–762. https://doi.org/10.1007/s00384-018-3037-3

Takahashi H, Haraguchi N, Nishimura J, Hata T, Yamamoto H, Matsuda C, Mizushima T, Doki Y, Mori M (2018) The severity of anastomotic leakage may negatively impact the long-term prognosis of colorectal cancer. Anticancer Res 38(1):533–539. https://doi.org/10.21873/anticanres.12255

Chapman SJ, Pericleous A, Downey C, Jayne DG (2018) Postoperative ileus following major colorectal surgery. Br J Surg 105:797–810. https://doi.org/10.1002/bjs.10781

Aoyama T, Oba K, Honda M, Sadahiro S, Hamada C, Mayanagi S, Kanda M, Maeda H, Kashiwabara K, Sakamoto J, Saji S, Yoshikawa T (2017) Impact of postoperative complications on the colorectal cancer survival and recurrence: analyses of pooled individual patients' data from three large phase III randomized trials. Cancer Med 6(7):1573–1580. https://doi.org/10.1002/cam4.1126

Slankamenac K, Slankamenac M, Schlegel A, Nocito A, Rickenbacher A, Clavien PA, Turina M (2017) Impact of postoperative complications on readmission and long-term survival in patients following surgery for colorectal cancer. Int J Color Dis 32(6):805–811. https://doi.org/10.1007/s00384-017-2811-y

Toiyama Y, Hiro J, Shimura T, Fujikawa H, Ohi M, Tanaka K, Inoue Y, Mohri Y, Kusunoki M (2016) The impact of body mass index on oncological outcomes in colorectal cancer patients with curative intent. Int J Clin Oncol 21(6):1102–1110. https://doi.org/10.1007/s10147-016-1016-7

Caan BJ, Meyerhardt JA, Kroenke CH, Alexeeff S, Xiao J, Weltzien E, Feliciano EC, Castillo AL, Quesenberry CP, Kwan ML, Prado CM (2017) Explaining the obesity paradox: the association between body composition and colorectal cancer survival (C-SCANS Study). Cancer Epidemiol Biomark Prev 26(7):1008–1015. https://doi.org/10.1158/1055-9965.EPI-17-0200

Bianchini F, Kaaks R, Vainio H (2002) Overweight, obesity, and cancer risk. Lancet Oncol 3(9):565–574

Lieffers JR, Bathe OF, Fassbender K, Winget M, Baracos VE (2012) Sarcopenia is associated with postoperative infection and delayed recovery from colorectal cancer resection surgery. Br J Cancer 107(6):931–936. https://doi.org/10.1038/bjc.2012.350

Cruz-Jentoft AJ, Baeyens JP, Bauer JM, Boirie Y, Cederholm T, Landi F, Martin FC, Michel JP, Rolland Y, Schneider SM, Topinkova E, Vandewoude M, Zamboni M, European Working Group on Sarcopenia in Older P (2010) Sarcopenia: European consensus on definition and diagnosis: report of the European Working Group on Sarcopenia in Older People. Age Ageing 39(4):412–423. https://doi.org/10.1093/ageing/afq034

Chen LK, Liu LK, Woo J, Assantachai P, Auyeung TW, Bahyah KS, Chou MY, Chen LY, Hsu PS, Krairit O, Lee JS, Lee WJ, Lee Y, Liang CK, Limpawattana P, Lin CS, Peng LN, Satake S, Suzuki T, Won CW, Wu CH, Wu SN, Zhang T, Zeng P, Akishita M, Arai H (2014) Sarcopenia in Asia: consensus report of the Asian Working Group for Sarcopenia. J Am Med Dir Assoc 15(2):95–101. https://doi.org/10.1016/j.jamda.2013.11.025

Carvalho do Nascimento PR, Poitras S, Bilodeau M (2018) How do we define and measure sarcopenia? Protocol for a systematic review. Syst Rev 7(1):51. https://doi.org/10.1186/s13643-018-0712-y

Mourtzakis M, Prado CM, Lieffers JR, Reiman T, McCargar LJ, Baracos VE (2008) A practical and precise approach to quantification of body composition in cancer patients using computed tomography images acquired during routine care. Appl Physiol Nutr Metab 33(5):997–1006. https://doi.org/10.1139/H08-075

Jin WH, Mellon EA, Frakes JM, Murimwa GZ, Hodul PJ, Pimiento JM, Malafa MP, Hoffe SE (2018) Impact of sarcopenia in borderline resectable and locally advanced pancreatic cancer patients receiving stereotactic body radiation therapy. J Gastrointest Oncol 9(1):24–34. https://doi.org/10.21037/jgo.2017.09.13

Shen Y, Hao Q, Zhou J, Dong B (2017) The impact of frailty and sarcopenia on postoperative outcomes in older patients undergoing gastrectomy surgery: a systematic review and meta-analysis. BMC Geriatr 17(1):188. https://doi.org/10.1186/s12877-017-0569-2

Miller JA, Harris K, Roche C, Dhillon S, Battoo A, Demmy T, Nwogu CE, Dexter EU, Hennon M, Picone A, Attwood K, Yendamuri S (2018) Sarcopenia is a predictor of outcomes after lobectomy. J Thorac Dis 10(1):432–440. https://doi.org/10.21037/jtd.2017.12.39

Rossi S, Di Noia V, Tonetti L, Strippoli A, Basso M, Schinzari G, Cassano A, Leone A, Barone C, D'Argento E (2018) Does sarcopenia affect outcome in patients with non-small-cell lung cancer harboring EGFR mutations? Future Oncol 14:919–926. https://doi.org/10.2217/fon-2017-0499

Stang A (2010) Critical evaluation of the Newcastle-Ottawa scale for the assessment of the quality of nonrandomized studies in meta-analyses. Eur J Epidemiol 25(9):603–605. https://doi.org/10.1007/s10654-010-9491-z

Hozo SP, Djulbegovic B, Hozo I (2005) Estimating the mean and variance from the median, range, and the size of a sample. BMC Med Res Methodol 5:13. https://doi.org/10.1186/1471-2288-5-13

Tierney JF, Stewart LA, Ghersi D, Burdett S, Sydes MR (2007) Practical methods for incorporating summary time-to-event data into meta-analysis. Trials 8:16. https://doi.org/10.1186/1745-6215-8-16

Schmidt FL, Oh IS, Hayes TL (2009) Fixed- versus random-effects models in meta-analysis: model properties and an empirical comparison of differences in results. Br J Math Stat Psychol 62(Pt 1):97–128. https://doi.org/10.1348/000711007X255327

Begg CB, Mazumdar M (1994) Operating characteristics of a rank correlation test for publication bias. Biometrics 50(4):1088–1101

Egger M, Davey Smith G, Schneider M, Minder C (1997) Bias in meta-analysis detected by a simple, graphical test. BMJ 315(7109):629–634

Chen WZ, Chen XD, Ma LL, Zhang FM, Lin J, Zhuang CL, Yu Z, Chen XL, Chen XX (2018) Impact of visceral obesity and sarcopenia on short-term outcomes after colorectal cancer surgery. Dig Dis Sci 63:1620–1630. https://doi.org/10.1007/s10620-018-5019-2

Choi MH, Oh SN, Lee IK, Oh ST, Won DD (2018) Sarcopenia is negatively associated with long-term outcomes in locally advanced rectal cancer. J Cachexia Sarcopenia Muscle 9(1):53–59. https://doi.org/10.1002/jcsm.12234

Feliciano EMC, Kroenke CH, Meyerhardt JA, Prado CM, Bradshaw PT, Kwan ML, Xiao J, Alexeeff S, Corley D, Weltzien E, Castillo AL, Caan BJ (2017) Association of systemic inflammation and sarcopenia with survival in nonmetastatic colorectal cancer: results from the C SCANS Study. JAMA Oncol 3(12):e172319. https://doi.org/10.1001/jamaoncol.2017.2319

Huang DD, Wang SL, Zhuang CL, Zheng BS, Lu JX, Chen FF, Zhou CJ, Shen X, Yu Z (2015) Sarcopenia, as defined by low muscle mass, strength and physical performance, predicts complications after surgery for colorectal cancer. Color Dis 17(11):O256–O264. https://doi.org/10.1111/codi.13067

Malietzis G, Currie AC, Athanasiou T, Johns N, Anyamene N, Glynne-Jones R, Kennedy RH, Fearon KC, Jenkins JT (2016) Influence of body composition profile on outcomes following colorectal cancer surgery. Br J Surg 103(5):572–580. https://doi.org/10.1002/bjs.10075

Miyamoto Y, Baba Y, Sakamoto Y, Ohuchi M, Tokunaga R, Kurashige J, Hiyoshi Y, Iwagami S, Yoshida N, Yoshida M, Watanabe M, Baba H (2015) Sarcopenia is a negative prognostic factor after curative resection of colorectal cancer. Ann Surg Oncol 22(8):2663–2668. https://doi.org/10.1245/s10434-014-4281-6

Nakanishi R, Oki E, Sasaki S, Hirose K, Jogo T, Edahiro K, Korehisa S, Taniguchi D, Kudo K, Kurashige J, Sugiyama M, Nakashima Y, Ohgaki K, Saeki H, Maehara Y (2018) Sarcopenia is an independent predictor of complications after colorectal cancer surgery. Surg Today 48(2):151–157. https://doi.org/10.1007/s00595-017-1564-0

Pedziwiatr M, Pisarska M, Major P, Grochowska A, Matlok M, Przeczek K, Stefura T, Budzynski A, Klek S (2016) Laparoscopic colorectal cancer surgery combined with enhanced recovery after surgery protocol (ERAS) reduces the negative impact of sarcopenia on short-term outcomes. Eur J Surg Oncol 42(6):779–787. https://doi.org/10.1016/j.ejso.2016.03.037

Reisinger KW, van Vugt JL, Tegels JJ, Snijders C, Hulsewe KW, Hoofwijk AG, Stoot JH, Von Meyenfeldt MF, Beets GL, Derikx JP, Poeze M (2015) Functional compromise reflected by sarcopenia, frailty, and nutritional depletion predicts adverse postoperative outcome after colorectal cancer surgery. Ann Surg 261(2):345–352. https://doi.org/10.1097/sla.0000000000000628

Sueda T, Takahasi H, Nishimura J, Hata T, Matsuda C, Mizushima T, Doki Y, Mori M (2018) Impact of low muscularity and myosteatosis on long-term outcome after curative colorectal cancer surgery: a propensity score-matched analysis. Dis Colon Rectum 61(3):364–374. https://doi.org/10.1097/DCR.0000000000000958

van der Kroft G, Bours D, Janssen-Heijnen DM, van Berlo D, Konsten D (2018) Value of sarcopenia assessed by computed tomography for the prediction of postoperative morbidity following oncological colorectal resection: a comparison with the malnutrition screening tool. Clin Nutr ESPEN 24:114–119. https://doi.org/10.1016/j.clnesp.2018.01.003

Rosenberg IH (1997) Sarcopenia: origins and clinical relevance. J Nutr 127(5 Suppl):990S–991S

Liu P, Hao Q, Hai S, Wang H, Cao L, Dong B (2017) Sarcopenia as a predictor of all-cause mortality among community-dwelling older people: a systematic review and meta-analysis. Maturitas 103:16–22. https://doi.org/10.1016/j.maturitas.2017.04.007

Shachar SS, Williams GR, Muss HB, Nishijima TF (2016) Prognostic value of sarcopenia in adults with solid tumours: a meta-analysis and systematic review. Eur J Cancer 57:58–67. https://doi.org/10.1016/j.ejca.2015.12.030

Gani F, Buettner S, Margonis GA, Sasaki K, Wagner D, Kim Y, Hundt J, Kamel IR, Pawlik TM (2016) Sarcopenia predicts costs among patients undergoing major abdominal operations. Surgery 160(5):1162–1171. https://doi.org/10.1016/j.surg.2016.05.002

Lee SJ, Park YJ, Cartmell KB (2018) Sarcopenia in cancer survivors is associated with increased cardiovascular disease risk. Support Care Cancer 26:2313–2321. https://doi.org/10.1007/s00520-018-4083-7

Nipp RD, Fuchs G, El-Jawahri A, Mario J, Troschel FM, Greer JA, Gallagher ER, Jackson VA, Kambadakone A, Hong TS, Temel JS, Fintelmann FJ (2018) Sarcopenia is associated with quality of life and depression in patients with advanced cancer. Oncologist 23(1):97–104. https://doi.org/10.1634/theoncologist.2017-0255

Souza BU, Souza NCS, Martucci RB, Rodrigues VD, Pinho NB, Gonzalez MC, Avesani CM (2018) Factors associated with sarcopenia in patients with colorectal cancer. Nutr Cancer 70(2):176–183. https://doi.org/10.1080/01635581.2018.1412480

Stene GB, Helbostad JL, Balstad TR, Riphagen II, Kaasa S, Oldervoll LM (2013) Effect of physical exercise on muscle mass and strength in cancer patients during treatment—a systematic review. Crit Rev Oncol Hematol 88(3):573–593. https://doi.org/10.1016/j.critrevonc.2013.07.001

Strasser B, Steindorf K, Wiskemann J, Ulrich CM (2013) Impact of resistance training in cancer survivors: a meta-analysis. Med Sci Sports Exerc 45(11):2080–2090. https://doi.org/10.1249/MSS.0b013e31829a3b63

Baracos VE (2015) Skeletal muscle anabolism in patients with advanced cancer. Lancet Oncol 16(1):13–14. https://doi.org/10.1016/S1470-2045(14)71185-4

Murphy RA, Mourtzakis M, Chu QS, Baracos VE, Reiman T, Mazurak VC (2011) Nutritional intervention with fish oil provides a benefit over standard of care for weight and skeletal muscle mass in patients with nonsmall cell lung cancer receiving chemotherapy. Cancer 117(8):1775–1782. https://doi.org/10.1002/cncr.25709

Qiu MZ, Pan WT, Lin JZ, Wang ZX, Pan ZZ, Wang FH, Yang DJ, Xu RH (2018) Comparison of survival between right-sided and left-sided colon cancer in different situations. Cancer Med 7:1141–1150. https://doi.org/10.1002/cam4.1401
Ethics declarations
Conflict of interest
The authors declare that they have no conflict of interest.
Ethical approval
This article does not contain any studies with human participants or animals performed by any of the authors.
Informed consent
No informed consent.
About this article
Cite this article
Sun, G., Li, Y., Peng, Y. et al. Can sarcopenia be a predictor of prognosis for patients with non-metastatic colorectal cancer? A systematic review and meta-analysis. Int J Colorectal Dis 33, 1419–1427 (2018). https://doi.org/10.1007/s00384-018-3128-1
Accepted:

Published:

Issue Date:

DOI: https://doi.org/10.1007/s00384-018-3128-1
Keywords
Sarcopenia

Colorectal cancer

Skeletal muscle mass

Meta-analysis