Abstract
Background
Periodontitis is a frequently cited extraintestinal manifestation of Crohn's disease (CD). Despite a plethora of investigations and a recent meta-analysis linking CD and periodontitis, no study has estimated the risk of periodontitis among CD patients with respect to a comparison group nor has any investigation analyzed the effect of CD-specific medications on the risk of periodontitis. The present cohort study compared CD patients and matched subjects without a history of inflammatory bowel disease (IBD) to estimate the effect of CD and CD-specific pharmaceutical prescriptions on the risk of developing periodontitis by leveraging a population-based dataset in Taiwan.
Methods
We sourced 6657 CD patients and 26,628 comparison subjects without a history of IBD from the Taiwan National Health Insurance Database. Cox proportional hazards regressions were used to estimate the risk of subsequent periodontitis by CD status and pharmaceutical prescription during the follow-up period.
Results
After adjusting for socioeconomic status (SES), urbanicity, selected medical co-morbidities, and CD-specific pharmaceutical prescriptions, the hazard ratio (HR) for subsequent periodontitis among patients with CD was 1.36 (95% CI = 1.25–1.48) that of comparison subjects. There was not a significant difference in risk between genders or across ages. Steroids (95% CI = 0.66–0.77) appeared to confer a protective effect and Aspirin, Plavix, and Licodin were marginally protective (95% CI = 0.76–0.95).
Conclusion
This is the first study to report an increased HR for subsequent periodontitis among CD patients when compared to matched comparison subjects without IBD. The protective effect of some pharmaceuticals may suggest that treatment of CD protects against periodontitis.
Access options
Buy single article
Instant access to the full article PDF.
USD 39.95
Price includes VAT (USA)
Tax calculation will be finalised during checkout.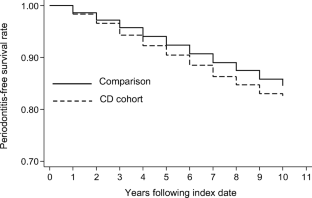 References
1.

Molodecky NA, Soon IS, Rabi DM, Ghali WA, Ferris M, Chernoff G, Benchimol EI, Panaccione R, Ghosh S, Barkema HW, Kaplan GG (2012) Increasing incidence and prevalence of the inflammatory bowel diseases with time, based on systematic review. Gastroenterology 142:46–54.e42

2.

Knowles SR, Graff LA, Wilding H et al (2018) Qu ality of life in inflammatory bowel disease: a systematic review and meta-analyses—part I. Inflamm Bowel Dis 19(24):742–751

3.

Everhart JE, Ruhl CE (2009) Burden of digestive diseases in the United States. Part I: overall and upper gastrointestinal diseases. Gastroenterology 136:376–386

4.

Jostins L, Ripke S, Weersma RK et al (2012) Host-microbe interactions have shaped the genetic architecture of inflammatory bowel disease. Nature 491:119–124

5.

Chandan JS, Thomas T et al (2017) The impact of inflammatory bowel disease on oral health. Br Dent J 222:549–553

6.

Williams H, Walker D, Orchard TR (2008) Extraintestinal manifestations of inflammatory bowel disease. Curr Gastroenterol Rep 10:597–605

7.

Papageorgiou SN, Hagner M, Nogueira AV et al (2017) Inflammatory bowel disease and oral health: systematic review and a meta-analysis. J Clin Periodontol 44:382–393

8.

Brandtzaeg P (2001) Inflammatory bowel disease: clinics and pathology. Do inflammatory bowel disease and periodontal disease have similar immunopathogeneses? Acta Odontol Scand 59:235–243

9.

Kinane DF, Bartold PM (2007) Clinical relevance of the host responses of periodontitis. Periodontology 2000(43):278–293

10.

Indriolo A, Greco S, Ravelli P, Fagiuoli S (2011) What can we learn about biofilm/host interactions from the study of inflammatory bowel disease. J Clin Periodontol 38:36–43

11.

Pischon N, Pischon T, Gülmez E et al (2010) Periodontal disease in patients with ankylosing spondylitis. Ann Rheum Dis 69:34–38

12.

Preus HR, Khanifam P, Kolltveit K et al (2010) Periodontitis in psoriasis patients. A blinded, case-controlled study. Acta Odontol Scand 68:165–170

13.

Lira-Junior R, Figueredo CM (2016) Periodontal and inflammatory bowel diseases: is there evidence of complex pathogenic interactions? World J Gastroenterol 22:7963–7972

14.

Pihlstrom BL, Michalowicz BS, Johnson NW (2005) Periodontal diseases. Lancet 366:1809–1820

15.

Listgarten MA (1986) Pathogenesis of periodontitis. J Clin Periodontol 13:418–430

16.

Vavricka SR, Manser CN, Hediger S et al (2013) Periodontitis and gingivitis in inflammatory bowel disease: a case-control study. Inflamm Bowel Dis 19:2768–2777

17.

Keller JJ, Wang J, Hwang YL, Chou CC, Wang LH, Hsu JL, Bai CH, Chiou HY (2015) Increased risk of stroke among patients with Crohn's disease: a population-based matched cohort study. Int J Color Dis 30:645–653

18.

Keller JJ, Wang J, Huang YL, Chou CC, Wang LH, Hsu JL, Bai CH, Chiou HY (2014) Increased risk of stroke among patients with ulcerative colitis: a population-based matched cohort study. Int J Colorectal Dis Jul 29:805–812

19.

Yu HC, Su NY, Huang JY, Lee SS, Chang YC (2017) Trends in the prevalence of periodontitis in Taiwan from 1997 to 2013: a nationwide population-based retrospective study. Medicine (Baltimore) 96:e8585

20.

Dudeney TP (1969) Crohn's disease of the mouth. Proc R Soc Med 62:1237

21.

Ojha J, Cohen DM, Islam NM, Stewart CM, Katz J, Bhattacharyya I (2007) Gingival involvement in Crohn disease. J Am Dent Assoc 138:1574–1181 quiz 1574-181

22.

Brito F, de Barros FC, Zaltman C et al (2008) Prevalence of periodontitis and DMFT index in patients with Crohn's disease and ulcerative colitis. J Clin Periodontol 35:555–560

23.

Ruiz-Roca JA, Berini-Aytés L, Gay-Escoda C, Pyostomatitis vegetans (2005) Report of two cases and review of the literature. Oral Surg Oral Med Oral Pathol Oral Radiol Endod 99:447–454

24.

Preshaw PM, Alba AL, Herrera D et al (2012) Periodontitis and diabetes: a two-way relationship. Diabetologia 55:21–31

25.

Habashneh RA, Khader YS, Alhumouz MK, Jadallah K, Ajlouni Y (2012) The association between inflammatory bowel disease and periodontitis among Jordanians: a 27 case-control study. J Periodontal Res 47:293–298

26.

Menegat JS, Lira-Junior R, Siqueira MA et al (2016) Cytokine expression in gingival and intestinal tissues of patients with periodontitis and inflammatory bowel disease: an exploratory study. Arch Oral Biol 66:141–146

27.

Figueredo CM, Brito F, Barros FC, Menegat JSB, Pedreira RR, Fischer RG, Gustafsson A (2011) Expression of cytokines in the gingival crevicular fluid and serum from patients with inflammatory bowel disease and untreated chronic periodontitis. J Periodontal Res 46:141–146

28.

Gao H, Hou J, Meng H, Zhang X, Zheng Y, Peng L (2017) Proinflammatory effects and mechanisms of calprotectin on human gingival fibroblasts. J Periodontal Res 52:975–983

29.

Schmidt J, Weigert M, Leuschner C et al (2018) Active Matrixmetalloproteinase-8 and periodontal bacteria—interlink between periodontitis and inflammatory bowel disease? J Periodontol [Epub ahead of print]

30.

Haag L-M, Siegmund B (2015) Intestinal microbiota and the innate immune system—a crosstalk in Crohn's disease pathogenesis. Front Immunol 6:489

31.

Boylan MR, Khalili H, Huang ES, Michaud DS, Izard J, Joshipura KJ, Chan AT (2014) A prospective study of periodontal disease and risk of gastric and duodenal ulcer in male health professionals. Clinical and Translational Gastroenterology 5(2):e49

32.

Kaneto C, Toyokawa S, Inoue K, Inoue M, Senba T, Suyama Y, Miyoshi Y, Kobayashi Y (2012) Association between periodontal disease and peptic ulcers among Japanese workers: MY health up study. Glob J Health Sci 4:42–49

33.

Liu Y, Lin H, Bai Y, Qin X, Zheng X, Sun Y, Zhang Y (2008) Study on the relationship between Helicobacter pylori in the dental plaque and the occurrence of dental caries or oral hygiene index. Helicobacter 13:256–260

34.

Riggio MP, Lennon A (1999) Identification by PCR of Helicobacter pylori in subgingival plaque of adult periodontitis patients. J Med Microbiol 48:317–322

35.

Suzuki N, Yoneda M, Naito T, Iwamoto T, Masuo Y, Yamada K, Hisama K, Okada I, Hirofuji T (2008) Detection of Helicobacter pylori DNA in the saliva of patients complaining of halitosis. J Med Microbiol 57:1553–1559

36.

Al Asqah M, Al Hamoudi N, Anil S et al (2009) Is the presence of Helicobacter pylori in dental plaque of patients with chronic periodontitis a risk factor for gastric infection. Can J Gastroenterol 23:177–179

37.

Chen J, He X, Wu L et al (2011) The correlation between oral colonization of Helicobacter pylori and gastrointestinal disease. Hua Xi Kou Qiang Yi XueZaZhi 29:351–354

38.

Liu Y, Yue H, Li A, Wang J, Jiang B, Zhang Y, Bai Y (2009) An epidemiologic study on the correlation between oral Helicobacter pylori and gastric H. pylori. Curr Microbiol 58:449–453

39.

Gao J, Li Y, Wang Q, Qi C, Zhu S (2011) Correlation between distribution of Helicobacter pylori in oral cavity and chronic stomach conditions. J Huazhong Univ Sci Technol Med Sci 31:409–412

40.

Zaric S, Bojic B, Lj J et al (2009) Periodontal therapy improves gastric Helicobacter pylori eradication. J Dent Res 88:946–950
Acknowledgments
This study is based in part on data from the National Health Insurance Research Database. The authors are grateful to the members of the Research Office for Health Data, Department of Education and Research, Taipei City Hospital, Taiwan for their valuable contributions in data management and statistical analysis.
About this article
Cite this article
Chi, YC., Chen, JL., Wang, LH. et al. Increased risk of periodontitis among patients with Crohn's disease: a population-based matched-cohort study. Int J Colorectal Dis 33, 1437–1444 (2018). https://doi.org/10.1007/s00384-018-3117-4
Accepted:

Published:

Issue Date:
Keywords
Crohn's disease

Periodontitis

Epidemiology