Abstract
Background and Aims
The colon cancer survival rate is significantly affected by location, stage, and size of the cancer. Polypectomy was shown be as equally effective as surgery in early-stage colon cancer, but there have been no established clinical guidelines in the management of colon cancer based on the size of the polyp or the tumor location. The aim of our study was to assess the early-stage colon cancer-specific survival rate in patients who underwent endoscopic polypectomy versus surgery, based on size and location of tumor in early-stage colon cancer.
Methods
This is a population-based nationwide study in the USA.
Results
Of 13,157 patients, 15.5% underwent endoscopic treatment and 84.5% underwent surgical therapy. For early cancer tumors located in the left colon, polypectomy yielded comparable 5-year survivals to surgery irrespective of size of the tumors. Five-year early cancer-specific survivals were similar for tumors located in the right colon that were < 20 mm in size (94.5 vs 94.3%, p value = 0.94). However, tumors > 20 mm in size that were located in the right colon had better survivals when treated surgically compared to those treated with polypectomy (20–39 mm: 91.8 vs 74.2%; ≥ 40 mm: 92.4 vs 60%, both p values < 0.01). Similar results were obtained on propensity score analysis.
Conclusions
Polypectomy was as effective as surgical therapy for small tumors. For larger tumors, surgical therapy is better than polypectomy for right-sided tumors, but both are equally effective for left-sided tumors.
Access options
Buy single article
Instant access to the full article PDF.
USD 39.95
Price includes VAT (USA)
Tax calculation will be finalised during checkout.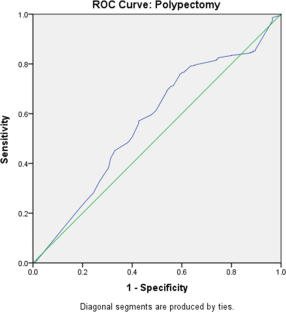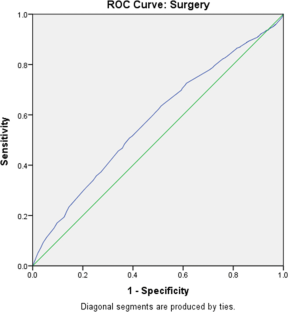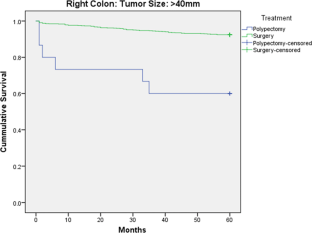 References
1.

Siegel RL, Miller KD, Fedewa SA, Ahnen DJ, Meester RGS, Barzi A, Jemal A (2017) Colorectal cancer statistics, 2017. CA Cancer J Clin 67(3):177–193. https://doi.org/10.3322/caac.21395

2.

Cooper GS, Xu F, Barnholtz Sloan JS, Koroukian SM, Schluchter MD (2012) Management of malignant colonic polyps: a population-based analysis of colonoscopic polypectomy versus surgery. Cancer 118(3):651–659. https://doi.org/10.1002/cncr.26340

3.

Ikematsu H et al (2013) Long-term outcomes after resection for submucosal invasive colorectal cancers. Gastroenterology 144(3):551–559; quiz e14. https://doi.org/10.1053/j.gastro.2012.12.003

4.

Bhangu A et al (2013) Survival outcome of local excision versus radical resection of colon or rectal carcinoma: a Surveillance, Epidemiology, and End Results (SEER) population-based study. Ann Surg 258(4):563–569; discussion 569–71. https://doi.org/10.1097/SLA.0b013e3182a4e85a

5.

Belderbos TD et al (2017) Long-term recurrence-free survival after standard endoscopic resection versus surgical resection of submucosal invasive colorectal cancer: a population-based study. Clin Gastroenterol Hepatol 15(3):403–411 e1, 411.e1. https://doi.org/10.1016/j.cgh.2016.08.041

6.

Swan MP, Bourke MJ, Alexander S, Moss A, Williams SJ (2009) Large refractory colonic polyps: is it time to change our practice? A prospective study of the clinical and economic impact of a tertiary referral colonic mucosal resection and polypectomy service (with videos). Gastrointest Endosc 70(6):1128–1136. https://doi.org/10.1016/j.gie.2009.05.039

7.

NCCN (2017) NCCN clinical practice guidelines in colon cancer. [cited 2017 April 27]; Available from: https://www.nccn.org/professionals/physician_gls/pdf/colon.pdf

8.

Petrelli F et al (2016) Prognostic survival associated with left-sided vs right-sided colon cancer: a systematic review and meta-analysis. JAMA Oncol. https://doi.org/10.1001/jamaoncol.2016.4227

9.

Saha S, Shaik M, Johnston G, Saha SK, Berbiglia L, Hicks M, Gernand J, Grewal S, Arora M, Wiese D (2015) Tumor size predicts long-term survival in colon cancer: an analysis of the National Cancer Data Base. Am J Surg 209(3):570–574. https://doi.org/10.1016/j.amjsurg.2014.12.008

10.

Kornprat P, Pollheimer MJ, Lindtner RA, Schlemmer A, Rehak P, Langner C (2011) Value of tumor size as a prognostic variable in colorectal cancer: a critical reappraisal. Am J Clin Oncol 34(1):43–49. https://doi.org/10.1097/COC.0b013e3181cae8dd

11.

Muralidhar V, Nipp RD, Ryan DP, Hong TS, Nguyen PL, Wo JY (2016) Association between very small tumor size and increased cancer-specific mortality in node-positive colon cancer. Dis Colon Rectum 59(3):187–193

12.

Huang B, Feng Y, Zhu L, Xu T, Huang L, Cai G (2016) Smaller tumor size is associated with poor survival in stage II colon cancer: an analysis of 7,719 patients in the SEER database. Int J Surg 33(Pt A):157–163. https://doi.org/10.1016/j.ijsu.2016.07.073

13.

SEER. About the SEER Registries. [cited 2017 April 27]; Available from: https://seer.cancer.gov/registries

14.

Austin PC (2011) An introduction to propensity score methods for reducing the effects of confounding in observational studies. Multivar Behav Res 46(3):399–424. https://doi.org/10.1080/00273171.2011.568786

15.

Mounzer R, Das A, Yen RD, Rastogi A, Bansal A, Hosford L, Wani S (2015) Endoscopic and surgical treatment of malignant colorectal polyps: a population-based comparative study. Gastrointest Endosc 81(3):733–740 e2. https://doi.org/10.1016/j.gie.2014.11.049

16.

Lee MS, Menter DG, Kopetz S (2017) Right versus left colon cancer biology: integrating the consensus molecular subtypes. J Natl Compr Cancer Netw 15(3):411–419. https://doi.org/10.6004/jnccn.2017.0038

17.

Fuccio L, Spada C, Frazzoni L, Paggi S, Vitale G, Laterza L, Mussetto A, Rojas F, Radaelli F, Hassan C, Petruzziello L, Frazzoni M (2015) Higher adenoma recurrence rate after left- versus right-sided colectomy for colon cancer. Gastrointest Endosc 82(2):337–343. https://doi.org/10.1016/j.gie.2014.12.057

18.

Puli SR, Kakugawa Y, Gotoda T, Antillon D, Saito Y, Antillon MR (2009) Meta-analysis and systematic review of colorectal endoscopic mucosal resection. World J Gastroenterol 15(34):4273–4277. https://doi.org/10.3748/wjg.15.4273

19.

Voloyiannis T, Snyder MJ, Bailey RR, Pidala M (2008) Management of the difficult colon polyp referred for resection: resect or rescope? Dis Colon Rectum 51(3):292–295

20.

Khashab M, Eid E, Rusche M, Rex DK (2009) Incidence and predictors of "late" recurrences after endoscopic piecemeal resection of large sessile adenomas. Gastrointest Endosc 70(2):344–349. https://doi.org/10.1016/j.gie.2008.10.037

21.

Yoshida N, Naito Y, Siah KTH, Murakami T, Ogiso K, Hirose R, Inada Y, Inoue K, Konishi H, Kugai M, Morimoto Y, Hasegawa D, Kanemasa K, Wakabayashi N, Yagi N, Yanagisawa A, Itoh Y (2016) High incidence of metachronous advanced adenoma and cancer after endoscopic resection of colon polyps >/=20 mm in size. Dig Endosc 28(2):194–202. https://doi.org/10.1111/den.12551

22.

Freeman HJ (2013) Natural history and long-term outcomes of patients treated for early stage colorectal cancer. Can J Gastroenterol 27(7):409–413. https://doi.org/10.1155/2013/920689
Ethics declarations
Conflict of interest
The authors declare that they have no conflict of interest.
About this article
Cite this article
Gangireddy, V.G.R., Coleman, T., Kanneganti, P. et al. Polypectomy versus surgery in early colon cancer: size and location of colon cancer affect long-term survival. Int J Colorectal Dis 33, 1349–1357 (2018). https://doi.org/10.1007/s00384-018-3101-z
Accepted:

Published:

Issue Date:
Keywords
Surgery

Polypectomy

Early-stage colon cancer

SEER

Polyp size

Polyp location

Right colon

Left colon