Abstract
Purpose
Clinically, male patients subjected to colorectal surgery are more prone to develop anastomotic leakage than female patients by unknown mechanisms. Our aim was to investigate the impact of gender on anastomotic wound healing using an experimental model.
Methods
One-layer colonic anastomosis was constructed in 8-week-old 28 male and 32 female Sprague-Dawley rats. Animals of one group (n = 30) were sacrificed immediately after surgery day 0 and the other group (n = 30) on postoperative day 3. Anastomotic breaking strength, total collagen (hydroxyproline), soluble collagen (Sircol), matrix metalloproteinase (MMP)-9, and transforming growth factor (TGF)-β1 were measured.
Results
The anastomotic breaking strength decreased from day 0 to day 3 with no significant gender differences either in the extent of decline (P = 0.122) or absolute day 3 strengths (P = 0.425). Analogously, total collagen concentration in the anastomotic wounds decreased postoperatively and were lower (P = 0.043) in the male compared with the female rats on day 3. MMP-9 levels increased in the anastomoses postoperatively, but they did not differ (P = 0.391) between male and female animals. Soluble collagen levels were lower in the day-3 anastomoses of male versus female rats (P = 0.015) and correlated positively with total TGF-β1 levels (rS = 0.540, P = 0.006). Although TGF-β1 tended to be lower in male compared with the female rats, the differences did not reach statistical significance.
Conclusion
Our findings point towards a less favorable collagen metabolism in colonic anastomoses of male compared with female rats during early wound healing.
Access options
Buy single article
Instant access to the full article PDF.
USD 39.95
Price excludes VAT (USA)
Tax calculation will be finalised during checkout.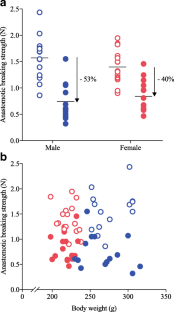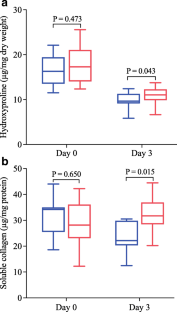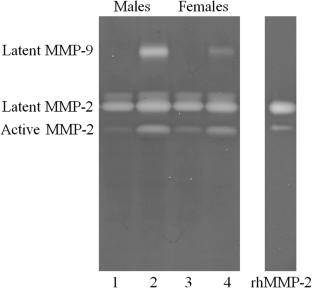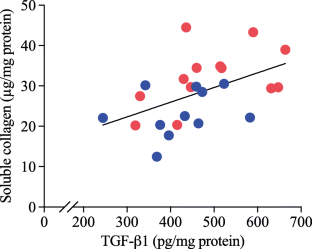 References
Branagan G, Finnis D (2005) Prognosis after anastomotic leakage in colorectal surgery. Dis Colon Rectum 48:1021–1026. https://doi.org/10.1007/s10350-004-0869-42005

Merkow RP, Ju MH, Chung JW, Hall BL, Cohen ME, Williams MV, Tsai TC, Ko CY, Bilimoria KY (2015) Underlying reasons associated with hospital readmission following surgery in the United States. JAMA 313:483–495. https://doi.org/10.1001/jama.2014.186142015

Kawada K, Sakai Y (2016) Preoperative, intraoperative and postoperative risk factors for anastomotic leakage after laparoscopic low anterior resection with double stapling technique anastomosis. World J Gastroenterol 22:5718–5727. https://doi.org/10.3748/wjg.v22.i25.57182016

Dekker JWT, Liefers GJ, de Mol van Otterloo JCA, Putter H, Tollenaar RAEM (2011) Predicting the risk of anastomotic leakage in left-sided colorectal surgery using a colon leakage score. J Surg Res 173:27–34. https://doi.org/10.1016/j.jss.2011.01.044

Pommergaard H, Gessler B, Burcharth J, Angenete E, Haglind E, Rosenberg J (2014) Preoperative risk factors for anastomotic leakage after resection for colorectal cancer: a systematic review and meta-analysis. Colorectal Dis 16:662–671. https://doi.org/10.1111/codi.126182014

Krarup PM, Jorgensen LN, Andreasen AH, Harling H, Danish Colorectal Cancer Group (2012) A nationwide study on anastomotic leakage after colonic cancer surgery. Colorectal Dis 14:e661–e667. https://doi.org/10.1111/j.1463-1318.2012.03079.x

Lipska MA, Bissett IP, Parry BR, Merrie AEH (2006) Anastomotic leakage after lower gastrointestinal anastomosis: men are at a higher risk. ANZ J Surg 76:579–585. https://doi.org/10.1111/j.1445-2197.2006.03780.x2006

Law WI, Chu KW, Ho JW, Chan CW (2000) Risk factors for anastomotic leakage after low anterior resection with total mesorectal excision. Am J Surg 179:92–96. https://doi.org/10.1016/S0002-9610(00)00252-x

Poon RT, Chu KW, Ho JW, Chan CW, Law WL, Wong J (1999) Prospective evaluation of selective defunctioning stoma for low anterior resection with total mesorectal excision. World J Surg 23:467–468. https://doi.org/10.1007/PL000123311999

Krarup PM, Nordholm-Carstensen A, Jorgensen LN, Harling H (2015) Association of comorbidity with anastomotic leak, 30-day mortality, and length of stay in elective surgery for colonic cancer. Dis Colon Rectum 58:668–676. https://doi.org/10.1097/DCR.00000000000003922015

Oxlund H, Christensen H, Seyer-Hansen M, Andreassen TT (1996) Collagen deposition and mechanical strength of colon anastomoses and skin incisional wounds of rats. J Surg Res 66:25–30. https://doi.org/10.1006/jsre.1996.03671996

Stumpf M, Klinge U, Wilms A, Zabrocki R, Rosch R, Junge K, Krones C, Schumpelick V (2005) Changes of the extracellular matrix as a risk factor for anastomotic leakage after large bowel surgery. Surgery 137:229–234. https://doi.org/10.1016/j.surg.2004.07.0112005

Braskén P, Lehto M, Renvall S (1990) Fibronectin, laminin, and collagen types I, III, IV and V in the healing rat colon anastomosis. Ann Chir Gynaecol 79:65–71

Ågren MS, Andersen TL, Mirastschijski U, Syk I, Schiødt CB, Surve V, Lindebjerg J, Delaissé JM (2006) Action of matrix metalloproteinases at restricted sites in colon anastomosis repair: an immunohistochemical and biochemical study. Surgery 140:72–82. https://doi.org/10.1016/j.surg.2005.12.0132006

Syk I, Ågren MS, Adawi D, Jeppsson B (2001) Inhibition of matrix metalloproteinases enhances breaking strength of colonic anastomoses in an experimental model. Br J Surg 88:228–234. https://doi.org/10.1046/j.1365-2168.2001.01649.x

Shogan BD, Belogortseva N, Luong PM, Zaborin A, Lax S, Bethel C, Ward M, Muldoon JP, Singer M, An G, Umanskiy K, Konda V, Shakhsheer B, Luo J, Klabbers R, Hancock LE, Gilbert J, Zaborina O, Alverdy JC (2015) Collagen degradation and MMP-9 activation by Enterococcus faecalis contribute to intestinal anastomotic leak. Sci Transl Med 7(286):286ra68. https://doi.org/10.1126/scitranslmed.30106582015

Krarup PM, Eld M, Heinemeier K, Jorgensen LN, Hansen MB, Ågren MS (2013) Expression and inhibition of matrix metalloproteinase (MMP)-8, MMP-9 and MMP-12 in early colonic anastomotic repair. Int J Colorectal Dis 28:1151–1159. https://doi.org/10.1007/s00384-013-1697-6

Buckmire MA, Parquet G, Greenway S, Rolandelli RH (1998) Temporal expression of TGF-β1, EGF, and PDGF-BB in a model of colonic wound healing. J Surg Res 80:52–57. https://doi.org/10.1006/jsre.1998.5326199

Jorgensen LN, Sorensen LT, Kallehave F, Vange J, Gottrup F (2002) Premenopausal women deposit more collagen than men during healing of an experimental wound. Surgery 131:338–343. https://doi.org/10.1067/msy.2002.1199862002

Ashcroft GS, Mills SJ (2002) Androgen receptor-mediated inhibition of cutaneous wound healing. J Clin Invest 110:615–624. https://doi.org/10.1172/JCI157042002

Gilliver SC, Ruckshanthi JPD, Atkinson SJ, Ashcroft GS (2007) Androgens influence expression of matrix proteins and proteolytic factors during cutaneous wound healing. Lab Investig 87:871–881. https://doi.org/10.1038/labinvest.37006272007

Ågren MS, Andersen L, Heegaard AM, Jorgensen LN (2008) Effect of parenteral zinc sulfate on colon anastomosis repair in the rat. Int J Colorectal Dis 23:857–861. https://doi.org/10.1007/s00384-008-0501-52008

Miller EJ, Rhodes RK (1982) Preparation and characterization of the different types of collagen. Methods Enzymol 82(Pt A):33–64. https://doi.org/10.1016/0076-6879(82)82059-41982

Krarup PM, Eld M, Jorgensen LN, Hansen MB, Ågren MS (2017) Selective matrix metalloproteinase inhibition increases breaking strength and reduces anastomotic leakage in experimentally obstructed colon. Int J Colorectal Dis 32:1277–1284. https://doi.org/10.1007/s00384-017-2857-x

Kilkenny C, Browne WJ, Cuthill IC, Emerson M, Altman DG (2013) Improving bioscience research reporting: the arrive guidelines for reporting animal research. Animals 4:35–44. https://doi.org/10.3390/ani40100352013

Johnson LB, Adawi D, Ågren MS, Jorgensen LN, Wittgren L, Mattsson S, Blomquist P, Gottrup F, Jeppsson B (2006) Combination of pre-operative radiotherapy and surgery suppresses local accumulation of collagen and TGF-beta1 in rats. J Surg Res 133:136–142. https://doi.org/10.1016/j.jss.2005.12.0122006

Ramshaw JAM, Bateman JF, Cole WG (1984) Precipitation of collagens by polyethylene glycols. Anal Biochem 141:361–365. https://doi.org/10.1016/0003-2697(84)90056-31984

Lareu RR, Zeugolis DI, Abu-Rub M, Pandit A, Raghunath M (2010) Essential modification of the Sircol collagen assay for the accurate quantification of collagen content in complex protein solutions. Acta Biomater 6:3146–3151. https://doi.org/10.1016/j.actbio.2010.02.0042010

Constantine VS, Mowry RW (1968) Selective staining of human dermal collagen: II. The use of picrosirius red F3BA with polarization microscopy. J Invest Dermatol 50:419–423. https://doi.org/10.1038/jid.1968.681968

Hu X, Beeton C (2010) Detection of functional matrix metalloproteinases by zymography. J Vis Exp 1–5. https://doi.org/10.3791/24452010

Kiyama T, Onda M, Tokunaga A, Efron DT, Barbul A (2001) Effect of matrix metalloproteinase inhibition on colonic anastomotic healing in rats. J Gastrointest Surg 5:303–311. https://doi.org/10.1016/S1091-255X(01)80052-42001

Irvin TT, Hunt TK (1974) Reappraisal of the healing process of anastomosis of the colon. Surg Gynecol Obstet 138:741–746

Jiborn H, Ahonen J, Zederfeldt B (1980) Healing of experimental colonic anastomoses. III. Collagen metabolism in the colon after left colon resection. Am J Surg 139:398–405. https://doi.org/10.1016/0002-9610(80)90302-51980

Tullberg-Reinert H, Jundt G (1999) In situ measurement of collagen synthesis by human bone cells with a sirius red-based colorimetric microassay: effects of transforming growth factor beta 2 and ascorbic acid 2-phosphate. Histochem Cell Biol 112:271–276

Sikas N, Imvrios G, Takoudas D, Gakis D, Papanikolaou V (2006) Mycophenolate mofetil impairs the integrity of colonic anastomosis. J Surg Res 134:168–172. https://doi.org/10.1016/j.jss.2006.02.010200

Øines MN, Krarup PM, Jorgensen LN, Ågren MS (2014) Pharmacological interventions for improved colonic anastomotic healing: a meta-analysis. World J Gastroenterol 20:12637–12648

Krarup PM, Jorgensen LN, Hansen MB, Ågren MS (2015) The insoluble collagen fraction of anastomotic wounds in left colon is responsible for their longitudinal strength following acute obstruction. Wound Repair Regen 23:A16. https://doi.org/10.1111/wrr.12342

Gordon CJ, Jarema K, Johnstone AFM, Phillips PM (2016) Effect of genetic strain and gender on age-related changes in body composition of the laboratory rat. J Toxicol Environ Heal Part A 79:376–392. https://doi.org/10.1080/15287394.2016.1169237

Lewis EM, Barnett JF, Freshwater L, Hoberman AM, Christian MS (2002) Sexual maturation data for Crl Sprague-Dawley rats: criteria and confounding factors. In: Drug and chemical toxicology. pp 437–458

Sengupta P (2013) The laboratory rat: relating its age with human's. Int J Prev Med 4:624–630

Lee VW, de Kretser DM, Hudson B, Wang C (1975) Variations in serum FSH, LH and testosterone levels in male rats from birth to sexual maturity. J Reprod Fertil 42:121–126. https://doi.org/10.1530/jrf.0.04201211975

Harman SM, Metter EJ, Tobin JD, Pearson J, Blackman MR (2001) Longitudinal effects of aging on serum total and free testosterone levels in healthy men. J Clin Endocrinol Metab 86:724–731. https://doi.org/10.1210/jcem.86.2.72192001

Buch AS, Schjerling P, Kjaer M, Jorgensen LN, Krarup PM, Ågren MS (2017) Impaired collagen synthesis in the rectum may be a molecular target in anastomotic leakage prophylaxis. Wound Repair Regen 25:532–535. https://doi.org/10.1111/wrr.125352017
Ethics declarations
Ethical approval
All applicable international, national, and/or institutional guidelines for the care and use of animals were followed.
About this article
Cite this article
Kjaer, M., Kristjánsdóttir, H., Andersen, L. et al. The effect of gender on early colonic anastomotic wound healing. Int J Colorectal Dis 33, 1269–1276 (2018). https://doi.org/10.1007/s00384-018-3089-4
Accepted:

Published:

Issue Date:

DOI: https://doi.org/10.1007/s00384-018-3089-4
Keywords
Anastomotic leakage

Colorectal surgery

Breaking strength

Collagen

Gender differences

Androgens