Abstract
Purpose
It remains unclear whether old age is a poor prognostic factor in colorectal cancer (CRC). We compared oncologic outcomes in CRC patients according to age, using 80 as the dividing point.
Methods
CRC patients who underwent radical surgery from 2000 to 2011 were evaluated. We performed matched and adjusted analyses comparing oncologic outcomes between patients with ≥ 80 and < 80 years old.
Results
Among 9562 patients, 222 were elderly. The median age was 82.0 years in elderly patients and 59.0 years in young patients. Elderly patients received less neoadjuvant or adjuvant therapy compared to young patients (p < 0.001). After recurrence, significantly fewer elderly patients received additional treatments (p < 0.001). Before matching, disease-free survival (DFS) and cancer-specific survival (CSS) were significantly lower for elderly patients compared to those for young patients (p < 0.001 and p < 0.001, respectively). After matching, DFS and CCS were not significantly different between the two groups (p = 0.400 and p = 0.267, respectively). In a multivariate analysis for prognostic factors, old age was not an independent poor prognostic factor of DFS and CCS (p = 0.619 and p = 0.137, respectively).
Conclusions
Elderly patients aged ≥ 80 years with CRC had similar oncologic outcome to young patients, and age was not an independent prognostic factor.
Access options
Buy single article
Instant access to the full article PDF.
US$ 39.95
Tax calculation will be finalised during checkout.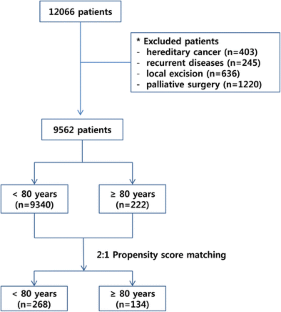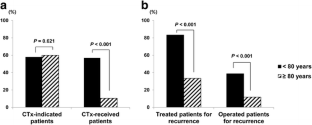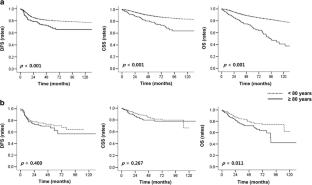 References
1.

Oh BY, Lee WY, Jung S, Hong HK, Nam DH, Park YA, Huh JW, Yun SH, Kim HC, Chun HK, Cho YB (2015) Correlation between tumor engraftment in patient-derived xenograft models and clinical outcomes in colorectal cancer patients. Oncotarget 6:16059–16068

2.

Yang L, Ma Q, Yu YY, Wang C, Meng WJ, Adell G, Albertsson M, Arbman G, Jarlsfelt I, Peng ZH, Li Y, Zhou ZG, Sun XF (2014) Efficacy of surgery and adjuvant therapy in older patients with colorectal cancer: a STROBE-compliant article. Medicine (Baltimore) 93:e266

3.

Mizushima T, Tamagawa H, Matsuda C, Murata K, Fukunaga M, Ota H, Hasegawa J, Tsujie M, Fukuzaki T, Hata T, Takemasa I, Ikeda M, Yamamoto H, Sekimoto M, Nezu R, Doki Y, Mori M (2015) Phase II study of oral tegafur/uracil and leucovorin plus bevacizumab as a first-line therapy for elderly patients with advanced or metastatic colorectal cancer. Oncology 89:152–158

4.

Lieu CH, Renfro LA, de Gramont A, Meyers JP, Maughan TS, Seymour MT, Saltz L, Goldberg RM, Sargent DJ, Eckhardt SG, Eng C (2014) Association of age with survival in patients with metastatic colorectal cancer: analysis from the ARCAD Clinical Trials Program. J Clin Oncol 32:2975–2984

5.

Manceau G, Karoui M, Werner A, Mortensen NJ, Hannoun L (2012) Comparative outcomes of rectal cancer surgery between elderly and non-elderly patients: a systematic review. Lancet Oncol 13:e525–e536

6.

National Comprehensive Cancer Network (2017) NCCN clinical practice guidelines in oncology, colon cancer. http://www.nccn.org. Accessed 30 Oct 2017

7.

Dotan E, Browner I, Hurria A, Denlinger C (2012) Challenges in the management of older patients with colon cancer. J Natl Compr Cancer Netw 10:213–224 quiz 225

8.

Endreseth BH, Romundstad P, Myrvold HE, Bjerkeset T, Wibe A (2006) Rectal cancer treatment of the elderly. Color Dis 8:471–479

9.

Vironen JH, Sainio P, Husa AI, Kellokumpu IH (2004) Complications and survival after surgery for rectal cancer in patients younger than and aged 75 years or older. Dis Colon Rectum 47:1225–1231

10.

Li J, Wang Z, Yuan X, Xu L, Tong J (2015) The prognostic significance of age in operated and non-operated colorectal cancer. BMC Cancer 15:83

11.

(2000) Surgery for colorectal cancer in elderly patients: a systematic review. Colorectal Cancer Collaborative Group. Lancet 356:968–974

12.

Clark AJ, Stockton D, Elder A, Wilson RG, Dunlop MG (2004) Assessment of outcomes after colorectal cancer resection in the elderly as a rationale for screening and early detection. Br J Surg 91:1345–1351

13.

Fietkau R, Zettl H, Klocking S, Kundt G (2004) Incidence, therapy and prognosis of colorectal cancer in different age groups. A population-based cohort study of the Rostock Cancer Registry. Strahlenther Onkol 180:478–487

14.

Vercelli M, Capocaccia R, Quaglia A, Casella C, Puppo A, Coebergh JW (2000) Relative survival in elderly European cancer patients: evidence for health care inequalities. The EUROCARE Working Group. Crit Rev Oncol Hematol 35:161–179

15.

Serra-Rexach JA, Jimenez AB, Garcia-Alhambra MA, Pla R, Vidan M, Rodriguez P, Ortiz J, Garcia-Alfonso P, Martin M (2012) Differences in the therapeutic approach to colorectal cancer in young and elderly patients. Oncologist 17:1277–1285

16.

Verweij NM, Souwer ETD, Schiphorst AHW, Maas HA, Portielje JEA, Pronk A, van den Bos F, Hamaker ME (2017) The effect of a geriatric evaluation on treatment decisions for older patients with colorectal cancer. Int J Color Dis 32:1625–1629

17.

Schiffmann L, Ozcan S, Schwarz F, Lange J, Prall F, Klar E (2008) Colorectal cancer in the elderly: surgical treatment and long-term survival. Int J Color Dis 23:601–610

18.

Gurevitch AJ, Davidovitch B, Kashtan H (2009) Outcome of right colectomy for cancer in octogenarians. J Gastrointest Surg 13:100–104

19.

Sverrisson I, Nikberg M, Chabok A, Smedh K (2018) Low risk of intra-abdominal infections in rectal cancer patients treated with Hartmann's procedure: a report from a national registry. Int J Color Dis 33:327–332

20.

Chang GJ, Skibber JM, Feig BW, Rodriguez-Bigas M (2007) Are we undertreating rectal cancer in the elderly? An epidemiologic study. Ann Surg 246:215–221

21.

Basili G, Lorenzetti L, Biondi G, Preziuso E, Angrisano C, Carnesecchi P, Roberto E, Goletti O (2008) Colorectal cancer in the elderly. Is there a role for safe and curative surgery? ANZ J Surg 78:466–470

22.

Devoto L, Celentano V, Cohen R, Khan J, Chand M (2017) Colorectal cancer surgery in the very elderly patient: a systematic review of laparoscopic versus open colorectal resection. Int J Color Dis 32:1237–1242

23.

Sargent DJ, Goldberg RM, Jacobson SD, Macdonald JS, Labianca R, Haller DG, Shepherd LE, Seitz JF, Francini G (2001) A pooled analysis of adjuvant chemotherapy for resected colon cancer in elderly patients. N Engl J Med 345:1091–1097

24.

Gill S, Loprinzi CL, Sargent DJ, Thome SD, Alberts SR, Haller DG, Benedetti J, Francini G, Shepherd LE, Francois Seitz J, Labianca R, Chen W, Cha SS, Heldebrant MP, Goldberg RM (2004) Pooled analysis of fluorouracil-based adjuvant therapy for stage II and III colon cancer: who benefits and by how much? J Clin Oncol 22:1797–1806

25.

Zuckerman IH, Rapp T, Onukwugha E, Davidoff A, Choti MA, Gardner J, Seal B, Mullins CD (2009) Effect of age on survival benefit of adjuvant chemotherapy in elderly patients with stage III colon cancer. J Am Geriatr Soc 57:1403–1410

26.

Andre T, Boni C, Mounedji-Boudiaf L, Navarro M, Tabernero J, Hickish T, Topham C, Zaninelli M, Clingan P, Bridgewater J, Tabah-Fisch I, de Gramont A (2004) Oxaliplatin, fluorouracil, and leucovorin as adjuvant treatment for colon cancer. N Engl J Med 350:2343–2351

27.

Iversen LH, Pedersen L, Riis A, Friis S, Laurberg S, Sorensen HT (2005) Age and colorectal cancer with focus on the elderly: trends in relative survival and initial treatment from a Danish population-based study. Dis Colon Rectum 48:1755–1763

28.

Townsley C, Pond GR, Peloza B, Kok J, Naidoo K, Dale D, Herbert C, Holowaty E, Straus S, Siu LL (2005) Analysis of treatment practices for elderly cancer patients in Ontario, Canada. J Clin Oncol 23:3802–3810
Funding
This work was supported by the Basic Science Research Program through the National Research Foundation of Korea (NRF) funded by the Ministry of Education, Science and Technology (grant number 2015R1A1A1A05001160).
Ethics declarations
This study was approved by the Samsung Medical Center Institutional Review Board.
Conflict of interest
The authors declare that they have no conflict of interest.
About this article
Cite this article
Oh, B.Y., Huh, J.W., Kim, H.C. et al. Oncologic outcome of colorectal cancer patients over age 80: a propensity score-matched analysis. Int J Colorectal Dis 33, 1011–1018 (2018). https://doi.org/10.1007/s00384-018-3028-4
Accepted:

Published:

Issue Date:
Keywords
Chemotherapy

Colorectal cancer

Old age

Surgery

Survival