Abstract
Purpose
Postoperative mortality from colorectal cancer varies between surgical departments. Several models have been developed to predict the operative risk. This study aims to investigate whether the original and the revised Association of Coloproctology of Great Britain and Ireland (ACPGBI) model can predict 30-day mortality after colorectal cancer surgery in Denmark.
Methods
Data were collected from the Danish Colorectal Cancer Group database which has > 95% completeness. All patients operated on from January 2007 to December 2013 were included. The individual estimated operative risk was calculated with the original and revised ACPGBI models. Discrimination and calibration were evaluated with a Receiver Operating Characteristic (ROC) curve analysis and a Hosmer-Lemeshow test, respectively.
Results
In total, 22,807 patients underwent open or laparoscopic colorectal cancer surgery. After excluding 1437 patients because of missing data, 21,370 patients were left for the analyses. The observed 30-day mortality was 5.0%. The original and revised ACPGBI models estimated an operative risk of 7.0 and 4.0%, respectively, with a significant difference in observed and estimated mortality in both models. However, in patients with an estimated risk of at least 26%, i.e., high-risk, good calibration was found with the original ACPGBI model. Discrimination was good with an AUC of 0.83 (95% CI 0.82–0.84) in both models.
Conclusion
The original and revised ACPGBI models are not suitable prediction models for postoperative mortality in the Danish colorectal cancer population. However, the original model might be applicable in predicting mortality in high-risk patients.
Access options
Buy single article
Instant access to the full article PDF.
USD 39.95
Price excludes VAT (USA)
Tax calculation will be finalised during checkout.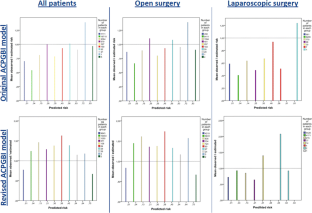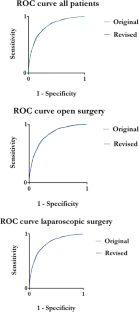 References
Lozano R, Naghavi M, Foreman K, Lim S, Shibuya K, Aboyans V, Abraham J, Adair T, Aggarwal R, Ahn SY, AlMazroa MA, Alvarado M, Anderson HR, Anderson LM, Andrews KG, Atkinson C, Baddour LM, Barker-Collo S, Bartels DH, Bell ML, Benjamin EJ, Bennett D, Bhalla K, Bikbov B, Abdulhak AB, Birbeck G, Blyth F, Bolliger I, Boufous S, Bucello C, Burch M, Burney P, Carapetis J, Chen H, Chou D, Chugh SS, Coffeng LE, Colan SD, Colquhoun S, Colson KE, Condon J, Connor MD, Cooper LT, Corriere M, Cortinovis M, de Vaccaro KC, Couser W, Cowie BC, Criqui MH, Cross M, Dabhadkar KC, Dahodwala N, de Leo D, Degenhardt L, Delossantos A, Denenberg J, Des Jarlais DC, Dharmaratne SD, Dorsey ER, Driscoll T, Duber H, Ebel B, Erwin PJ, Espindola P, Ezzati M, Feigin V, Flaxman AD, Forouzanfar MH, Fowkes FGR, Franklin R, Fransen M, Freeman MK, Gabriel SE, Gakidou E, Gaspari F, Gillum RF, Gonzalez-Medina D, Halasa YA, Haring D, Harrison JE, Havmoeller R, Hay RJ, Hoen B, Hotez PJ, Hoy D, Jacobsen KH, James SL, Jasrasaria R, Jayaraman S, Johns N, Karthikeyan G, Kassebaum N, Keren A, Khoo JP, Knowlton LM, Kobusingye O, Koranteng A, Krishnamurthi R, Lipnick M, Lipshultz SE, Ohno SL, Mabweijano J, MacIntyre MF, Mallinger L, March L, Marks GB, Marks R, Matsumori A, Matzopoulos R, Mayosi BM, McAnulty JH, McDermott MM, McGrath J, Memish ZA, Mensah GA, Merriman TR, Michaud C, Miller M, Miller TR, Mock C, Mocumbi AO, Mokdad AA, Moran A, Mulholland K, Nair MN, Naldi L, Narayan KMV, Nasseri K, Norman P, O'Donnell M, Omer SB, Ortblad K, Osborne R, Ozgediz D, Pahari B, Pandian JD, Rivero AP, Padilla RP, Perez-Ruiz F, Perico N, Phillips D, Pierce K, Pope CA III, Porrini E, Pourmalek F, Raju M, Ranganathan D, Rehm JT, Rein DB, Remuzzi G, Rivara FP, Roberts T, de León FR, Rosenfeld LC, Rushton L, Sacco RL, Salomon JA, Sampson U, Sanman E, Schwebel DC, Segui-Gomez M, Shepard DS, Singh D, Singleton J, Sliwa K, Smith E, Steer A, Taylor JA, Thomas B, Tleyjeh IM, Towbin JA, Truelsen T, Undurraga EA, Venketasubramanian N, Vijayakumar L, Vos T, Wagner GR, Wang M, Wang W, Watt K, Weinstock MA, Weintraub R, Wilkinson JD, Woolf AD, Wulf S, Yeh PH, Yip P, Zabetian A, Zheng ZJ, Lopez AD, Murray CJL (2012) Global and regional mortality from 235 causes of death for 20 age groups in 1990 and 2010: a systematic analysis for the global burden of disease study 2010. Lancet 380(9859):2095–2128. https://doi.org/10.1016/s0140-6736(12)61728-0

Torre LA, Bray F, Siegel RL, Ferlay J, Lortet-Tieulent J, Jemal A (2015) Global cancer statistics, 2012. CA Cancer J Clin 65(2):87–108. https://doi.org/10.3322/caac.21262

Annual report of Danish Colorectal Cancer Group (DCCG) 2015. http://www.dccg.dk/pdf/Aarsrapport_2015. Accessed 26 January 2017

Munro AJ (2014) Interpretation of EUROCARE-5. Lancet Oncol 15(1):2–3. https://doi.org/10.1016/s1470-2045(13)70566-7

Iversen LH (2012) Aspects of survival from colorectal cancer in Denmark. Dan Med J 59(4):B4428

Ferjani AM, Griffin D, Stallard N, Wong LS (2007) A newly devised scoring system for prediction of mortality in patients with colorectal cancer: a prospective study. Lancet Oncol 8(4):317–322. https://doi.org/10.1016/s1470-2045(07)70045-1

Richards CH, Leitch EF, Anderson JH, McKee RF, McMillan DC, Horgan PG (2011) The revised ACPGBI model is a simple and accurate predictor of operative mortality after potentially curative resection of colorectal cancer. Ann Surgical Oncol 18(13):3680–3685. https://doi.org/10.1245/s10434-011-1805-1

Richards CH, Leitch FE, Horgan PG, McMillan DC (2010) A systematic review of POSSUM and its related models as predictors of post-operative mortality and morbidity in patients undergoing surgery for colorectal cancer. J Gastrointest Surg 14(10):1511–1520. https://doi.org/10.1007/s11605-010-1333-5

Tekkis PP, Poloniecki JD, Thompson MR, Stamatakis JD (2003) Operative mortality in colorectal cancer: prospective national study. BMJ 327(7425):1196–1201. https://doi.org/10.1136/bmj.327.7425.1196

The reviesed ACPBGI colorectal cancer model http://www.riskprediction.org.uk/index-crc.php. Accessed 26 November 2016

Ingeholm P, Gogenur I, Iversen LH (2016) Danish colorectal cancer group database. Clin Epidemiol 8:465–468. https://doi.org/10.2147/clep.s99481

The 2003 report of the national confidential enquiry into perioperative deaths. http://www.ncepod.org.uk/2003report/Downloads/03full.pdf. Accessed 26 November 2016

Royston P, Moons KG, Altman DG, Vergouwe Y (2009) Prognosis and prognostic research: developing a prognostic model. BMJ 338(mar31 1):b604. https://doi.org/10.1136/bmj.b604

Hanley JA, McNeil BJ (1982) The meaning and use of the area under a receiver operating characteristic (ROC) curve. Radiology 143(1):29–36. https://doi.org/10.1148/radiology.143.1.7063747

Teeuwen PH, Bremers AJ, Groenewoud JM, van Laarhoven CJ, Bleichrodt RP (2011) Predictive value of POSSUM and ACPGBI scoring in mortality and morbidity of colorectal resection: a case-control study. J Gastrointes Surg 15(2):294–303. https://doi.org/10.1007/s11605-010-1354-0

Yan J, Wang YX, Li ZP (2011) Predictive value of the POSSUM, p-POSSUM, cr-POSSUM, APACHE II and ACPGBI scoring systems in colorectal cancer resection. J Int Med Res 39(4):1464–1473. https://doi.org/10.1177/147323001103900435

Justice AC, Covinsky KE, Berlin JA (1999) Assessing the generalizability of prognostic information. Ann Intern Med 130(6):515–524. https://doi.org/10.7326/0003-4819-130-6-199903160-00016

Iversen LH, Green A, Ingeholm P, Osterlind K, Gogenur I (2016) Improved survival of colorectal cancer in Denmark during 2001-2012—the efforts of several national initiatives. Acta Oncol 55(Suppl 2):10–23. https://doi.org/10.3109/0284186x.2015.1131331

Moons KG, Altman DG, Vergouwe Y, Royston P (2009) Prognosis and prognostic research: application and impact of prognostic models in clinical practice. BMJ 338(jun04 2):b606. https://doi.org/10.1136/bmj.b606

Iversen LH, Ingeholm P, Gogenur I, Laurberg S (2014) Major reduction in 30-day mortality after elective colorectal cancer surgery: a nationwide population-based study in Denmark 2001-2011. Ann Surg Oncol 21(7):2267–2273. https://doi.org/10.1245/s10434-014-3596-7
Funding
The study was supported by grants from the Danish Council of Independent Research/Medical Science.
One co-author, Lene H. Iversen, has received funding from the Danish Council for Independent Research in 2014. No other financial support has been received from external sources.
Ethics declarations
Conflict of interest
The authors declare that they have no conflict of interest.
About this article
Cite this article
Degett, T.H., Roikjær, O., Iversen, L.H. et al. A model predicting operative mortality in the UK has only limited value in Denmark. Int J Colorectal Dis 33, 141–147 (2018). https://doi.org/10.1007/s00384-017-2937-y
Accepted:

Published:

Issue Date:

DOI: https://doi.org/10.1007/s00384-017-2937-y
Keywords
Calibration

Colorectal cancer

Study population

Prediction model

ACPGBI

30-day mortality