Abstract
Purpose
Anastomotic leakage (AL) after stapled anastomosis in rectal cancer surgery is a major concern. Various types of intraoperative anastomotic air leakage tests (ALTs) have been proposed to reduce AL. This study aimed to evaluate the impact of intraoperative colonoscopy (IOC) as an intraoperative ALT in low anterior resection for rectal cancer.
Methods
A total of 1266 patients were retrospectively reviewed. Among them, 215 patients who underwent IOC as an ALT in rectal cancer surgery were identified. IOC was performed after anastomosis to visualize the anastomosis line and to perform an ALT by insufflating the neorectum. Propensity score matching was used to match this group at a 1:1 ratio with 215 patients who underwent ALT with a 250-mL bulb irrigation syringe. Anastomotic defects that were found intraoperatively were resolved either by means of primary repair of the anastomotic defect, if possible, or by performing a preventive diverting ileostomy.
Results
The patient characteristics, pathologic outcomes, and operation details showed no significant difference between the two groups. Comparison of the AL rate showed a significant difference between the groups (IOC group without intraoperative leaks vs. non-IOC group without intraoperative leaks 4.3 vs. 11.7%, P = 0.007). The incidence of preventive diverting ileostomy because of a positive ALT was significantly higher in the IOC group than in the non-IOC group (10 vs. 2 cases, P = 0.036).
Conclusion
IOC can be a valuable method for the assessment of stapled anastomosis and has the additional benefit of directly visualizing the anastomosis line.
Access options
Buy single article
Instant access to the full article PDF.
US$ 39.95
Tax calculation will be finalised during checkout.
Subscribe to journal
Immediate online access to all issues from 2019. Subscription will auto renew annually.
US$ 119
Tax calculation will be finalised during checkout.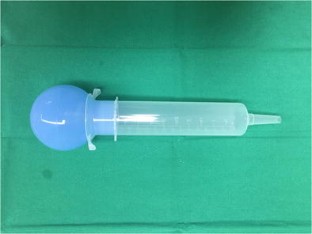 References
1.

Mirnezami A, Mirnezami R, Chandrakumaran K, Sasapu K, Sagar P, Finan P (2011) Increased local recurrence and reduced survival from colorectal cancer following anastomotic leak: systematic review and meta-analysis. Ann Surg 253(5):890–899. doi:10.1097/SLA.0b013e3182128929

2.

Docherty JG, McGregor JR, Akyol AM, Murray GD, Galloway DJ (1995) Comparison of manually constructed and stapled anastomoses in colorectal surgery. West of Scotland and Highland Anastomosis Study Group. Ann Surg 221(2):176–184

3.

Krarup PM, Jorgensen LN, Andreasen AH, Harling H (2012) A nationwide study on anastomotic leakage after colonic cancer surgery. Color Dis : Off J Assoc Coloproctology Great Britain Ireland 14(10):e661–e667. doi:10.1111/j.1463-1318.2012.03079.x

4.

Kim CW, Baek SJ, Hur H, Min BS, Baik SH, Kim NK (2016) Anastomotic leakage after low anterior resection for rectal cancer is different between minimally invasive surgery and open surgery. Ann Surg 263(1):130–137. doi:10.1097/sla.0000000000001157

5.

Park JS, Choi GS, Kim SH, Kim HR, Kim NK, Lee KY, Kang SB, Kim JY, Lee KY, Kim BC, Bae BN, Son GM, Lee SI, Kang H (2013) Multicenter analysis of risk factors for anastomotic leakage after laparoscopic rectal cancer excision: the Korean laparoscopic colorectal surgery study group. Ann Surg 257(4):665–671. doi:10.1097/SLA.0b013e31827b8ed9

6.

Kim JS, Cho SY, Min BS, Kim NK (2009) Risk factors for anastomotic leakage after laparoscopic intracorporeal colorectal anastomosis with a double stapling technique. J Am Coll Surg 209(6):694–701. doi:10.1016/j.jamcollsurg.2009.09.021

7.

Ricciardi R, Roberts PL, Marcello PW, Hall JF, Read TE, Schoetz DJ (2009) Anastomotic leak testing after colorectal resection: what are the data? Arch Surg (Chicago, Ill : 1960) 144(5):407–411 . doi:10.1001/archsurg.2009.43discussion 411-402

8.

Daams F, Wu Z, Lahaye MJ, Jeekel J, Lange JF (2014) Prediction and diagnosis of colorectal anastomotic leakage: a systematic review of literature. World J Gastrointest Surg 6(2):14–26. doi:10.4240/wjgs.v6.i2.14

9.

Adam IJ, Mohamdee MO, Martin IG, Scott N, Finan PJ, Johnston D, Dixon MF, Quirke P (1994) Role of circumferential margin involvement in the local recurrence of rectal cancer. Lancet (London, England) 344(8924):707–711

10.

Singh PP, Zeng IS, Srinivasa S, Lemanu DP, Connolly AB, Hill AG (2014) Systematic review and meta-analysis of use of serum C-reactive protein levels to predict anastomotic leak after colorectal surgery. Br J Surg 101(4):339–346. doi:10.1002/bjs.9354

11.

Kawai K, Iida Y, Ishihara S, Yamaguchi H, Nozawa H, Hata K, Kiyomatsu T, Tanaka T, Nishikawa T, Yasuda K, Otani K, Murono K, Watanabe T (2016) Intraoperative colonoscopy in patients with colorectal cancer: a review of recent developments. Dig Endosc: Off J Jpn Gastroenterol Endosc Soc. doi:10.1111/den.12663

12.

Kamal T, Pai A, Velchuru VR, Zawadzki M, Park JJ, Marecik SJ, Abcarian H, Prasad LM (2015) Should anastomotic assessment with flexible sigmoidoscopy be routine following laparoscopic restorative left colorectal resection? Color Dis 17(2):160–164. doi:10.1111/codi.12809

13.

Li VK, Wexner SD, Pulido N, Wang H, Jin HY, Weiss EG, Nogeuras JJ, Sands DR (2009) Use of routine intraoperative endoscopy in elective laparoscopic colorectal surgery: can it further avoid anastomotic failure? Surg Endosc 23(11):2459–2465. doi:10.1007/s00464-009-0416-4

14.

Kozarek RA, Earnest DL, Silverstein ME, Smith RG (1980) Air-pressure-induced colon injury during diagnostic colonoscopy. Gastroenterology 78(1):7–14

15.

Woltjen JA (2005) A retrospective analysis of cecal barotrauma caused by colonoscope air flow and pressure. Gastrointest Endosc 61(1):37–45
Ethics declarations
Funding
We received no funding or grant support for this study.
Conflict of interest
The authors declare that they have no conflict of interest.
Sources of support
None.
About this article
Cite this article
Yang, S.Y., Han, J., Han, Y.D. et al. Intraoperative colonoscopy for the assessment and prevention of anastomotic leakage in low anterior resection for rectal cancer. Int J Colorectal Dis 32, 709–714 (2017). https://doi.org/10.1007/s00384-017-2767-y
Accepted:

Published:

Issue Date:
Keywords
Rectal cancer

Low anterior resection

Intraoperative colonoscopy

Anastomotic leakage

Diverting ileostomy