Abstract
Background
Postoperative ileus is a significant clinical challenge lacking effective management strategies. Ghrelin-receptor stimulation has promotility effects in the upper and lower gastrointestinal tract.
Objective
This proof-of-concept, phase 2, randomized study evaluated the safety and efficacy of the ghrelin-receptor agonist ipamorelin in the treatment of postoperative ileus following abdominal surgery (ClinicalTrials.gov NCT00672074).
Design
The design was a multicenter, double-blind, placebo-controlled, clinical trial.
Settings
The settings include hospital inpatients.
Patients
The patients were adults undergoing small and large bowel resection by open or laparoscopic surgery.
Intervention
The intervention was intravenous infusions of 0.03-mg/kg ipamorelin vs placebo twice daily, on postoperative day 1 to 7 or hospital discharge.
Main outcome measures
Safety was assessed by monitoring adverse events and laboratory tests. The key efficacy endpoint was time from first dose of study drug to tolerance of a standardized solid meal.
Results
One hundred seventeen patients were enrolled, of whom 114 patients composed the safety and modified intent-to-treat populations. Demographic and disease characteristics were balanced between groups. Overall incidence of any treatment-emergent adverse events was 87.5 % in the ipamorelin group and 94.8 % in placebo group. Median time to first tolerated meal was 25.3 and 32.6 h in the ipamorelin and placebo groups, respectively (p = 0.15).
Limitations
This proof of concept study was small and enrolled patients with a broad range of underlying conditions.
Conclusions
Ipamorelin 0.03-mg/kg twice daily for up to 7 days was well tolerated. There were no significant differences between ipamorelin and placebo in the key and secondary efficacy analyses.
Access options
Buy single article
Instant access to the full article PDF.
USD 39.95
Price excludes VAT (USA)
Tax calculation will be finalised during checkout.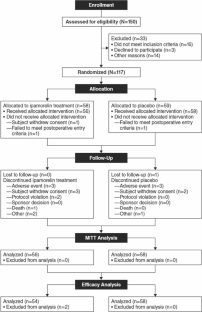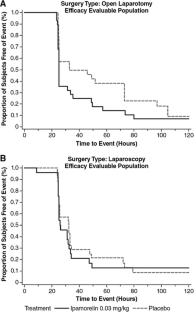 References
Delaney CP (2004) Clinical perspective on postoperative ileus and the effect of opiates. Neurogastroenterol Motil 169(suppl 2):61–66

Augestad KM, Delaney CP (2010) Postoperative ileus: impact of pharmacological treatment, laparoscopic surgery and enhanced recovery pathways. World J Gastroenterol 16:2067–2074

Senagore AJ (2007) Pathogenesis and clinical and economic consequences of postoperative ileus. Am J Health Syst Pharm 64:S3–S7

Lubawski J, Saclarides T (2008) Postoperative ileus: strategies for reduction. Ther Clin Risk Manag 4:913–917

Delaney CP, Chang E, Senagore AJ, Broder M (2008) Clinical outcomes and resource utilization associated with laparoscopic and open colectomy using a large national database. Ann Surg 247:819–824

Ohtani H, Tamamori Y, Arimoto Y, Nishiguchi Y, Maeda K, Hirakawa K (2012) A meta-analysis of the short- and long-term results of randomized controlled trials that compared laparoscopy-assisted and open colectomy for colon cancer. J Cancer 3:49–57

Kehlet H (2008) Postoperative ileus—an update on preventive techniques. Nat Clin Pract Gastroenterol Hepatol 5:552–558

ENTEREG [package insert] (2012) Lexington, MA: Cubist Pharmaceuticals; 2012

Wolff BG, Michelassi F, Gerkin TM et al (2004) Alvimopan, a novel, peripherally acting mu opioid antagonist: results of a multicenter, randomized, double-blind, placebo-controlled, phase III trial of major abdominal surgery and postoperative ileus. Ann Surg 240:728–734

Delaney CP, Wolff BG, Viscusi ER et al (2007) Alvimopan, for postoperative ileus following bowel resection: a pooled analysis of phase III studies. Ann Surg 245:355–363

Poston S, Broder MS, Gibbons MM et al (2011) Impact of alvimopan (entereg) on hospital costs after bowel resection: results from a large inpatient database. P T 36:209–220

Masuda Y, Tanaka T, Inomata N et al (2000) Ghrelin stimulates gastric acid secretion and motility in rats. Biochem Biophys Res Commun 276(3):905–908

Asakawa A, Inui A, Kaga T et al (2001) Ghrelin is an appetite stimulatory signal from stomach with structural resemblance to motilin. Gastroenterology 120(2):337–345

Tack J, Depoortere I, Bisschops R et al (2006) Influence of ghrelin on interdigestive gastrointestinal motility in humans. Gut 55(3):327–333

Murray CD, Martin NM, Patterson M et al (2005) Ghrelin enhances gastric emptying in diabetic gastroparesis: a double blind, placebo controlled, crossover study. Gut 54:1693–1698

Venkova K, Mann W, Nelson R, Greenwood-Van MB (2009) Efficacy of ipamorelin, a novel ghrelin mimetic, in a rodent model of postoperative ileus. J Pharmacol Exp Ther 329:1110–1116

Davidson ED, Hersh T, Brinner RA, Barnett SM, Boyle LP (1979) The effects of metoclopramide on postoperative ileus. A randomized double-blind study. Ann Surg 190:27–30

Chan DC, Liu YC, Chen CJ et al (2005) Preventing prolonged post-operative ileus in gastric cancer patients undergoing gastrectomy and intra-peritoneal chemotherapy. World J Gastroenterol 11:4776–4781

Wren AM, Seal LJ, Cohen MA et al (2001) Ghrelin enhances appetite and increases food intake in humans. J Clin Endocrinol Metab 86:5992

Shaw M, Pediconi C, McVey D et al (2013) Safety and efficacy of ulimorelin administered postoperatively to accelerate recovery of gastrointestinal motility following partial bowel resection: results of two randomized, placebo-controlled phase 3 trials. Dis Colon Rectum 56:888–897

Salvador CG, Sikirica M, Evans A, Pizzi L, Goldfarb N (2005) Clinical and economic outcome of prolonged postoperative ileus in patients undergoing hysterectomy and hemicolectomy. P T 30:590–595

Goldstein JL, Matuszewski KA, Delaney CP, et al (2013) Inpatient economic burden of postoperative ileus associated with abdominal surgery in the United States. P T. 2007;32:82–90. Available at http://www.ptcommunity.com/ptjournal/fulltext/32/2/PTJ3202082.pdf. Accessed 11.26.2013

Iyer S, Saunders WB, Stemkowski S (2009) Economic burden of postoperative ileus associated with colectomy in the United States. J Manag Care Pharm 15:485–494
Acknowledgments
The authors thank the patients and all of the Investigators and study staff who participated in this study. Support for developing this manuscript was provided by Helsinn Therapeutics (US), Inc. (Bridgewater, NJ), and copyediting, editorial assistance, and production assistance were provided by The Curry Rockefeller Group, LLC (Tarrytown, NY).
Conflicts of interest and source of funding
This study was supported by Helsinn Therapeutics (US), Inc. The authors' institutions received grants from Helsinn Therapeutics (US), Inc., to conduct the study. The authors declare no financial or proprietary conflicts of interest.
Contributions
Conception and design: DEB, WBS; data collection: DEB, WBS, MDM; data analysis: DEB; data interpretation: DEB; drafting of manuscript: DEB, WBS, MDM; critical revision: DEB, WBS, MDM; final approval: DEB, WBS, MDM.
Category
Postoperative management
Appendix
Appendix
Ipamorelin 201 study group investigators
Robert Beart, MD, University of Southern California/Norris Cancer Center, Los Angeles, CA; David Beck, MD, Ochsner Medical Center, New Orleans, LA; Roberto Bergamaschi, MD, Stony Brook University Medical Center, Stony Brook, NY; Sander Binderow, MD, Saint Joseph's Hospital of Atlanta, GA; James Fleshman, MD, Barnes-Jewish West, Creve Coeur, MO; Phillip Fleshner, MD, Cedars Sinai Medical Center, Los Angeles, CA; Walter Koltun, MD, Pennsylvania State University, Hershey, PA; Martin McCarter, MD, University of Colorado Hospital, Aurora, CO; Christopher Raeburn, MD, Denver VA Hospital, Denver, CO; Janice Rafferty, MD, The Christ Hospital, Cincinnati, OH; Bruce Robb, MD, Indiana University Medical Center, Indianapolis, IN; Marc Singer, MD, University of Illinois at Chicago, Chicago, IL; Thomas Stahl, MD, Washington Hospital Center, Washington, DC; Brian Sweeney, MD, University of Massachusetts Memorial Healthcare, Worcester, MA; Theresa Terem, MD, St. Joseph Hospital Franciscan Research Center, Tacoma, WA; Harry Wasvary, MD, William Beaumont Hospital, Royal Oak, MI; Steven Wexner, MD, Cleveland Clinic of Weston, Weston, FL; Sherry Wren, MD, Palo Alto Veterans Hospital, Palo Alto, CA.
About this article
Cite this article
Beck, D.E., Sweeney, W.B., McCarter, M.D. et al. Prospective, randomized, controlled, proof-of-concept study of the Ghrelin mimetic ipamorelin for the management of postoperative ileus in bowel resection patients. Int J Colorectal Dis 29, 1527–1534 (2014). https://doi.org/10.1007/s00384-014-2030-8
Accepted:

Published:

Issue Date:

DOI: https://doi.org/10.1007/s00384-014-2030-8
Keywords