Abstract
Purpose
The in vitro and in vivo effects of pyrvinium pamoate (PP), a newly identified WNT signaling inhibitor, were evaluated against colon cancer cell lines and primary colon cancer samples.
Experimental design
Antiproliferative activity of PP and its effects on protein and RNA levels of WNT targets were evaluated on adenomatous polyposis coli (APC mut) and β-cateninmut cell lines, one WNTwt colon cancer cell line, as well as six primary colon cancer samples with mutant APC in vitro. In addition, the effect of PP on the growth of liver metastasis was examined.
Results
PP blocked colon cancer cell growth in vitro in a dose-dependent manner with great differences in the inhibitory concentration (IC50), ranging from 0.6 × 10−6 to 65 × 10−6 mol/L for colon cancer cells with mutations in WNT signaling. In addition, PP demonstrated a cytotoxic effect on primary colon cancer samples. A combined cytotoxic effect of PP with 5-fluorouracil (5-FU) was observed for two cell lines. PP decreased messenger RNA (mRNA) and protein levels of known WNT target genes as c-MYC and thereby led to the induction of p21. PP inhibited the migration of HCT116 colon cancer cells in vitro and decreased tumor growth in vivo after intraportal injection of HCT116 cells in nude mice.
Conclusions
PP displays promising anticancer activity against a broad panel of human colon cancer cell lines, as well as primary colon cancer samples. However, our findings do not demonstrate a predominant cytotoxic effect of PP on colon cancer cells with mutations in WNT signaling.
This is a preview of subscription content, log in to check access.
Access options
Buy single article
Instant access to the full article PDF.
US$ 39.95
Price includes VAT for USA
Subscribe to journal
Immediate online access to all issues from 2019. Subscription will auto renew annually.
US$ 199
This is the net price. Taxes to be calculated in checkout.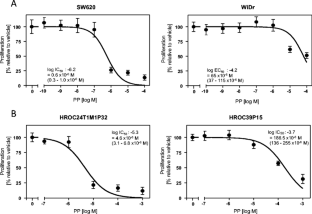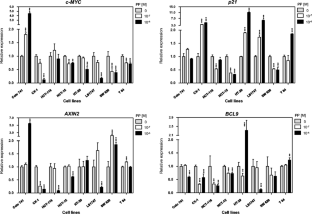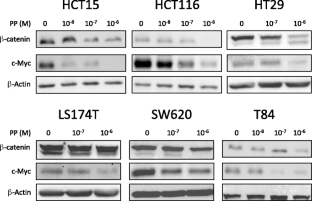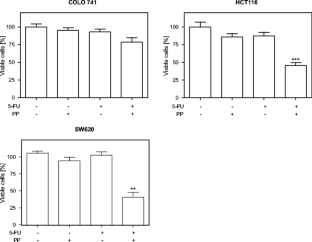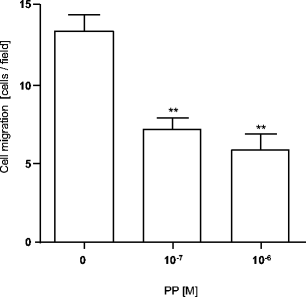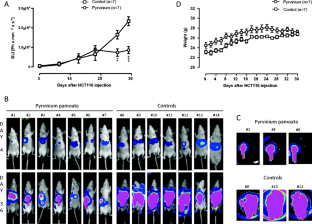 References
1.

Jemal A, Bray F, Center MM, Ferlay J, Ward E et al (2011) Global cancer statistics. Cancer J Clin 61:69–90

2.

Cunningham D, Atkin W, Lenz HJ, Lynch HT, Minsky B et al (2010) Colorectal cancer. Lancet 375:1030–1047

3.

Knudson AG (2001) Two genetic hits (more or less) to cancer. Nat Rev Cancer 1(2):157–162

4.

Cancer Genome Atlas Network (2012) Comprehensive molecular characterization of human colon and rectal cancer. Nature 487:330–337

5.

Sansom OJ, Meniel VS, Muncan V, Phesse TJ, Wilkins JA, Reed KR, Vass JK, Athineos D, Clevers H, Clarke AR (2007) Myc deletion rescues Apc deficiency in the small intestine. Nature 446(7136):676–769

6.

Kumamoto K, Ishibashi K, Okada N, Tajima Y, Kuwabara K, Kumagai Y, Baba H, Haga N, Ishida H (2013) Polymorphisms of GSTP1, ERCC2 and TS-3'UTR are associated with the clinical outcome of mFOLFOX6 in colorectal cancer patients. Oncol Lett 6(3):648–654

7.

Luo J, Solimini NL, Elledge SJ (2009) Principles of cancer therapy: oncogene and non-oncogene addiction. Cell 136(5):823–837

8.

Barker N, Clevers H (2006) Mining the Wnt pathway for cancer therapeutics. Nat Rev Drug Discov 5(12):997–1014

9.

Huang SM, Mishina YM, Liu S, Cheung A, Stegmeier F et al (2009) Tankyrase inhibition stabilizes axin and antagonizes Wnt signalling. Nature 461(7264):614–620

10.

Tian XH, Hou WJ, Fang Y, Fan J, Tong H, Bai SL, Chen Q, Xu H, Li Y (2013) XAV939, a tankyrase 1 inhibitior, promotes cell apoptosis in neuroblastoma cell lines by inhibiting Wnt/β-catenin signaling pathway. J Exp Clin Cancer Res 32(1):100

11.

Thorne CA, Hanson AJ, Schneider J, Tahinci E, Orton D, Cselenyi CS, Jernigan KK, Meyers KC, Hang BI, Waterson AG, Kim K, Melancon B, Ghidu VP, Sulikowski GA, LaFleur B, Salic A, Lee LA, Miller DM 3rd, Lee E (2010) Small-molecule inhibition of Wnt signaling through activation of casein kinase 1α. Nat Chem Biol 6(11):829–836

12.

Venerando A, Girardi C, Ruzzene M, Pinna LA (2013) Pyrvinium pamoate does not activate protein kinase CK1, but promotes Akt/PKB down-regulation and GSK3 activation. Biochem J 452(1):131–137

13.

Maletzki C, Stier S, Gruenert U, Gock M, Ostwald C, Prall F, Linnebacher M (2012) Establishment, characterization and chemosensitivity of three mismatch repair deficient cell lines from sporadic and inherited colorectal carcinomas. PLoS One 7(12):e52485

14.

Klingelhoeffer C, Kämmerer U, Koospal M, Mühling B, Schneider S, Kapp M, Kübler A, Germer C-T, Otto C (2012) Natural resistance to ascorbic acid induced oxidative stress is mainly mediated by catalase activity in human cancer cells and catalase-silencing sensitizes to oxidative stress. BMC Complement Altern Med 12:61

15.

Langendorf H (1958) Direct complexometric calcium determination in serum with calcein as indicator. Klin Wochenschr 36(17):829–831

16.

Senger DR, Perruzzi CA, Streit M, Koteliansky VE, de Fougerolles AR, Detmar M (2002) The alpha(1)beta(1) and alpha(2)beta(1) integrins provide critical support for vascular endothelial growth factor signaling, endothelial cell migration, and tumor angiogenesis. Am J Pathol 160(1):195–204

17.

Pfaffl MW (2001) A new mathematical model for relative quantification in real-time RT-PCR. Nucleic Acids Res 29(9):e45

18.

Vandesompele J, De Preter K, Pattyn F, Poppe B, Van Roy N, De Paepe A, Speleman F (2002) Accurate normalization of real-time quantitative RT-PCR data by geometric averaging of multiple internal control genes. Genome Biol 3(7):RESEARCH0034

19.

Thalheimer A, Korb D, Boenicke L, Wiegering A, Muehling B, Schneider M, Koch S, Riedel S, Germer C-T, Braendlein S, Otto C (2013) Non-invasive visualisation of tumour growth in a human colorectal liver metastases xenograft model using bioluminescence in vivo imaging. J Surg Res 195(1):143–151

20.

van de Wetering M, Sancho E, Verweij C, de Lau W, Oving I, Hurlstone A, van der Horn K, Batlle E, Coudreuse D, Haramis AP, Tjon-Pon-Fong M, Moerer P, van den Born M, Soete G, Pals S, Eilers M, Medema R, Clevers H (2002) The beta-catenin/TCF-4 complex imposes a crypt progenitor phenotype on colorectal cancer cells. Cell 111(2):241–250

21.

Esumi H, Lu J, Kurashima Y, Hanaoka T (2004) Antitumor activity of pyrvinium pamoate, 6-(dimethylamino)-2-[2-(2,5-dimethyl-1-phenyl-1H-pyrrol-3-yl)ethenyl]-1-methyl-quinolinium pamoate salt, showing preferential cytotoxicity during glucose starvation. Cancer Sci 95(8):685–690

22.

Tomitsuka E, Kita K, Esumi H (2010) The NADH-fumarate reductase system, a novel mitochondrial energy metabolism, is a new target for anticancer therapy in tumor microenvironments. Ann N Y Acad Sci 1201:44–49

23.

Tomitsuka E, Kita K, Esumi H (2012) An anticancer agent, pyrvinium pamoate inhibits the NADH-fumarate reductase system—a unique mitochondrial energy metabolism in tumour microenvironments. J Biochem 152(2):171–183

24.

Harada Y, Ishii I, Hatake K, Kasahara T (2012) Pyrvinium pamoate inhibits proliferation of myeloma/erythroleukemia cells by suppressing mitochondrial respiratory complex I and STAT3. Cancer Lett 319(1):83–88

25.

Yu DH, Macdonald J, Liu G, Lee AS, Ly M, Davis T, Ke N, Zhou D, Wong-Staal F, Li QX (2008) Pyrvinium targets the unfolded protein response to hypoglycemia and its anti-tumor activity is enhanced by combination therapy. PLoS One 3(12):e3951

26.

Deng L, Lei Y, Liu R, Li J, Yuan K, Li Y, Chen Y, Liu Y, Lu Y, Edwards CK 3rd, Huang C, Wei Y (2013) Pyrvinium targets autophagy addiction to promote cancer cell death. Cell Death Dis 4:e614

27.

Domínguez-Cáceres MA, García-Martínez JM, Calcabrini A, González L, Porque PG, León J, Martín-Pérez J (2004) Prolactin induces Myc expression and cell survival through activation of Src/Akt pathway in lymphoid cells. Oncogene 23(44):7378–7390

28.

Torti D, Trusolino L (2011) Oncogene addiction as a foundational rationale for targeted anti-cancer therapy: promises and perils. EMBO Mol Med 3(11):623–636

29.

Mologni L, Brussolo S, Ceccon M, Gambacorti-Passerini C (2012) Synergistic effects of combined Wnt/KRAS inhibition in colorectal cancer cells. PLoS One 7(12):e514492
Acknowledgments
The work was supported by the German Research Foundation (DFG), grant 1516/2-1 (to AT), and by funds from the Interdisciplinary Centre for Clinical Research (IZKF) of the University of Würzburg (B-121 to AT and B-186 to AW). The authors assume full responsibility for the contents of the research. This publication was funded by the German Research Foundation (DFG), and the University of Würzburg is in the funding program Open Access Publishing.
Conflict of interest
The authors declare no conflict of interest.
Author contributions
Conceived and designed the experiments: AW, AT, FK, CTG, ML, CO; performed the experiments: AW, FWU, MH, BM, ML, CO. Analyzed the data: AW, FWU, MH, BM, AT, CO; contributed reagents/materials/analysis tools: AW, FWU, MH, BM, ML, CTG, FK; wrote the paper: AW, CTG, FK, AT, CO.
Additional information
AT and CO contributed equally to this work
Electronic supplementary material
Below is the link to the electronic supplementary material.
Fig. S1
Dose-response effectsof varying concentrations of pyrvinium pamoate on colon cancer cells. Ten colon cancer cell lines and 2 nonmalignant control cell lines (HUVEC, NHDF) were treated with pyrvinium at indicated concentrations and cell growth was measured at 37 °C for 72 h by crystal violet staining. The cells were cultured in their recommended media with low serum (1 % (v/v) FCS).Shown are the results as log IC50, mean and 95 % confidence interval (in brackets) of IC50of 2-3 independent assays, each performed in hexaplicate. (PDF 288 kb)
Fig. S2
Dose-response effectsof varying concentrations of pyrvinium pamoate on primary colon cancer cells. Six primary colon cancer samples were treated with pyrvinium at indicated concentrations and cell growth was measured at 37 °C for 72 h by calcein staining. Shown are the results as log IC50, mean and 95 % confidence interval (in brackets) of IC50of one representative assay, each performed in triplicate. (PDF 148 kb)
Fig. S3
The effect of low concentration of pyrvinium pamoate on the cytotoxic effect of 5-FU on colon cancer cells. Colon cancer cells and 2 nonmalignant control cell lines (HUVEC, NHDF) were treated with a combination of PP (10-7 mol/L) and 5-FU (5x10-6 mol/L) for 24 h in growth media with low serum (1 % (v/v) FCS). A combined effect of low concentration of pyrvinium and 5-FU did not increase the cytotoxic effect of 5-FU (exception: HCT116 and SW620 as shown in Fig. 3).Shown are the results as mean ± standard deviation of one representative assay, each performed in hexaplicate.No other results were observed for a prolonged culture (up to 72 h) or for a further reduction of 5-FU to 1 x10-6 mol/L (data not shown). The IC50 values for PP and 5-FU are shown inTab. S1 and Tab.S3, respectively. (PDF 104 kb)
Table S1
Dose-response effects of pyrvinium pamoate on cell viability of colon cancer cells. IC50 values were determined following pyrvinium treatment for 72 h in media with low serum (1 % (v/v) FCS). Cell lines are arranged according to increasing IC50 values. Shown are the results as mean and 95 % confidence interval (CI) of IC50of 2-3 independent assays, each performed in hexaplicate. (DOCX 16 kb)
Table S2
Dose-response effects of pyrvinium pamoate on cell viability of primary colon cancer cells. IC50 values were determined following pyrvinium treatment for 72 h in media with low serum (1 % (v/v) FCS). Primary colon cancer cells are arranged according to increasing IC50 values. Shown are the results as mean and 95 % confidence interval (95 % CI) of IC50of assays performed in triplicate.Colon cancer samples derived from resection specimens with known hotspot mutations in WNT signaling [13]. (DOC 34 kb)
Table S3
Dose-response effects of 5-FU on cell viability of colon cancer cells. IC50 values were determined following 5-FU treatment for 72 h in media with low serum (1 % (v/v) FCS). Cell lines are arranged according to increasing IC50 values. Shown are the results as mean and 95 % confidence interval (CI) of IC50of 2-3 independent assays, each performed in hexaplicate. (DOCX 16 kb)
About this article
Cite this article
Wiegering, A., Uthe, F., Hüttenrauch, M. et al. The impact of pyrvinium pamoate on colon cancer cell viability. Int J Colorectal Dis 29, 1189–1198 (2014). https://doi.org/10.1007/s00384-014-1975-y
Accepted:

Published:

Issue Date:
Keywords
Pyrvinium pamoate

Colon cancer cell lines

WNT pathway

Myc