Abstract
Purpose
The purpose of this study was to evaluate renal morbidity after a temporary loop ileostomy and to identify possible preoperative risk factors.
Method
Consecutive patients at four hospitals serving 1,520,000 inhabitants who received a temporary loop ileostomy and underwent subsequent closure were identified and retrospectively studied from 1 January 2007 until 28 February 2010. Serum creatinine levels were obtained 1 week before index surgery and 1 week before closure of the loop ileostomy. Estimated glomerular filtration rate (eGFR) was calculated using the CKD-EPI formula.
Results
Three hundred eight patients with median age of 64 were identified. The indication for the loop ileostomy was colorectal cancer (226), inflammatory bowel disease (41), diverticulosis (8), and other conditions (33). Median time until closure was 161 days (3–873). There was a decrease in eGFR at time of closure (89 vs. 83; p < 0.0001), and the number of patients with renal impairment (eGFR <60) increased (7.5 vs. 21 %, p < 0.0001). Preoperative risk factors for eGFR <60 at closure were age and hypertension.
Conclusions
This study found that a loop ileostomy is associated with a reduced renal function for most patients, especially for older and hypertensive patients. This should be considered before constructing a loop ileostomy, and perhaps another stoma should be chosen if possible in patients at risk. Evaluation of medications before discharge and early and frequent postoperative follow-up could also reduce the risk of a reduced renal function.
This is a preview of subscription content, log in to check access.
Access options
Buy single article
Instant access to the full article PDF.
US$ 39.95
Tax calculation will be finalised during checkout.
Subscribe to journal
Immediate online access to all issues from 2019. Subscription will auto renew annually.
US$ 199
Tax calculation will be finalised during checkout.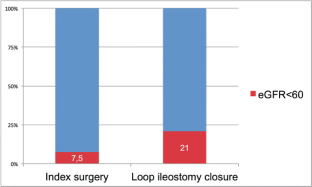 References
1.

Matthiessen P, Hallbook O, Rutegard J, Simert G, Sjodahl R (2007) Defunctioning stoma reduces symptomatic anastomotic leakage after low anterior resection of the rectum for cancer: a randomized multicenter trial. Ann Surg 246(2):207–214

2.

Mennigen R, Senninger N, Bruwer M, Rijcken E (2011) Impact of defunctioning loop ileostomy on outcome after restorative proctocolectomy for ulcerative colitis. Int J Color Dis 26(5):627–633

3.

Garcia-Botello SA, Garcia-Armengol J, Garcia-Granero E, Espi A, Juan C, Lopez-Mozos F et al (2004) A prospective audit of the complications of loop ileostomy construction and takedown. Dig Surg 21(5–6):440–4406

4.

Gessler B, Haglind E, Angenete E (2012) Loop ileostomies in colorectal cancer patients–morbidity and risk factors for nonreversal. J Surg Res 178(2):708–714

5.

Giannakopoulos GF, Veenhof AA, van der Peet DL, Sietses C, Meijerink WJ, Cuesta MA (2009) Morbidity and complications of protective loop ileostomy. Color Dis Off J Assoc Coloproctology of G B Irel 11(6):609–612

6.

Shabbir J, Britton DC (2010) Stoma complications: a literature overview. Color Dis Off J Assoc Coloproctology G B Irel 12(10):958–964

7.

Feinberg SM, McLeod RS, Cohen Z (1987) Complications of loop ileostomy. Am J Surg 153(1):102–107

8.

Hallbook O, Matthiessen P, Leinskold T, Nystrom PO, Sjodahl R (2002) Safety of the temporary loop ileostomy. Color Dis Off J Assoc Coloproctology G B Irel 4(5):361–364

9.

Baker ML, Williams RN, Nightingale JM (2011) Causes and management of a high-output stoma. Color Dis Off J Assoc Coloproctology G B Irel 13(2):191–197

10.

Hayden DM, Pinzon MC, Francescatti AB, Edquist SC, Malczewski MR, Jolley JM et al (2013) Hospital readmission for fluid and electrolyte abnormalities following ileostomy construction: preventable or unpredictable? J Gastrointest Surg Off J Soc Surg Aliment Tract 17(2):298–303

11.

Messaris E, Sehgal R, Deiling S, Koltun WA, Stewart D, McKenna K et al (2012) Dehydration is the most common indication for readmission after diverting ileostomy creation. Dis Colon Rectum 55(2):175–180

12.

Okamoto T, Kusunoki M, Kusuhara K, Yamamura T, Utsunomiya J (1995) Water and electrolyte balance after ileal J pouch-anal anastomosis in ulcerative colitis and familial adenomatous polyposis. Int J Color Dis 10(1):33–38

13.

Beck-Kaltenbach N, Voigt K, Rumstadt B (2011) Renal impairment caused by temporary loop ileostomy. Int J Color Dis 26(5):623–626

14.

Levey AS, Stevens LA, Schmid CH, Zhang YL, Castro AF 3rd, Feldman HI et al (2009) A new equation to estimate glomerular filtration rate. Ann Intern Med 150(9):604–612

15.

Go AS, Chertow GM, Fan D, McCulloch CE, Hsu CY (2004) Chronic kidney disease and the risks of death, cardiovascular events, and hospitalization. N Engl J Med 351(13):1296–1305

16.

National Kidney F. (2002) K/DOQI clinical practice guidelines for chronic kidney disease: evaluation, classification, and stratification. Am J Kidney Dis 39(2 Suppl 1):S1–S266

17.

Paquette IM, Solan P, Rafferty JF, Ferguson MA, Davis BR (2013) Readmission for dehydration or renal failure after ileostomy creation. Dis Colon Rectum 56(8):974–979

18.

Chang TI, Li S, Chen SC, Peralta CA, Shlipak MG, Fried LF et al (2013) Risk factors for ESRD in individuals with preserved estimated GFR with and without albuminuria: results from the Kidney Early Evaluation Program (KEEP). Am J Kidney Dis 61(4 Suppl 2):S4–S11

19.

Messaris E, Sehgal R, Deiling S, Koltun WA, Stewart D, McKenna K et al (2012) Dehydration is the most common indication for readmission after diverting ileostomy creation. Dis Colon Rectum 55(2):175–180

20.

Henry RM, Kostense PJ, Bos G, Dekker JM, Nijpels G, Heine RJ et al (2002) Mild renal insufficiency is associated with increased cardiovascular mortality: The Hoorn Study. Kidney Int 62(4):1402–1407

21.

Nagle D, Pare T, Keenan E, Marcet K, Tizio S, Poylin V (2012) Ileostomy pathway virtually eliminates readmissions for dehydration in new ostomates. Dis Colon Rectum 55(12):1266–172

22.

Pieroni L, Delanaye P, Boutten A, Bargnoux AS, Rozet E, Delatour V et al (2011) A multicentric evaluation of IDMS-traceable creatinine enzymatic assays. Clin Chim Acta 412(23–24):2070–2075

23.

Drion I, Cobbaert C, Groenier KH, Weykamp C, Bilo HJ, Wetzels JF et al (2012) Clinical evaluation of analytical variations in serum creatinine measurements: why laboratories should abandon Jaffe techniques. BMC Nephrol 13:133
Acknowledgments
The authors would like to express their gratitude to the participating hospitals and to Zoltan Läckberg, MD, Stefan Skullman, MD, PhD, and Gunnar Nylund, MD, PhD.
Conflict of interest
This study is financially supported by the Swedish Society of Medicine, Sahlgrenska University Hospital, Agreement concerning research and education of doctors, ALF, and grants from Anna-Lisa and Bror Björnssons foundation. The authors declare that they have no conflict of interest.
About this article
Cite this article
Gessler, B., Haglind, E. & Angenete, E. A temporary loop ileostomy affects renal function. Int J Colorectal Dis 29, 1131–1135 (2014). https://doi.org/10.1007/s00384-014-1949-0
Accepted:

Published:

Issue Date:
Keywords
Loop ileostomy

Morbidity

Renal impairment

Colorectal/anal neoplasia

Benign colorectal disease