Abstract
Background and aims
The key role of the brain-gut axis in the pathophysiology of irritable bowel syndrome (IBS) has been recognized. The aim of this study was to assess the possible association between IBS, neuroendocrine markers, and psychological features.
Methods
One hundred and twenty-five consecutive IBS patients and 105 healthy subjects were enrolled. Plasma serotonin, plasma and urinary cortisol, and plasma neuropeptide Y levels were evaluated. All patients were given a questionnaire to assess IBS symptom severity. In 66 patients, a psychodiagnostic assessment was carried out.
Results
A high incidence of specific psychological features, including state anxiety (69.69 %), trait anxiety (54.54 %), obsessions and compulsions (28.78 %), was observed in IBS patients. A positive correlation between neuropeptide Y and state anxiety (r = 0.287, p = 0.024) and simulation/social ingenuity (r = 0.269, p = 0.039) was found in these patients. In diarrhea-predominant IBS, plasma cortisol was linearly related to plasma serotonin (r = 0.5663, p < 0.001).
Conclusions
In IBS patients, a significant correlation was found between specific psychological features and neuroendocrine markers, especially plasma cortisol and neuropeptide Y; in diarrhea-predominant IBS, a correlation between plasma cortisol and serotonin was found, although it needs to be confirmed in more extensive cohorts.
Access options
Buy single article
Instant access to the full article PDF.
US$ 39.95
Tax calculation will be finalised during checkout.
Subscribe to journal
Immediate online access to all issues from 2019. Subscription will auto renew annually.
US$ 119
Tax calculation will be finalised during checkout.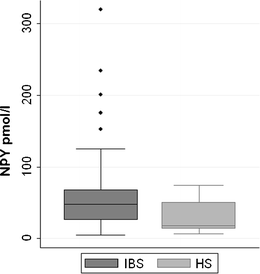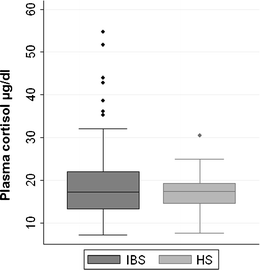 Abbreviations
NPY:

Neuropeptide Y

IBS:

Irritable bowel syndrome

HS:

Healthy subjects
References
1.

Camilleri M, Choi MG (1997) Irritable bowel syndrome. Aliment Pharmacol Ther 11:3–15

2.

Longstreth GF, Thompson WG, Chey WD, Houghton LA, Mearin F, Spiller RC (2006) Functional bowel disorders. Gastroenterology 130:1480–1491

3.

Thompson WG, Longstreth GF, Drossman DA, Heaton KW, Irvine EJ, Müller-Lissner SA (1999) Functional bowel disorders and functional abdominal pain. Gut 45:II43–II47

4.

Lydiard RB, Fossey MD, Marsh W, Ballenger JC (1993) Prevalence of psychiatric disorders in patients with irritable bowel syndrome. Psychosomatics 34:229–234

5.

Drossman DA, Creed FH, Olden KW, Svedlund J, Toner BB, Whitehead WE (1999) Psychosocial aspects of the functional gastrointestinal disorders. Gut 45:II 25–II 30

6.

Gunn MC, Cavin AA, Mansfield JC (2003) Management of irritable bowel syndrome. Postgrad Med J 79:154–158

7.

Kim DY, Camilleri M (2000) Serotonin: a mediator of the brain–gut connection. Am J Gastroenterol 95:2698–2709

8.

Stasi C, Rosselli M, Bellini M, Laffi G, Milani S (2012) Altered neuro-endocrine-immune pathways in the irritable bowel syndrome: the top-down and the bottom-up model. J Gastroenterol. doi:10.1007/s00535-012-0627-7

9.

Karantanos T, Markoutsaki T, Gazouli M, Anagnou NP, Karamanolis DG (2010) Current insights in to the pathophysiology of irritable bowel syndrome. Gut Pathog 2:3

10.

Kawahito Y, Sano H, Mukai S, Asai K, Kimura S, Yamamura Y, Kato H, Chrousos GP, Wilder RL, Kondo M (1995) Corticotropin releasing hormone in colonic mucosa in patients with ulcerative colitis. Gut 37:544–551

11.

Stasi C, Frisoli A, Bellini M, Taddei S, Costa F, Biagi S, Mumolo MG, Ricchiuti A, Marchi S (2006) Increased levels of neuropeptide Y in patients with irritable bowel syndrome. Dig Liver Dis 38:S131

12.

Bearcroft CP, Perret D, Farthing MJG (1998) Postprandial plasma 5-hydroxytryptamine in diarrhoea-predominant irritable bowel syndrome: a pilot study. Gut 42:42–46

13.

Bellini M, Rappelli L, Blandizzi C, Costa F, Stasi C, Colucci R, Giannaccini G, Marazziti D, Betti L, Baroni S, Mumolo MG, Marchi S, Del Tacca M (2003) Platelet serotonin transporter in patients with diarrhea-predominant irritable bowel syndrome both before and after treatment with alosetron. Am J Gastroenterol 98:2705–2711

14.

Engsbro AL, Simren M, Bytzer P (2012) The Rome II and Rome III criteria identify the same subtype-populations in irritable bowel syndrome: agreement depends on the method used for symptom report. Neurogastroenterol Motil. doi:10.1111/j.1365-2982.2012.01908

15.

Francis CY, Morris J, Whorwell PJ (1997) The irritable bowel severity scoring system: a simple method of monitoring irritable bowel syndrome and its progress. Aliment Pharmacol Ther 11:395–402

16.

Hodgson RJ, Rachman S (1977) Obsessional-compulsive complaints. Behav Res Ther 15:389–395

17.

Spielberger CD (1983) State-trait anxiety inventory: a comprehensive bibliography. Consulting Psychologist, Palo Alto

18.

Bertolotti G, Michielin P, Sanavio E, Simonetti G, Vidotto G, Zorn AM (1985) CBA—Cognitive behavioral assessment 2.0.—Una batteria a vasto spettro per la pratica clinico-terapeutica—Firenze, Organizzazioni Speciali

19.

Drossman DA, McKee DC, Sandler RS, Mitchell CM, Cramer EM, Lowman BC, Burger AL (1988) Psychosocial factors in the irritable bowel syndrome. A multivariate study of patients and nonpatients with irritable bowel syndrome. Gastroenterology 95:701–708

20.

Heitkemper M, Jarret M, Cain K, Shaver J, Bond E, Woods NF, Walker E (1996) Increased urine catecholamines and cortisol in women with irritable bowel syndrome. Am J Gastroenterol 91:906–913

21.

Plotsky PM, Owens MJ, Nemeroff CB (1998) Psychoneuroendocrinology of depression. Hypothalamic–pituitary–adrenal axis. Psychiatr Clin North Am 21:293–307

22.

Böhmelt AH, Nater UM, Franke S, Hellhammer DH, Ehlert U (2005) Basal and stimulated hypothalamic–pituitary–adrenal axis activity in patients with functional gastrointestinal disorders and healthy controls. Psychosom Med 67:288–294

23.

Chang L, Sundaresh S, Elliott J, Anton PA, Baldi P, Licudine A, Mayer M, Vuong T, Hirano M, Naliboff BD, Ameen VZ, Mayer EA (2009) Dysregulation of the hypothalamic–pituitary–adrenal (HPA) axis in irritable bowel syndrome. Neurogastroenterol Motil 21:149–159

24.

Elsenbruch S, Orr WC (2001) Diarrhea- and constipation-predominant IBS patients differ in postprandial autonomic and cortisol responses. Am J Gastroenterol 96:460–466

25.

Fukudo S, Nomura T, Hongo M (1998) Impact of corticotropin-releasing hormone on gastrointestinal motility and adrenocorticotropic hormone in normal controls and patients with irritable bowel syndrome. Gut 42:845–849

26.

Dinan TG, Quigley EM, Ahmed SM, Scully P, O'Brien S, O'Mahony L, O'Mahony S, Shanahan F, Keeling PW (2006) Hypothalamic–pituitary–gut axis dysregulation in irritable bowel syndrome: plasma cytokines as a potential biomarker? Gastroenterology 130:304–311

27.

Kaplan HI, Sadock BJ, Grebb JA (1994) Kaplan and Sadock's synopsis of psychiatry: behavioral sciences clinical psychiatry, 7th edn. Williams & Wilkins, Baltimore

28.

Iovino P, Azpiroz F, Domingo E, Malagelada JR (1995) The sympathetic nervous system modulates perception and reflex responses to gut distention in humans. Gastroenterology 108:680–686

29.

Waring WS, Chui M, Japp A, Nicol EF, Ford MJ (2004) Autonomic cardiovascular responses are impaired in women with irritable bowel syndrome. J Clin Gastroenterol 38:658–663

30.

Heitkemper M, Jarret M, Bond E, Walzer E, Rockwell M (1994) Increased sympathetic nervous system activity in women with IBS. Gastroenterology 106:A509

31.

Jorgensen LS, Christiansen P, Raundahl U, Ostgaard S, Christensen NJ, Fenger M, Flachs H (1993) Autonomic nervous system function in patients with functional abdominal pain. An experimental study. Scand J Gastroenterol 28:63–68

32.

Levi L (1972) Stress and distress in response to psychosocial stimuli. Laboratory and real life studies on sympathoadrenomedullary and related reactions. Acta Med Scand 528:1–166

33.

Silverman DH, Munakata JA, Ennes H, Mandelkern MA, Hoh CK, Mayer EA (1997) Regional cerebral activity in normal and pathological perception of visceral pain. Gastroenterology 112:64–72

34.

Drossman DA, Ringel Y, Vogt BA, Leserman J, Lin W, Smith JK, Whitehead W (2003) Alterations of brain activity associated with resolution of emotional distress and pain in a case of severe irritable bowel syndrome. Gastroenterology 124:754–761

35.

Prior A, Colgan SM, Whorwell PJ (1990) Changes in rectal sensitivity after hypnotherapy with irritable bowel syndrome. Gut 31:896–898

36.

Simrén M, Abrahamsson H, Bjornsson ES (2001) An exaggerated sensory component of the gastrocolonic response in patients with irritable bowel syndrome. Gut 48:20–27

37.

Park JH, Rhee PL, Kim HS, Lee JH, Kim YH, Kim JJ, Rhee JC (2006) Mucosal mast cell counts correlate with visceral hypersensitivity in patients with diarrhea predominant irritable bowel syndrome. J Gastroenterol Hepatol 21(1 Pt 1):71–78

38.

Barbara G, Stanghellini V, De Giorgio R, Cremon C, Cottrell GS, Santini D, Pasquinelli G, Morselli-Labate AM, Grady EF, Bunnett NW, Collins SM, Corinaldesi R (2004) Activated mast cells in proximity to colonic nerves correlate with abdominal pain in irritable bowel syndrome. Gastroenterology 126:693–702

39.

Rodríguez-Fandiño O, Hernández-Ruiz J, Schmulson M (2010) From cytokines to toll-like receptors and beyond—current knowledge and future research needs in irritable bowel syndrome. J Neurogastroenterol Motil 16:363–373
Conflict of interest
The authors have no conflicts of interest to disclose.
About this article
Cite this article
Stasi, C., Bellini, M., Costa, F. et al. Neuroendocrine markers and psychological features in patients with irritable bowel syndrome. Int J Colorectal Dis 28, 1203–1208 (2013). https://doi.org/10.1007/s00384-013-1646-4
Accepted:

Published:

Issue Date:
Keywords
Neuroendocrine markers

Psychological features

Irritable bowel syndrome