Abstract
Purpose
The management of perianal fistula in patients with Crohn's disease is an extremely challenging medical problem as many fistulas do not respond to available treatments. The objectives were to assess the safety and efficacy of a suspension of expanded adipose-derived allogeneic mesenchymal stem cells (eASCs) for the treatment of complex perianal fistula in Crohn's disease
Methods
An open-label, single-arm clinical trial was conducted at six Spanish hospitals. Twenty-four patients were administered intralesionally with 20 million eASCs in one draining fistula tract. A subsequent administration of 40 million eASCs was performed if fistula closure was incomplete at week 12. Subjects were followed until week 24 after the initial administration.
Results
Treatment-related adverse events did not indicate any clinical safety concerns after 6 months follow-up. The full analysis of efficacy data at week 24 showed 69.2 % of the patients with a reduction in the number of draining fistulas, 56.3 % of the patients achieved complete closure of the treated fistula achieved, and 30 % of the cases presenting complete closure of all existing fistula tracts. Of note, closure was strictly defined as: absence of suppuration through the external orifice and complete re-epithelization, plus absence of collections measured by magnetic resonance image scan (MRI). Furthermore, MRI Score of Severity showed statistically significant differences at week 12 with a marked reduction at week 24.
Conclusions
Locally injected eASCs appear to be a simple, safe, and beneficial therapy for perianal fistula in Crohn's disease patients. Additional studies are needed to further confirm the efficacy of the eASCs.
Access options
Buy single article
Instant access to the full article PDF.
USD 39.95
Price excludes VAT (USA)
Tax calculation will be finalised during checkout.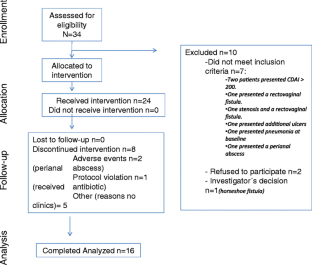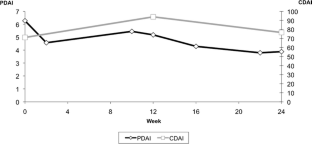 References
Cho JH (2008) The genetics and immunopathogenesis of inflammatory bowel disease. Nat Rev Immunol 8:458–466

Hellers G, Bergstrand O, Ewerth S et al (1980) Occurrence and outcome after primary treatment of anal fistula in Crohn's disease. Gut 21:525–527

Schwartz DA, Loftus EV Jr, Tremaine WJ et al (2002) The natural history of fistulizing Crohn's disease in Olmsted Country, Minnesota. Gastroenterology 122:875–880

Tozer PJ, Burling D, Gupta A et al (2011) Review article: medical, surgical and radiological management of perianal Crohn's fistulas. Aliment Pharmacol Ther 33:5–22

Singer NG, Caplan AI (2011) Mesenchymal stem cells: mechanisms of inflammation. Annu Rev Pathol 6:457–478

Delarosa O, Dalemans W, Lombardo E (2012) Mesenchymal stem cells as therapeutic agents of inflammatory and autoimmune diseases. Curr Opin Biotechnol 23:1–5

Di Nicola M, Carlo-Stella C, Magni M et al (2002) Human bone marrow stromal cells suppress T-lymphocyte proliferation induced by cellular or nonspecific mitogenic stimuli. Blood 99:3838–3843

Krampera M, Glennie S, Dyson J et al (2003) Bone marrow mesenchymal stem cells inhibit the response of naive and memory antigen-specific T cells to their cognate peptide. Blood 101:3722–3729

Ghannam S, Pène J, Torcy-Moquet G et al (2010) Mesenchymal stem cells inhibit human Th17 cell differentiation and function and induce a T regulatory cell phenotype. J Immunol 185:302–312

Prigione I, Benvenuto F, Bocca P et al (2009) Reciprocal interactions between human mesenchymal stem cells and gammadelta T cells or invariant natural killer T cells. Stem Cells 27:693–702

Corcione A, Benvenuto F, Ferretti E et al (2006) Human mesenchymal stem cells modulate B-cell functions. Blood 107:367–372

Raffaghello L, Bianchi G, Bertolotto M et al (2008) Human mesenchymal stem cells inhibit neutrophil apoptosis: a model for neutrophil preservation in the bone marrow niche. Stem Cells 26:151–162

Delarosa O, Sánchez-Correa B, Morgado S et al (2012) Human adipose-derived stem cells impair natural killer cell function and exhibit low susceptibility to natural killer-mediated lysis. Stem Cells Dev 21:1333–1343

Doorn J, Moll G, Le Blanc K et al (2012) Therapeutic applications of mesenchymal stromal cells: paracrine effects and potential improvements. Tissue Eng Part B Rev 18:101–115

DelaRosa O, Lombardo E, Beraza A et al (2009) Requirement of IFN-gamma-mediated indoleamine 2,3-dioxygenase expression in the modulation of lymphocyte proliferation by human adipose-derived stem cells. Tissue Eng Part A 15:2795–2806

Krampera M (2011) Mesenchymal stromal cell 'licensing': a multistep process. Leukemia 25:1408–1414

Le Blanc K, Tammik C, Rosendahl K et al (2003) HLA expression and immunologic properties of differentiated and undifferentiated mesenchymal stem cells. Exp Hematol 31:890–896

Mitchell JB, McIntosh K, Zvonic S et al (2006) Immunophenotype of human adipose-derived cells: temporal changes in stromal-associated and stem cell-associated markers. Stem Cells 24:376–385

Gonzalez-Rey E, Anderson P, González MA et al (2009) Human adult stem cells derived from adipose tissue protect against experimental colitis and sepsis. Gut 58:929–939

González MA, Gonzalez-Rey E, Rico L et al (2009) Adipose-derived mesenchymal stem cells alleviate experimental colitis by inhibiting inflammatory and autoimmune responses. Gastroenterology 136:978–989

Garcia-Olmo D, Garcia-Arranz M, Garcia LG et al (2003) Autologous stem cell transplantation for treatment of rectovaginal fistula in perianal Crohn's disease: a new cell-based therapy. Int J Colorectal Dis 18:451–454

Garcia-Olmo D, Garcia-Arranz M, Herreros D et al (2005) A phase I clinical trial of the treatment of Crohn's fistula by adipose mesenchymal stem cell transplantation. Dis Colon Rectum 48:1416–1423

Garcia-Olmo D, Herreros D, Pascual I et al (2009) Expanded adipose-derived stem cells for the treatment of complex perianal fistula: a phase II clinical trial. Dis Colon Rectum 52:79–86

Ciccocioppo R, Bernardo ME, Sgarella A et al (2011) Autologous bone marrow-derived mesenchymal stromal cells in the treatment of fistulising Crohn's disease. Gut 60:788–798

Van Assche G, Dignass A, Reinisch W et al (2010) The second European evidence-based consensus on the diagnosis and management of Crohn's disease: special situations. J Crohn's Colitis 4:63–101

Nikfar S, Mirfazaelian H, Abdollahi M (2010) Efficacy and tolerability of immunoregulators and antibiotics in fistulizing Crohn's disease: a systematic review and meta-analysis of placebo-controlled trials. Curr Pharm Des 16:3684–3698

Pearson DC, May GR, Fick GH et al (1995) Azathioprine and 6-mercaptopurine in Crohn disease. A meta-analysis. Ann Intern Med 123:132–142

Sands BE, Anderson FH, Bernstein CN et al (2004) Infliximab maintenance therapy for fistulizing Crohn's disease. N Engl J Med 350:876–885

Roumeguère P, Bouchard D, Pigot F et al (2011) Combined approach with infliximab, surgery, and methotrexate in severe fistulizing anoperineal Crohn's disease: results from a prospective study. Inflamm Bowel Dis 17:69–76

Bourikas LA, Koutroubakis IE (2010) Anti-TNF and fistulizing perianal Crohn's disease: use in clinical practice. Curr Drug Targets 11:187–197

Alessandroni L, Kohn A, Cosintino R et al (2011) Local injection of infliximab in severe fistulating perianal Crohn's disease: an open uncontrolled study. Tech Coloproctol 15:407–412

Wise PE, Schwartz DA (2006) Management of perianal Crohn's disease. Clin Gastroenterol Hepatol 4:426–430

Singh B, George BD, Mortensen NJ (2007) Surgical therapy of perianal Crohn's disease. Dig Liver Dis 39:988–992

Whiteford MH, Kilkenny J 3rd, Hyman N et al (2005) Practice parameters for the treatment of perianal abscess and fistula-in-ano (revised). Dis Colon Rectum 48:1337–1342

Lewis RT, Maron DJ (2010) Anorectal Crohn's disease. Surg Clin North Am 90:83–97

Grimaud JC, Munoz-Bongrand N, Siproudhis L et al (2010) Fibrin glue is effective healing perianal fistulas in patients with Crohn's disease. Gastroenterology 138:2275–2281

English K, Mahon BP (2011) Allogeneic mesenchymal stem cells: agents of immune modulation. J Cell Biochem 112:1963–1968

Uccelli A, Moretta L, Pistoia V (2006) Immunoregulatory function of mesenchymal stem cells. Eur J Immunol 36:2566–2573

Krampera M, Cosmi L, Angeli R et al (2006) Role for interferon-gamma in the immunomodulatory activity of human bone marrow mesenchymal stem cells. Stem Cells 24:386–398

Van Laar JM, Tyndall A (2006) Adult stem cells in the treatment of autoimmune diseases. Rheumatology (Oxford) 45:1187–1193

Griffin MD, Ritter T, Mahon BP (2010) Immunological aspects of allogeneic mesenchymal stem cell therapies. Hum Gene Ther 21:1641–1655

Rubio D, Garcia S, De la Cueva T et al (2008) Human mesenchymal stem cell transformation is associated with a mesenchymal-epithelial transition. Exp Cell Res 314:691–698

Røsland GV, Svendsen A, Torsvik A et al (2009) Long-term cultures of bone marrow-derived human mesenchymal stem cells frequently undergo spontaneous malignant transformation. Cancer Res 69:5331–5339

Garcia S, Bernad A, Martín MC et al (2010) Pitfalls in spontaneous in vitro transformation of human mesenchymal stem cells. Exp Cell Res 316:1648–1650

Torsvik A, Røsland GV, Svendsen A et al (2010) Spontaneous malignant transformation of human mesenchymal stem cells reflects cross-contamination: putting the research field on track—letter. Cancer Res 70:6393–6396

Prockop DJ, Brenner M, Fibbe WE et al (2010) Defining the risks of mesenchymal stromal cell therapy. Cytotherapy 12:576–578

Malouf AJ, Buchanan GN, Carapeti EA et al (2002) A prospective audit of fistula-in-ano at St. Mark's hospital. Colorectal Dis 4:13–19

Jurczak F, Laridon JY, Raffaitin P et al (2004) Biological fibrin used in anal fistulas: 31 patients. Ann Chir 129:286–289

Taxonera C, Schwartz DA, Garcia-Olmo D (2009) Emerging treatments for complex perianal fistula in Crohn's disease. World J Gastroenterol 15:4263–4272

Schaffzin DM, Stahl TJ, Smith LE (2003) Perianal mucinous adenocarcinoma: unusual case presentations and review of the literature. Am Surg 69:166–169
Acknowledgments
The authors thank José Luis Bravo and Lydia Dorrego (TiGenix) for their support and contribution during the study conduct.
Competing interests
There are no competing interests
Funding
This study was sponsored by TiGenix (formerly Cellerix).
About this article
Cite this article
de la Portilla, F., Alba, F., García-Olmo, D. et al. Expanded allogeneic adipose-derived stem cells (eASCs) for the treatment of complex perianal fistula in Crohn's disease: results from a multicenter phase I/IIa clinical trial. Int J Colorectal Dis 28, 313–323 (2013). https://doi.org/10.1007/s00384-012-1581-9
Accepted:

Published:

Issue Date:

DOI: https://doi.org/10.1007/s00384-012-1581-9
Keywords
Fistulizing Crohn's disease

Perianal fistula

Allogeneic adult stem cells