Abstract
Introduction
Cavernous hemangiomas of the sigmoid colon and rectum are uncommon vascular malformations usually found in young adults with a long history of episodic and painless rectal bleeding. Alternatively, they may present with massive life-threatening hemorrhage.
Discussion
We report three cases of hemangioma of the rectosigmoid including one case of cavernous hemangioma, one case of arteriovenous hemangioma, and one case of hemangiolymphangiomatosis with emphasis on clinical presentation, radiologic, operative, and pathologic findings. Definitive treatment consists of complete resection with a sphincter-preserving procedure or abdominoperineal resection, based on extent of disease.
Conclusion
Therapy is typically delayed by several years in these patients due to erroneous diagnosis and failed treatment of hemorrhoids and inflammatory bowel disease. Relative to hemangiomas, lymphangiomas of the rectosigmoid are even more rare and when symptomatic, present with rectal bleeding and pelvic pain.
This is a preview of subscription content, log in to check access.
Access options
Buy single article
Instant access to the full article PDF.
US$ 39.95
Tax calculation will be finalised during checkout.
Subscribe to journal
Immediate online access to all issues from 2019. Subscription will auto renew annually.
US$ 199
Tax calculation will be finalised during checkout.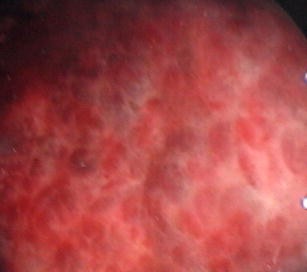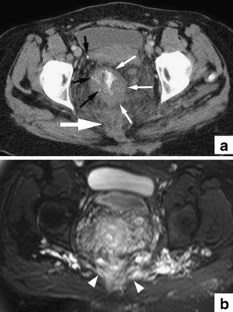 References
1.

Ajiki T, Nakamura T, Kubota S, Kim YS, Kuroda Y (2000) Successful endoscopic treatment of colon lymphangioma with a ligating device. Gastrointest Endosc 52:800–802

2.

Amarapurkar D, Jadliwala M, Punamiya S, Jhawer P, Chitale A, Amarapurkar A (1998) Cavernous hemangioma of the rectum: report of three cases. Am J Gastroenterol 93:1357–1359

3.

Aylward CA, Orangio GR, Lucas GW, Fazio VW (1988) Diffuse cavernous hemangioma of the rectosigmoid. CT scan, a new diagnostic modality, and surgical management using sphincter-saving procedures. Dis Colon Rectum 31:797–802

4.

Corman ML (2005) Colon and rectal surgery, 5th ed. Lippincott Williams and Wilkins, Philadelphia

5.

Corman ML, Haggitt RC (1973) Lymphangioma of the rectum. Dis Colon Rectum 16:524–529

6.

Cunningham JA, Garcia VF, Quispe G (1989) Diffuse cavernous rectal hemangioma-sphincter-sparing approach to therapy. Report of a case. Dis Colon Rectum 32:344–347

7.

Dachman AH, Ros PR, Shekitka KM, Buck JL, Olmsted WW, Hinton CB (1988) Colorectal hemangioma: radiologic findings. Radiology 167:31–34

8.

Dalton ML, Gronvall JA (1963) Lymphangioma of the rectum: report of a case. Dis Colon Rectum 6:385–386

9.

Enzinger FM, Weiss SW (eds) (1995) Soft tissue tumors, 3rd edn. Mosby, New York

10.

Hizawa K, Aoyagi K, Kurahara K, Suekane H, Kuwano Y, Nakamura S, Fujishima M (1996) Gastrointestinal lymphangioma: endosonographic demonstration and endoscopic removal. Gastrointestinal Endosc 43:620–624

11.

Irisawa A, Bhutani MS (2001) Cystic lymphangioma of the colon: endosonographic diagnosis with through-the-scope catheter miniprobe and determination of further management. Report of a case. Dis Colon Rectum 44:1040–1042

12.

Kim KM, Choi KY, Lee A, Kim BK (2000) Lymphangioma of large intestine: report of ten cases with endoscopic and pathologic correlation. Gastrointest Endosc 52:255–259

13.

Kuramoto S, Sakai S, Tsuda K, Kaminishi M, Ihara O, Oohara T, Jinbo S, Murakami T (1988) Lymphangioma of the large intestine. Report of a case. Dis Colon Rectum 31:900–905

14.

Levy AD, Abbott RM, Rohrmann CA, Frazier AA, Kende A (2001) Gastrointestinal hemangiomas: imaging findings with pathologic correlation in pediatric and adult patients. AJR Am J Roentgenol 177:1073–1081

15.

Oner Z, Altaca G (1993) Diffuse cavernous rectal hemangioma–clinical appearance, diagnostic modalities and sphincter saving approach to therapy: report of 2 and a collective review of 79 cases. Acta Chir Belg 93:173–176

16.

Park SJ, Lee JW, Han JK (1999) Images of interest. Gastrointestinal: gastrointestinal lymphangiomas. J Gastroenterol Hepatol 14:101

17.

Tai PT, Jewell LD (1995) Case report: mesenteric mixed haemangioma and lymphangioma; report of a case with 10 year follow-up after radiation treatment. Br J Radiol 68:657–661

18.

Varma JD, Hill MC, Harvey LAC (1998) Hemangioma of the small intestine manifesting as gastrointestinal bleeding. Radiographics 741:1029–1033

19.

Wang HT, Tu Y, Fu CG, Meng RG, Cui L, Xu HL, Yu DH (2005) Diffuse cavernous hemangioma of the rectosigmoid colon. Tech Coloproctol 9:145–148

20.

Yorozuya K, Watanabe M, Hasegawa H, Baba H, Imai Y, Mukai M, Kitajima M (2003) Diffuse cavernous hemangioma of the rectum: report of a case. Surg Today 33:309–311
About this article
Cite this article
Sylla, P., Deutsch, G., Luo, J. et al. Cavernous, arteriovenous, and mixed hemangioma–lymphangioma of the rectosigmoid: rare causes of rectal bleeding—case series and review of the literature. Int J Colorectal Dis 23, 653–658 (2008). https://doi.org/10.1007/s00384-008-0466-4
Accepted:

Published:

Issue Date:
Keywords
Cavernous hemangioma

Arteriovenous hemangioma

Hemangiolymphangiomatosis

Rectal bleeding