Abstract
Background and aims
Omega-3 fatty acids in fish oil exert a protective effect on the development of colorectal cancer in animal models. Patients with colorectal adenomas have been shown to have increased crypt cell proliferation and decreased apoptosis in macroscopically normal appearing colonic mucosa. We investigated whether dietary supplementation with eicosapentaenoic acid (EPA) could alter crypt cell proliferation and apoptosis in such patients.
Patients/methods
Thirty subjects were randomised to either 3 months of highly purified EPA in free fatty acid form (2 g/day) or to no treatment. Colonic biopsies were taken at the initial colonoscopy and repeated 3 months later, and analysed for cell proliferation and apoptosis (immunohistochemistry) and mucosal fatty acid content.
Results/findings
Crypt cell proliferation was significantly reduced whilst apoptosis was significantly increased after EPA supplementation. Neither crypt cell proliferation nor apoptosis were altered in the control group. EPA in the mucosa increased significantly after EPA supplementation, whereas there was no significant change in controls.
Conclusions
Dietary supplementation with EPA significantly increases levels of this fatty acid in colonic mucosa, associated with significantly reduced proliferation and increased mucosal apoptosis. Further studies are needed to assess the potential efficacy of EPA supplementation in preventing polyps in the chemoprevention of colorectal cancer.
This is a preview of subscription content, log in to check access.
Access options
Buy single article
Instant access to the full article PDF.
US$ 39.95
Price includes VAT for USA
Subscribe to journal
Immediate online access to all issues from 2019. Subscription will auto renew annually.
US$ 199
This is the net price. Taxes to be calculated in checkout.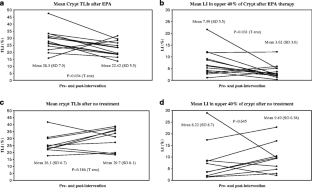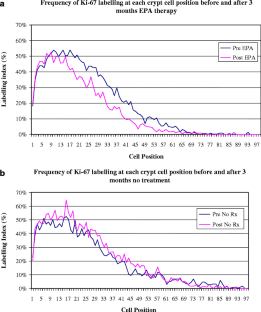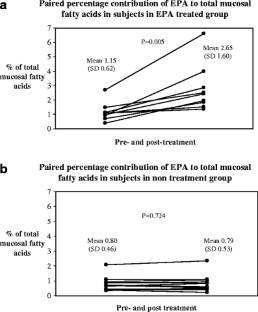 Abbreviations
EPA:

eicosapentaenoic acid

DHA:

docosahexaenoic acid

PUFAs:

polyunsaturated fatty acids

BMI:

body mass index
References
1.

Parkin DM (2004) International variation. Oncogene 23:6329–6340

2.

Cummings JH, Bingham SA (1998) Diet and the prevention of cancer. BMJ 317:1636–1640

3.

Simopoulos AP (2003) Importance of the ratio of omega-6/omega-3 essential fatty acids: evolutionary aspects. World Rev Nutr Diet 92:1–22

4.

Reddy BS (2004) Omega-3 fatty acids in colorectal cancer prevention. Int J Cancer 112:1–7

5.

Caygill CP, Charlett A, Hill MJ (1996) Fat, fish, fish oil and cancer. Br J Cancer 74:159–164

6.

Roynette CE, Calder PC, Dupertuis YM et al (2004) n-3 polyunsaturated fatty acids and colon cancer prevention. Clin Nutr 23:139–151

7.

Anti M, Armelao F, Marra G et al (1994) Effects of different doses of fish oil on rectal cell proliferation in patients with sporadic colonic adenomas. Gastroenterology 107:1709–1718

8.

Driman DK, Preiksaitis HG (1998) Colorectal inflammation and increased cell proliferation associated with oral sodium phosphate bowel preparation solution. Hum Pathol 29:972–978

9.

Kleibeuker JH, Cats A, Zwart N et al (1995) Excessively high cell proliferation in sigmoid colon after an oral purge with anthraquinone glycosides. J Natl Cancer Inst 87:452–453

10.

Fireman Z, Rozen P, Fine N et al (1989) Reproducibility studies and effects of bowel preparations on measurements of rectal epithelial proliferation. Cancer Lett 45:59–64

11.

Huang YC, Jessup JM, Forse RA et al (1996) n-3 fatty acids decrease colonic epithelial cell proliferation in high-risk bowel mucosa. Lipids 31(Suppl):S313–S317

12.

Welberg JW, de Vries EG, Hardonk MJ et al (1990) Proliferation rate of colonic mucosa in normal subjects and patients with colonic neoplasms: a refined immunohistochemical method. J Clin Pathol 43:453–456

13.

Renehan AG, O'Dwyer ST, Haboubi NJ et al (2002) Early cellular events in colorectal carcinogenesis. Colorectal Dis 4:76–89

14.

Wong WM, Wright NA (1999) Cell proliferation in gastrointestinal mucosa. J Clin Pathol 52:321–333

15.

Koornstra JJ, Rijcken FEM, de Jong S et al (2004) Assessment of apoptosis by M30 immunoreactivity and the correlation with morphological criteria in normal colorectal mucosa, adenomas and carcinomas. Histopathology 44:9–17

16.

van Grieken NC, Meijer GA, Zur HA et al (2003) Increased apoptosis in gastric mucosa adjacent to intestinal metaplasia. J Clin Pathol 56:358–361

17.

Block G, Clifford C, Naughton MD et al (1989) A brief dietary screen for high fat intake. J Nutr Educ 21:199–207

18.

Block G, Gillespie C, Rosenbaum EH et al (2000) A rapid food screener to assess fat and fruit and vegetable intake. Am J Prev Med 18:284–288

19.

Potten CS, Kellett M, Rew DA et al (1992) Proliferation in human gastrointestinal epithelium using bromodeoxyuridine in vivo: data for different sites, proximity to a tumour, and polyposis coli. Gut 33:524–529

20.

Potten CS, Kellett M, Roberts SA et al (1992) Measurement of in vivo proliferation in human colorectal mucosa using bromodeoxyuridine. Gut 33:71–78

21.

Potten CS, Loeffler M (1990) Stem cells: attributes, cycles, spirals, pitfalls and uncertainties. Lessons for and from the crypt. Development 110:1001–1020

22.

Potten CS, Wilson JW, Booth C (1997) Regulation and significance of apoptosis in the stem cells of the gastrointestinal epithelium. Stem Cells 15:82–93

23.

Calviello G, Palozza P, Maggiano N et al (1999) Cell proliferation, differentiation, and apoptosis are modified by n-3 polyunsaturated fatty acids in normal colonic mucosa. Lipids 34:599–604

24.

Chang WL, Chapkin RS, Lupton JR (1998) Fish oil blocks azoxymethane-induced rat colon tumorigenesis by increasing cell differentiation and apoptosis rather than decreasing cell proliferation. J Nutr 128:491–497

25.

Latham P, Lund EK, Johnson IT (1993) Dietary n-3 PUFA increases the apoptotic response to 1,2-dimethylhydrazine, reduces mitosis and suppresses the induction of carcinogenesis in the rat colon. Carcinogenesis 20:645–650

26.

Hong MY, Bancroft LK, Turner ND et al (2005) Fish oil decreases oxidative DNA damage by enhancing apoptosis in rat colon. Nutr Cancer 52:166–175

27.

Anti M, Armuzzi A, Morini S et al (2001) Severe imbalance of cell proliferation and apoptosis in the left colon and in the rectosigmoid tract in subjects with a history of large adenomas. Gut 48:238–246

28.

Martin C, Connelly A, Keku TO et al (2002) Nonsteroidal anti-inflammatory drugs, apoptosis, and colorectal adenomas. Gastroenterology 123:1770–1777

29.

Cheng J, Ogawa K, Kuriki K et al (2003) Increased intake of n-3 polyunsaturated fatty acids elevates the level of apoptosis in the normal sigmoid colon of patients polypectomized for adenomas/tumors. Cancer Lett 193:17–24

30.

el Boustani S, Colette C, Monnier L et al (1987) Enteral absorption in man of eicosapentaenoic acid in different chemical forms. Lipids 22:711–714

31.

Lawson LD, Hughes BG (1998) Human absorption of fish oil fatty acids as triacylglycerols, free acids, or ethyl esters. Biochem Biophys Res Commun 152:328–335

32.

Lawson LD, Hughes BG (1988) Absorption of eicosapentaenoic acid and docosahexaenoic acid from fish oil triacylglycerols or fish oil ethyl esters co-ingested with a high-fat meal. Biochem Biophys Res Commun 156:960–963

33.

Hudson EA, Tisdale MJ (1994) Comparison of the effectiveness of eicosapentaenoic acid administered as either the free acid or ethyl ester as an anticachectic and antitumour agent. Prostaglandins Leukot Essent Fatty Acids 51:141–145

34.

Lee FD (1993) Importance of apoptosis in the histopathology of drug related lesions in the large intestine. J Clin Pathol 46:118–122

35.

Shanmugathasan M, Jothy S (2000) Apoptosis, anoikis and their relevance to the pathobiology of colon cancer. Pathol Int 50:273–279

36.

Johnson IT (2002) Anticarcinogenic effects of diet-related apoptosis in the colorectal mucosa. Food Chem Toxicol 40:1171–1178

37.

Latham P, Lund EK, Johnson IT (1998) Modulation of colonocyte proliferation and apoptosis by dietary fish oil in experimental colorectal carcinogenesis. Biochem Soc Trans 26:S158

38.

Frisch SM, Ruoslahti E (1997) Integrins and anoikis. Curr Opin Cell Biol 9:701–706

39.

Joseph R, Yazer E, Hanakawa Y et al (2005) Prostaglandins and activation of AC/cAMP prevents anoikis in IEC-18. Apoptosis 10:1221–1233

40.

Rigas B, Goldman IS, Levine L (1993) Altered eicosanoid levels in human colon cancer. J Lab Clin Med 122:518–523

41.

Sheng H, Shao J, Washington MK et al (2001) Prostaglandin E2 increases growth and motility of colorectal carcinoma cells. J Biol Chem 276:18075–18081

42.

Larsson SC, Kumlin M, Ingelman-Sundberg M et al (2004) Dietary long-chain n-3 fatty acids for the prevention of cancer: a review of potential mechanisms. Am J Clin Nutr 79:935–945

43.

Bagga D, Wang L, Farias-Eisner R et al (2003) Differential effects of prostaglandin derived from omega-6 and omega-3 polyunsaturated fatty acids on COX-2 expression and IL-6 secretion. Proc Natl Acad Sci U S A 100:1751–1756

44.

Sandler RS, Baron JA, Tosteson TD et al (2000) Rectal mucosal proliferation and risk of colorectal adenomas: results from a randomized controlled trial. Cancer Epidemiol Biomark Prev 97:653–656

45.

Chang WC, Chapkin RS, Lupton JR (1997) Predictive value of proliferation, differentiation and apoptosis as intermediate markers for colon tumorigenesis. Carcinogenesis 18:721–730

46.

Sinicrope FA, Half E, Morris JS et al (2004) Cell proliferation and apoptotic indices predict adenoma regression in a placebo-controlled trial of celecoxib in familial adenomatous polyposis patients. Cancer Epidemiol Biomark Prev 13:920–927
Conflict of interest statement
EDC was funded by a research grant from SLA Pharma UK, and has been reimbursed by SLA Pharma UK for attending several conferences.
About this article
Cite this article
Courtney, E.D., Matthews, S., Finlayson, C. et al. Eicosapentaenoic acid (EPA) reduces crypt cell proliferation and increases apoptosis in normal colonic mucosa in subjects with a history of colorectal adenomas. Int J Colorectal Dis 22, 765–776 (2007). https://doi.org/10.1007/s00384-006-0240-4
Accepted:

Published:

Issue Date:
Keywords
Apoptosis

Anoikis

Cell proliferation

Eicosapentaenoic acid

Colorectal neoplasms