Abstract
Objective
The objectives of this study is to compare the prognostic differences between cystic biliary atresia (CBA) and non-CBA, analyze the clinical and liver pathological differences between the two groups, and explore the possible factors that affect the native liver survival of infants with CBA after Kasai portoenterostomy (KPE).
Methods
From 2013 to 2020, 131 infants with BA were admitted to Tianjin Children's Hospital. A total of 108 infants with BA were included after excluding those who did not undergo surgery after diagnosis (n = 23), including 12 cases of CBA and 96 cases of non-CBA. The clinical data, native liver survival and liver pathology, including liver fibrosis, bile ductular proliferation (BDP), bile plug, and portal area inflammation infiltration of the two study groups were compared.
Results
CBA accounts for 9.16% (12/131) and type I CBA accounts for 6.87% (9/131) of all types of BA. 16.7% (2/12) of CBA were detected prenatally with diagnosis of choledochal cyst (CC). The age at KPE, total bilirubin, direct bilirubin, and total bile acid levels of CBA were significantly lower than those of non-CBA (P = 0.047, P = 0.013, P = 0.009, P = 0.010, respectively). The long and wide diameters of the gallbladder were significantly larger than those of non-CBA (both P < 0.001). The 1-, 3-, and 5-year survival rates of CBA were 83.3%, 71.4%, and 71.4%, respectively, and 56.5%, 32.5%, and 29.8%, respectively, in non-CBA. The difference between the two groups was statistically significant (P = 0.031). The degree of liver fibrosis and bile plug in non-CBA was higher than that of CBA (P = 0.004, P < 0.001, respectively). There was no difference of BDP and inflammation infiltration between the two groups (P = 0.285, P = 0.243, respectively).
Conclusion
CBA is a distinct type different from non-CBA, with different pathological processes, pathological manifestations, and clinical prognosis. The favorable prognosis of CBA may be derived from the early diagnosis, early operation, and mild pathological changes.
Access options
Buy single article
Instant access to the full article PDF.
USD 39.95
Price includes VAT (USA)
Tax calculation will be finalised during checkout.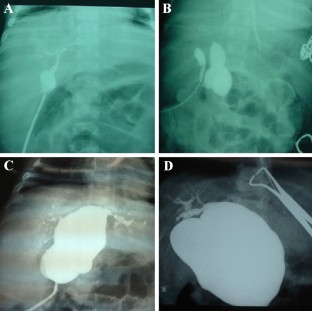 Acknowledgements
This study was funded by Tianjin Health Bureau special grant (14KG129), Xinjiang Uygur Autonomous Region Science Foundation Projects (2019D01A12), and Hospital-level project of Tianjin Children's Hospital (Y2020002).
Ethics declarations
Conflict of interest
No authors have a conflict of interest or financial ties to disclose.
Additional information
Publisher's Note
Springer Nature remains neutral with regard to jurisdictional claims in published maps and institutional affiliations.
About this article
Cite this article
Qipeng, Z., Fang, Y., Yilin, Z. et al. The favorable prognosis of cystic biliary atresia may be related to early surgery and mild liver pathological changes. Pediatr Surg Int (2021). https://doi.org/10.1007/s00383-021-05030-w
Keywords
Biliary atresia

Cyst

Native liver survival

Hepatic fibrosis