Abstract
Introduction
Typhoid perforation is still prevalent in children in developing countries. Hence, the need for a review of the morbidity and mortality from typhoid perforation in children from poor countries.
Aim
We review the clinical features, morbidity, and mortality of typhoid perforation in children aged ≤ 5 years in a developing country.
Methods
A retrospective 10-year study of children aged ≤ 5 years with typhoid perforation in two tertiary hospitals in northeastern Nigeria. Data regarding clinical presentation, investigations, intra-operative findings, treatment, and outcome were reviewed.
Results
Out of 221 children aged ≤ 15 years with typhoid perforation, 45 (20.4%) were aged ≤ 5 years. Fever and abdominal distension were present in all 45 (100.0%), followed by abdominal pain 33 (73.3%), constipation 19 (42.2%), diarrhoea and vomiting 18 (40.0%) and vomiting 13 (28.8%). All patients presented in second week of infection. Plain abdominal radiograph showed pneumoperitoneum suggestive of bowel perforation in 39 (86.7%) patients. Forty-one (91.1%) patients had ileal perforations with various severities of peritonitis. Out of which, 30 (73.2%) were single and 11 (26.8%) were multiple perforations. Two (4.4%) patients had peritonitis without bowel perforation, while 2 (4.4%) others had caecal, gall bladder perforations, respectively. Serious post-operative wound complications occurred in patients with severe peritonitis, multiple perforations, prolonged pre-operative resuscitation, and operation beyond 2 h. Overall, mortality rate was about 26.7% mainly in patients who had multiple perforations, severe peritonitis, prolonged pre-operative resuscitation, and operation time more than 2 h.
Conclusion
Multiple perforations, severe peritonitis, and operation time more than 2 h are poor post-operative factors that were associated with poor post-operative outcome in our patients.
Access options
Buy single article
Instant access to the full article PDF.
USD 39.95
Price includes VAT (USA)
Tax calculation will be finalised during checkout.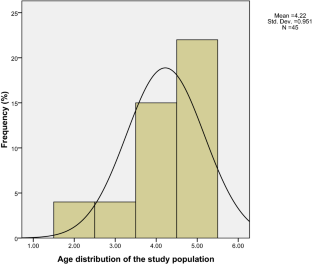 References
1.

Verma M, Chhatwal J, Saini V, Singh T (1996) Enteric fever below 2 years of age. Indian Pediatr 33:229–230

2.

Mastroeni P, Menager N (2003) Development of acquired immunity to Salmonella. J Med Microbiol 52:453–459

3.

Global Burden of Disease 2016 Causes of Death Collaborators (2017) Global, regional, and national age-sex specific mortality for 264 causes of death, 1980–2016: a systematic analysis for the Global Burden of Disease Study 2016. Lancet 390:1151–1210

4.

GBD 2017 Typhoid and Paratyphoid Collaborators (2019) The global burden of typhoid and paratyphoid fevers: a systematic analysis for the Global Burden of Disease Study 2017. Lancet Infect Dis 19:369–381

5.

Ameh EA, Abantanga FA (2010) Surgical complications of typhoid fever. In: Ameh EA, Bickler SW, Lakhoo K, Nwomeh BC, Poenaru D (eds) Paediatric surgery: a comprehensive text for Africa. GLOBAL-HELP, Seattle, pp 103–110

6.

Ekenze SO, Ikefuna AN (2008) Typhoid intestinal perforation under 5 years of age. Ann Trop Paediatr 28:53–58

7.

Usang UE, Inyang AW, Nwachukwku IE, Emehute JC (2017) Typhoid perforation in children: an unrelenting plague in developing countries. J Infect Dev Ctries 11:747–752

8.

Uba AF, Chirdan LB, Ituen AM, Mohammed AM (2007) Typhoid intestinal perforation in children: a continuing scourge in a developing country. Pediatr Surg Int 23:33–39

9.

Nuhu A, Dahwa S, Hamza A (2010) Operative management of typhoid ileal perforation in children. Afr J Paediatr Surg 7:9–13

10.

Lizarralde AE (1981) Typhoid perforation of the ileum in children. J Pediatr Surg 16:1012–1016

11.

Abantanga AF, Wiafe-Addai BB (1998) Postoperative complications after surgery for typhoid perforation in children in Ghana. Pediatr Surg Int 14:55–58

12.

Gupta V, Gupta SK, Shukla VK, Gupta S (1994) Perforated typhoid enteritis in children. Postgrad Med J 70:19–22

13.

Agbakwuru EA, Adesunkanmi AR, Fadiora SO et al (2003) A review of typhoid perforation in a rural African hospital. West Afr J Med 22:22–25

14.

Kayabali I, Gokcora IH, Kayabali M (1990) A contemporary evaluation of enteric perforation in typhoid fever: analysis of 257 cases. Int Surg 75:96–100

15.

Macfarlene DE (1986) Multiple resistant salmonellae ohio infections at the University Hospital of the West Indies. J Trop Hyg 89:67–70

16.

Chipwaza B, Mhamphi GG, Ngatunga SD et al (2015) Prevalence of bacterial febrile illnesses in children in Kilosa district, Tanzania. PLoS Negl Trop Dis 9:e0003750

17.

Lee JS, Mogasale VV, Mogasale V, Lee K (2016) Geographical distribution of typhoid risk factors in low and middle income countries. BMC Infect Dis 16:732

18.

Hovette P, Camara P, Petrognani R, Donzel C (1998) Pleuropulmonary manifestations of salmonellosis. Med Trop 58:403–407

19.

Huang DB, DuPont HL (2005) Problem pathogens: extra-intestinal complications of Salmonella enterica serotype Typhi infection. Lancet Infect Dis 5:341–348

20.

Dutta P, Rasaily R, Saha MR et al (1993) Ciprofloxacin for treatment of severe typhoid fever in children. Antimicrob Agents Chemother 37:1197–1199

21.

Mock CN, Visser L, Denno D, Maiser R (1995) Aggressive fluid resuscitation and broadspectrum antibiotics decrease mortality from typhoid ileal perforation. Trop Dr 25:115–117

22.

Barnett BS, Tarpley MJ, Davidson MA, Gbadero DA (2017) Factors associated with perioperative mortality in typhoid fever patients with intestinal perforation in Nigeria. Integr J Glob Health 1:12

23.

Badoe EA (1973) Potassium losses in typhoid peritonitis in Korle Bu Teaching Hospital. Ghana Med J 12:188–190

24.

Animashaun T, Odugbemi T (1990) Widal test: Its use and abuse in Nigeria. Nig Med Pract 19:96–98

25.

Anyanwu CLJ, Mohammed AM, Saleh MK et al (2017) Radiological diagnosis of pneumoperitoneum in children with typhoid perforation. East Cent Afr J Surg 12:63–70

26.

Butler T, Knight J, Nath SK (1985) Typhoid fever complicated by intestinal perforation: a persisting fatal disease requiring surgical management. Rev Infect Dis 7:244–256

27.

Levine MS, Scheiner JD, Rubesin SE et al (1991) Diagnosis of pneumoperitoneum on supine abdominal radiographs. AJR Am J Roentgenol 156:731–735

28.

Bitar RE, Tarpley J (1985) Intestinal perforation in typhoid fever: a historical and state-of-the-art review. Rev Infect Dis 7:257–271

29.

Singh KKKP, Singh K, Kohli JS (1991) Choice of surgical procedure in typhoid perforation: experience in 42 cases. J Indian Med Assoc 89:255–256

30.

Onen A, Dokucu AL, Cigdem MK et al (2002) Factors effecting morbidity in typhoid intestinal perforation in children. Pediatr Surg Int 18:696–700

31.

Kaul BK (1975) Operative management of typhoid perforation in children. Int Surg 60:407–410
Additional information
Publisher's Note
Springer Nature remains neutral with regard to jurisdictional claims in published maps and institutional affiliations.
About this article
Cite this article
Wabada, S., Oyinloye, A.O., Usman, B. et al. Typhoid perforation in children below 5 years: a 10-year review of cases managed and outcome. Pediatr Surg Int (2021). https://doi.org/10.1007/s00383-021-05010-0
Keywords
Multiple perforations

Operation time

Severe peritonitis

Operation time