Abstract
Purpose
Enhanced recovery after surgery (ERAS) is a perioperative management strategy to hasten postoperative recovery. We examined the effects of a pilot implementation of ERAS for pediatric patients on anesthetic outcomes.
Methods
We performed a prospective case–control study utilizing an ERAS protocol in patients aged < 18 years undergoing urologic reconstruction that included a bowel anastomosis. Protocol elements included: multimodal analgesia, opioid minimization, and routine nausea/vomiting prophylaxis. ERAS patients were propensity-matched with historical controls. Outcomes of interest included maximum PACU pain score, time to first opioid, opioid-free days, and need for opioids on day of discharge.
Results
A total of 13 ERAS patients and 26 historical controls were included, with median ages 9.9 years (IQR 9.1–11) and 10.4 years (IQR 8.0–12.4), respectively. ERAS increased the percentage of patients who did not receive any intraoperative or postoperative opioids (0% vs 15%, p = 0.046 for both) and reduced maximum PACU pain score (3 vs 0, p < 0.001). The use of postoperative supplemental oxygen was decreased in the ERAS group (85% vs 38%, p = 0.013).
Conclusions
The implementation of an ERAS protocol appears to decrease postoperative pain, opioid usage, and positively impact other anesthetic outcomes in children undergoing urologic reconstructive surgery utilizing a bowel anastomosis.
This is a preview of subscription content,
to check access.
Access this article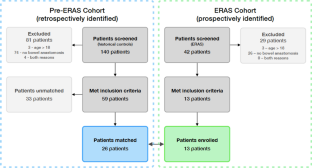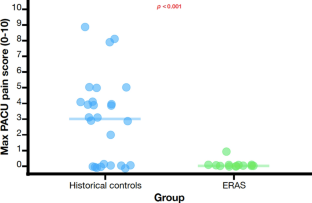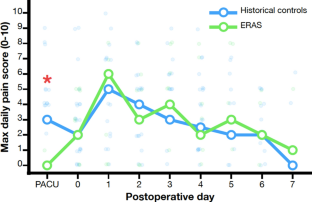 References
Bardram L, Funch-Jensen P, Jensen P, Crawford ME, Kehlet H (1995) Recovery after laparoscopic colonic surgery with epidural analgesia, and early oral nutrition and mobilisation. Lancet 345(8952):763–764

Kehlet H, Mogensen T (1999) Hospital stay of 2 days after open sigmoidectomy with a multimodal rehabilitation programme. Br J Surg. 86(2):227–230

Ljungqvist O, Scott M, Fearon KC (2017) Enhanced recovery after surgery: a review. JAMA Surg Am Med Assoc 152(3):292–298

Shinnick JK, Short HL, Heiss KF, Santore MT, Blakely ML, Raval MV (2016) Enhancing recovery in pediatric surgery: a review of the literature. J Surg Res 202(1):165–176

Rove KO, Brockel MA, Saltzman AF, Dönmez Mİ, Brodie KE, Chalmers DJ et al (2018) Prospective study of enhanced recovery after surgery protocol in children undergoing reconstructive operations. J Pediatr Urol 14(3):252.e1-252.e9

McCulloch P, Altman DG, Campbell WB, Flum DR, Glasziou P, Marshall JC et al (2009) No surgical innovation without evaluation: the IDEAL recommendations. Lancet 374(9695):1105–1112

von Elm E, Altman DG, Egger M, Pocock SJ, Gøtzsche PC, Vandenbroucke JP (2014) The strengthening the reporting of observational studies in epidemiology (STROBE) statement: guidelines for reporting observational studies. Int J Surg 12(12):1495–1499

Julien F, Hilly J, Sallah TB, Skhiri A, Michelet D, Brasher C et al (2013) Plethysmographic Variability Index (PVI) accuracy in predicting fluid responsiveness in anesthetized children Anderson B editor. Paediatr Anaesth. 23(6):536–546

Austin PC (2009) Balance diagnostics for comparing the distribution of baseline covariates between treatment groups in propensity-score matched samples. Statist Med 28(25):3083–3107

Fleiss JL, Levin B, Paik MC (2004) The analysis of data from matched samples. Statistical methods for rates and proportions, 3rd edn. Wiley, Hoboken, NJ, pp 373–406

Liu VX, Rosas E, Hwang J, Cain E, Foss-Durant A, Clopp M et al (2017) Enhanced recovery after surgery program implementation in 2 Surgical populations in an integrated health care delivery system. JAMA Surg 152(7):e171032

Kehlet H (1997) Multimodal approach to control postoperative pathophysiology and rehabilitation. Br J Anaesth 78(5):606–617

Reismann M, von Kampen M, Laupichler B, Suempelmann R, Schmidt AI, Ure BM (2007) Fast-track surgery in infants and children. J Ped Surg 42(1):234–238

Leeds IL, Ladd MR, Sundel MH, Fannon ML, George JA, Boss EF et al (2018) Process measures facilitate maturation of pediatric enhanced recovery protocols. J Ped Surg 53(11):2266–2272

van Boekel RLM, Warlé MC, Nielen RGC, Vissers KCP, van der Sande R, Bronkhorst EM et al (2019) Relationship between postoperative pain and overall 30-day complications in a broad surgical population: an observational study. Ann Surg 269(5):856–865

Chou R, Gordon DB, de Leon-Casasola OA, Rosenberg JM, Bickler S, Brennan T et al (2016) Management of Postoperative Pain: A Clinical Practice Guideline From the American Pain Society, the American Society of Regional Anesthesia and Pain Medicine, and the American Society of Anesthesiologists' Committee on Regional Anesthesia, Executive Committee, and Administrative Council. J Pain 17(2):131–157

Gurbet A, Basagan-Mogol E, Turker G, Ugun F, Kaya FN, Ozcan B (2006) Intraoperative infusion of dexmedetomidine reduces perioperative analgesic requirements. Can J Anaesth 53(7):646–652

Ohtani N, Yasui Y, Watanabe D, Kitamura M, Shoji K, Masaki E (2011) Perioperative infusion of dexmedetomidine at a high dose reduces postoperative analgesic requirements: a randomized control trial. J Anesth 25(6):872–878

Schnabel A, Meyer-Frieem CH, Reichl SU, Zahn PK, Pogatzki-Zahn EM (2013) Is intraoperative dexmedetomidine a new option for postoperative pain treatment? A meta-analysis of randomized controlled trials. Pain 154(7):1140–1149

Richman JM, Liu SS, Courpas G, Wong R, Rowlingson AJ, McGready J et al (2006) Does continuous peripheral nerve block provide superior pain control to opioids? A meta-analysis. Anesth Analg 102(1):248–257

Chalmers DJ, Bielsky A, Wild TT, Siparsky GL, Wilcox DT (2015) Continuous local anesthetic infusion for children with spina bifida undergoing major reconstruction of the lower urinary tract. J Pediatr Urol 11(2):72.e1-72.e5

Ong CKS, Seymour RA, Lirk P, Merry AF (2010) Combining paracetamol (Acetaminophen) with nonsteroidal antiinflammatory drugs: a qualitative systematic review of analgesic efficacy for acute postoperative pain. Anesth Analg 110(4):1170

Taittonen MT, Kirvelä OA, Aantaa R, Kanto JH (1997) Effect of clonidine and dexmedetomidine premedication on perioperative oxygen consumption and haemodynamic state. Br J Anaesth 78(4):400–406

Grant MC, Hanna A, Benson A, Hobson D, Wu CL, Yuan CT et al (2018) Dedicated operating room teams and clinical outcomes in an enhanced recovery after surgery pathway for colorectal surgery. J Am Coll Surg 226(3):267–276

Clinical Trial NCT03245242: Pediatric Urology Recovery After Surgery Endeavor (PURSUE) (2017) U.S. National Institutes of Health. 2017. Available from: https://clinicaltrials.gov/ct2/show/NCT03245242 Accessed 31 Aug 2017
Ethics declarations
Conflict of interest
None of the authors have any conflicts of interest to disclose.
Ethical approval
As this study involved human participants, all research procedures in this study were conducted in accordance with the ethical standards of our institutional research board and those set forth in the Ethical Principles and Guidelines for the Protection of Human Subjects of Research (often referred to as the Belmont Report).
Informed consent
Informed consent was obtained from all individual participants and their families in this study.
Additional information
Publisher's Note
Springer Nature remains neutral with regard to jurisdictional claims in published maps and institutional affiliations.
About this article
Cite this article
Han, D.S., Brockel, M.A., Boxley, P.J. et al. Enhanced recovery after surgery and anesthetic outcomes in pediatric reconstructive urologic surgery. Pediatr Surg Int 37, 151–159 (2021). https://doi.org/10.1007/s00383-020-04775-0
Accepted:

Published:

Issue Date:

DOI: https://doi.org/10.1007/s00383-020-04775-0
Keywords