Abstract
Purpose
A review of our child abuse evaluation system demonstrated a lack of standardization leading to low reporting levels. The purpose of this quality improvement initiative was to develop a standard child abuse screening tool; an education program increasing awareness to child abuse; and to measure the impact of the screening tool in reporting.
Methods
A screening tool was developed and implemented for all trauma patients < 15 years of age; staff was educated; and a child protection team (CPT) was established. Within 9 months, screening was extended to all patients admitted to the children's hospital. Screening compliance, number of child abuse reporting forms (CY-47) filed, and consultations to the CPT were monitored.
Results
Initially, there was an average screening compliance of 56%. After making the program hospital-wide, the compliance rate increased to an average of 96%; and the average number of CPT consults increased from 2 to 10 per month. Over this study period, the average number of CY-47s filed increased from 6.1 to 7.3 per month.
Conclusions
Hospital-wide use of an objective screening tool, frequent re-education, and the support of an experienced child protection team led to improved child abuse screening compliance and more consistent suspected-abuse reporting rates.
This is a preview of subscription content, log in to check access.
Access options
Buy single article
Instant access to the full article PDF.
US$ 39.95
Price includes VAT for USA
Subscribe to journal
Immediate online access to all issues from 2019. Subscription will auto renew annually.
US$ 199
This is the net price. Taxes to be calculated in checkout.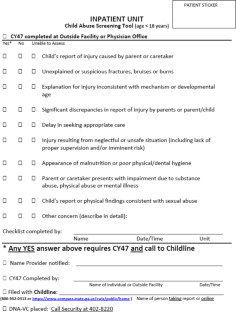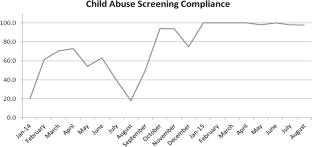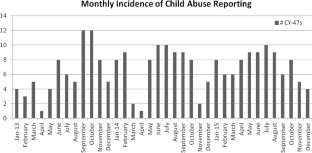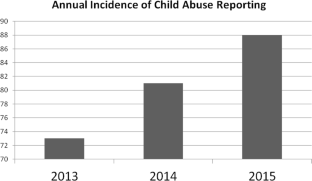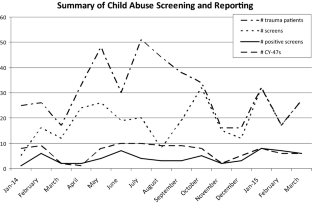 References
1.

Pennsylvania Department of Human Services. Annual Child Abuse Report (2015) http://www.dhs.pa.gov/cs/groups/webcontent/documents/report/c_208256.pdf. Accessed 5 May 2016

2.

Escobar MA Jr, Pflugeisen BM, Duralde Y, Morris CJ, Haferbecker D, Amororso PJ, Lemley H, Pohlson EC (2016) Development of a systematic protocol to identify victims of non-accidental trauma. Pediatr Surg Int 32:377–386

3.

Louwers EC, Korfage IJ, Affourtit MJ, Ruige M, van den Elzen AP, de Koning JH, Moll HA (2014) Accuracy of a screening instrument to identify potential child abuse in emergency departments. Child Abuse Negl 38:1275–1281

4.

The Child Protective Services Law (2012) 23 Pa.C.S. § § 6301–6385

5.

Louwers EC, Korfage IJ, Affourtit MJ, Scheewe DJ, van de Merwe MH, Vooijs-Moulaert FA, Woltering CM, Jongejan MH, Ruige M, Moll HA (2011) Detection of child abuse in emergency departments: a multicentre study. Arch Dis Child 95:422–425

6.

Benger JR, Pearce AV (2002) Simple intervention to improve detection of child abuse in emergency departments. BMJ 324:780–782

7.

Hoytema van Konijnenburg EM, Teeuw AH, Sieswerda-Hoogendoorn T, Leenders AG, van der Lee JH (2013) Insufficient evidence for the use of a physical examination to detect maltreatment in children without prior suspicion: a systematic review. Syst Rev 2:109–117

8.

Larimer EL, Fallon SC, Westfall J, Frost M, Wesson DE, Naik-Mathuria BJ (2013) The importance of surgeon involvement in the evaluation of non-accidental trauma patients. J Pediatr Surg 48:1357–1362

9.

Bailhache M, Leroy V, Pillet P, Salmi LR (2013) Is early detection of abused children possible?: a systematic review of the diagnostic accuracy of the identification of abused children. BMC Pediatr 13:202–215
Ethics declarations
Research involving human participants and/or animals
This article does not contain any studies with human participants performed by any of the authors.
Additional information
Publisher's Note
Springer Nature remains neutral with regard to jurisdictional claims in published maps and institutional affiliations.
About this article
Cite this article
Dudas, L., Petrohoy, G., Esernio-Jenssen, D. et al. Every child, every time: hospital-wide child abuse screening increases awareness and state reporting. Pediatr Surg Int 35, 773–778 (2019). https://doi.org/10.1007/s00383-019-04485-2
Accepted:

Published:

Issue Date:
Keywords
Child abuse

Universal screening

Quality improvement

Non-accidental trauma (NAT)