Abstract
Purpose
Determining the integrity of the pancreatic duct is important in high-grade pancreatic trauma to guide decision making for operative vs non-operative management. Computed tomography (CT) is generally an inadequate study for this purpose, and magnetic resonance cholangiopancreatography (MRCP) is sometimes obtained to gain additional information regarding the duct. The purpose of this multi-institutional study was to directly compare the results from CT and MRCP for evaluating pancreatic duct disruption in children with these rare injuries.
Methods
Retrospective study of data obtained from eleven pediatric trauma centers from 2010 to 2015. Children up to age 18 with suspected blunt pancreatic duct injury who had both CT and MRCP within 1 week of injury were included. Imaging findings of both studies were directly compared and analyzed using descriptive statistics, Chi square, Wilcoxon rank-sum, and McNemar's tests.
Results
Data were collected for 21 patients (mean age 7.8 years). The duct was visualized more often on MRCP than CT (48 vs 5%, p < 0.05). Duct disruption was confirmed more often on MRCP than CT (24 vs 0%), suspected based on secondary findings equally (38 vs 38%), and more often indeterminate on CT (62 vs 38%). Overall, MRCP was not superior to CT for determining duct integrity (62 vs 38%, p = 0.28).
Conclusions
In children with blunt pancreatic injury, MRCP is more useful than CT for identifying the pancreatic duct but may not be superior for confirmation of duct integrity. Endoscopic retrograde cholangiogram (ERCP) may be necessary to confirm duct disruption when considering pancreatic resection.
Level of evidence
III.
Access options
Buy single article
Instant access to the full article PDF.
US$ 39.95
Tax calculation will be finalised during checkout.
Subscribe to journal
Immediate online access to all issues from 2019. Subscription will auto renew annually.
US$ 119
Tax calculation will be finalised during checkout.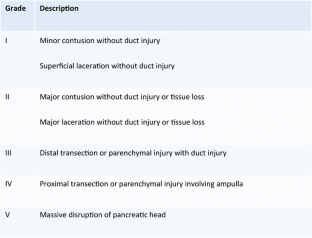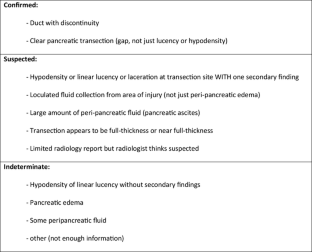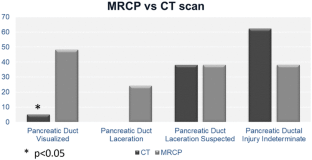 References
1.

Stawicki SP, Schwab CW (2008) Pancreatic trauma: demographics, diagnosis, and management. Am Surg 74(12):1133–1145

2.

Iqbal CW, St Peter SD, Tsao K, Cullinane DC, Gourlay DM, Ponsky TA et al (2014) Operative vs nonoperative management for blunt pancreatic transection in children: multi-institutional outcomes. J Am Coll Surg 218(2):157–162

3.

Naik-Mathuria B (2016) Practice variability exists in the management of high-grade pediatric pancreatic trauma. Pediatr Surg Int 32(8):789–794

4.

Wong YC, Wang LJ, Fang JF, Lin BC, Ng CJ, Chen RJ (2008) Multidetector-row computed tomography (CT) of blunt pancreatic injuries: can contrast-enhanced multiphasic CT detect pancreatic duct injuries? J Trauma 64(3):666–672

5.

Rosenfeld EH, Vogel AM, Klinkner DB, Escobar M, Gaines B, Russell R et al (2017) The utility of ERCP in pediatric pancreatic trauma. J Pediatr Surg 53:146–151

6.

Cirillo RL Jr, Koniaris LG (2002) Detecting blunt pancreatic injuries. J Gastrointest Surg Off J Soc Surg Aliment Tract 6(4):587–598

7.

Gupta A, Stuhlfaut JW, Fleming KW, Lucey BC, Soto JA (2004) Blunt trauma of the pancreas and biliary tract: a multimodality imaging approach to diagnosis. Radiogr Rev Publ Radiol Soc N Am Inc 24(5):1381–1395

8.

Venkatesh SK, Wan JM (2008) CT of blunt pancreatic trauma: a pictorial essay. Eur J Radiol 67(2):311–320

9.

Rekhi S, Anderson SW, Rhea JT, Soto JA (2010) Imaging of blunt pancreatic trauma. Emerg Radiol 17(1):13–19

10.

Bradley EL III, Young PR Jr, Chang MC, Allen JE, Baker CC, Meredith W et al (1998) Diagnosis and initial management of blunt pancreatic trauma: guidelines from a multiinstitutional review. Ann Surg 227(6):861–869

11.

Ilahi O, Bochicchio GV, Scalea TM (2002) Efficacy of computed tomography in the diagnosis of pancreatic injury in adult blunt trauma patients: a single-institutional study. Am Surg 68(8):704–707 (discussion 7–8)

12.

Panda A, Kumar A, Gamanagatti S, Bhalla AS, Sharma R, Kumar S et al (2015) Evaluation of diagnostic utility of multidetector computed tomography and magnetic resonance imaging in blunt pancreatic trauma: a prospective study. Acta Radiol (Stockholm, Sweden: 1987) 56(4):387–396

13.

Phelan HA, Velmahos GC, Jurkovich GJ, Friese RS, Minei JP, Menaker JA et al (2009) An evaluation of multidetector computed tomography in detecting pancreatic injury: results of a multicenter AAST study. J Trauma 66(3):641–646 discussion 6–7.

14.

Wallnoefer AM, Herrmann KA, Beuers U, Zech CJ, Gourtsoyianni S, Reiser MF et al (2005) Comparison of 2D and 3D sequences for MRCP. Clinical value of the different techniques. Der Radiol 45(11):993-4, 6–1003

15.

Nandalur KR, Hussain HK, Weadock WJ, Wamsteker EJ, Johnson TD, Khan AS et al (2008) Possible biliary disease: diagnostic performance of high-spatial-resolution isotropic 3D T2-weighted MRCP. Radiology 249(3):883–890

16.

Hekimoglu K, Ustundag Y, Dusak A, Erdem Z, Karademir B, Aydemir S et al (2008) MRCP vs. ERCP in the evaluation of biliary pathologies: review of current literature. J Dig Dis 9(3):162–169

17.

Kinner S, Dechene A, Ladd SC, Zopf T, de Dechene EM, Gerken G et al (2010) Comparison of different MRCP techniques for the depiction of biliary complications after liver transplantation. Eur Radiol 20(7):1749–1756

18.

Romagnuolo J, Bardou M, Rahme E, Joseph L, Reinhold C, Barkun AN (2003) Magnetic resonance cholangiopancreatography: a meta-analysis of test performance in suspected biliary disease. Ann Intern Med 139(7):547–557

19.

Taylor AC, Little AF, Hennessy OF, Banting SW, Smith PJ, Desmond PV (2002) Prospective assessment of magnetic resonance cholangiopancreatography for noninvasive imaging of the biliary tree. Gastrointest Endosc 55(1):17–22

20.

Guibaud L, Bret PM, Reinhold C, Atri M, Barkun AN (1995) Bile duct obstruction and choledocholithiasis: diagnosis with MR cholangiography. Radiology 197(1):109–115

21.

Moon JH, Cho YD, Cha SW, Cheon YK, Ahn HC, Kim YS et al (2005) The detection of bile duct stones in suspected biliary pancreatitis: comparison of MRCP, ERCP, and intraductal US. Am J Gastroenterol 100(5):1051–1057

22.

Varghese JC, Farrell MA, Courtney G, Osborne H, Murray FE, Lee MJ (1999) A prospective comparison of magnetic resonance cholangiopancreatography with endoscopic retrograde cholangiopancreatography in the evaluation of patients with suspected biliary tract disease. Clin Radiol 54(8):513–520

23.

Becker CD, Grossholz M, Becker M, Mentha G, de Peyer R, Terrier F (1997) Choledocholithiasis and bile duct stenosis: diagnostic accuracy of MR cholangiopancreatography. Radiology 205(2):523–530

24.

Calvo MM, Bujanda L, Calderon A, Heras I, Cabriada JL, Bernal A et al (2002) Comparison between magnetic resonance cholangiopancreatography and ERCP for evaluation of the pancreatic duct. Am J Gastroenterol 97(2):347–353

25.

Gillams AR, Kurzawinski T, Lees WR (2006) Diagnosis of duct disruption and assessment of pancreatic leak with dynamic secretin-stimulated MR cholangiopancreatography. AJR Am J Roentgenol 186(2):499–506

26.

Drake LM, Anis M, Lawrence C (2012) Accuracy of magnetic resonance cholangiopancreatography in identifying pancreatic duct disruption. J Clin Gastroenterol 46(8):696–699

27.

Fulcher AS, Turner MA, Yelon JA, McClain LC, Broderick T, Ivatury RR et al (2000) Magnetic resonance cholangiopancreatography (MRCP) in the assessment of pancreatic duct trauma and its sequelae: preliminary findings. J Trauma 48(6):1001–1007

28.

Sheikh F, Fallon S, Bisset G, Podberesky D, Zheng J, Orth R et al (2015) Image-guided prediction of pseudocyst formation in pediatric pancreatic trauma. J Surg Res 193(2):513–518
Funding
This research did not receive any specific grant from funding agencies in the public, commercial, or not-for-profit sectors.
Ethics declarations
Conflict of interest
The authors declare that they have no conflict of interest.
About this article
Cite this article
Rosenfeld, E.H., Vogel, A., Russell, R.T. et al. Comparison of diagnostic imaging modalities for the evaluation of pancreatic duct injury in children: a multi-institutional analysis from the Pancreatic Trauma Study Group. Pediatr Surg Int 34, 961–966 (2018). https://doi.org/10.1007/s00383-018-4309-2
Accepted:

Published:

Issue Date:
Keywords
Pancreatic trauma

Pediatrics

MRCP

CT

Diagnostic imaging