Abstract
Purpose
We sought to determine the incidence and timing of testicular atrophy following inguinal hernia repair in children.
Methods
We used the TRICARE database, which tracks care delivered to active and retired members of the US Armed Forces and their dependents, including > 3 million children. We abstracted data on male children < 12 years who underwent inguinal hernia repair (2005–2014). We excluded patients with history of testicular atrophy, malignancy or prior related operation. Our primary outcome was the incidence of the diagnosis of testicular atrophy. Among children with atrophy, we calculated median time to diagnosis, stratified by age/undescended testis.
Results
8897 children met inclusion criteria. Median age at hernia repair was 2 years (IQR 1–5). Median follow-up was 3.57 years (IQR 1.69–6.19). Overall incidence of testicular atrophy was 5.1/10,000 person-years, with the highest incidence in those with an undescended testis (13.9/10,000 person-years). All cases occurred in children \(\le\) 5 years, with 72% in children < 2 years. Median time to atrophy was 2.4 years (IQR 0.64–3), with 30% occurring within 1 year and 75% within 3 years.
Conclusion
Testicular atrophy is a rare complication following inguinal hernia repair, with children < 2 years and those with an undescended testis at highest risk. While 30% of cases were diagnosed within a year after repair, atrophy may be diagnosed substantially later.
Level of evidence
Prognosis Study, Level II.
Access options
Buy single article
Instant access to the full article PDF.
USD 39.95
Price excludes VAT (USA)
Tax calculation will be finalised during checkout.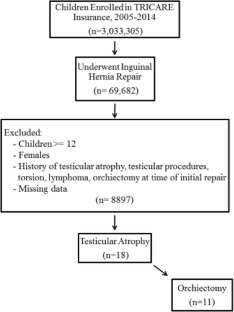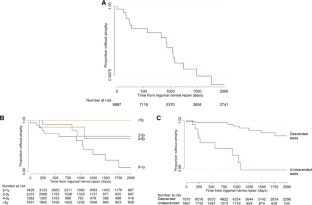 References
Meier AH, Ricketts RR (2003) Surgical complications of inguinal and abdominal wall hernias. Semin Pediatr Surg 12:83–88

Grosfeld JL (1989) Current concepts in inguinal hernia in infants and children. World J Surg 13:506–515

Katz DA (2001) Evaluation and management of inguinal and umbilical hernias. Pediatr Ann 30:729–735

Ein SH, Njere I, Ein A (2006) Six thousand three hundred sixty-one pediatric inguinal hernias: a 35-year review. J Pediatr Surg 41:980–986. https://doi.org/10.1016/j.jpedsurg.2006.01.020

Fette AM, Höllwarth ME (2001) Special aspects of neonatal inguinal hernia and herniotomy. Hernia 5:92–96

Rajput A, Gauderer MW, Hack M (1992) Inguinal hernias in very low birth weight infants: incidence and timing of repair. J Pediatr Surg 27:1322–1324

Erdoǧan D, Karaman I, Aslan MK et al (2013) Analysis of 3776 pediatric inguinal hernia and hydrocele cases in a tertiary center. J Pediatr Surg 48:1767–1772. https://doi.org/10.1016/j.jpedsurg.2012.09.048

Skinner MA, Grosfeld JL (1993) Inguinal and umbilical hernia repair in infants and children. Surg Clin North Am 73:439–449

Puri P, Guiney EJ, O'Donnell B (1984) Inguinal hernia in infants: the fate of the testis following incarceration. J Pediatr Surg 19:44–46

Glick PL, Boulanger SC (2012) Inguinal hernias and hydroceles. In: Pediatric surgery. Elsevier, Philadelphia, pp 985–1001. https://doi.org/10.1016/B978-0-323-07255-7.00076-3

Phelps S, Agrawal M (1997) Morbidity after neonatal inguinal herniotomy. J Pediatr Surg 32:445–447

Miyake H, Fukumoto K, Yamoto M et al (2016) Comparison of percutaneous extraperitoneal closure (LPEC) and open repair for pediatric inguinal hernia: experience of a single institution with over 1000 cases. Surg Endosc 30:1466–1472. https://doi.org/10.1007/s00464-015-4354-z

Ozdamar MY, Karakus OZ (2017) Testicular Ischemia caused by incarcerated inguinal Hernia in infants: incidence, conservative treatment procedure, and follow-up. Urol J 14:4030–4033

Niedzielski J, Kr l R, Gawłowska A (2003) Could incarceration of inguinal hernia in children be prevented? Med Sci Monit 9:CR16–8

Walc L, Bass J, Rubin S, Walton M (1995) Testicular fate after incarcerated hernia repair and/or orchiopexy performed in patients under 6 months of age. J Pediatr Surg 30:1195–1197

Wright NJ, Davidson JR, Major C et al (2017) The management of boys under 3 months of age with an inguinal hernia and ipsilateral palpable undescended testis. J Pediatr Surg 52:1108–1112. https://doi.org/10.1016/j.jpedsurg.2017.02.011

Schoenfeld AJ, Jiang W, Harris MB et al (2016) Association between race and postoperative outcomes in a universally insured population versus patients in the state of California. Ann Surg. https://doi.org/10.1097/SLA.0000000000001958

Zogg CK, Jiang W, Chaudhary MA et al (2016) Racial disparities in emergency general surgery. J Trauma Acute Care Surg 80:764–777. https://doi.org/10.1097/TA.0000000000001004

Stewart KA, Higgins PC, McLaughlin CG et al (2010) Differences in prevalence, treatment, and outcomes of asthma among a diverse population of children with equal access to care: findings from a study in the military health system. Arch Pediatr Adolesc Med 164:720–726. https://doi.org/10.1001/archpediatrics.2010.100

Gimbel RW, Pangaro L, Barbour G (2010) America's "undiscovered" laboratory for health services research. Med Care 48:751–756. https://doi.org/10.1097/MLR.0b013e3181e35be8

Ng B, Aslam F, Petersen NJ et al (2012) Identification of rheumatoid arthritis patients using an administrative database: a veterans affairs study. Arthritis Care Res (Hoboken) 64:1490–1496. https://doi.org/10.1002/acr.21736

Rhee D, Salazar JH, Zhang Y et al (2013) A Novel multispecialty surgical risk score for children. Pediatrics 131:e829–e836. https://doi.org/10.1542/peds.2012-2244

Orth RC, Towbin AJ (2012) Acute testicular ischemia caused by incarcerated inguinal hernia. Pediatr Radiol 42:196–200. https://doi.org/10.1007/s00247-011-2210-4

Nagraj S, Sinha S, Grant H et al (2006) The incidence of complications following primary inguinal herniotomy in babies weighing 5 kg or less. Pediatr Surg Int 22:500–502. https://doi.org/10.1007/s00383-006-1695-7

Hughes K, Horwood JF, Clements C et al (2016) Complications of inguinal herniotomy are comparable in term and premature infants. Hernia 20:565–569. https://doi.org/10.1007/s10029-015-1454-6
Funding
This project was funded in part by the Henry M. Jackson Foundation for the Advancement of Military Medicine through a grant from the Department of Defense (DoD). WJ and AHH receive partial salary support. The funding source did not have a role in the collection, analysis, and interpretation of data; writing of the report; or decision to submit the article for publication.
Ethics declarations
Conflict of interest
Dr. Adil Haider: Supported by the Henry M. Jackson Foundation HU0001-11-1- 0023 and the comparative effectiveness and provider induced demand collaboration (EPIC): A clinical and economic analysis of variation in healthcare. The Center for Surgery and Public Health and the Uniformed Services University of Health Sciences are jointly supported by the Henry M. Jackson Foundation for the Advancement of Military Medicine to provide protected research efforts involving the analysis and study of military TRICARE data. AHH receives partial salary support. AHH is the Principal Investigator (PI) of the joint study; he also serves on the Institute of Medicine's Military Trauma Care's Learning Health System and its Translation to the Civilian Sector Committee. Not related to this work, AHH is the PI of a contract (AD-1306-03980) with the Patient-Centered Outcomes Research Institute entitled "Patient-Centered Approaches to Collect Sexual Orientation/Gender Identity in the ED" and a Harvard Surgery Affinity Research Collaborative (ARC) Program Grant entitled "Mitigating Disparities Through Enhancing Surgeons' Ability To Provide Culturally Relevant Care." Conflict of Interest: Not related to this work, AHH is the co-founder and an equity holder in Patient Doctor Technologies Inc., which owns and operates the website http://www.doctella.com.
Additional information
The opinions and assertions expressed herein are those of the author(s) and do not necessarily reflect the official policy or position of the Uniformed Services University or the Department of Defense.
Appendix
Appendix
See Table 5.
About this article
Cite this article
Sonderman, K.A., Wolf, L.L., Armstrong, L.B. et al. Testicular atrophy following inguinal hernia repair in children. Pediatr Surg Int 34, 553–560 (2018). https://doi.org/10.1007/s00383-018-4255-z
Accepted:

Published:

Issue Date:

DOI: https://doi.org/10.1007/s00383-018-4255-z
Keywords
Testicular atrophy

Inguinal hernia complication

Pediatrics