Abstract
Purpose
Nissen fundoplication (NF) is commonly performed in children with gastro-esophageal reflux disease (GERD). Patients undergoing NF often have co-morbidities. Reported outcomes of NF vary considerably. This study investigated which factors might predict multiple readmissions or death in the first year following NF at our institution.
Methods
A retrospective chart review of 187 children who underwent NF at our institution between January 2004 and December 2015 was undertaken. Underlying medical conditions, age, weight, presence of malnutrition, length of hospital stay prior to surgery and type of surgery were recorded. Patients who had more than one admission in the first post-operative year were compared to those who had one or none, and patients who died within the first post-operative year were compared to those who did not.
Results
Risk factors for multiple readmissions were underlying cardiac disease (p = 0.011), esophageal atresia (EA) (p = 0.011), and esophageal stricture (p = 0.0002). Risk factors for death included younger age (p = 0.028), need for gastrostomy tube (GT) (p = 0.01) and prolonged pre-operative hospital admission (p = 0.0003).
Conclusion
This study identified multiple factors associated with readmission and death in the first year after NF. These findings will help with the counseling patients and caregivers regarding expectations following NF.
Access options
Buy single article
Instant access to the full article PDF.
USD 39.95
Price includes VAT (USA)
Tax calculation will be finalised during checkout.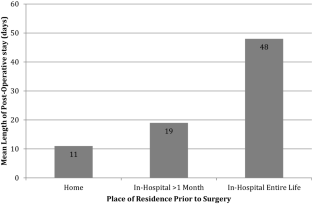 References
1.

Bar-Sever Z (2017) Scintigraphic evaluation of gastroesophageal reflux and pulmonary aspiration in children. Semin Nucl Med 47(3):275–285. https://doi.org/10.1053/j.semnuclmed.2016.12.001

2.

Mahant S, Pastor AC, DeOliveira L, Nicholas DB, Langer JC (2011) Well-being of children with neurologic impairment after fundoplication and gastrojejunostomy tube feeding. Pediatrics 128(2):e395–e403. https://doi.org/10.1542/peds.2010-1253

3.

Rothenberg SS (2013) Two decades of experience with laparoscopic nissen fundoplication in infants and children: a critical evaluation of indications, technique, and results. J Laparoendosc Adv Surg Tech 23(9):791–794. https://doi.org/10.1089/lap.2013.0299

4.

Pascoe E, Falvey T, Jiwane A, Henry G, Krishnan U (2016) Outcomes of fundoplication for paediatric gastroesophageal reflux disease. Pediatr Surg Int 32(4):353–361. https://doi.org/10.1007/s00383-015-3843-4

5.

Frongia G, Ahrens P, Capobianco I et al (2015) Long-term effects of fundoplication in children with chronic airway diseases. J Pediatr Surg 50(1):206–210. https://doi.org/10.1016/j.jpedsurg.2014.09.079

6.

Srivastava R, Berry JG, Hall M et al (2009) Reflux related hospital admissions after fundoplication in children with neurological impairment: retrospective cohort study. Bmj 339:b4411–b4411. https://doi.org/10.1136/bmj.b4411

7.

Cheung KM, Tse HW, Tse PWT, Chan KH (2006) Nissen fundoplication and gastrostomy in severely neurologically impaired children with gastroesophageal reflux. Hong Kong Med J 12(4):282–288

8.

Mauritz F, van Herwaarden-Lindeboom MY a, Stomp W et al (2011) The effects and efficacy of antireflux surgery in children with gastroesophageal reflux disease: a systematic review. J Gastrointest Surg 15(10):1872–1878. https://doi.org/10.1007/s11605-011-1644-1

9.

Curry J, Drake D, Cross K, Kiely E (2012) Fundoplication in ventilator-dependent infants with gastro-oesophageal reflux. Eur J Pediatr Surg 12:91–96

10.

Lee SL, Shabatian H, Hsu JW, Applebaum H, Haigh PI (2008) Hospital admissions for respiratory symptoms and failure to thrive before and after Nissen fundoplication. J Pediatr Surg 43(1):59–65. https://doi.org/10.1016/j.jpedsurg.2007.09.020

11.

Barnhart DC, Hall M, Mahant S et al (2013) Effectiveness of fundoplication at the time of gastrostomy in infants with neurological impairment. JAMA Pediatr 167(10):911. https://doi.org/10.1001/jamapediatrics.2013.334

12.

Goldin AB, Sawin R, Seidel KD, Flum DR (2006) Do antireflux operations decrease the rate of reflux-related hospitalizations in children? Pediatrics 118(6):2326–2333. https://doi.org/10.1542/peds.2006-2212

13.

Shariff F, Kiely E, Curry J, Drake D, Pierro A, McHoney M (2010) Outcome after laparoscopic fundoplication in children under 1 year. J Laparoendosc Adv Surg Tech 20(7):661–664. https://doi.org/10.1089/lap.2010.0213

14.

Fyhn TJ, Knatten CK, Edwin B et al (2015) Randomized controlled trial of laparoscopic and open nissen fundoplication in children. Ann Surg 261(6):1061–1067. https://doi.org/10.1097/SLA.0000000000001045

15.

Rintala RJ (2017) Fundoplication in patients with esophageal atresia: patient selection, indications, and outcomes. Front Pediatr 5:1–5. https://doi.org/10.3389/fped.2017.00109

16.

Numanoglu A, Millar AJW, Brown RA, Rode H (2005) Gastroesophageal reflux strictures in children, management and outcome. Pediatr Surg Int 21(8):631–634. https://doi.org/10.1007/s00383-005-1479-5

17.

Pearson EG, Downey EC, Barnhart DC et al (2010) Reflux esophageal stricture-a review of 30 years' experience in children. J Pediatr Surg 45(12):2356–2360. https://doi.org/10.1016/j.jpedsurg.2010.08.033

18.

Berman L, Sharif I, Rothstein D, Hossain J, Vinocur C (2015) Concomitant fundoplication increases morbidity of gastrostomy tube placement. J Pediatr Surg 50(7):1104–1108. https://doi.org/10.1016/j.jpedsurg.2014.07.013

19.

Siddiqui MRS, Abdulaal Y, Nisar A, Ali H, Hasan F (2011) A meta-analysis of outcomes after open and laparoscopic Nissen's fundoplication for gastro-oesophageal reflux disease in children. Pediatr Surg Int 27(4):359–366. https://doi.org/10.1007/s00383-010-2698-y

20.

Knatten CK, Fyhn TJ, Edwin B, Schistad O, Emblem R, Bjornland K (2012) Thirty-day outcome in children randomized to open and laparoscopic Nissen fundoplication. J Pediatr Surg 47(11):1990–1996. https://doi.org/10.1016/j.jpedsurg.2012.05.038

21.

Baerg J, Thorpe D, Gasior A, Tagge E, St. Peter S (2014) Factors associated with mortality after nissen fundoplication in children. Eur J Pediatr Surg 25(3):277–283
Funding
No funding was sought or received for this study.
Ethics declarations
Conflict of interest
There are no conflicts of interest to declare.
Ethical approval
No procedures were performed on humans for the purposes of this review. Rather, we retrospectively reviewed outcomes in patients who had medically indicated procedures. Approval for this study was obtained from the Human Research Ethics Committee at the University of Cape Town Faculty of Health Sciences (reference number HREC 474/206) As such, this study was in accordance with the ethical standards of the institutional research committee and with the 1964 Helsinki declaration and its later amendments or comparable ethical standards.
About this article
Cite this article
Milford, K., Numanoglu, A., Sultan, T.A. et al. Predictors of multiple readmissions or death in the first year after Nissen fundoplication in children. Pediatr Surg Int 35, 501–507 (2019). https://doi.org/10.1007/s00383-018-04429-2
Accepted:

Published:

Issue Date:
Keywords
GERD

Nissen

Fundoplication

Readmission

Mortality