Abstract
Background
Patients with Hirschsprung disease are at risk for Hirschsprung-associated enterocolitis (HAEC), an inflammatory disorder of the bowel that represents the leading cause of serious morbidity and death in these patients. The diagnosis of HAEC is made based on clinical signs and symptoms which are often non-specific, making it difficult to establish a definitive diagnosis in many patients. The purpose of this guideline is to present a rational, expert-based approach to the diagnosis and management of HAEC.
Methods
The American Pediatric Surgical Association Board of Governors established a Hirschsprung Disease Interest Group. Group discussions, literature review, and expert consensus were then used to summarize the current state of knowledge regarding diagnosis, management, and prevention of Hirschsprung-associated enterocolitis (HAEC).
Results
Guidelines for the diagnosis of HAEC and its clinical grade, utilizing clinical history, physical examination findings, and radiographic findings, are presented. Treatment guidelines, including patient disposition, diet, antibiotics, rectal irrigations and surgery, are presented.
Conclusions
Clear, standardized definitions of Hirschsprung-associated enterocolitis and its treatment are lacking in the literature. This guideline serves as a first step toward standardization of diagnosis and management.
Level of evidence
V.
Access options
Buy single article
Instant access to the full article PDF.
USD 39.95
Price includes VAT (USA)
Tax calculation will be finalised during checkout.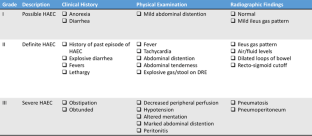 References
1.

Haricharan RN, Seo J-M, Kelly DR et al (2008) Older age at diagnosis of Hirschsprung disease decreases risk of postoperative enterocolitis, but resection of additional ganglionated bowel does not. J Pediatr Surg 43:1115–1123. doi:10.1016/j.jpedsurg.2008.02.039

2.

El-Sawaf M, Siddiqui S, Mahmoud M et al (2013) Probiotic prophylaxis after pullthrough for Hirschsprung disease to reduce incidence of enterocolitis: a prospective, randomized, double-blind, placebo-controlled,multicenter trial. J Pediatr Surg 48:111–117. doi:10.1016/j.jpedsurg.2012.10.028

3.

Ward NL, Pieretti A, Dowd SE et al (2012) Intestinal aganglionosis is associated with early and sustained disruption of the colonic microbiome. Neurogastroenterol Motil 24:874–400. doi:10.1111/j.1365-2982.2012.01937.x

4.

Pierre JF, Barlow-Anacker AJ, Erickson CS et al (2014) Intestinal dysbiosis and bacterial enteroinvasion in a murine model of Hirschsprung's disease. J Pediatr Surg 49:1242–1251. doi:10.1016/j.jpedsurg.2014.01.060

5.

Yan Z, Poroyko V, Gu S et al (2014) Biochemical and biophysical research communications. Biochem Biophys Res Commun 445:269–274. doi:10.1016/j.bbrc.2014.01.104

6.

Frykman PK, Nordenskjöld A, Kawaguchi A et al (2015) Characterization of bacterial and fungal microbiome in children with Hirschsprung disease with and without a history of enterocolitis: a multicenter study. PLoS One 10:e0124172. doi:10.1371/journal.pone.0124172

7.

Thiagarajah JR, Yildiz H, Carlson T et al (2014) Altered goblet cell differentiation and surface mucus properties in Hirschsprung disease. PLoS One 9:e99944. doi:10.1371/journal.pone.0099944.t001

8.

Yildiz HM, Carlson TL, Goldstein AM, Carrier RL (2015) Mucus barriers to microparticles and microbes are altered in Hirschsprung's disease. Macromol Biosci 15:712–718. doi:10.1002/mabi.201400473

9.

Gosain A, Barlow-Anacker AJ, Erickson CS et al (2015) Impaired cellular immunity in the murine neural crest conditional deletion of endothelin receptor-B model of Hirschsprung's disease. PLoS One 10:e0128822. doi:10.1371/journal.pone.0128822

10.

Frykman PK, Cheng Z, Wang X, Dhall D (2015) Enterocolitis causes profound lymphoid depletion in endothelin receptor B- and endothelin 3-null mouse models of Hirschsprung-associated enterocolitis. Eur J Immunol 45:807–817. doi:10.1002/eji.201444737

11.

Cheng Z, Dhall D, Zhao L et al (2010) Murine model of Hirschsprung-associated enterocolitis. I: phenotypic characterization with development of ahistopathologic grading system. J Pediatr Surg 45:475–482. doi:10.1016/j.jpedsurg.2009.06.009

12.

Pastor AC, Osman F, Teitelbaum DH et al (2009) Development of a standardized definition forHirschsprung's-associated enterocolitis:a Delphi analysis. J Pediatr Surg 44:251–256. doi:10.1016/j.jpedsurg.2008.10.052

13.

Bell MJ, Ternberg JL, Feigin RD et al (1978) Neonatal necrotizing enterocolitis. Therapeutic decisions based upon clinical staging. Ann Surg 187:1–7

14.

Frykman PK, Short SS (2012) Hirschsprung-associated enterocolitis: prevention and therapy. YSPSU 21:328–335. doi:10.1053/j.sempedsurg.2012.07.007

15.

Wang X, Li Z, Xu Z et al (2015) Probiotics prevent Hirschsprung's disease-associated enterocolitis: a prospective multicenter randomized controlled trial. Int J Colorectal Dis 30:105–110. doi:10.1007/s00384-014-2054-0

16.

Patrus B, Nasr A, Langer JC, Gerstle JT (2011) Intrasphincteric botulinum toxin decreases the rate of hospitalization for postoperative obstructive symptoms in children with Hirschsprung disease. J Pediatr Surg 46:184–187. doi:10.1016/j.jpedsurg.2010.09.089
About this article
Cite this article
Gosain, A., Frykman, P.K., Cowles, R.A. et al. Guidelines for the diagnosis and management of Hirschsprung-associated enterocolitis. Pediatr Surg Int 33, 517–521 (2017). https://doi.org/10.1007/s00383-017-4065-8
Accepted:

Published:

Issue Date:
Keywords
Hirschsprung disease

Hirschsprung's disease

Enterocolitis

Hirschsprung-associated enterocolitis

Hirschsprung's-associated enterocolitis