Abstract
Purpose
Literature reports worse outcomes for operations performed during off-hours. As this has not been studied in pediatric extracorporeal life support (ECLS), we compared complications based on the timing of cannulation..
Methods
This is a retrospective review of 176 pediatric ECLS patients between 2004 and 2015. Patients cannulated during daytime hours (7:00 A.M. to 7:00 P.M., M-F) were compared to off-hours (nighttime or weekend) using t-test and Chi-square.
Results
The most common indications for ECLS were congenital diaphragmatic hernia (33 %) and persistent pulmonary hypertension (23 %). When comparing regular hours (40 %) to off-hours cannulation (60 %), there were no significant differences in central nervous system complications, hemorrhage (extra-cranial), cannula repositioning, conversion from venovenous to venoarterial, mortality on ECLS, or survival-to-discharge. The overall complication rate was slightly lower in the off-hours group (45.7 % versus 61.9 %, P = 0.034).
Conclusion
Outcomes were not significantly worse for patients undergoing ELCS cannulation during off-hours compared to normal weekday working hours.
Access options
Buy single article
Instant access to the full article PDF.
USD 39.95
Price excludes VAT (USA)
Tax calculation will be finalised during checkout.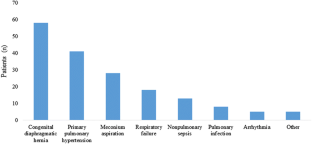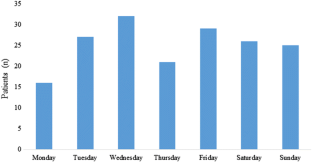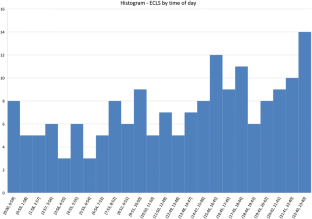 References
Yeung A, Butterworth SA (2015) A comparison of surgical outcomes between in-hours and after-hours tracheoesophageal fistula repairs. J Pediatr Surg 50(5):805–808

Ananthakrishnan AN, McGinley EL, Saeian K (2009) Outcomes of weekend admissions for upper gastrointestinal hemorrhage: a nationwide analysis. Clin Gastroenterol Hepatol 7(3):296e1–302e1

Groves EM, Khoshchehreh M, Le C, Malik S (2014) Effects of weekend admission on the outcomes and management of ruptured aortic aneurysms. J Vasc Surg 60(2):318–324

Thompson RT, Bennett WE, Finnell SME, Downs SM, Carroll AE (2013) Increased length of stay and costs associated with weekend admissions for failure to thrive. Pediatrics 131(3):e805–e810

Worni M, Østbye T, Gandhi M, Rajgor D, Shah J, Shah A et al (2012) Laparoscopic appendectomy outcomes on the weekend and during the week are no different: a national study of 151,774 patients. World J Surg 36(7):1527–1533

Zapf MAC, Kothari AN, Markossian T, Gupta GN, Blackwell RH, Wai PY et al (2015) The "weekend effect" in urgent general operative procedures. Surgery 158(2):508–514

Arias Y, Taylor DS, Marcin JP (2004) Association between evening admissions and higher mortality rates in the pediatric intensive care unit. Pediatrics 113(6):e530–e534

Tarnow-Mordi WO, Hau C, Warden A, Shearer AJ (2000) Hospital mortality in relation to staff workload: a 4-year study in an adult intensive-care unit. Lancet Lond Engl 356(9225):185–189

Kothari AN, Zapf MAC, Blackwell RH, Markossian T, Chang V, Mi Z et al (2015) Components of hospital perioperative infrastructure can overcome the weekend effect in urgent general surgery procedures. Ann Surg 262(4):683–691

Hixson ED, Davis S, Morris S, Harrison AM (2005) Do weekends or evenings matter in a pediatric intensive care unit? Pediatr Crit Care Med 6(5):523–530

Sayari AJ, Tashiro J, Wang B, Perez EA, Lasko DS, Sola JE (2016) Weekday vs. weekend repair of esophageal atresia and tracheoesophageal fistula. J Pediatr. doi:10.1016/j.jpedsurg.2016.02.014 (Epub ahead of print February 2016)

Lieber BA, Appelboom G, Taylor BES, Malone H, Agarwal N, Connolly ES (2015) Assessment of the "July Effect": outcomes after early resident transition in adult neurosurgeryAssessment of the "July Effect": outcomes after early resident transition in adult neurosurgery. J Neurosurg 1–9. doi:10.3171/2015.4.JNS142149

Kestle JRW, Cochrane DD, Drake JM (2006) Shunt insertion in the summer: is it safe? J Neurosurg 105(3 Suppl):165–168

George TJ, Arnaoutakis GJ, Merlo CA, Kemp CD, Baumgartner WA, Conte JV et al (2011) Association of operative time of day with outcomes after thoracic organ transplant. JAMA 305(21):2193–2199

Kelz RR, Freeman KM, Hosokawa PW, Asch DA, Spitz FR, Moskowitz M et al (2008) Time of day is associated with postoperative morbidity: an analysis of the national surgical quality improvement program data. Ann Surg 247(3):544–552

Barbosa L de S, dos Reis Júnior GS, Chaves RZT, Solla DJF, Canedo LF, Cunha AG (2015) Night admission is an independent risk factor for mortality in trauma patients—a systemic error approach. Rev Colégio Bras Cir 42(4):209–214

Christensen R, Voepel-Lewis T, Lewis I, Ramachandran SK, Malviya S (2013) American Heart Association's Get With The Guidelines-Resuscitation (formerly the National Registry of Cardiopulmonary Resuscitation) investigators Pediatric cardiopulmonary arrest in the postanesthesia care unit: analysis of data from the American Heart Association Get With The Guidelines-Resuscitation registry. Padiatr Anaesth 23(6):517–523

Switzer JA, Bennett RE, Wright DM, Vang S, Anderson CP, Vlasak AJ et al (2013) Surgical time of day does not affect outcome following hip fracture fixation. Geriatr Orthop Surg Rehabil 4(4):109–116
Ethics declarations
Conflict of interest
The authors declare that they have no conflict of interest.
Ethical standards
All procedures performed in studies involving human participants were in accordance with the ethical standards of the institutional and/or national research committee and with the 1964 Helsinki declaration and its later amendments or comparable ethical standards.
Formal consent
For this type of study, formal consent is not required.
About this article
Cite this article
Gonzalez, K.W., Dalton, B.G.A., Weaver, K.L. et al. Effect of timing of cannulation on outcome for pediatric extracorporeal life support. Pediatr Surg Int 32, 665–669 (2016). https://doi.org/10.1007/s00383-016-3901-6
Accepted:

Published:

Issue Date:

DOI: https://doi.org/10.1007/s00383-016-3901-6
Keywords