Abstract
Purpose
Necrotizing enterocolitis (NEC) is a devastating inflammatory disease of preterm infants that may depend on overexpression of toll-like receptor-4 (TLR4) in the immature intestine. Surfactant protein (SP)-D is a member of the collectin family and plays an important role in innate immunity, particularly in the airways. Although SP-D also exists in the intestines, little is known about its function. This study investigated whether SP-D can attenuate the inflammatory response of TLR4-overexpressing embryonal intestinal cells.
Methods
All experimental procedures were performed using the human intestinal cell line INT407 originally derived from human embryonal intestines. Platelet-activating factor (PAF), reported to be elevated in NEC patients, was used to induce TLR4 overexpression in the human embryonal intestinal cell line INT407. TLR4 expression was measured using quantitative real-time PCR. Inflammatory responses to PAF (5 µM), the TLR4 agonist lipopolysaccharide (LPS, 100 ng/ml), PAF + LPS, and PAF + LPS following SP-D pretreatment (20 µg/ml) were assessed by enzyme-linked immunosorbent assay (ELISA) of interleukin-8 (IL-8) release (in pg/ml).
Results
Expression of TLR4 mRNA (mean ± SD) was upregulated by PAF (369 % ± 28 %, p < 0.001). Stimulation with PAF + LPS resulted in higher IL-8 release (1959.3 ± 52.3) than control (141.2 ± 12.4), LPS (167.3 ± 65.8), or PAF (1527.2 ± 129.4) treatment (p < 0.05). Release in response to PAF + LPS (1590.1 ± 319.3) was attenuated by SP-D pretreatment (1161.6 ± 131.6; p < 0.05).
Conclusion
SP-D attenuates LPS-induced IL-8 production in TLR4-overexpressing intestinal cells, suggesting that SP-D may have a protective effect in the development of NEC in preterm infants.
Access options
Buy single article
Instant access to the full article PDF.
USD 39.95
Price excludes VAT (USA)
Tax calculation will be finalised during checkout.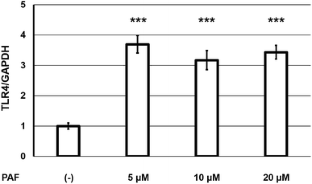 References
Neu J, Walker WA (2011) Necrotizing enterocolitis. N Engl J Med 364:255–264. doi:10.1056/NEJMra1005408

Afrazi A, Sodhi CP, Richardson W et al (2011) New insights into the pathogenesis and treatment of necrotizing enterocolitis: toll-like receptors and beyond. Pediatr Res 69:183–188. doi:10.1203/PDR.0b013e3182093280

Good M, Siggers R, Sodhi C et al (2012) Amniotic fluid inhibits Toll-like receptor 4 signaling in the fetal and neonatal intestinal epithelium. Proc Natl Acad Sci USA 109(28):11330–11335. doi:10.1073/pnas.1200856109

Fusunyan RD, Nanthakumar NN, Baldeon ME, Walker WA (2001) Evidence for an innate immune response in the immature human intestine: toll-like receptors on fetal enterocytes. Pediatr Res 49:589–593. doi:10.1203/00006450-200105000-00006

Leaphart CL, Cavallo J, Gribar SC et al (2007) A critical role for TLR4 in the pathogenesis of necrotizing enterocolitis by modulating intestinal injury and repair. J Immunol 179:4808–4820. doi:10.4049/jimmunol.179.7.4808

Hackam DJ, Afrazi A, Good M, Sodhi CP (2013) Innate immune signaling in the pathogenesis of necrotizing enterocolitis. Clin Dev Immunol 2013:475415. doi:10.1155/2013/475415

Sun XM, Hsueh W (1988) Bowel necrosis induced by tumor necrosis factor in rats is mediated by platelet-activating factor. J Clin Invest 81:1328–1331. doi:10.1172/JCI113459

Soliman A, Michelsen KS, Karahashi H et al (2010) Platelet-activating factor induces TLR4 expression in intestinal epithelial cells: implication for the pathogenesis of necrotizing enterocolitis. PLoS One 5:e15044. doi:10.1371/journal.pone.0015044

Frost BL, Jilling T, Caplan MS (2008) The importance of pro-inflammatory signaling in neonatal necrotizing enterocolitis. Semin Perinatol 32:100–106. doi:10.1053/j.semperi.2008.01.001

Wright JR (1997) Immunomodulatory functions of surfactant. Physiol Rev 77:931–962

Stahlman MT, Gray ME, Hull WM, Whitsett JA (2002) Immunolocalization of surfactant protein-D (SP-D) in human fetal, newborn, and adult tissues. J Histochem Cytochem 50:651–660. doi:10.1177/002215540205000506

Saka R, Yanagihara I, Sasaki T et al (2015) Immunolocalization of surfactant protein D in the liver from infants with cholestatic liver disease. J Pediatr Surg 50:297–300. doi:10.1016/j.jpedsurg.2014.11.020

Saka R, Okuyama H, Uchida K et al (2014) The expression of surfactant proteins A and D in the intestines and pancreas of murine fetuses. Open J Pediatr 4:12–20

Yamazoe M, Nishitani C, Takahashi M et al (2008) Pulmonary surfactant protein D inhibits lipopolysaccharide (LPS)-induced inflammatory cell responses by altering LPS binding to its receptors. J Biol Chem 283:35878–35888. doi:10.1074/jbc.M807268200

Verhoeff-Bakkenes L, Hazeleger WC, Zwietering MH, De Jonge R (2008) Lack of response of INT-407 cells to the presence of non-culturable Campylobacter jejuni. Epidemiol Infect 136:1401–1406. doi:10.1017/S0950268807000040

Chan K, Wong K, Luk J (2009) Role of LPS/CD14/TLR4-mediated inflammation in necrotizing enterocolitis: pathogenesis and therapeutic implications. World J Gastroenterol WJG 15:4745–4752. doi:10.3748/wjg.15.4745

Jilling T, Simon D, Lu J, Meng F (2006) The roles of bacteria and TLR4 in rat and murine models of necrotizing enterocolitis. J Immunol 177:3273–3282

Tanner SM, Berryhill TF, Ellenburg JL et al (2015) Pathogenesis of necrotizing enterocolitis. Am J Pathol 185:4–16. doi:10.1016/j.ajpath.2014.08.028

Wang H, Tan X, Chang H et al (1997) Regulation of platelet-activating factor receptor gene expression in vivo by endotoxin, platelet-activating factor and endogenous tumour necrosis factor. Biochem J 322(Pt 2):603–608

Borthakur A, Bhattacharyya S, Alrefai WA et al (2010) Platelet-activating factor-induced NF-kappaB activation and IL-8 production in intestinal epithelial cells are Bcl10-dependent. Inflamm Bowel Dis 16:593–603. doi:10.1002/ibd.21092

Honda Z, Ishii S, Shimizu T (2002) Platelet-activating factor receptor. J Biochem 779:773–779

Amer MD, Hedlund E, Rochester J, Caplan MS (2004) Platelet-activating factor concentration in the stool of human newborns: effects of enteral feeding and neonatal necrotizing enterocolitis. Biol Neonat 85:159–166. doi:10.1159/000075306

Lotz M, Gütle D, Walther S et al (2006) Postnatal acquisition of endotoxin tolerance in intestinal epithelial cells. J Exp Med 203:973–984. doi:10.1084/jem.20050625

Naik S, Kelly EJ, Meijer L et al (2001) Absence of Toll-like receptor 4 explains endotoxin hyporesponsiveness in human intestinal epithelium. J Pediatr Gastroenterol Nutr 32:449–453

Benkoe T, Baumann S, Weninger M et al (2013) Comprehensive evaluation of 11 cytokines in premature infants with surgical necrotizing enterocolitis. PLoS One 8:e58720. doi:10.1371/journal.pone.0058720

Edelson M, Bagwell C, Rozycki H (1999) Circulating pro-and counterinflammatory cytokine levels and severity in necrotizing enterocolitis. Pediatrics 103:766–771

Benkoe T, Reck C, Gleiss A et al (2012) Interleukin 8 correlates with intestinal involvement in surgically treated infants with necrotizing enterocolitis. J Pediatr Surg 47:1548–1554. doi:10.1016/j.jpedsurg.2011.11.049

Akira S (2003) Toll-like receptor signaling. J Biol Chem 278:38105–38108. doi:10.1074/jbc.R300028200

He W, Qu T, Yu Q et al (2013) LPS induces IL-8 expression through TLR4, MyD88, NF-kappaB and MAPK pathways in human dental pulp stem cells. Int Endod J 46:128–136. doi:10.1111/j.1365-2591.2012.02096.x

Sano H, Kuroki Y (2005) The lung collectins, SP-A and SP-D, modulate pulmonary innate immunity. Mol Immunol 42:279–287. doi:10.1016/j.molimm.2004.07.014

Kuroki Y, Takahashi M, Nishitani C (2007) Pulmonary collectins in innate immunity of the lung. Cell Microbiol 9:1871–1879. doi:10.1111/j.1462-5822.2007.00953.x
Acknowledgments
This study was supported by research grants from the Ministry of Education, Culture, Sports, Science and Technology (MEXT) of Japan (to FN, IY, and HO).
Ethics declarations
Conflicts of interest
The authors declare that they have no conflicts of interest.
About this article
Cite this article
Saka, R., Wakimoto, T., Nishiumi, F. et al. Surfactant protein-D attenuates the lipopolysaccharide-induced inflammation in human intestinal cells overexpressing toll-like receptor 4. Pediatr Surg Int 32, 59–63 (2016). https://doi.org/10.1007/s00383-015-3812-y
Accepted:

Published:

Issue Date:

DOI: https://doi.org/10.1007/s00383-015-3812-y
Keywords