Abstract
Background/aim
Established indications for surgery in necrotizing enterocolitis (NEC) are pneumoperitoneum and failure to improve or clinical deterioration with medical treatment alone. It has been proposed that infants with intestinal necrosis may benefit from surgery in the absence of one of these indications yet the diagnosis of definitive intestinal necrosis is challenging. Recent data suggest that abdominal ultrasound (US) examination focused on the gastrointestinal tract and the peritoneal cavity may be of utility in this regard. The aim of this study was to evaluate the ability of abdominal US to detect intestinal necrosis in infants with radiographically confirmed NEC.
Methods
Twenty-six consecutive infants with Bell stage II or III NEC were prospectively included in the study between September 2013 and July 2014. Infants with a pre-existing indication for surgery were excluded. At least one abdominal US examination was performed in each patient using a standardized previously described method. Surgery was performed at the discretion of the attending surgeon based on clinical and imaging findings. Clinical, radiographic, US, and intra-operative data were recorded to allow comparison between US findings, surgical findings and outcome.
Results
US demonstrated signs of intestinal necrosis in 5 of the 26 patients. All of these five had laparotomy. Intestinal necrosis requiring resection was confirmed in four and the other was found to have NEC but no necrosis was identified. In 21 patients US did not suggest intestinal necrosis. Of these, only one had surgery in whom NEC but no necrosis was identified. The remaining 20 responded to medical treatment for NEC and were assumed not to have had intestinal necrosis based on improvement without surgical intervention. The sensitivity, specificity, positive predictive value and negative predictive values of US for the detection of bowel necrosis were calculated as 100, 95.4, 80.0, and 100 %, respectively.
Conclusion
Our prospective findings suggest that abdominal US can identify those infants with NEC who may need surgery by detecting bowel necrosis (prior to the development of perforation or medical deterioration) with high sensitivity and specificity. Early surgical intervention in the clinical pathway of NEC may lead to improved outcomes.
This is a preview of subscription content, log in to check access.
Access options
Buy single article
Instant access to the full article PDF.
US$ 39.95
Price includes VAT for USA
Subscribe to journal
Immediate online access to all issues from 2019. Subscription will auto renew annually.
US$ 199
This is the net price. Taxes to be calculated in checkout.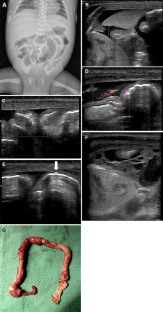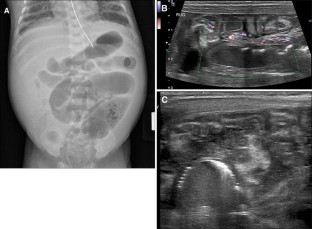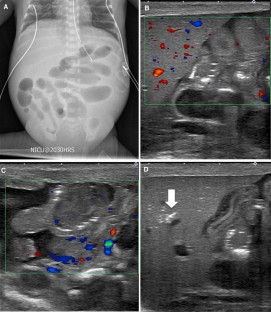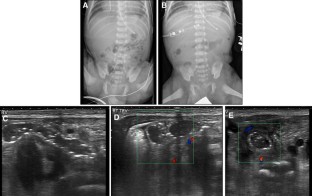 References
1.

Faingold R, Daneman A, Tomlinson G, Babyn PS, Manson DE, Mohanta A, Moore AM, Hellmann J, Smith C, Gerstle T, Kim JH (2005) Necrotizing enterocolitis: assessment of bowel viability with color Doppler US. Radiology 235:587–594

2.

Jesse N, Neu J (2006) Necrotizing enterocolitis: relationship to innate immunity, clinical features, and strategies for prevention. NeoReviews 7:e143–e150

3.

Rees CM, Hall NJ, Eaton S, Pierro A (2005) Surgical strategies for necrotising enterocolitis: a survey of practice in the UK. Arch Dis Child Fetal Neonatal Ed 90:F152–F155

4.

Kasivajjula H, Maheshwari A (2014) Pathophysiology and current management of necrotizing enterocolitis. Indian J Pediatr 81(5):489–497

5.

Bohnhorst B (2013) Usefulness of abdominal ultrasound in diagnosing necrotising enterocolitis. Arch Dis Child Fetal Neonatal Ed 98:F445–F450

6.

Silva CT, Daneman A, Navarro OM, Moineddin R, Levine D, Moore AM (2013) A prospective comparison of intestinal sonography and abdominal radiographs in a neonatal intensive care unit. Pediatr Radiol 43:1453–1463

7.

Silva CT, Daneman A, Navarro OM, Faingold R, Epelman M (2007) Comparison of accuracy of radiographs and ultrasound for the detection of free intraperitoneal gas in neonates with necrotizing enterocolitis. Pediatr Radiol 37(Suppl 1):S52

8.

Epelman M, Daneman A, Navarro OM, Morag I, Moore AM, Kim JH, Faingold R, Taylor G, Gerstle JT (2007) Necrotizing enterocolitis: review of state-of-the-art imaging findings with pathologic correlation. Radiographics 27:285–305

9.

Silva CT, Daneman A, Navarro OM, Moore AM, Moineddin R, Gerstle JT, Mittal A, Brindle M, Epelman M (2007) Correlation of sonographic findings and outcome in necrotizing enterocolitis. Pediatr Radiol 37:274–282

10.

Braccini G, Lamacchia M, Boraschi P, Bertellotti L, Marrucci A, Goletti O, Perri G (1996) Ultrasound versus plain film in the detection of pneumoperitoneum. Abdom Imaging 21:404–412

11.

Franco A, Ramji FG (2008) Utility of abdominal sonography to diagnose necrotizing enterocolitis. Eur J Radiol Extra 65:13–16

12.

Kim WY, Kim IO, Kim WS et al (2007) Sonographic findings in a model of ischemia-induced necrotizing enterocolitis with pathological correlations. Invest Radiol 42:312–318

13.

Dilli D, Suna Oğuz S, Erol R, Ozkan-Ulu H, Dumanlı H, Dilmen U (2011) Does abdominal sonography provide additional information over abdominal plain radiography for diagnosis of necrotizing enterocolitis in neonates? Pediatr Surg Int 27:321–327

14.

Brindhaban A, Eze CU (2006) Estimation of radiation dose during diagnostic X-ray examinations of newborn babies and 1-year-old infants. Med Princ Pract 15:260–265

15.

Choi YH, Kim IO, Cheon JE, Kim JE, Kim EK, Kim WS, Yeon KM (2010) Doppler sonographic findings in an experimental rabbit model of necrotizing enterocolitis. J Ultrasound Med 29:379–386

16.

Deeg KH, Rupprecht T, Schmid E (1993) Doppler sonographic detection of increased flow velocities in the celiac trunk and superior mesenteric artery in infants with necrotizing enterocolitis. Pediatr Radiol 23:F578–F582

17.

Kempley ST, Gamsu HR (1992) Superior mesenteric artery blood flow velocity in necrotising enterocolitis. Arch Dis Child 67:793–796

18.

Kim WY, Kim WS, Kim IO, Kwon TH, Chang W, Lee EK (2005) Sonographic evaluation of neonates with early-stage necrotizing enterocolitis. Pediatr Radiol 35:1056–1061

19.

Muchantef K, Epelman M, Darge K, Kirpalani H, Laje P, Anupindi SA (2013) Sonographic and radiographic imaging features of the neonate with necrotizing enterocolitis: correlating findings with outcomes. Pediatr Radiol 43:1444–1452
About this article
Cite this article
Yikilmaz, A., Hall, N.J., Daneman, A. et al. Prospective evaluation of the impact of sonography on the management and surgical intervention of neonates with necrotizing enterocolitis. Pediatr Surg Int 30, 1231–1240 (2014). https://doi.org/10.1007/s00383-014-3613-8
Accepted:

Published:

Issue Date:
Keywords
Necrotizing enterocolitis

Ultrasound

Surgery

Infant

Diagnostic test