Abstract
Purpose
Meckel's diverticular bleeding is the commonest cause of major gastrointestinal (GI) haemorrhage in children. We hypothesise that gastric heterotopia (GH) is associated with increased risk of bleeding and, therefore, may affect initial management.
Methods
Paediatric patients with histological diagnosis of Meckel's diverticulum (MD) following diverticulectomy from 1995 to 2011 were reviewed retrospectively, focusing on histological correlation to bleeding. GH identified on histology was regarded as GH+, and where GH was not found was regarded as GH−. Two-tailed Chi-square test and Fisher's exact test were used, p < 0.05 was statistically significant.
Results
Thirty-nine patients underwent Meckel's diverticulectomy. The number of patients with GH+, GH−, and bowel necrosis were 21, 15, and 3. Eighteen children with MD had GI bleeding. GI bleeding was more commonly associated with GH+ (14/21) than GH− (4/15) (67 vs 27 %, p = 0.02). Further analysis revealed all four GH− bleeding originated from other sources than the MD. GH+ had no significant association with other presentations. GH+ was present in 8/8 (100 %) positive Meckel's scans and 2/5 (40 %) negative scans. Meckel's scan had a sensitivity of 8/10 (80 %), and specificity of 3/3 (100 %).
Conclusion
This study confirmed that GH positive MD is a unique entity presenting typically with GI bleeding.
Access options
Buy single article
Instant access to the full article PDF.
USD 39.95
Price excludes VAT (USA)
Tax calculation will be finalised during checkout.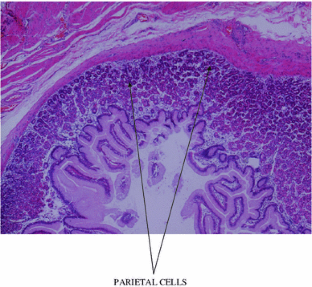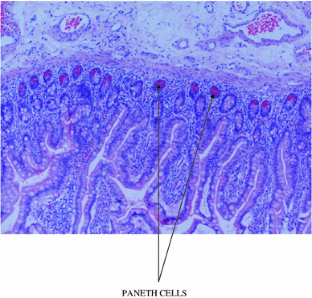 References
Sadler TW (2006) Chapter 14: digestive system. Langman's medical embryology, 10th edn. Lippincott Williams & Wilkins, USA, pp 217–222

Sagar J, Kumar V, Shah DK (2006) Meckel's diverticulum: a systematic review. J R Soc Med 99(10):501–505

Menezes M, Tareen F, Saeed A, Khan N, Puri P (2008) Symptomatic Meckel's diverticulum in children: a 16-year review. Pediatr Surg Int 24(5):575–577

Meckel J (1809) Uber die divertikel am darmkanal. Arch Physiol 9:421–453

Swaniker F, Soldes O, Hirschl RB (1999) The utility of technetium 99m pertechnetate scintigraphy in the evaluation of patients with Meckel's diverticulum. J Pediatr Surg 34(5):760–764 Discussion 765

Tseng YY, Yang YJ (2009) Clinical and diagnostic relevance of Meckel's diverticulum in children. Eur J Pediatr 168(12):1519–1523

Chan KW, Lee KH, Mou JWC, Cheung ST, Tam YH (2008) Laparoscopic management of complicated Meckel's diverticulum in children: a 10-year review. Surg Endosc 22(6):1509–1512

Artigas V, Calabuig R, Badia F, Rius X, Allende L, Jover J (1986) Meckel's diverticulum: value of ectopic tissue. Am J Surg 151(5):631–634

Brophy C, Seashore J (1989) Meckel's diverticulum in the pediatric surgical population. Conn Med 53(4):203–205

Vane DW, West KW, Grosfeld JL (1987) Vitelline duct anomalies. Experience with 217 childhood cases. Arch Surg 122(5):542–547

Collins JC Jr (1980) Hemorrhage from a Meckel's diverticulum: one case with heterotopic gastric mucosa treated with cimetidine. Arch Surg 115(1):83–84

Kirkpatrick RA (1978) Cimetidine and Meckel's diverticulum. Ann Intern Med 88(6):846–847

Minchom PE, Wheeler MH, Sibert JR (1980) Cimetidine and peptic ulceration in a Meckel's diverticulum. Arch Dis Child 55(4):321

Volpato M, Marchetto R, Tacchetti G, Ori ML, Ciccia B (1989) Selective therapy with ranitidine in a case of bleeding Meckel's diverticulum. Minerva Dietol Gastroenterol 35(1):61–63

Dahshan A (2007) Bleeding Meckel diverticulum responds to intravenous pantoprazole. South Med J 100(3):334

Laine L, Jensen DM (2012) Management of patients with ulcer bleeding. Am J Gastroenterol 107(3):345–360 Quiz 361

Manning RJ (1987) Failure of H2 blocker therapy in a case of hemorrhage from a Meckel's diverticulum. J Clin Gastroenterol 9(2):242

Ford PV, Bartold SP, Fink-Bennett DM, Jolles PR, Lull RJ, Maurer AH et al (1999) Procedure guideline for gastrointestinal bleeding and Meckel's diverticulum scintigraphy. Society of Nuclear Medicine. J Nucl Med 40(7):1226–1232
Acknowledgments
The authors would like to acknowledge and are grateful to Mr. M Kulkarni, Mr. AB Mathur and Mr. A Minocha who contributed patients to this study; and Dr. X Tyler for providing pathology review.
Conflict of interest
None.
About this article
Cite this article
Bandi, A., Tan, Y.W. & Tsang, T. Correlation of gastric heterotopia and Meckel's diverticular bleeding in children: a unique association. Pediatr Surg Int 30, 313–316 (2014). https://doi.org/10.1007/s00383-013-3441-2
Accepted:

Published:

Issue Date:

DOI: https://doi.org/10.1007/s00383-013-3441-2
Keywords
Meckel's diverticulum

Histology

Paediatric

Bleeding