Abstract
Purpose
Splenic abscess (SA) is rare life threatening clinical condition in children. Diagnosis is delayed because of its non-specific clinical presentation. It has a high mortality rate even in the era of antibiotics. This study aim to determine the role of splenic preservation in the management of isolated splenic abscess in children, and to compare different treatment modalities for it.
Methods
A retrospective cross-sectional study of 20 years was conducted including all children <14 years of age with the principal diagnosis of "Splenic abscess". We have excluded all splenic abscesses occurring after penetrating or blunt abdominal trauma.
Results
Total of 17 children were managed during the study period. Most of our patients were older than 10 years of age. Majority of patients had a significant delay in presentation. Fever, abdominal pain, and vomiting were the main mode of presentation. Splenomegaly on abdominal examination was present in 12 patients. 15 (88 %) children were managed conservatively; however, 2 children required surgical intervention.
Conclusion
Splenic abscess in children is a rare disease and its diagnosis is often delayed. Delay in diagnosis of SA in children can lead to life threatening complications. A high index of suspicion is needed to reduce delay in diagnosis. Children presenting with non-specific high grade fever vomiting and abdominal pain should be evaluated for SA. Timely ultrasound and CT scan will lead to earlier diagnosis. A conservative approach with intravenous antibiotics and early percutaneous drainage especially in immunocompetent children can preserve spleen to continue immune function.
Access options
Buy single article
Instant access to the full article PDF.
USD 39.95
Price excludes VAT (USA)
Tax calculation will be finalised during checkout.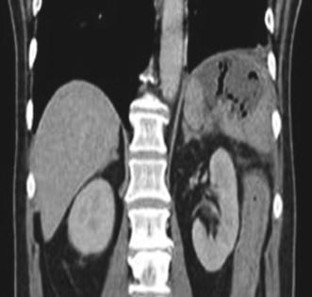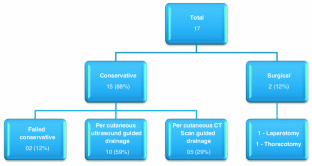 References
Ferraioli G, Brunetti E, Gulizia R et al (2009) Management of splenic abscess: report on 16 cases from a single center. Int J Infect Dis 13:524–530

Ooi LLPJ, Leong SS (1997) Splenic abscesses from 1987 to 1995. Am J Surg 174:87–93

National Guidelines for the Care and Support of Children Affected by HIV and AIDS in Pakistan, 2010. National AIDS Control Programme. Ministry of Health, Government of Pakistan

Hashmi NK, Moiz B, Nusrat M, Hashmi MR et al (2008) Chromatographic analysis of Hb S for the diagnosis of various sickle cell disorders in Pakistan. Ann Hematol 87(8):639–645

Choudhurya SR, Debnath PR et al (2010) Conservative management of isolated splenic abscess in children. J Pediatr Surg 45:372–375

De Greef E, Hoffman I, Topal B et al (2008) Partial laparoscopic splenectomy for splenic abscess because of salmonella infection: a case report. J Pediatr Surg 43:E35–E38

Smith MD, Nio M, Camel JE et al (1993) Management of splenic abscess in immunocompromised children. J Pediatr Surg 28:823–826

Allal R, Kastler B, Gangi A et al (1993) Splenic abscess in typhoid fever: US and CT studies. J Comput Assist Tomogr 17:90–93

Chaudhry R, Mahajan RK, Diwan A et al (2003) Unusual presentation of enteric fever: three cases of splenic and liver abscesses due to Salmonella typhi and Salmonella paratyphi A. Trop Gastroenterol 24:198–199

Tikkakoski T, Siniluoto T, Paivansalo M et al (1992) Splenic abscess. Imaging and intervention. Acta Radiol 33:561–565

Van der Laan RT, Verbeeten B Jr, Smith NJ et al (1989) Computed tomography in the diagnosis and treatment of solitary splenic abscesses. J Comput Assist Tomogr 13:71–74

Alonso-Cohen MA, Galera MJ, Ruiz M et al (1990) Splenic abscess. World J Surg 14:513–516

Levison ME (1983) Intra-abdominal infections. In: Stein JH et al (eds) Text book of internal medicine, Boston7 Little Brown and Company, p 1999

Gadacz TR (1985) Splenic abscess. World J Surg 9:410–415

Fernandes ET, Tvares PB, Garcette CBM (1992) Conservative management of splenic abscesses in children. J Pediatr Surg 27:1578–1579

Chang KW, Chiu CH, Jaing TH et al (2003) Splenic abscess caused by group A b-haemolytic streptococcus. Acta Paediatr 92:510–511
Acknowledgments
We acknowledge the department of radiology, the Aga khan university hospital, Karachi, Pakistan for their continuous support without which this study was not possible.
Conflict of interest
There is no conflict of interest in our study.
About this article
Cite this article
Faruque, A.V., Qazi, S.H., Arshad, M. et al. Isolated splenic abscess in children, role of splenic preservation. Pediatr Surg Int 29, 787–790 (2013). https://doi.org/10.1007/s00383-013-3336-2
Accepted:

Published:

Issue Date:

DOI: https://doi.org/10.1007/s00383-013-3336-2
Keywords
Splenic abscess

Children

Percutaneous drainage