Abstract
Purpose
To present our experience of 20 children with bilateral Wilms' tumour seen in a resource-challenged environment over a 10-year period.
Method
All patients with a diagnosis of bilateral synchronous Wilms' tumour were identified and recruited.
Results
Study patients represented 11 % of a cohort of 177 new patients with Wilms' tumour seen over the same period. Three patients had a syndromic predisposition to Wilms' tumour. Metastatic disease was seen at presentation in four patients (20 %) and three children presented with unilateral tumour rupture. One patient presented with paraplegia and one with obstruction of the duodenum. All children received neoadjuvant chemotherapy. One HIV-infected child died of IRIS after neoadjuvant treatment, but before surgery. One child died of progressive disease after unilateral nephrectomy. Nephron-sparing surgery was performed in 22 kidneys and 15 kidneys were removed in toto. Following enucleation of tumours, three children had positive margins. Discordant histopathology was seen in 53 % of patients. Overall survival at 2 years is 85 %.
Conclusion
Despite significant co-morbidity and advanced disease, bilateral Wilms' tumour is a treatable disease in a resource-constrained environment.
This is a preview of subscription content, log in to check access.
Access options
Buy single article
Instant access to the full article PDF.
US$ 39.95
Price includes VAT for USA
Subscribe to journal
Immediate online access to all issues from 2019. Subscription will auto renew annually.
US$ 199
This is the net price. Taxes to be calculated in checkout.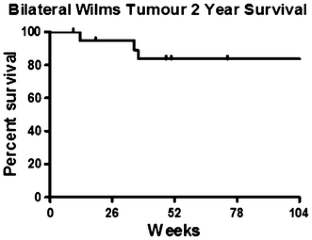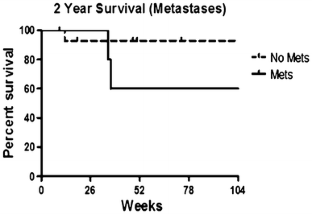 References
1.

Israels T (2012) Wilms' tumor in Africa: challenges to cure. Pediatr Blood Cancer 58(1):3–4

2.

Davidoff AM, Giel DW, Jones DP, Jenkins JJ, Krasin MJ, Hoffer FA, Williams MA, Dome JS (2008) The feasibility and outcome of nephron-sparing surgery for children with bilateral Wilms' tumor: the St. Jude Children's Research Hospital experience: 1999–2006. Cancer 112(9):2060–2070

3.

http://www.childrensrights.org.za/index.php/documents/provincial-profiles/kzn. Accessed 25 Feb 2013

4.

Millar AJ, Davidson A, Rode H, Numanoglu A, Hartley PS, Daubenton JD, Desai FJ (2005) Bilateral Wilms' tumors: a single-center experience with 19 cases. J Pediatr Surg 40(8):1289–1294

5.

Hamilton TE, Ritchey ML, Haase GM, Argani P, Peterson SM et al (2011) The management of synchronous bilateral Wilms' tumor: a report from the National Wilms' tumor study group. Ann Surg 253(5):1004–1010

6.

Millar AJ, Davidson A, Rode H, Numanoglu A, Hartley PS, Desai F (2011) Nephron-sparing surgery for bilateral Wilms' tumours: a single-centre experience with 23 cases. Afr J Paediatr Surg 8(1):49–56

7.

Hadley GP, Shaik AS (2006) The morbidity and outcome of surgery in children with large pre-treated Wilms' tumour: size matters. Pediatr Surg Int 22(5):409–412

8.

Paulino AC, Wilimas J, Marina N, Jones D et al (1996) Local control in synchronous bilateral Wilms' tumor. Int J Radiat Oncol Biol Phys 36(3):541–548

9.

Aronson DC, Slaar A, Heinen RC, de Kraker J, Heij HA (2011) Long term outcome of bilateral Wilms' tumors. Pediatr Blood Cancer 56(7):1110–1113

10.

Sulkowski J, Kolon T, Mattei P (2012) Nephron-sparing partial nephrectomy for bilateral Wilms' tumor. J Pediatr Surg 47(6):1234–1238

11.

Giel DW, Williams MA, Jones DP, Davidoff AM, Dome JS (2007) Renal function outcomes in patients with nephron sparing surgery for bilateral Wilms' tumor. J Urol 178(4 Pt 2):1786–1789

12.

Shamberger RC, Haase GM, Argani P, Perlman EJ, Cotton CA et al (2006) Bilateral Wilms' tumors with progressive or non-responsive disease. J Pediatr Surg 41(4):652–657

13.

Horwitz JR, Ritchey ML, Moksness J, Breslow NE et al (1996) Renal salvage procedures in patients with synchronous bilateral Wilms' tumours: a report from the National Wilms' tumour study group. J Pediatr Surg 31(8):1020–1025
About this article
Cite this article
Hadley, G.P., Mars, M. & Ramdial, P.K. Bilateral Wilms' tumour in a developing country: a descriptive study. Pediatr Surg Int 29, 419–423 (2013). https://doi.org/10.1007/s00383-013-3287-7
Accepted:

Published:

Issue Date:
Keywords
Bilateral Wilms' tumour

Developing country

Histopathology