Abstract
Purpose
To document the clinical, imaging and histopathological features of five children with paraplegia due to Wilms' tumour (WT), highlighting therapeutic options and patient outcome in a developing country.
Methods
Patients with WT and paraplegia seen at the Department of Paediatric Surgery since 1984 form the study cohort. Patient demographics, duration of neurological symptoms, stage of primary tumour, therapeutic intervention and outcome were recorded. Histology of the primary tumours and paraspinal or epidural biopsies were reviewed.
Results
Five patients with WT and paraplegia were identified. Imaging showed epidural masses with paraspinal disease, cord displacement and compression. Four patients have died. Of the two patients with neurological recovery, one relapsed 4 months later. Histology revealed triphasic WT with one case showing anaplasia. Paraspinal or epidural biopsies confirmed WT with post-treatment changes. Three biopsies showed lymphovascular, perineurial and intraneural tumour invasion and one showed epidural venous invasion.
Conclusion
Although rare, WT-associated spinal disease may cause permanent neurological deficit, adding considerably to the burden of disease. In developing countries where patients present late, the prognosis is poor, however surgery may provide immediate relief of compression symptoms and biopsy material. The treatment of choice will depend on the facilities available and the clinical circumstances.
This is a preview of subscription content, log in to check access.
Access options
Buy single article
Instant access to the full article PDF.
US$ 39.95
Price includes VAT for USA
Subscribe to journal
Immediate online access to all issues from 2019. Subscription will auto renew annually.
US$ 199
This is the net price. Taxes to be calculated in checkout.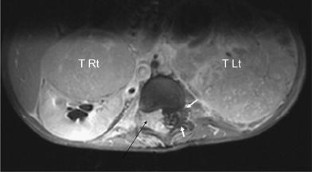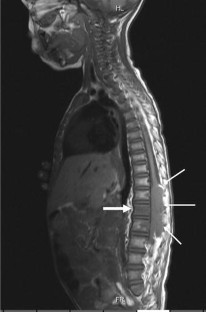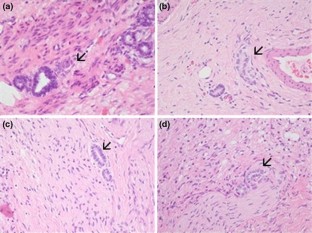 References
1.

Maitra A, Kumar V (2005) Diseases of infancy and childhood. In: Kumar V, Abbas A, Fausto N (eds) Robbins and Cotran pathologic basis of disease, 7th edn. Elsevier Saunders, Philadelphia, pp 469–508

2.

Chang WT, Chen HC, Peng HC, Yang DY, Chang CGS (1990) Solitary spinal cord metastasis of Wilms' tumor. J Pediatr Surg 25:550–552

3.

Cohn SL, Hamre M, Kletzel M, Chou P, Radkowski MA (1994) Intraspinal Wilm's tumor metastases. Cancer 73:2444–2449

4.

Darendeliler E, Ayan I, Kebudi R, Agaoglu L, Bilge N, Kinay M (1994) Epidural metastasis in Wilms tumor: a case report and review of the literature. Med Pediatr Oncol 23:60–63

5.

Ebb DH, Kerasidis H, Vezina G, Packer RJ, Carabell S, Ivy P (1992) Spinal cord compression in widely metastatic Wilms' tumor. Cancer 69:2726–2730

6.

Sikorski CW, Pytel P, Rubin CM, Yamini B (2006) Intradural spinal Wilm's tumor metastasis: case report. Neurosurgery 59:942–943

7.

Sumner TE, Crowe JE, Parker MD, White JP (1980) Solitary spinal metastasis from Wilms' tumor. Pediatr Radiol 9:175–176

8.

Watanabe R, Takahashi A, Suzuki M, Toki F, Kanazawa T, Hirato J, Morikawa A, Kuwano H (2009) Adolescent Wilms tumor with intraspinal and bone metastases. J Pediatr Hematol Oncol 31:45–48

9.

Hadley G, Jacobs C (1990) The clinical presentation of Wilms' tumour in black children. S Afr Med J 77:565–567

10.

Baten M, Vanmucci RC (1977) Intraspinal metastatic disease in childhood cancer. J Pediatr 90:207–212

11.

Punt J, Pritchard J, Pincott JR, Till K (1980) Neuroblastoma: a review of 21 cases presenting with spinal cord compression. Cancer 45:3095–3101

12.

Lewis DW, Packer RJ, Raney B, Rak IW, Belasco J, Lange B (1986) Incidence, presentation, and outcome of spinal cord disease in children with systemic cancer. Pediatrics 78:438–443

13.

Sarpel S, Darpel G, Yu E, Hyder S, Kaufman B, Hindo W, Ezdinli E (1987) Early diagnosis of spinal-epidural metastasis by magnetic resonance imaging. Cancer 59:1112–1116

14.

Coppes MJ (1993) Serum biologic markers and paraneoplastic syndromes in Wilms tumor. Med Pediatr Oncol 21:213–221
Acknowledgments
The authors are grateful to Mrs M. Moodley for literature retrieval, manuscript typing and formatting, Ms E. Connor for clinical data management, Mr C. Sydney and D. Sookhdeo for laboratory support and literature retrieval.
About this article
Cite this article
Ramdial, P.K., Hadley, G.P. & Sing, Y. Spinal cord compression in children with Wilms' tumour. Pediatr Surg Int 26, 349–353 (2010). https://doi.org/10.1007/s00383-010-2563-z
Accepted:

Published:

Issue Date:
Keywords
Wilms' tumour

Nephroblastoma

Paraplegia

Spinal

Compression