Abstract
Taurine seems to be essential in the newborn for bile acid (BA) tauroconjugation, and its deficiency has been implicated in total parenteral nutrition-associated cholestasis (TPN-AC). Our purpose was to study the relationship between taurine (Ta) and TPN-AC in rabbits, which have a similar biliary metabolism to that of humans. We used 40 young rabbits, fed for 10 days according to the following four groups: GA [10] given TPN, with amino acid solution (AA) but without taurine (Ta) or its AA-precursors (methionine, cysteine, and serine); GB [10] the same but only without taurine; GC [10] the same but with taurine and its precursors; and GD [10] the control group with oral nutrition and saline infusion. Complete blood and bile analytical data were obtained and analyzed, including plasma AA and BA. Liver samples were studied under optical and electron microscopy. Serum: In GC there was a 20% increase in the AA-precursors, but paradoxically it was greater in GA. Bile: In GC there was 30% more excretion of total and free BA compared with less than 20% in GA and GB. Regarding toxic BA, there was a 15% decline in GLC3S excretion, but more than 20% in LCA excretion, than in GA and GB. Moreover, in GC the glyco-/tauro-conjugate ratio was worse than in the other groups. Histomorphology: While in GA and GB liver steatosis was diffuse (microsteatohepatitis type), in GC there was macrosteatosis with mitochondria-surrounded lipid droplets. In GA and GB, the canaliculi appeared dilated, with abundant bile plugs and loss of microvilli. There are signs that taurine may protect against TPN-AC. The mechanism does not seem to be BA tauroconjugation, but probably taurine's antioxidant, membrane stabilization (with Ca2+ and HCO3-), and/or osmotic effects.
Access options
Buy single article
Instant access to the full article PDF.
USD 39.95
Price excludes VAT (USA)
Tax calculation will be finalised during checkout.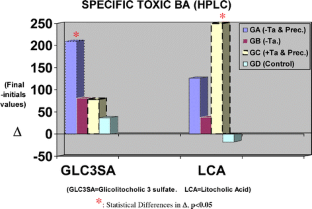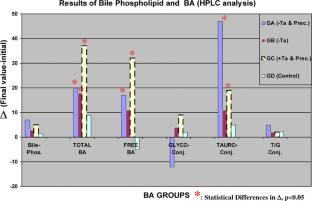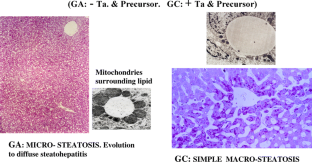 References
Freund HR (1991) Abnormalities of liver function and hepatic damage associates with PN. Nutrition 7:1–6

Drongowski RA, Coran AG (1989) An analysis of factors contributing to development of TPN-induced cholestasis. J PEN 13:586–589

Beath SV, Davies P, Papadopoulou A (1996) PN-related cholestasis in post surgical neonates: multivariate analysis of risk factors. J Pediatr Surg 31:604–606

Nussbaum MS, Fisher JE (1991) Pathogenesis of hepatic steatosis during TPN. Surg Annu 23:1–11

Allardyce DB (1982) Cholestasis caused by lipid emulsions. Surg. Gynecol Obstet 154:641–647

Moran Penco JM: What happen in the liver during artificial nutrition? (2000) ESPEN congress 2000. Educational Program Book, 117–120

Li S, Nussbaum MS, Tegue D, Gapen CL (1988) Increasing dextrose concentration in TPN causes alteration in hepatic morphology and portal venous level in rats. J Surg Res 44:639–648

Espin-Jaime MT, Moran JM, Maciá E, Salas J, Botello F (1996). Composición lipidica hepática tras NPT con LCT vs MCT/LCT como fuente de aporte. Nutr Hosp 11(Suppl):36–39

Quigley EMM, Marsh MN, Shaffer JL, Markin RS (1993) Hepatobiliary complications of TPN. Gastroenterology 104:286–301

Cavicchi M, Beau Ph, Crenn P, Degott C, Messing B (2000) Prevalence of liver disease and contributing factors in patients receiving home PN for permanent intestinal failure. Ann Int Med 132:525–532

Belli DC, Gournier LA, Lepage G (1987) TPN-associated cholestasis in rats: comparison of different aminoacid mixtures. J PEN 11:67–73

Fürst P, Stehle P, (1994) Are intravenous amino acid solutions unbalanced? New Horizons. Crit Care Med 2:215–223

Das JB, Uzoaru IL, Ansari GC (1995). Biliary litocholate and cholestasis during and after TPN: an experimental study. Proc Soc Exp Biol Med–PSEBM 210:253–259

Fouin-Fortunet H, LeQuernec L, Erlinger S, Lerebours E, Colin R (1982). Hepatic alterations during TPN in patients with IBD: a possible consequence of LCA toxicity. Gastroenterology 82:932–937

Howard D, Thompson DF (1992) Taurine: an essential amino acid to prevent cholestasis in neonates? Ann Pharmacoter 26:1390–1392

Duerksen DR, Van Erde JE, Chan G, Thomson A, Jewell LJ, Clandinin MT (1996) TPN impairs bile flow and alters bile composition in newborn piglet. Digest Dis Sci 41:1864–1870

Dorvil NP, Yousef IM, Tuchweber B (1983) Taurine prevents cholestasis induced by LCA in guinea pigs. J Clin Nutr 37:221–232

Belli DC, Fournier LA, Lepage G (1988) The influence of taurine on the bile acid maximum secretory rate and on the LCA and others conjugates, in the guinea pigs. Pediatr Res 24:34–37

Guertin F, Roy CC, Lepage G, Perea A, Giguére R, Yousef I, Tuchweber B (1991) Effect of taurine on TPN-associated cholestasis. J PEN 15:247–251

Sturman JA, Chesney RW (1995). Taurine in paediatric nutrition. Pediatr Clin North Am 42:879–897

Stapleton PP, Charles RP, Redmond HP, Bouchier-Hayes J (1997) Taurine and human nutrition. Clin Nutr 16:103–108

Kopple JD, Vinton NE, Laidlaw SA, Ament ME (1990) Effect of intravenous supplementation on plasma, blood cell, and urine taurine concentrations in adults undergoing long term parenteral nutrition. Am J Clin Nutr 52:846–853

Hofman AF (1995) Defective biliary secretion during TPN: probable mechanisms and possible solutions. J Pediatr Gastroenterol Nutr 20:376–390

Koopen NR, Muller M, Roel JV, Zimniak P, Kuipers F (1998) Molecular mechanism of cholestasis: causes and consequences of impaired bile formation. Bichem Biophys Acta 1408:1–17

Sokol RJ, Sharon FT, Devereaux MW, Khandwala R, Sondheimer N, Shikes R, Mierau G (1996) Hepatic oxidant injury and glutathione depletion during TPN. Am J Physiol; 270 (Gastrointestinal & Liver Physiol. 33): G691–G700

Sokol RJ (1997) Total Parenteral Nutrition-Related Liver Disease. Acta Paed Sin 38:18–28

Moss L, Amii LA (1999) New approaches to understanding the etiology and treatment of the TPN-associated cholestasis. Sem Ped Surg 8:140–147

Cooper A, Betts JM, Pereira GR, Ziegler MM (1984) Taurine deficiency in the severe hepatic dysfunction complicating total parenteral nutrition. J Pediatr Surg 19:462–466

Botello F, Morán JM, Salas J, Espín-Jaime T, Macia E, Climent V, Caballero MJ (1997) Previene la suplementación con Taurina la colestasis inducida por Nutrición Artificial (Intravenosa y Enteral)? Cir Esp 62:364–369

Kelly DA (1998) Liver complications of paediatric parenteral nutrition–Epidemiology. Nutrition 14:153–157

Schaffer S, Takahashi K, Azuma J (2000) Role of osmoregulation in the actions of taurine. Amino Acids 19:527–546

Guertin F, Roy CC, Lepage G, Yousef I, Tuchweber B (1993) Liver membrane composition after short term PN with and without Taurine, in guinea pigs: the effect of Taurine. Pro Soc Exp Biol Med 203:423–428

Heubi JE, Wiechmann DA, Creutzinger V, Setchell KD, Squires R Jr, Crouser R, Rhodes P (2002) Tauroursodeoxycholic acid (TUDCA) in the prevention of total parenteral nutrition-associated liver disease. J Pediatr 141:237–42

Zelikovic I, Chesney RW, Friedman AL, Ahlfors CE (1990) Taurine depletion in very low birth weight infants receiving prolonged total parenteral nutrition: role of renal immaturity. J Pediatr 116:301–6

Bergstrom J, Alvestrand A, Furst P, Lindholm B (1989) Sulphur amino acids in plasma & muscle in patients with chronic renal failure: evidence for Taurine depletion. J Inter Med 226:189–194

Fürst P (2000) A thirty year odyssey in nitrogen metabolism: from ammonium to dipeptides. J PEN 24:197–209

Matsumira JS, Mary AG, David LN, Dawes LG (1993) Reduced the ileal Taurocholate Absorption with TPN. J Surg Res 54:517–22

Geggel HS, Ament ME, Heckenlively JR, Martin DA, Kopple JD (1985) Nutritional requirement for taurine in patients receiving long-term parenteral nutrition. N Engl J Med 312:142–46
About this article
Cite this article
Moran, J., Salas, J., Botello, F. et al. Taurine and cholestasis associated to TPN. Experimental study in rabbit model. Ped Surgery Int 21, 786–792 (2005). https://doi.org/10.1007/s00383-005-1541-3
Accepted:

Published:

Issue Date:

DOI: https://doi.org/10.1007/s00383-005-1541-3
Keywords