Abstract
Extratropical cyclones (ETCs) over East Asia and Northwest Pacific are identified and tracked by applying an objective algorithm to the 850-hPa relative vorticity fields from the ERA-Interim reanalysis. A total of 2866 ETCs originating at the western side of the date line have been identified in the extended November–March winters from 1979 to 2018. The ETC tracks are counted and visualized using a hexagonal tessellation rather than the regular longitude–latitude grids. Two generalized linear models (GLMs), Poisson regression model and Gamma regression model, are firstly applied to investigate the associations of wintertime ETCs with three atmospheric teleconnection patterns. The West Pacific (WP) pattern and the Pacific/North American (PNA) pattern are more responsible for the meridional variability of ETC activities in the North Pacific, while the influence of the Polar/Eurasia pattern on ETC activities is negligible. Results of composite analysis are qualitatively consistent with that of regression analysis. Composite maps of differences of jet stream, thermal gradient and mid-tropospheric baroclinicity in the positive and negative phases of teleconnection patterns also support the close associations of ETC activities with WP and PNA teleconnection patterns.
Access options
Buy single article
Instant access to the full article PDF.
USD 39.95
Price includes VAT (USA)
Tax calculation will be finalised during checkout.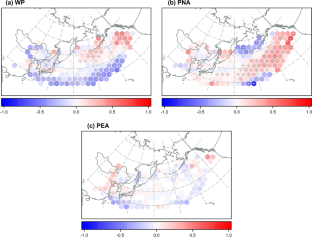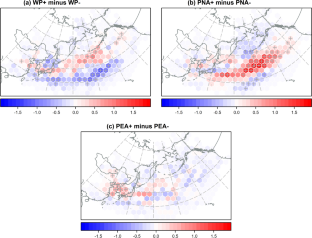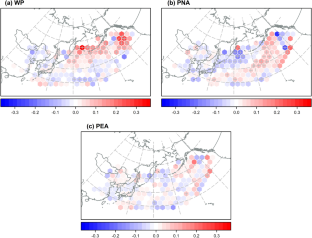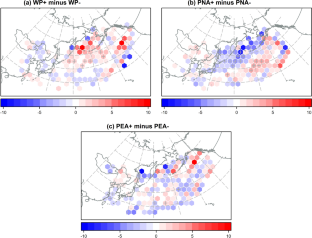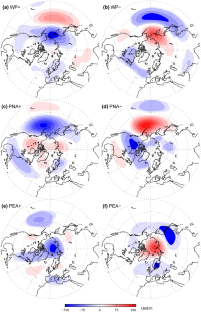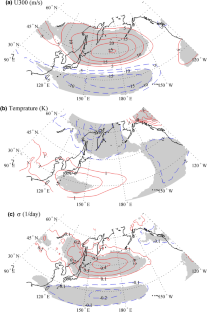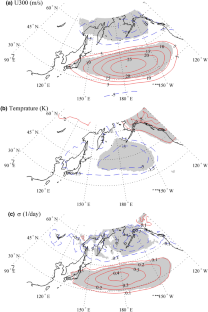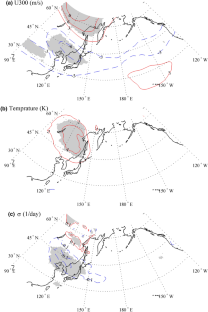 Availability of data and material
The reanalysis data was provided by ECMWF. The teleconnection indices were provided by provided by NOAA Center for Weather and Climate Prediction.
Code availability
The computer code for ETC identification and tracking was accessed from Dr. Flaounas via personal communication.
References
Adachi S, Kimura F (2007) A 36-year climatology of surface cyclogenesis in East Asia using high-resolution reanalysis data. SOLA 3:113–116

Barnston AG, Livezey RE (1987) Classification, seasonality, and persistence of low-frequency atmospheric circulation patterns. Mon Weather Rev 115:1083–1126

Barton NP, Ellis AW (2009) Variability in wintertime position and strength of the North Pacific jet stream as represented by re-analysis data. Int J Climatol 29:851–862

Blender R, Raible CC, Lunkeit F (2015) Non-exponential return time distributions for vorticity extremes explained by fractional Poisson processes. Q J R Meteorol Soc 141:249–257

Blender R, Raible CC, Franzke CLE (2017) Vorticity and geopotential height extreme values in ERA-Interim data during boreal winters. Q J R Meteorol Soc 143:634–640

Catto JL (2016) Extratropical cyclone classification and its use in climate studies. Rev Geophys 54:486–520

Chang EKM, Fu Y (2002) Interdecadal variations in northern hemisphere winter storm track intensity. J Clim 15:642–658

Chang EKM, Yau AMW (2016) Northern Hemisphere winter storm track trends since 1959 derived from multiple reanalysis datasets. Clim Dyn 47:1435–1454

Chang EKM, Lee S, Swanson KL (2002) Storm track dynamics. J Clim 15:2163–2183

Chen S-J, Kuo Y-H, Zhang P-Z, Bai Q-F (1991) Synoptic climatology of cyclogenesis over East Asia, 1958–1987. Mon Weather Rev 119:1407–1418

Chen L, Tan B, Kvamstø NG, Johannessen OM (2014) Wintertime cyclone/anticyclone activity over China and its relation to upper tropospheric jets. Tellus 66A:21889

Choi K-S, Moon IJ (2012) Influence of the Western Pacific teleconnection pattern on Western North Pacific tropical cyclone activity. Dyn Atmos Oceans 57:1–16

Chung Y-S, Hage KD, Reinelt ER (1976) On lee cyclogenesis and airflow in the Canadian Rocky Mountains and the East Asian Mountains. Mon Weather Rev 104:879–891

Dee DP, Uppala SM, Simmons AJ, Berrisford P, Poli P, Kobayashi S, Andrae U, Balmaseda MA, Balsamo G, Bauer P, Bechtold PM, Beljaars AC, van de Berg L, Bidlot J, Bormann N, Delsol C, Dragani R, Fuentes M, Geer AJ, Haimberger L, Healy SB, Hersbach H, Hólm EV, Isaksen L, Kållberg P, Köhler M, Matricardi M, McNally AP, Mong-Sanz BM, Morcrette JJ, Park BK, Peubey C, de Rosnay P, Tavolato C, Thépaut JN, Vitart F (2011) The ERA-Interim reanalysis: configuration and performance of the data assimilation system. Q J R Meteorol Soc 137:553–597

Dobson AJ (1990) An introduction to generalized linear models. Chapman and Hall, London

Economou T, Stephenson DB, Pinto JG, Shaffrey LC, Zappa G (2015) Serial clustering of extratropical cyclones in a multi-model ensemble of historical and future simulations. Q J R Meteorol Soc 141:3076–3087

Eichler T, Higgins W (2006) Climatology and ENSO-related variability of North American extratropical cyclone activity. J Clim 19:2076–2093

Elsner JB, Villarini G (2011) Statistical models for tropical cyclone activity (unpublished manuscript)

Elsner JB, Hodges RE, Jagger TH (2012a) Spatial grids for hurricane climate research. Clim Dyn 39(1–2):21–36

Elsner JB, Trepanier JC, Strazzo SE, Jagger TH (2012b) Sensitivity of limiting hurricane intensity to ocean warmth. Geophys Res Lett 39:L11702

Flaounas E, Kotroni V, Lagouvardos K, Flaounas I (2014) CycloTRACK (v1.0)—tracking winter extratropical cyclones based on relative vorticity: sensitivity to data filtering and other relevant parameters. Geosci Model Dev 7:1841–1853

Franzke CLE (2013) Persistent regimes and extreme events of the North Atlantic atmospheric circulation. Philos Tans R Soc A 371:20110471

Franzke C, Feldstein SB, Lee S (2011) Synoptic analysis of the Pacific-North American teleconnection pattern. Q J R Meteorol Soc 137:329–346

Franzke CLE, Barbosa S, Blender R, Fredriksen HB, Laepple T, Lambert F, Nilsen T, Rypdal K, Rypdal M, Scotto MG, Vannitsem S, Watkins NW, Yang L, Yuan N (2020) The structure of climate variability across scales. Rev Geophys 58:e2019RG000657

Fraza E, Elsner JB (2014) A spatial climatology of North Atlantic hurricane intensity change. Int J Climatol 34:2918–2924

Gulev SK, Zolina O, Grigoriev S (2001) Extratropical cyclone variability in the northern hemisphere winter from NCEP/NCAR reanalysis data. Clim Dyn 17:795–809

Hawcroft MK, Shaffrey LC, Hodges KI, Dacre HF (2012) How much Northern Hemisphere precipitation is associated with extratropical cyclones? Geophs Res Lett 39:L24809

Hoskins BJ, Hodges KI (2002) New perspectives on the Northern Hemisphere winter storm tracks. J Atmos Sci 59:1041–1061

Hoskins BJ, Valdes PJ (1990) On the existence of storm-tracks. J Atmos Sci 47:1854–1864

Hunter A, Stephenson DB, Economou T, Holland M, Cook I (2016) New perspectives on the collective risk of extratropical cyclones. Q J R Meteorol Soc 142:243–256

Iwao K, Inatsu M, Kimoto M (2012) Recent changes in explosively developing extratropical cyclones over the Winter Northwestern Pacific. J Clim 25:7282–7296

Katz RW (2002) Stochastic modeling of hurricane damage. J Appl Meteorol 41(7):754–762

Kozar ME, Mann ME, Camargo SJ, Kossin JP, Evans JL (2012) Stratified statistical models of North Atlantic basin-wide and regional tropical cyclone counts. J Geophys Res-Atmos 117:D18103

Lee S, Lee J, Wang B, Ha K, Heo K, Jin F, Straus DM, Shukla J (2012) Interdecadal changes in the storm track activity over the North Pacific and North Atlantic. Clim Dyn 39:313–327

Lee J, Son S-W, Cho H-O, Kim J, Cha D-H, Gyakum JR, Chen D (2020) Extratropical cyclones over East Asia: climatology, seasonal cycle, and long-term trend. Clim Dyn 54:1131–1144

Mailier PJ, Stephenson DB, Ferro CAT, Hodges KI (2006) Serial clustering of extratropical cyclones. Mon Weather Rev 134(8):2224–2240

Orlanski I (2005) A new look at the Pacific storm track variability: sensitivity to tropical SSTs and upstream seeding. J Atmos Sci 62:1367–1390

Pinto JG, Zacharias S, Fink AH, Leckebusch GC, Ulbrich U (2009) Factors contributing to the development of extreme North Atlantic cyclones and their relationship with the NAO. Clim Dyn 32:711–737

Pinto JG, Reyers M, Ulbrich U (2011) The variable link between PNA and NAO in observations and in multi-century CGCM simulations. Clim Dyn 36:337–354

Pinto JG, Bellenbaum N, Karremann MK, Della-Marta PM (2013) Serial clustering of extratropical cyclones over the North Atlantic and Europe under recent and future climate conditions. J Geophys Res-Atmos 118(22):12476–12485

Pinto JG, Gómara I, Masato G, Dacre HF, Woollings T, Caballero R (2014) Large-scale dynamics associated with clustering of extratropical cyclones affecting Western Europe. J Geophys Res-Atmos 119(24):13704–13719

Plante M, Son SW, Atallah E, Gyakum J, Grise K (2015) Extratropical cyclone climatology across eastern Canada. Int J Climatol 35:2759–2776

Raible CC (2007) On the relation between extremes of midlatitude cyclones and the atmospheric circulation using ERA40. Geophs Res Lett 34(7):L07703

Reboita MS, da Rocha RP, Ambrizzi T, Gouveia CD (2015) Trend and teleconnection patterns in the climatology of extratropical cyclones over the Southern Hemisphere. Clim Dyn 45:1929–1944

Seierstad IA, Strphenson DB, Kvamstø NG (2007) How useful are teleconnection patterns for explaining variability in extratropical storminess? Tellus 59A:170–181

Tamarin-Brodsky T, Kaspi Y (2017) Enhanced poleward propagation of storms under climate change. Nat Geosci 10(12):908–913

Trepanier JC, Ellis KN, Tucker CS (2015) Hurricane risk variability along the Gulf of Mexico Coastline. PLOS ONE 10(3):e0118196

Ulbrich U, Leckebusch GC, Pinto JG (2009) Extra-tropical cyclones in the present and future climate: a review. Theor Appl Climatol 96:117–131

Varino F, Arbogast P, Joly B, Riviere G, Fandeur ML, Bovy H, Granier JB (2019) Northern Hemisphere extratropical winter cyclones variability over the 20th century derived from ERA-20C reanalysis. Clim Dyn 52:1027–1048

Vitolo R, Stephenson DB, Cook IM, Mitchell-Wallace K (2009) Serial clustering of intense European storms. Meteorol Z 18(4):411–424

Wang XLL, Swail VR, Zwiers FW (2006) Observed changes in cyclone activity in Canada and their relationships to major circulation regimes. J Clim 19:895–906

Wang X, Zhai P, Wang C (2009) Variations in extratropical cyclone activity in northern East Asia. Adv Atmos Sci 26(3):471–479

Whittaker LM, Horn LH (1984) Northern Hemisphere extratropical cyclone activity for four mid-season months. Int J Climatol 4:297–310

Xie N, Gao M, Gao Z (2019) Climatology of Winter Extratropical Cyclones over the Coastal Waters of China. J Atmos Sci Res 2:37–45

Yonekura E, Hall TM (2011) A statistical model of tropical cyclone tracks in the Western North Pacific with ENSOdependent cyclogenesis. J Appl Meteorol Climatol 50:1725–1739

Yoshida A, Asuma Y (2004) Structures and environment of explosively developing extratropical cyclones in the Northwestern Pacific region. Mon Weather Rev 132:1121–1142

Zhang YC, Rossow WB (1997) Estimating meridional energy transports by the atmospheric and oceanic general circulations using boundary fluxes. J Clim 10:2358–2373

Zhang YX, Ding YH, Li QP (2012) A climatology of extratropical cyclones over East Asia during 1958–2001. Acta Oceanol Sin 26(3):261–277

Zhu Q, Lin J, Shou S, Tang D (2000) Principles of synoptic meteorology. China Meteorological Press, Beijing (in Chinese)

Zhu XJ, Sun JLK, Liu ZY, Liu QY, Martin HE (2007) A synoptic analysis of the interannual variability of winter cyclone activity in the Aleutian low region. J Clim 20:1523–1538
Acknowledgements
This study was funded by the Key Deployment Project of Center for Ocean Mega-Science, CAS (No. COMS2019J02), the Key Research Program of Frontier Science of Chinese Academy of Sciences (No. ZDBS-LY-7010), the National Natural Science Foundation of China (No. 31570423), and the Key Program of Shandong Natural Science Foundation (No. ZR2020KF031). MG was also partly supported by the Youth Innovation Promotion Association of CAS (2016195). The helpful comments from the editor and all anonymous reviewers are also acknowledged.
Funding
This study was funded by the Key Deployment Project of Center for Ocean Mega-Science, CAS (No. COMS2019J02), the Key Research Program of Frontier Science of Chinese Academy of Sciences (No. ZDBS-LY-7010), the National Natural Science Foundation of China (No. 31570423), and the Key Program of Shandong Natural Science Foundation (No. ZR2020KF031). MG was also partly supported by the Youth Innovation Promotion Association of CAS (2016195).
Ethics declarations
Conflict of interest
The authors declare no conflicts of interest.
Additional information
Publisher's Note
Springer Nature remains neutral with regard to jurisdictional claims in published maps and institutional affiliations.
About this article
Cite this article
Gao, M., Sun, Y. & Zheng, Q. Associations of atmospheric teleconnections with wintertime extratropical cyclones over East Asia and Northwest Pacific. Clim Dyn 57, 2079–2092 (2021). https://doi.org/10.1007/s00382-021-05795-9
Received:

Accepted:

Published:

Issue Date:
Keywords
Hexagon grid

Teleconnection pattern

Inhomogenous Poisson process

Generalized linear model