Abstract
The western North Pacific (WNP) intraseasonal oscillation (ISO) is the strongest over the globe, its prediction is the cornerstone for subseasonal prediction of the Asian summer monsoon. Yet, our understanding of the diversity of the WNP ISO is limited, which challenges our modeling and prediction efforts. We study the diversity of observed WNP ISO by performing cluster analysis on propagation patterns of ISO events, targeting three clusters: westward, northeastward, and northwestward propagations. The westward cluster exists within the WNP, while the other two are related to the northeastward propagating rain band originated from the central equatorial Indian Ocean and to the northwestward propagating dipole across the western Pacific and Indian Ocean, respectively. Moist static energy (MSE) tendency contributing to these different propagations is mainly due to horizontal advection, while radiative heating mainly maintains the ISO's development. Background sea surface temperature (SST) and MSE anomalies partly determine this ISO diversity, especially for those ISOs with large similarity. The westward cluster is related to warm SST anomalies in the western Indian Ocean, as a combination of seasonal cycle and internal interannual-to-interdecadal variability. The northeastward cluster is related to the cold Pacific Meridional Mode and La Niña-like pattern, while the northwestward cluster is related to the opposite warm background, both as the internal variability. Our finding of the background-affected ISO diversity over the WNP can be conducive to both model simulation and subseasonal prediction of the Asian summer monsoon.
Access options
Buy single article
Instant access to the full article PDF.
USD 39.95
Price includes VAT (USA)
Tax calculation will be finalised during checkout.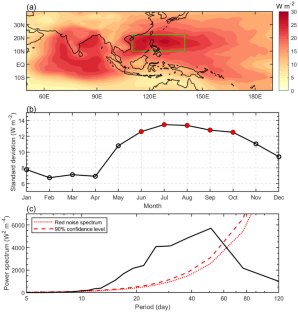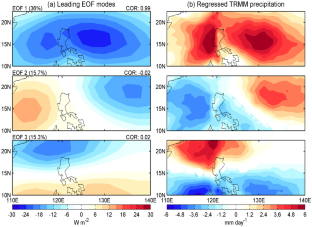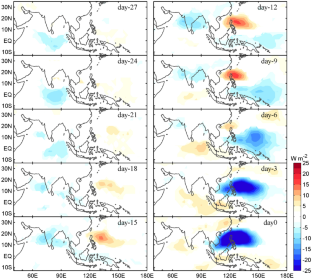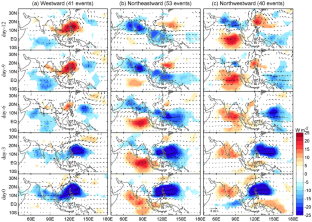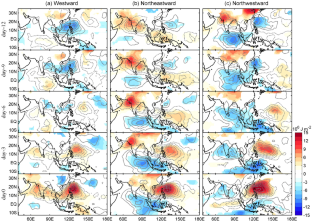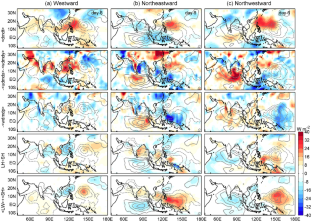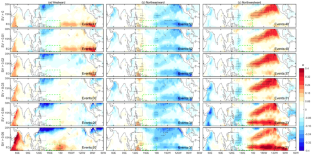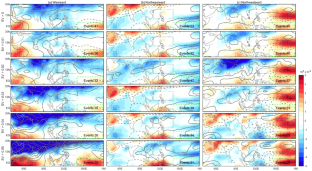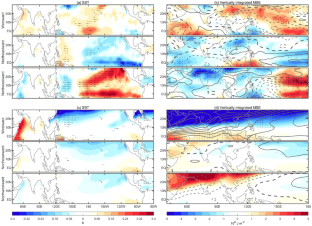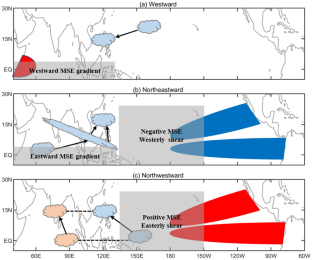 References
Adames Á, Kim D (2016) The MJO as a dispersive, convectively coupled moisture wave: theory and observations. J Atmos Sci 73:913–941

Annamalai H, Sperber KR (2005) Regional heat sources and the active and break phases of Boreal Summer Intraseasonal (30–50 Day) variability. J Atmos Sci 62:2726–2748

Burleyson CD, Hagos SM, Feng Z, Kerns BWJ, Kim D (2018) Large-scale environmental characteristics of MJOs that strengthen and weaken over the maritime continent. J Climate 31:5731–5748

Chen R, Wen Z, Lu R (2016) Evolution of the circulation anomalies and the quasi-biweekly oscillations associated with extreme heat events in Southern China. J Climate 29:6909–6921

Chen TC, Chen JM (1995) An observational study of the South China Sea monsoon during the 1979 summer: onset and life cycle. Mon Weather Rev 123:2295–2318

Chen TC, Murakami M (1988) The 30–50 day variation of convective activity over the Western Pacific Ocean with emphasis on the Northwestern Region. Mon Weather Rev 116:892–906

Chiang J, Vimont D (2004) Analogous Pacific and Atlantic Meridional modes of tropical atmosphere-ocean variability. J Climate 17:4143–4158

Dee DP et al (2011) The ERA-Interim reanalysis: configuration and performance of the data assimilation system. Q J R Meteorol Soc 137:553–597

Deng L, Li T (2016) Relative roles of background moisture and vertical shear in regulating interannual variability of Boreal Summer intraseasonal oscillations. J Climate 29:7009–7025

Fu J-X, Wang W, Ren H-L, Jia X, Shinoda T (2017) Three different downstream fates of the boreal-summer MJOs on their passages over the Maritime Continent. Climate Dyn 51:1841–1862

Gonzalez AO, Jiang X (2019) Distinct propagation characteristics of intraseasonal variability over the tropical West Pacific. J Geophys Res Atmos 124:5332–5351

Guan W, Hu H, Ren X, Yang X-Q (2019) Subseasonal zonal variability of the western Pacific subtropical high in summer: climate impacts and underlying mechanisms. Climate Dyn 53:3325–3344

Hagos SM et al (2016) The impact of the diurnal cycle on the propagation of Madden-Julian Oscillation convection across the Maritime Continent. J Adv Model Earth Syst 8:1552–1564

Hsu HH, Weng CH (2001) Northwestward propagation of the intraseasonal oscillation in the Western North Pacific during the Boreal Summer: structure and mechanism. J Climate 14:3834–3850

Hsu P-C, Lee J-Y, Ha K-J (2016) Influence of boreal summer intraseasonal oscillation on rainfall extremes in southern China. Int J Climatol 36:1403–1412

Hsu P-C, Lee J-Y, Ha K-J, Tsou C-H (2017) Influences of Boreal Summer Intraseasonal oscillation on heat waves in Monsoon Asia. J Climate 30:7191–7211

Huang RH, Sun FY (1992) Impacts of the tropical western Pacific on the East Asian summer monsoon. J Meteorol Soc Jpn 70:243–256

Huffman GA et al (2007) The TRMM multi-satellite precipitation analysis (TMPA): quasi-global, multiyear, combined-sensor precipitation estimates at fine scale. J Hydrometeorol 8:38–55

Jiang X (2017) Key processes for the eastward propagation of the Madden-Julian Oscillation based on multimodel simulations. J Geophys Res Atmos 122:755–770

Jie W, Vitart F, Wu T, Liu X (2017) Simulations of the Asian summer monsoon in the sub-seasonal to seasonal prediction project (S2S) database. Q J R Meteorol Soc 143:2282–2295

Kajikawa Y, Wang B (2012) Interdecadal change of the South China Sea Summer Monsoon onset*. J Climate 25:3207–3218

Kaufman L, Rousseeuw P (2009) Finding groups in data: an introduction to cluster analysis. Wiley, New Jersey. https://doi.org/10.2307/2532178

Kemball-Cook S, Wang B (2001) Equatorial waves and air-sea interaction in the Boreal Summer intraseasonal oscillation. J Climate 14:2923–2942

Kikuchi K, Wang B (2009) Global perspective of the quasi-biweekly oscillation. J Climate 22:1340–1359

Kim D, Kug J-S, Sobel AH (2014) Propagating versus nonpropagating Madden-Julian oscillation events. J Climate 27:111–125

Kiranmayi L, Maloney ED (2011) Intraseasonal moist static energy budget in reanalysis data. J Geophys Res Atmos 116

Lau K-M, Chan PH (1986) Aspects of the 40–50 day oscillation during the Northern Summer as inferred from outgoing longwave radiation. Mon Weather Rev 114:1889–1909

Lau WKM, Waliser DE, Hsu H-H (2012) Intraseasonal variability of the atmosphere–ocean–climate system: East Asian monsoon. Springer, Berlin. https://doi.org/10.1007/978-3-642-13914-7_3

Lawrence DM, Webster PJ (2002) The Boreal Summer intraseasonal oscillation: relationship between northward and eastward movement of convection. J Atmos Sci 59:1593–1606

Lee J-Y, Wang B, Wheeler MC, Fu X, Waliser DE, Kang I-S (2013) Real-time multivariate indices for the boreal summer intraseasonal oscillation over the Asian summer monsoon region. Climate Dyn 40:493–509

Lee S-S, Wang B, Waliser DE, Neena JM, Lee J-Y (2015) Predictability and prediction skill of the boreal summer intraseasonal oscillation in the Intraseasonal Variability Hindcast Experiment. Climate Dyn 45:2123–2135

Li RCY, Zhou W (2013) Modulation of Western North Pacific Tropical cyclone activity by the ISO. Part II: tracks and landfalls. J Climate 26:2919–2930

Li T, Wang B (2005) A review on the Western North Pacific Monsoon: synoptic-to-interannual variabilities. Terr Atmos Oceanic Sci 16:285–314

Li Y, Liu F, Hsu P-C (2020) Modulation of the intraseasonal variability of Pacific-Japan pattern by ENSO. J Meteorol Res 34:546–558

Liebmann B (1996) Description of a complete (interpolated) outgoing longwave radiation dataset. Bull Am Meteorol Soc 77:1275–1277

Linho, Wang B (2002) The time-space structure of the Asian-Pacific Summer Monsoon: a fast annual cycle view. J Climate 15:2001–2019

Liu F, Li T, Wang H, Deng L, Zhang Y (2016) Modulation of Boreal Summer Intraseasonal Oscillations over the Western North Pacific by ENSO. J Climate 29:7189–7201

Liu F, Wang B (2013) A mechanism for explaining the maximum intraseasonal oscillation center over the Western North Pacific*. J Climate 27:958–968

Liu F, Wang B (2016) Role of horizontal advection of seasonal-mean moisture in the Madden-Julian Oscillation: a theoretical model analysis. J Climate 29:6277–6293

Liu Y, Chan JCL, Mao J, Wu G (2002) The Role of Bay of Bengal convection in the onset of the 1998 South China Sea Summer Monsoon. Mon Weather Rev 130:2731–2744

Liu F, Ouyang Y, Wang B, Yang J, Ling J, Hsu PC (2020) Seasonal evolution of the intraseasonal variability of China summer precipitation. Clim Dyn 54(11–12):4641–4655

Maloney ED (2009) The moist static energy budget of a composite tropical intraseasonal oscillation in a climate model. J Climate 22:711–729

Maloney ED, Hartmann DL (2000) Modulation of Eastern North Pacific Hurricanes by the Madden-Julian Oscillation. J Climate 13:1451–1460

Maloney ED, Sobel AH (2004) Surface fluxes and ocean coupling in the tropical intraseasonal oscillation. J Climate 17:4368–4386

Murakami M (1984) Analysis of the deep convective activity over the Western Pacific and Southeast Asia part II: seasonal and intraseasonal variations during Northern Summer. J Meteorol Soc Jpn 62:88–108

Murakami T (1980) Empirical orthogonal function analysis of satellite-observed outgoing longwave radiation during summer. Mon Weather Rev 108:205–222

Neena JM, Waliser D, Jiang X (2016) Model performance metrics and process diagnostics for boreal summer intraseasonal variability. Climate Dyn 48:1661–1683

Nitta T (1987) Convective activities in the tropical western Pacific and their impact on the northern hemisphere summer circulation. J Meteorol Soc Jpn 65:373–390

Pillai PA, Sahai AK (2015) Moisture dynamics of the northward and eastward propagating boreal summer intraseasonal oscillations: possible role of tropical Indo-west Pacific SST and circulation. Climate Dyn 47:1335–1350

Raymond D (2001) A new model of the Madden-Julian oscillation. J Atmos Sci 58:2807–2819

Ren X, Yang X-Q, Sun X (2013) Zonal oscillation of western pacific subtropical high and subseasonal SST variations during Yangtze persistent heavy rainfall events. J Climate 26:8929–8946

Russell DR (2006) Development of a time-domain, variable-period surface-wave magnitude measurement procedure for application at regional and teleseismic distances, part I: theory. Bull Seismol Soc Am 96:665

Shao X, Huang P, Huang R-H (2014) Role of the phase transition of intraseasonal oscillation on the South China Sea summer monsoon onset. Climate Dyn 45:125–137

Singh B, Kinter JL (2020) Tracking of tropical intraseasonal convective anomalies: 1. Seasonality of the tropical intraseasonal oscillations. J Geophys Res Atmos 125

Sobel A, Maloney E, Bellon G, Frierson D (2008) The role of surface fluxes in tropical intraseasonal oscillations. Nat Geosci 1:653–657

Sun L, Wang H, Liu F (2019) Combined effect of the QBO and ENSO on the MJO. Atmos Ocean Sci Lett 12:170–176

Sun X, Xu Y, Zhang Z, Yang X-Q (2019) The tropical and extratropical-origin summer meridional teleconnections over East Asia. Climate Dyn 53:721–735

Tao SY, Chen LX (1987) A review of recent research on the East Asian Summer Monsoon in China. Monsoon meteorology. Oxford University Press, Oxford, pp 60–92

Teng H, Wang B (2003) Interannual variations of the Boreal Summer Intraseasonal Oscillation in the Asian-Pacific Region. J Climate 16:3572–3584

Wang B, Chen G, Liu F (2019) Diversity of the Madden-Julian Oscillation. Sci Adv 5:eaax0220

Wang B, Huang F, Wu Z, Yang J, Fu X, Kikuchi K (2009) Multi-scale climate variability of the South China Sea monsoon: a review. Dyn Atmos Oceans 47:15–37

Wang B et al (2019) Historical change of El Niño properties sheds light on future changes of extreme El Niño. Proc Natl Acad Sci 116:22512–22517

Wang B, Rui H (1990) Synoptic climatology of transient tropical intraseasonal convection anomalies: 1975–1985. Meteorol Atmos Phys 44:43–61

Wang H, Liu F, Wang B, Li T (2018) Effects of intraseasonal oscillation on South China Sea Summer monsoon onset. Climate Dyn 51:1–16

Wang L, Li T (2019) Effect of vertical moist static energy advection on MJO eastward propagation: sensitivity to analysis domain. Climate Dyn 54:2029–2039

Wang T, Li T (2020) Diagnosing the column-integrated moist static energy budget associated with the northward-propagating boreal summer intraseasonal oscillation. Climate Dyn 54:4711–4732

Wheeler MC, Hendon HH (2004) An all-season real-time multivariate MJO index: development of an index for monitoring and prediction. Mon Weather Rev 132:1917–1932

Wilks DS (2011) Statistical methods in the atmosphere science. Academic Press, San Diego

Wu R, Cao X (2017) Relationship of boreal summer 10–20-day and 30–60-day intraseasonal oscillation intensity over the tropical western North Pacific to tropical Indo-Pacific SST. Climate Dyn 48:3529–3546

Yang J, Bao Q, Wang B, Gong D-Y, He H, Gao M-N (2013) Distinct quasi-biweekly features of the subtropical East Asian monsoon during early and late summers. Climate Dyn 42:1469–1486

Yasunari T (1979) Cloudiness fluctuations associated with the Northern Hemisphere Summer Monsoon. J Meteorol Soc Jpn 57:227–242

Zhang C, Ling J (2017) Barrier effect of the Indo-Pacific Maritime Continent on the MJO: perspectives from tracking MJO precipitation. J Climate 30:3439–3459

Zhao H, Jiang X, Wu L (2015) Modulation of Northwest Pacific Tropical cyclone genesis by the intraseasonal variability. J Meteorol Soc Jpn 93:81–97

Zhou C, Li T (2010) Upscale feedback of tropical synoptic variability to intraseasonal oscillations through the nonlinear rectification of the surface latent heat flux. J Climate 23:5738–5754

Zhou W, Chan JCL (2005) Intraseasonal oscillations and the South China Sea summer monsoon onset. Int J Climatol 25:1585–1609
Acknowledgements
This work was supported by Guangdong Major Project of Basic and Applied Basic Research (2020B0301030004) and the Natural Science Foundation of China (41975107). BW acknowledges the support from the National Science Foundation of the U.S. (Award #2025057).
Additional information
Publisher's note
Springer Nature remains neutral with regard to jurisdictional claims in published maps and institutional affiliations.
About this article
Cite this article
Wang, H., Liu, F., Wang, B. et al. Diversity of intraseasonal oscillation over the western North Pacific. Clim Dyn 57, 1881–1893 (2021). https://doi.org/10.1007/s00382-021-05780-2
Received:

Accepted:

Published:

Issue Date:
Keywords
Intraseasonal oscillation

Western North Pacific

Diversity

La Niña

Pacific Meridional Mode

Western Indian Ocean