Abstract
The present paper investigates changes in the feedback of Indian Ocean warming on the western Pacific by using observational data and model experiments. It is found that the relationship between easterly wind anomalies over the equatorial western Pacific and Indian Ocean warming during the mature and decaying phases of El Niño has changed since 1994. Before 1994, when El Niño reached its peak in the winter, significant warming of the entire Indian Ocean caused tropospheric temperature anomalies and emanated Kelvin waves into the western Pacific. Thus, Indian Ocean warming produced easterly wind anomalies over the western Pacific. However, significant warming of the Indian Ocean has been confined to the west of the Indian Ocean and Kelvin waves have been weakened since 1994. Therefore, the Indian Ocean has contributed less to easterly wind anomalies in the western Pacific after 1994. Changes in the intensity and pattern of the Indian Ocean dipole (IOD) mode may be responsible for these results. After 1994, the intensity of the IOD, especially the intensity of the cold component of the IOD mode, has become stronger, resulting in Indian Ocean warming being confined to the west of the Indian Ocean. These results are confirmed by numerical model experiments. The paper also discusses the enhancement in the feedback of the north tropical Atlantic on El Niño after 1994.
Access options
Buy single article
Instant access to the full article PDF.
US$ 39.95
Tax calculation will be finalised during checkout.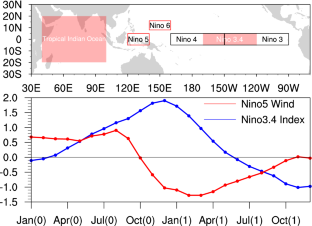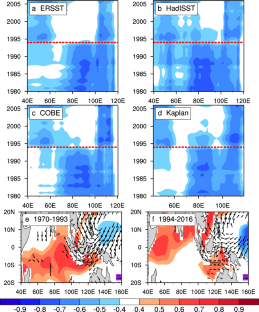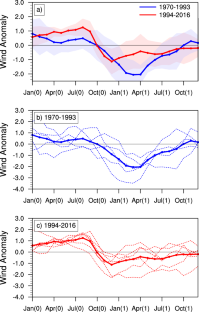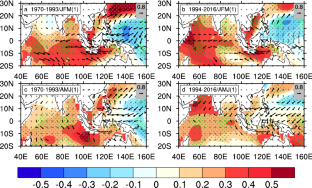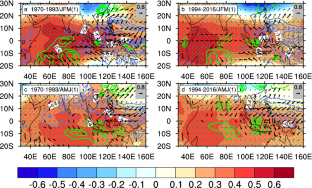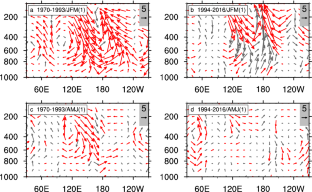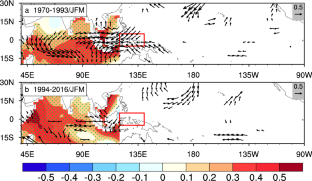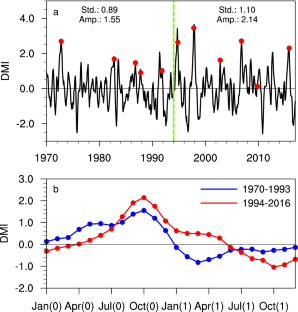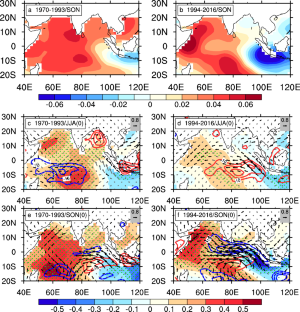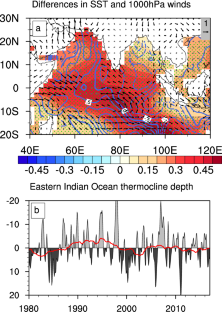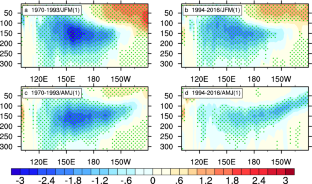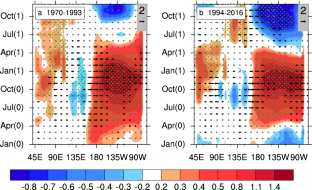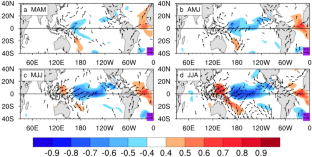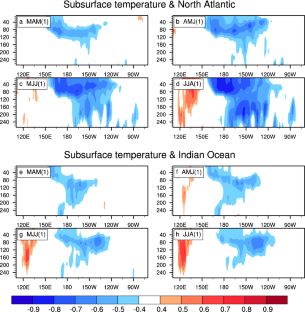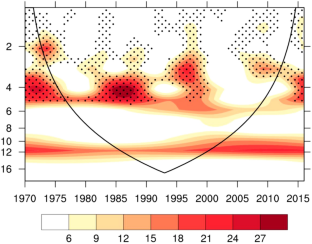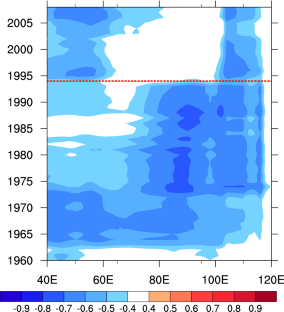 References
Annamalai H, Potemra JT, Murtugudde R, Mccreary JP (2005) Effect of preconditioning on the extreme climate events in the tropical Indian Ocean. J Clim 18:3450–3469

Battisti DS, Hirst AC (1989) Interannual variability in the tropical atmosphere–ocean system: influence of the basic state, ocean geometry, and nonlinearity. J Atmos Sci 46:1687–1712

Behringer DW, Xue Y (2004) Evaluation of the global ocean data assimilation system at NCEP: The Pacific Ocean. Eighth symposium on integrated observing and assimilation systems for atmosphere, oceans, and land surface, AMS 84th Annual Meeting, Washington State Convention and Trade Center, Seattle, Washington, pp 11–15

Bengtsson L, Haines K, Hodges KI, Arkin P, Berrisford P, Bougeault P, Kallberg P, Simmons AJ, Uppala S, Folland CK, Gordon C, Rayner N, Thorne PW, Jones P, Stammer D, Vose RS (2007) The need for a dynamical climate re-analysis. Bull Am Meteor Soc 88:495–501

Bjerknes J (1969) Atmospheric teleconnections from the equatorial Pacific. Mon Wea Rev 97:163–172

Cai W, Santoso A, Wang GJ, Weller E, Wu L, Ashok K, Masumoto Y, Yamagata T (2014) Increased frequency of extreme Indian Ocean dipole events due to greenhouse warming. Nature 510:254–258

Cai W et al (2019) Pantropical climate interactions. Science 363:eaav4236

Cai W, Yang K, Wu L, Huang G, Santoso A, Benjamin Ng, Wang G, Yamagata T (2021) Opposite response of strong and moderate positive Indian Ocean Dipole to global warming. Nat Clim Change 11:27–32

Carton JA, Chepurin G, Cao X, Giese B (2000a) A simple ocean data assimilation analysis of the global upper ocean 1950–1995. Part I: methodology. J Phys Oceanogr 30:294–309

Carton JA, Chepurin G, Cao X (2000b) A simple ocean data assimilation analysis of the global upper ocean 1950–1995. Part II: results. J Phys Oceanogr 30:311–326

Chakravorty S, Gnanaseelan C, Chowdary JS, Luo JJ (2014) Relative role of El Niño and IOD forcing on the southern tropical Indian Ocean Rossby waves. J Geophys Res: Oceans 119:5105–5122

Chakravorty S, Gnanaseelan C, Pillai PA (2016) Combined influence of remote and local SST forcing on Indian Summer Monsoon Rainfall variability. Clim Dyn 47:2817–2831

Chen M, Xie P, Janowiak JE, Arkin PA (2002) Global land precipitation: a 50-yr monthly analysis based on gauge observations. J Hydrometeo 3:249–266

Chen M, Li T, Shen X, Wu B (2016) Relative roles of dynamic and thermodynamic processes in causing evolution asymmetry between El Niño and La Niña. J Clim 29:2201–2220

Chiang JC, Lintner BR (2005) Mechanisms of remote tropical surface warming during El Niño. J Clim 18:4130–4149

Diakhaté M, Lazar A, de Coëtlogon G, Gaye AT (2018) Do SST gradients drive the monthly climatological surface wind convergence over the tropical Atlantic? Int J Climatol 38:e955–e965

DiNezio PN, Puy M, Thirumalai K, Jin FF, Tierney JE (2020) Emergence of an equatorial mode of climate variability in the Indian Ocean. Sci Adv 6:7684

Feng J, Chen W, Wang X (2020) Reintensification of the anomalous western North Pacific anticyclone during the El Niño Modoki decaying summer: relative importance of tropical atlantic and pacific SST anomalies. J Clim 33:3271–3288

Goldenberg SB, Landsea WC, Mestas-Nuñez AM, Gray WM (2001) The recent increase in Atlantic hurricane activity: causes and implications. Science 293:474–479

Ham YG, Kug JS, Park JY, Jin FF (2013) Sea surface temperature in the north tropical Atlantic as a trigger for El Niño/Southern Oscillation events. Nat Geosci 6:112–116

Huang B, Thorne PW, Banzon VF, Boyer T, Chepurin G, Lawrimore HJ, Menne MJ, Smith TM, Vose RS, Zhang H (2017) Extended reconstructed sea surface temperature, version 5 (ERSSTv5): upgrades, validations, and intercomparisons. J Clim 30:8179–8205

Ishii M, Shouji A, Sugimoto S, Matsumoto T (2005) Objective analyses of sea-surface temperature and marine meteorological variables for the 20th century using ICOADS and the Kobe collection. Int J Climatol 25:865–879

Jin FF (1997a) An equatorial ocean recharge paradigm for ENSO. Part I: conceptual model. J Atmos Sci 54:811–829

Jin FF (1997b) An equatorial ocean recharge paradigm for ENSO. Part II: a stripped-down coupled model. J Atmos Sci 54:830–847

Kaplan A, Cane MA, Kushnir Y, Clement AC, Blumenthal MB, Rajagopalan B (1998) Analyses of global sea surface temperature 1856–1991. J Geophys Res 103:18567

Kucharski F, Molteni F, Bracco A (2006) Decadal interactions between the western tropical Pacific and the North Atlantic Oscillation. Clim Dyn 26:79–91

Kucharski F, Molteni F, King MP, Farneti R, Kang I, Feudale L (2013) On the need of intermediate complexity general circulation models: a '"SPEEDY"' example. Bull Am Meteorol Soc 94:25–30

Kug JS, Kang IS (2006) Interactive feedback between ENSO and the Indian Ocean. J Clim 19:1784–1801

Kug JS, Kirtman BP, Kang IS (2006) Interactive feedback between ENSO and the Indian Ocean in an interactive ensemble coupled model. J Clim 19:6371–6381

Kug JS, Jin FF, An SI (2009) Two types of El Niño events: cold tongue El Niño and warm pool El Niño. J Clim 22:1499–1515

Kulkarni A, Sabade SS, Kripalani RH (2007) Association between extreme monsoons and the dipole mode over the Indian subcontinent. Meteorol Atmos Phys 95:255–268

Li T, Zhang Y, Lu E, Wang D (2002) Relative role of dynamic and thermodynamic processes in the development of the Indian Ocean dipole: an OGCM diagnosis. Geophys Res Lett 29:2110

Mezzina B, García-Serrano J, Bladé I, Kucharski F (2020) Dynamics of the ENSO teleconnection and NAO variability in the North Atlantic-European late winter. J Clim 33:907–923

Mohapatra S, Gnanaseelan C, Deepa JS (2020) Multidecadal to decadal variability in the equatorial Indian Ocean subsurface temperature and the forcing mechanisms. Clim Dyn 54:3475–3487

Molteni F (2003) Atmospheric simulations using a GCM with simplified physical parametrizations. I: model climatology and variability in multi-decadal experiments. Clim Dyn 20:175–191

Ohba M, Watanabe M (2012) Role of the Indo–Pacific interbasin coupling in predicting asymmetric ENSO transition and duration. J Clim 25:3321–3335

Picaut J, Masia F, du Penhoat Y (1997) An advective-reflective conceptual model for the oscillatory nature of the ENSO. Science 277:663–666

Polo I, Martin-Rey M, Rodriguez-Fonseca B, Kucharski F, Mechoso CR (2015) Processes in the Pacific La Niña onset triggered by the Atlantic Niño. Clim dyn 44:115–131

Pradhan M, Yadav RK, Ramu Dandi A, Srivastava A, Phani MK, Rao SA (2017) Shift in MONSOON-SST teleconnections in the tropical Indian Ocean and ENSEMBLES climate models' fidelity in its simulation. Int J Climatol 37:2280–2294

Rayner NA, Parker DE, Horton EB, Folland CK, Alexander LV, Rowell KEC, Kaplan A (2003) Global analyses of sea surface temperature, sea ice, and night marine air temperature since the late nineteenth century. J Geophys Res 108:4407

Saji NH, Goswami BN, Vinayachandran PN, Yamagata T (1999) A dipole mode in the tropical Indian Ocean. Nature 401:360–363

Saji NH, Ambrizzi T, Simone S (2005) Indian Ocean Dipole mode events and austral surface temperature anomalies. Dyn Atmos Oceans 39:87–101

Sayantani O, Gnanaseelan C (2015) Tropical Indian Ocean subsurface temperature variability and the forcing mechanisms. Clim Dyn 44:2447–2462

Schopf PS, Suarez MJ (1988) Vacillations in a coupled ocean–atmosphere model. J Atmos Sci 45:549–566

Sterl A (2004) On the (in) homogeneity of reanalysis products. J Clim 17:3866–3873

Su H, Neelin JD, Chou C (2001) Tropical teleconnection and local response to SST anomalies during the 1997–1998 El Niño. J Geophys Res 106:20 025-20 043

Sun C, Kucharski F, Li J, Jin FF, Kang IS, Ding R (2017a) Western tropical Pacific multidecadal variability forced by the Atlantic multidecadal oscillation. Nat Commun 8:15998

Sun X, Ren G, Xu W, Li Q, Ren Y (2017b) Global land-surface air temperature change based on the new CMA GLSAT data set. Sci Bull 62:236–238

Ummenhofer CC, Biastoch A, Boning CW (2017) Multidecadal Indian Ocean variability linked to the pacific and implications for preconditioning Indian Ocean dipole events. J Clim 30:1739–1751

Waliser DE, Graham NE (1993) Convective cloud systems and warm-pool sea surface temperatures: coupled interactions and self-regulation. J Geophys Res Atmos 98:12881–12893

Wang C (2019) Three-ocean interactions and climate variability: a review and perspective. Clim Dyn 53:5119–5136

Wang C, Weisberg RH, Virmani JI (1999) Western Pacific interannual variability associated with the El Niño-Southern Oscillation. J Geophy Res Oceans 104:5131–5149

Wang B, Wu R, Fu X (2000) Pacific-East Asian teleconnection: how does ENSO affect East Asian climate? J Clim 13:1517–1536

Wang L, Yu JY, Paek H (2017) Enhanced biennial variability in the Pacific due to Atlantic capacitor effect. Nat Commun 8:1–7

Watanabe M, Jin FF (2002) Role of Indian Ocean warming in the development of Philippine Sea anticyclone during ENSO. Geophys Res Lett 29:116–121

Watanabe M, Jin FF (2003) A moist linear baroclinic model: coupled dynamical–convective response to El Niño. J Clim 16:1121–1139

Webster PJ, Moore AM, Loschnig JP, Leben RR (1999) Coupled ocean–atmosphere dynamics in the Indian Ocean during 1997–1998. Nature 401:356–360

Weisberg RH, Wang C (1997) A western Pacific oscillator paradigm for the El Niño-Southern Oscillation. Geophys Res Lett 24:779–782

Wu Y, Huang A, Wu C, Hong C, Chang C (2020) Effect of warm SST in the subtropical Eastern North Pacific on triggering the abrupt change of the Mei-Yu Rainfall over South China in the early 1990s. J Clim 33:657–673

Xie SP, Annamalai H, Schott FA, McCreary JP Jr (2002) Structure and mechanisms of South Indian Ocean climate variability. J Climate 15:864–878

Xie SP, Hu K, Hafner J, Tokinaga H, Du Y, Huang G, Sampe T (2009) Indian Ocean capacitor effect on Indo–western Pacific climate during the summer following El Niño. J Clim 22:730–747

Yang Y, Xie SP, Wu L, Kosaka Y, Lau NC, Vecchi GA (2015) Seasonality and predictability of the Indian Ocean dipole mode: ENSO forcing and internal variability. J Clim 28:8021–8036

Yu L, Rienecker MM (1999) Mechanisms for the Indian Ocean warming during the 1997–98 El Niño. Geophys Res Lett 26:735–738

Yu JY, Kao PK, Paek H, Hsu HH, Hung CW, Lu MM, An SI (2015) Linking emergence of the central Pacific El Niño to the Atlantic multidecadal oscillation. J Clim 28:651–662

Zhang W, Wang Y, Jin FF, Stuecker MF, Turner AG (2015) Impact of different El Niño types on the El Niño/IOD relationship. Geophys Res Lett 42:8570–8576

Zhang L, Han W, Karnauskas KB, Meehl GA, Hu A, Rosenbloom N, Shinoda T (2019) Indian Ocean warming trend reduces Pacific warming response to anthropogenic greenhouse gases: an interbasin thermostat mechanism. Geophys Res Lett 46:10882–10890

Zhao H, Duan X, Raga GB, Sun F (2018) Potential large-scale forcing mechanisms driving enhanced North Atlantic tropical cyclone activity since the mid-1990s. J Clim 31:1377–1397

Zheng XT, Xie SP, Du Y, Liu L, Huang G, Liu Q (2013) Indian Ocean dipole response to global warming in the CMIP5 multimodel ensemble. J Clim 26:6067–6080
Acknowledgements
We thank five reviewers whose comments and suggestions have helped improve the manuscript. This study is supported by the National Key Research and Development Program of China (2019YFA0606701), the National Natural Science Foundation of China (41731173), the Strategic Priority Research Program of Chinese Academy of Sciences (XDB42000000 and XDA20060502), Key Special Project for Introduced Talents Team of Southern Marine Science and Engineering Guangdong Laboratory (Guangzhou) (GML2019ZD0306), Innovation Academy of South China Sea Ecology and Environmental Engineering, Chinese Academy of Sciences (ISEE2018PY06), and the Leading Talents of Guangdong Province Program. The numerical computation is supported by the High-Performance Computing Division in the South China Sea Institute of Oceanology.
Additional information
Publisher's Note
Springer Nature remains neutral with regard to jurisdictional claims in published maps and institutional affiliations.
Supplementary Information
Below is the link to the electronic supplementary material.
About this article
Cite this article
Han, X., Wang, C. Weakened feedback of the Indian Ocean on El Niño since the early 1990s. Clim Dyn 57, 879–894 (2021). https://doi.org/10.1007/s00382-021-05745-5
Received:

Accepted:

Published:

Issue Date:
Keywords
ENSO

Indian Ocean warming

The Western Pacific

The North Tropical Atlantic