Abstract
The autumn precipitation over the Sichuan Basin (APSB) experienced a significant wet-to-dry shift around the mid-1980s during the 1961–2010 period. Thus, the dataset is divided into two subperiods, 1961–1985 (P1) and 1986–2010 (P2), which are denoted as the wet period and dry period, respectively. The possible mechanisms accounting for the wet-to-dry shift in the APSB are investigated using both observational data and a baroclinic atmospheric model. Analysis shows that the sea surface temperature (SST) in the tropical Indian-western Pacific (TIWP) regions displays continuous warming during the period under examination, which may intensify the ascent motion over the warm pool and favor the descent motion over the Sichuan Basin. Meanwhile, the Gill-type atmospheric response to anomalous TIWP warm SST is accompanied by anomalous northerly winds prevailing over central and Southwest China. Both the intensified descent motion and anomalous northerly winds over central and Southwest China favor the switch to dry conditions in the APSB. Further analysis shows that the decadal changes in the North Atlantic SST lead to an atmospheric wave pattern prevailing over the extratropical Eurasian continent. An anomalous cyclone over central-eastern Eurasia, which is one component of the wave pattern, is accompanied by significant northerly winds penetrating southward to central China. These northerly winds can cause more-than-normal snow cover around Lake Baikal, which may in turn modulate the atmospheric circulation through positive feedback and therefore result in intensified northerly winds, favorable for the switch to the anomalous dry state of the APSB.
Access options
Buy single article
Instant access to the full article PDF.
USD 39.95
Price includes VAT (USA)
Tax calculation will be finalised during checkout.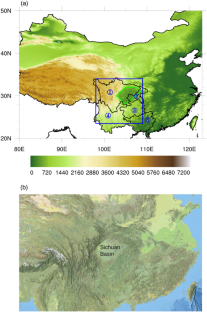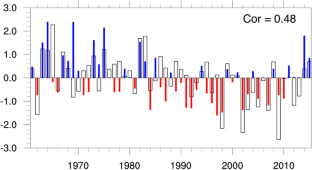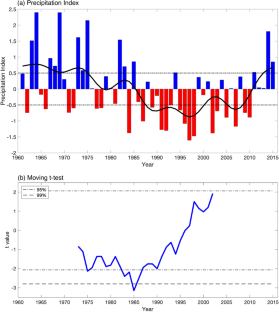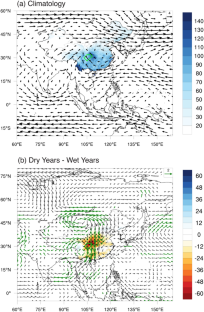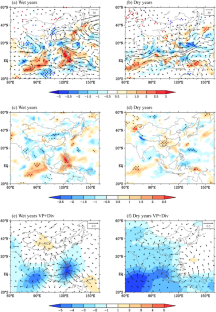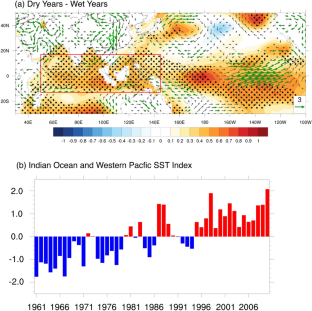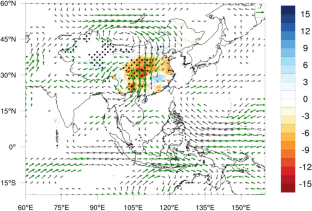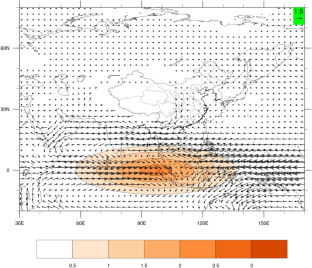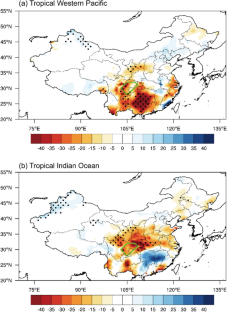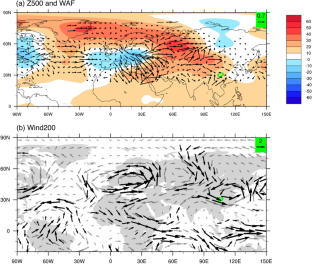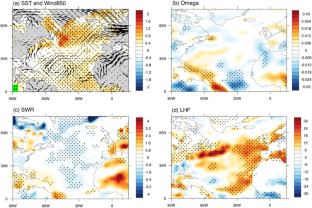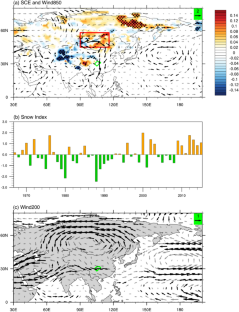 References
ArcGIS Online basemaps (2020) National Geographic World Map. https://www.arcgis.com/home/item.html?id=b9b1b422198944fbbd5250b3241691b6#

Bannister D, Herzog M, Graf HF, Scott Hosking J, Short CA (2017) An assessment of recent and future temperature change over the Sichuan basin, China, using CMIP5 climate models. J Climate 30:6701–6722. https://doi.org/10.1175/JCLI-D-16-0536.1

Brodzik M, Armstrong R (2013) Northern Hemisphere EASE-Grid 2.0 Weekly Snow Cover and Sea Ice Extent. Version 4. National Snow and Ice Data Center, Boulder, CO, digital media. https://nsidc.org/data/docs/daac/nsidc0046_nh_ease_snow_seaice.gd.html

Chen W, Lan XQ, Wang L, Ma Y (2013) The combined effects of the ENSO and the Arctic Oscillation on the winter climate anomalies in East Asia. Chin Sci Bull 58:1355–1362. https://doi.org/10.1007/s11434-012-5654-5

Dai X-G, Fu C-B, Wang P (2005) Interdecadal change of atmospheric stationary waves and North China drought. Chin Phys 14:850–858. https://doi.org/10.1088/1009-1963/14/4/038

Duan AM, Wu GX (2005) Role of the Tibetan Plateau thermal forcing in the summer climate patterns over subtropical Asia. Climate Dyn 24:793–807. https://doi.org/10.1007/s00382-004-0488-8

Duan H-X, Wang S-P, Feng J-Y (2014) Drought events and its influence in 2013 in China. J Arid Meteor 32:310–316. https://doi.org/10.11755/j.issn.1006-7639(2014)-02-0310

Feng J, Chen W, Tam CY, Zhou W (2011) Different impacts of El Niño and El Niño Modoki on China rainfall in the decaying phases. Int J Climatol 31:2091–2101. https://doi.org/10.1002/joc.2217

Gao H, Yang S (2009) A Severe drought event in northern China in winter 2008–2009 and the possible influences of La Niña and Tibetan Plateau. J Geophys Res Atmos. https://doi.org/10.1029/2009JD012430

Heddinghaus TR, Sabol P (1991) A review of the palmer drought severity index and where do we go from here? In: Proc. 7th conf. on applied climatology, American meteorological society, pp 242–246

Hu ZZ, Yang S, Wu R (2003) Long-term climate variations in China and global warming signals. J Geophys Res D Atmos. https://doi.org/10.1029/2003jd003651

Huang RH, Liu Y, Wang L, Wang L (2012) Analyses of the causes of severe drought occurring in Southwest China from the fall of 2009 to the spring of 2010. Chin J Atmos Sci 36:443–457. https://doi.org/10.3878/j.issn.1006-9895.2011.11101

Huang B et al (2017) Extended reconstructed sea surface temperature, version 5 (ERSSTv5): upgrades, validations, and intercomparisons. J Climate 30:8179–8205. https://doi.org/10.1175/JCLI-D-16-0836.1

Jia X, Cao DR, Ge JW, Wang M (2018) Interdecadal change of the impact of Eurasian snow on spring precipitation over Southern China. J Geophys Res Atmos 123:10092–10108. https://doi.org/10.1029/2018JD028612

Jiang J, Zhou T, Chen X, Zhang L (2020) Future changes in precipitation over Central Asia based on CMIP6 projections. Environ Res Lett. https://doi.org/10.1088/1748-9326/ab7d03

Kalnay E et al (1996) The NCEP/NCAR 40-year reanalysis project. Bull Amer Meteor Soc 77:437–471. https://doi.org/10.1175/1520-0477(1996)077%3c0437:TNYRP%3e2.0.CO;2

Karl TR, Riebsame WE (1984) The identification of 10- to 20-year temperature and precipitation fluctuations in the contiguous United States. J Climate Appl Meteor 23:950–966. https://doi.org/10.1175/1520-0450(1984)023%3c0950:TIOTYT%3e2.0.CO;2

Klein SA, Hartmann DL (1993) The seasonal cycle of low stratiform clouds. J Climate 6:1587–1606. https://doi.org/10.1175/1520-0442(1993)006%3c1587:TSCOLS%3e2.0.CO;2

National Meteorological Information Center (2012) Assessment report of China's ground precipitation 0.5°× 0.5° gridded dataset (V2.0). National Meteorological Information Center, Beijing

Peng J, Zhang Q, Bueh C (2007) On the characteristics and possible causes of a severe drought and heat wave in the Sichuan-Chongqing region in 2006. Climate Environ Res 12:464–474

Preethi B, Mujumdar M, Kripalani RH, Prabhu A, Krishnan R (2017) Recent trends and teleconnections among South and East Asian summer monsoons in a warming environment. Clim Dyn 48:2489–2505

Qian C, Zhou T (2014) Multidecadal variability of North China aridity and its relationship to PDO during 1900–2010. J Climate 27:1210–1222. https://doi.org/10.1175/JCLI-D-13-00235.1

Qin M, Li D, Dai A, Hua W, Ma H (2018) The influence of the Pacific Decadal Oscillation on North Central China precipitation during boreal autumn. Int J Climatol 38:e821–e831. https://doi.org/10.1002/joc.5410

Sun S et al (2016) Shift in potential evapotranspiration and its implications for dryness/wetness over Southwest China. J Geophys Res 121:9342–9355. https://doi.org/10.1002/2016JD025276

Sun S et al (2017) Attributing the changes in reference evapotranspiration in Southwestern China using a new separation method. J Hydrometeorol 18:777–798. https://doi.org/10.1175/JHM-D-16-0118.1

Takaya K, Nakamura H (2001) A formulation of a phase-independent wave-activity flux for stationary and migratory quasigeostrophic eddies on a zonally varying basic flow. J Atmos Sci 58:608–627. https://doi.org/10.1175/1520-0469(2001)058%3c0608:AFOAPI%3e2.0.CO;2

Tan H, Cai R, Chen J, Huang R (2017) Decadal winter drought in Southwest China since the late 1990s and its atmospheric teleconnection. Int J Climatol 37:455–467. https://doi.org/10.1002/joc.4718

Wang L, Chen W (2012) Characteristics of multitimescale variabilities of the drought over last 100 years in Southwest China. Adv Meteor Sci Technol 2:21–26

Wang L, Chen W (2014) A CMIP5 multimodel projection of future temperature, precipitation, and climatological drought in China. Int J Climatol 34(6):2059–2078

Wang L, Chen W, Zhou W, Huang G (2015) Drought in Southwest China: a review. Atmos Ocean Sci Lett 8:339–344. https://doi.org/10.3878/AOSL20150043

Wang L, Chen W, Zhou W, Huang G (2016) Understanding and detecting superextreme droughts in Southwest China through an integrated approach and index. Quart J Roy Meteor Soc 142:529–535. https://doi.org/10.1002/qj.2593

Wang L, Huang G, Chen W, Zhou W, Wang W (2018) Wet-to-dry shift over Southwest China in 1994 tied to the warming of tropical warm pool. Climate Dyn 51:3111–3123. https://doi.org/10.1007/s00382-018-4068-8

Wang M, Gu Q, Jia X, Ge J (2019a) An assessment of the impact of Pacific Decadal Oscillation on autumn droughts in North China based on the Palmer drought severity index. Int J Climatol 39:5338–5350. https://doi.org/10.1002/joc.6158

Wang M, Jia XJ, Ge JW, Qian QF (2019b) Changes in the relationship between the interannual variation of eurasian snow cover and spring SAT over Eastern Eurasia. J Geophys Res Atmos 124:468–487. https://doi.org/10.1029/2018JD029077

Watanabe M, Kimoto M (2000) Atmosphere-ocean thermal coupling in the North Atlantic: a positive feedback. Quart J Roy Meteor Soc 126:3343–3369. https://doi.org/10.1256/smsqj.57016

Wu R, Kirtman BP (2007) Observed relationship of spring and summer East Asian rainfall with winter and spring Eurasian snow. J Climate 20:1285–1304. https://doi.org/10.1175/JCLI4068.1

Ye K, Wu R, Liu Y (2015) Interdecadal change of Eurasian snow, surface temperature, and atmospheric circulation in the late 1980s. J Geophys Res 120:2738–2753. https://doi.org/10.1002/2015JD023148

Zhang K, Qian X, Liu P, Xu Y, Cao L, Hao Y, Dai S (2017) Variation characteristics and influences of climate factors on aridity index and its association with AO and ENSO in northern China from 1961 to 2012. Theor Appl Climatol 130:523–533. https://doi.org/10.1007/s00704-016-1887-6
Additional information
Publisher's Note
Springer Nature remains neutral with regard to jurisdictional claims in published maps and institutional affiliations.
About this article
Cite this article
Jia, X., Gu, Q., Qian, Q. et al. Wet-to-dry climate shift of the Sichuan Basin during 1961–2010. Clim Dyn 57, 671–685 (2021). https://doi.org/10.1007/s00382-021-05734-8
Received:

Accepted:

Published:

Issue Date:
Keywords
Autumn drought

Sichuan Basin

SST

Climate shift