Abstract
On the basis of 70 hPa zonal wind (U70)-defined quasi-biennial oscillation (QBO) events, after removing the El Niño–Southern Oscillation (ENSO) signal, the present study investigates the process by which the QBO modulates tropospheric circulation and convection during summer (between July and October), when tropical cyclone (TC) activities enter their peak period. Concurrent with the western phase of the QBO (QBOW), significant tripole pattern modulations over the tropical Indo-Pacific Ocean are regressed onto the residual part of U70 after removing the ENSO signal, with enhanced convection observed over its central branch (0°–10°N, 120°E–180°) and the inactive convection branches located to both sides. A ventilation opening-like effect is exerted on the monsoon trough, which is shifted southward under the QBOW phase. According to the QBO-associated changes in the circulations over the tropical western North Pacific (WNP), equatorial environments (with low-level relative vorticity, high-level divergence, tropospheric vertical wind shear (VWS), and midlevel humidity) tend to be favorable for TC genesis. Consequently, the off-equatorial TC tracks show a significantly decreased occurrence frequency in the northern monsoon trough region. The present study provides a summary sketch showing the QBO-tropospheric circulation modulation process. Considering that the westerly or weak easterly is observed over the upper central Pacific (CP), QBOW phase-associated weak VWS can induce anomalous upward motion at equatorial latitudes, together with the upwelling between the equatorial westerly and off-equatorial easterly, leading to an enlarged convective window over the CP. Affected by the prevailing easterly within the tropics, the actual pumping shifts westward over the tropical WNP.
Access options
Buy single article
Instant access to the full article PDF.
USD 39.95
Price includes VAT (USA)
Tax calculation will be finalised during checkout.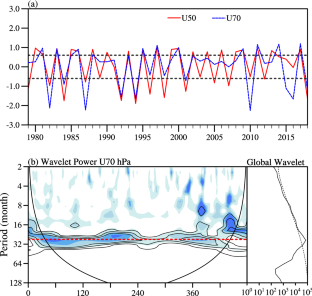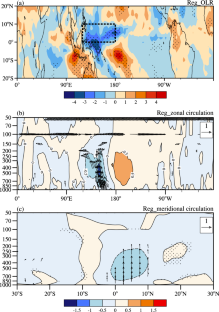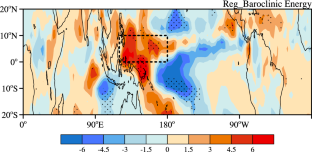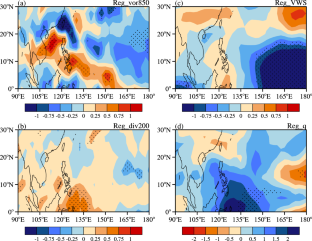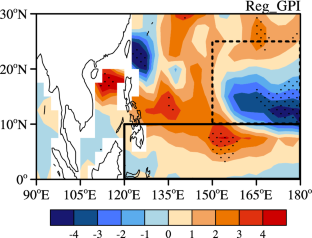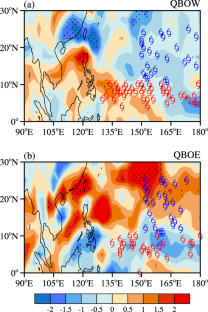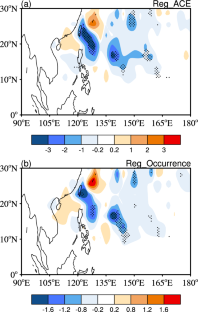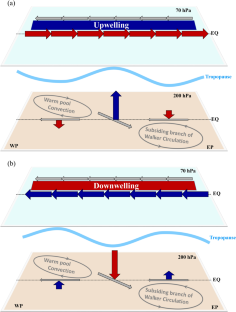 References
Angell JK, Korshover J (1964) Quasi-biennial variations in temperature, total ozone, and tropopause height. J Atmos Sci 21:479–492

Baldwin MP et al (2001) The quasi-biennial oscillation. Rev Geophys 39:179–229

Bell GD et al (2000) Climate Assessment for 1999. Bull Am Meteorol Soc 81:S1–S50

Belmont AD, Dartt DG (1968) Variation with longitude of the quasi-biennial oscillation. Mon Weather Rev 96:767–777

Bister M, Emanuel KA (2002) Low frequency variability of tropical cyclone potential intensity 1. Interannual to interdecadal variability. J Geophys Res Atmos 107:2621–2615

Camargo SJ, Sobel AH (2005) Western North Pacific tropical cyclone intensity and ENSO. J Clim 18:2996–3006

Camargo SJ, Sobel AH (2010) Revisiting the influence of the quasi-biennial oscillation on tropical cyclone activity. J Clim 23:5810–5825

Camargo SJ, Emanuel KA, Sobel AH (2007) Use of a genesis potential index to diagnose ENSO effects on tropical cyclone genesis. J Clim 20:4819–4834

Chan JCL (1995) Tropical Cyclone activity in the Western North Pacific in relation to the stratospheric quasi-biennial oscillation. Mon Weather Rev 123:2567–2571

Chen W, Feng J, Wu R (2013) Roles of ENSO and PDO in the link of the East Asian Winter Monsoon to the following summer monsoon. J Clim 26:622–635

Collimore CC et al (2003) On the relationship between the QBO and tropical deep convection. J Clim 16:2552–2568

Emanuel KA, Nolan DS (2004) Tropical cyclone activity and the global climate system. Proc. 26th Conf. on Hurricanes and Tropical Meteorology, Miami, FL, Amer. Meteor. Soc., 10A.2. https://ams.confex.com/ams/26HURR/techprogram/paper_75463.htm

Fadnavis S, Chakraborty T, Ghude SD, Beig G, Ernest Raj P (2011) Modulation of Cyclone tracks in the Bay of Bengal by QBO. J Atmos Solar Terr Phys 73:1868–1875

Fadnavis S, Ernest Raj P, Buchunde P, Goswami BN (2014) In search of influence of stratospheric quasi-biennial oscillation on tropical cyclones tracks over the Bay of Bengal region. Int J Climatol 34:567–580

Feng T, Chen G-H, Huang R-H, Shen X-Y (2014) Large-scale circulation patterns favourable to tropical cyclogenesis over the western North Pacific and associated barotropic energy conversions. Int J Climatol 34:216–227

Giorgetta MA, Bengtsson L, Arpe K (1999) An investigation of QBO signals in the east Asian and Indian monsoon in GCM experiments. Clim Dyn 15:435–450

Gray WM (1968) Global view of the origin of tropical disturbances and storms. Mon Weather Rev 96:669–700

Gray WM (1984) Atlantic seasonal hurricane frequency. Part I: El Niño and 30 mb quasi-biennial oscillation influences. Mon Weather Rev 112:1649–1668

Gray WM (1988) Environmental influences on the tropical cyclones. Aust Meteorol Mag 36:127–139

Gray WM, Sheaffer JD, Knaff JA (1992) Influence of the stratospheric QBO on ENSO variability. J Meteorol Soc Jpn 70:975–995

Gray LJ, Anstey JA, Kawatani Y, Lu H, Osprey S, Schenzinger V (2018) Surface impacts of the quasi biennial oscillation. Atmos Chem Phys 18:8227–8247

Ha Y, Zhong Z, Yang X, Sun Y (2015) Contribution of East Indian Ocean SSTA to Western North Pacific tropical cyclone activity under El Niño/La Niña conditions. Int J Climatol 35:506–519

Ho C-H, Kim H-S, Jeong J-H, Son S-W (2009) Influence of stratospheric quasi-biennial oscillation on tropical cyclone tracks in the western North Pacific. Geophys Res Lett. https://doi.org/10.1029/2009gl037163

Huang B, Hu Z-Z, Kinter JL, Wu Z, Kumar A (2012) Connection of stratospheric QBO with global atmospheric general circulation and tropical SST. Part I: methodology and composite life cycle. Clim Dyn 38:1–23

Huangfu J, Chen W, Huang R, Feng J (2019a) Modulation of the impacts of the Indian Ocean Basin mode on tropical cyclones over the Northwest Pacific during the boreal summer by La Niña Modoki. J Clim 32:3313–3326

Huangfu J, Chen W, Jian M, Huang R (2019b) Impact of the cross-tropopause wind shear on tropical cyclone genesis over the Western North Pacific in May. Clim Dyn 52:3845–3855

Huesmann AS, Hitchman MH (2001) The stratospheric quasi-biennial oscillation in the NCEP reanalyses: climatological structures. J Geophys Res Atmos 106:11859–11874

Knapp KR, Kruk MC, Levinson DH, Diamond HJ, Neumann CJ (2010) The international best track archive for climate stewardship (IBTrACS) unifying tropical cyclone data. Bull Am Meteorol Society 91:363–376

Knapp KR, Diamond HJ, Kossin JP, Kruk MC, Schreck CJ III (2018). International best track archive for climate stewardship (IBTrACS) Project, Version 4.v04r00. NOAA National Centers for Environmental Information. https://doi.org/10.25921/82ty-9e16

Lau K-H, Lau N-C (1992) The energetics and propagation dynamics of tropical summertime synoptic-scale disturbances. Mon Weather Rev 120:2523–2539

Lee J-H, Kang M-J, Chun H-Y (2019) Differences in the tropical convective activities at the opposite phases of the quasi-biennial oscillation. Asia Pac J Atmos Sci 55:317–336

Liang W, Jian M, Qiao Y (2012) Relationship between QBO and the onset of south China sea summer monsoon. J Trop Meteorol 28:237–242

Liebmann BCAS (1996) Description of a complete (interpolated) outgoing longwave radiation dataset. Bull Am Meteorol Soc 77:1275–1277

Liu KS, Chan JC (2008) Interdecadal variability of western North Pacific tropical cyclone tracks. J Clim 21:4464–4476

Ma S, Zhou T (2016) Robust strengthening and westward shift of the tropical Pacific Walker circulation during 1979–2012: a comparison of 7 sets of reanalysis data and 26 CMIP5 models. J Clim 29:3097–3118

Rayner N et al (2003) Global analyses of sea surface temperature, sea ice, and night marine air temperature since the late nineteenth century. J Geophys Res Atmos 108(D14):4407. https://doi.org/10.1029/2002JD00267

Reed R et al (1961) Evidence of a downward propagating annual wind reversal in the equatorial stratosphere. J Geophys Res 66:813–818

Shapiro LJ (1989) The relationship of the quasi-biennial oscillation to Atlantic tropical storm activity. Mon Weather Rev 117:1545–1552

Simmons A, Uppala S, Dee D, Kobayashi S (2007) ERA-interim: new ECMWF reanalysis products from 1989 onwards. ECMWF Newsl 110:25–35

Tsou C-H, Hsu H-H, Hsu P-C (2014) The role of multiscale interaction in synoptic-scale Eddy kinetic energy over the western North Pacific in Autumn. J Clim 27:3750–3766

Wallace JM (1973) General circulation of the tropical lower stratosphere. Rev Geophys 11:191–222

Wang L, Chen W, Huang R (2007) Changes in the variability of North Pacific Oscillation around 1975/1976 and its relationship with East Asian winter climate. J Geophys Res Atmos. https://doi.org/10.1029/2006jd008054

Wu L, Wen Z, Huang R, Wu R (2012) Possible linkage between the monsoon trough variability and the tropical cyclone activity over the Western North Pacific. Mon Weather Rev 140:140–150

Xue X, Chen W, Chen S, Zhou D (2015) Modulation of the connection between boreal winter ENSO and the South Asian high in the following summer by the stratospheric quasi-biennial oscillation. J Geophys Res Atmos 120:7393–7411

Zhan R, Wang Y, Wu C-C (2011) Impact of SSTA in the East Indian Ocean on the frequency of northwest Pacific Tropical cyclones: a regional atmospheric model study. J Clim 24:6227–6242

Zhan R, Wang Y, Tao L (2014) Intensified impact of East Indian Ocean SST anomaly on tropical cyclone genesis frequency over the western North Pacific. J Clim 27:8724–8739

Zhang J et al (2019) Seasonal evolution of the quasi-biennial oscillation impact on the Northern Hemisphere Polar Vortex in Winter. J Geophys Res Atmosp 124:12568–12586
Acknowledgements
This work was supported by the National Key Research and Development Program of China (2018YFC1506003), the Key Program of the Chinese Academy of Sciences (Grant QYZDY-SSW-DQC024) and the National Natural Science Foundation of China (Grant no. 41705071). The authors are grateful for the comments and suggestions provided by the editor and anonymous reviewers.
Additional information
Publisher's Note
Springer Nature remains neutral with regard to jurisdictional claims in published maps and institutional affiliations.
About this article
Cite this article
Huangfu, J., Tang, Y., Ma, T. et al. Influence of the QBO on tropical convection and its impact on tropical cyclone activity over the western North Pacific. Clim Dyn 57, 657–669 (2021). https://doi.org/10.1007/s00382-021-05731-x
Received:

Accepted:

Published:

Issue Date:
Keywords
Quasi-biennial oscillation

Tropical convection

Tropical cyclone activity

Western North Pacific