Abstract
Heavy precipitation events are increasingly concerned because their significant contribution to annual precipitation in the Northwestern China, which might be related to invasion of summer monsoon moisture. It is interest whether or not the same is Jade Pass as being outside the control of the Asian summer monsoon. In this work, six heavy precipitation events were selected based on the 95 percentiles of the daily precipitation at the 12 weather stations around the Jade Pass from 1970–2000, with consideration of the influences of elevation. The event on June 19th, 2013 was chosen for a detailed examination due to the fact that the day has a large-scale precipitation as revealed by a gridded precipitation dataset over a large region. Using a Weather Research and Forecasting Model (WRF) simulation with high spatiotemporal resolution and in situ isotopic tracing (δ18O, δD), under a large-scale heavy precipitation event, this study provides ambitious view at the synoptic scale. A dramatic decrease in the δ18O, δD and deuterium (d)-excess of precipitation, very high relative humidity (98%), and reduced air temperature indicate that the precipitation was a result of long-distance-transported monsoon vapor. In addition, the slope of the local water meteoric line (LWML) of the precipitation for this event was very close to that of the global meteoric water line (GWML), indicating the source of moisture was from the ocean. Meanwhile, the WRF simulation confirms that the precipitation at the Jade Pass was not caused by local convection, but by summer monsoon. Both WRF simulation and isotopic tracing support the view that the monsoon moisture could invade Jade Pass at the synoptic scale and impact on precipitation, which need be further investigated.
This is a preview of subscription content, log in to check access.
Access options
Buy single article
Instant access to the full article PDF.
US$ 39.95
Price includes VAT for USA
Subscribe to journal
Immediate online access to all issues from 2019. Subscription will auto renew annually.
US$ 199
This is the net price. Taxes to be calculated in checkout.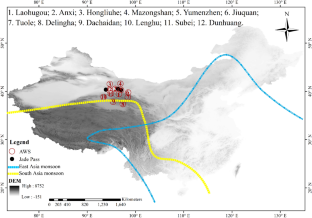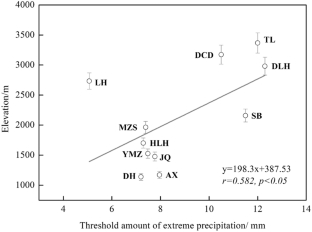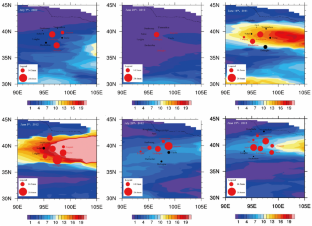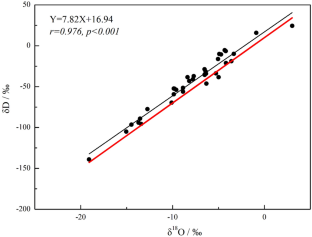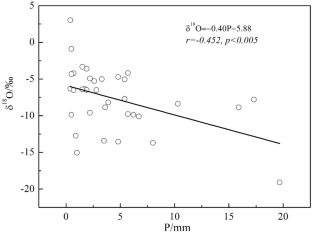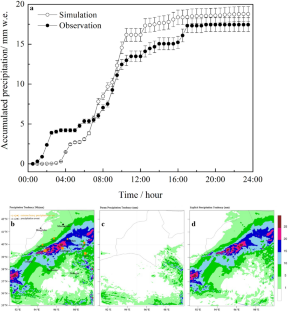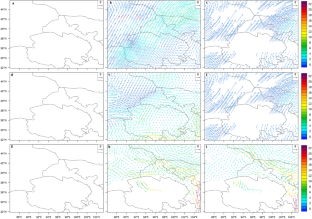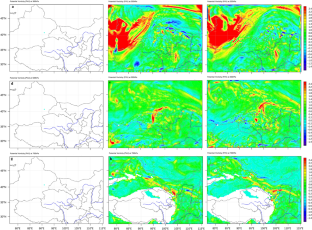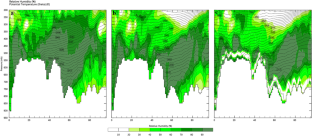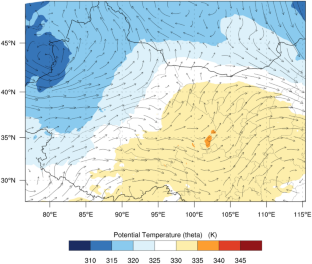 References
Aizen EM, Aizen VB, Melack JM, Nakamura T, Ohta T (2001) Precipitation and atmospheric circulation patterns at mid-latitudes of Asia. Int J Climatol 21(5):535–556

Allan RP, Soden BJ (2008) Atmospheric warming and the amplification of precipitation extremes. Science 321(5895):1481–1484

An Z, Colman SM, Zhou W, Li X, Brown ET, Jull AT, Song Y (2012) Interplay between the Westerlies and Asian monsoon recorded in Lake Qinghai sediments since 32 ka. Scientific reports 2:619

Araguas L, Froehlich K, Rozanski K (2000) Deuterium and oxygen-18 isotope composition of precipitation and atmospheric moisture. Hydrol Process 14(8):1341–1355

Barlow LK, Rogers JC, Serreze MC, Barry RG (1997) Aspects of climate variability in the North Atlantic sector: discussion and relation to the Greenland Ice Sheet Project 2 high-resolution isotopic signal. J Geophys Res Oceans 102(C12):26333–26344

Blanchard DO (1998) Assessing the vertical distribution of convective available potential energy. Weather Forecast 13(3):870–877

Bolton D (1980) The computation of equivalent potential temperature. Mon Weather Rev 108(7):1046–1053

Bowen GJ, Wilkinson B (2002) Spatial distribution of δ18O in meteoric precipitation. Geology 30(4):315–318

Bryson RA (1986) Airstream climatology of Asia. In: Proceedings of International Symposium on the Qinghai–Xizang Plateau and Mountain Meteorology. American Meteorological Society, Boston, pp 604–619

Chen SY, Dong AX, Han T (2007) Differences in summer precipitation between the east and west of the Qilian Mountains and its contributing factors. Nanjing Inst Meteorol 30:715–719

Cohen J, Screen JA, Furtado JC, Barlow M, Whittleston D, Coumou D, Jones J (2014) Recent Arctic amplification and extreme mid-latitude weather. Nat Geosci 7(9):627–637

Craig H (1961) Isotopic variations in meteoric waters. Science 133(3465):1702–1703

Curio J, Maussion F, Scherer D (2015) A 12-year high-resolution climatology of atmospheric water transport over the Tibetan Plateau. Earth Syst Dyn 6(1):109–124

Dansgaard W (1964) Stable isotopes in precipitation. Tellus 16(4):436–468

Ding Y, Wang S, Zheng J et al (2013) Climate in China. Science Press, Beijing, pp 1–557 (In Chinese)

Easterling DR, Evans JL, Groisman PY, Karl TR, Kunkel KE, Ambenje P (2000) Observed variability and trends in extreme climate events: a brief review. Bull Am Meteor Soc 81(3):417–426

Feng S, Hu Q, Qian W (2004) Quality control of daily meteorological data in China, 1951–2000: a new dataset. Int J Climatol 24(7):853–870

Froehlich K, Gibson JJ, Aggarwal PK (2002) Deuterium excess in precipitation and its climatological significance (No. IAEA-CSP-13/P).

Gao J, Masson-Delmotte V, Risi C, He Y, Yao T (2013) What controls precipitation δ18O in the southern Tibetan Plateau at seasonal and intra-seasonal scales? A case study at Lhasa and Nyalam. Tellus B: Chem Phys Meteorol 65(1):21043

Gonfiantini R (1986) Environmental isotopes in lake studies. In: Fritz P, Fontes JCH (eds) Handbook of Environmental Isotope Geochemistry, vol 2, The Terrestrial Environment. Elsevier, Amsterdam, pp 113–168

Guo X, Feng Q, Wei Y, Li Z, Liu W (2015) An overview of precipitation isotopes over the Extensive Hexi Region in NW China. Arab J Geosci 8(7):4365–4378

He Y, Yang K, Yao T, He J (2012) Numerical simulation of a heavy precipitation in Qinghai–Xizang Plateau based on WRF model. Plateau Meteorol 31(5):1183–1193 (In Chinese)

Hoskins BJ, McIntyre ME, Robertson AW (1985) On the use and significance of isentropic potential vorticity maps. Q J R Meteorol Soc 111(470):877–946

Huang W, Feng S, Chen J, Chen F (2015) Physical mechanisms of summer precipitation variations in the Tarim Basin in Northwestern China. J Clim 28(9):3579–3591

Ingraham NL (1998) Isotopic variations in precipitation. Isotope tracers in catchment hydrology. Elsevier, Amsterdam, pp 87–118

IPCC (2013) Intergovernmental panel on climate change climate change 2013: Fifth assessment report (AR5). Cambridge University Press, Cambridge

Ji Z, Kang S (2015) Evaluation of extreme climate events using a regional climate model for China. Int J Climatol 35(6):888–902

Jones PD, Horton EB, Folland CK, Hulme M, Parker DE, Basnett TA (1999) The use of indices to identify changes in climatic extremes. Clim Change 42(1):131–149

Kong Y (2013) Quantifying recycled moisture fraction in precipitation of an arid region using deuterium excess. The PHD dissertation of Chinese Academy of Sciences, pp1–111 (In Chinese)

Li B (1992) The study on Jade Pass and its related problems in the five dynasties and early song dynasty. Dunhuang Res 2:89–93 (In Chinese)

Li B (2015) A study on the historical changes of the Yumenguan Pass. J Shihezi Univ Philos Soc Sci 3:9–16 (In Chinese)

Li Z (1997) Research on New Yumen Pass. Dunhuang Res 2:1–13 (In Chinese)

Li W, Jiang Z, Zhang X, Li L, Sun Y (2018) Additional risk in extreme precipitation in China from 1.5 °C to 2.0° C global warming levels. Sci Bull 63(4):228–234

Li Z, Gao Y, Wang Y, Pan Y, Li J, Chen A, Wang T, Han C, Song Y, Theakstone WH (2015) Can monsoon moisture arrive in the Qilian Mountains in summer? Quatern Int 358:113–125

Liu J, Song X, Sun X, Yuan G, Liu X, Wang S (2009) Isotopic composition of precipitation over Arid Northwestern China and its implications for the water vapor origin. J Geog Sci 19(2):164–174

Luan L, Meng Xi, Lü S, Li Z (2017) Impacts of microphysics and PBL physics parameterization on a convective precipitation over the Qinghai–Tibetan Plateau. Plateau Meteorol 36(2):283–293 (In Chinese)

Maussion F, Scherer D, Mölg T, Collier E, Curio J, Finkelnburg R (2014) Precipitation seasonality and variability over the Tibetan Plateau as resolved by the High Asia Reanalysis. J Clim 27(5):1910–1927

Merlivat L, Jouzel J (1979) Global climatic interpretation of the deuterium-oxygen 18 relationship for precipitation. J Geophys Res Oceans 84(C8):5029–5033

Min SK, Zhang X, Zwiers FW, Hegerl GC (2011) Human contribution to more-intense precipitation extremes. Nature 470(7334):378–381

O'Gorman PA, Schneider T (2009a) The physical basis for increases in precipitation extremes in simulations of 21st-century climate change. Proc Natl Acad Sci 106(35):14773–14777

O'Gorman PA, Schneider T (2009b) Scaling of precipitation extremes over a wide range of climates simulated with an idealized GCM. J Clim 22(21):5676–5685

Prein AF, Rasmussen RM, Ikeda K, Liu C, Clark MP, Holland GJ (2017) The future intensification of hourly precipitation extremes. Nat Clim Change 7(1):48–52

Rozanski K, Araguás-Araguás L, Gonfiantini R (1993) Isotopic patterns in modern global precipitation. Clim Change Cont Isot Rec 78:1–36

Seneviratne SI, Nicholls N, Easterling D, Goodess CM, Kanae S, Kossin J, Reichstein M (2012) Changes in climate extremes and their impacts on the natural physical environment. Managing the risks of extreme events and disasters to advance climate change adaptation: special report of the Intergovernmental Panel on Climate Change. Cambridge University Press, Cambridge, pp 109–230

Shen Y, Liang H (2004) High precipitation in Glacial Region of high mountains in high Asia: possible cause. J Glaciol Geocryol 26(6):806–809 (In Chinese)

Song S, Li L, Chen X, Bai J (2015) The dominant role of heavy precipitation in precipitation change despite opposite trends in west and east of northern China. Int J Climatol 35(14):4329–4336

Tang M (1985) The distribution of precipitation in mountain Qilian. Acta Geogr Sinica 40(4):323–332 (In Chinese)

Tang X, Sun GW, Qian WH (2007) Study on the northernmost boundary of East-Asian summer monsoon. Meteorol Press, Beijing, pp 1–120 (In Chinese)

Tian L, Yao T, Schuster PF, White JWC, Ichiyanagi K, Pendall E, Yu W (2003) Oxygen‐18 concentrations in recent precipitation and ice cores on the Tibetan Plateau. J Geophys Res Atmos 108(D9)

Tian L, Yao T, Sun W, Stievenard M, Jouzel J (2001) Relationship between δD and δ18O in precipitation on north and south of the Tibetan Plateau and moisture recycling. Sci China Ser D Earth Sci 44(9):789–796

Trenberth KE, Fasullo JT, Shepherd TG (2015) Attribution of climate extreme events. Nat Clim Change 5(8):725

Wang Y, Zhou L (2005) Observed trends in extreme precipitation events in China during 1961–2001 and the associated changes in large‐scale circulation. Geophys Res Lett 32(9)

Wang Z, Lin L, Yang M, Xu Y (2016) The effect of future reduction in aerosol emissions on climate extremes in China. Clim Dyn 47(9–10):2885–2899

Wu JK, Ding YJ, Yang JH, Liu SW, Zhou JX, Qin X (2016) Spatial variation of stable isotopes in different waters during melt season in the Laohugou Glacial Catchment, Shule River basin. J Mt Sci 13(8):1453–1463

Wu J, Ding Y, Ye B, Yang Q, Zhang X, Wang J (2010) Spatio-temporal variation of stable isotopes in precipitation in the Heihe River Basin Northwestern China. Environ Earth Sci 61(6):1123–1134

Wu J, Gao XJ (2013) A gridded daily observation dataset over China region and comparison with the other datasets. Chin J Geophys 56(4):1102–1111 (In Chinese)

Xu G, Chen T, Liu X, An W, Wang W, Yun H (2011) Potential linkages between the moisture variability in the northeastern Qaidam Basin, China, since 1800 and the East Asian summer monsoon as reflected by tree ring δ18O. J Geophys Res Atmos 116(D9)

Yang D, Goodison BE, Metcalfe JR, Louie P, Leavesley G, Emerson D, Pangburn T (1999) Quantification of precipitation measurement discontinuity induced by wind shields on national gauges. Water Resour Res 35(2):491–508

Yang J, Duan K, Wu J, Qin X, Shi P, Liu H, Sun J (2015) Effect of data assimilation using WRF-3DVAR for heavy rain prediction on the northeastern edge of the Tibetan Plateau. Adv Meteorol 2015:1–14

Yang J, Ji Z, Chen D, Kang S, Fu C, Duan K, Shen M (2018a) Improved land use and leaf area index enhances WRF-3DVAR satellite radiance assimilation: a case study focusing on rainfall simulation in the Shule River Basin during july 2013. Adv Atmos Sci 35(6):628–644

Yang M, Yao T, Wang H, Tian L, Gou X (2006) Estimating the criterion for determining water vapor sources of summer precipitation on the northern Tibetan Plateau. Hydrol Process 20(3):505–513

Yang X, Davis ME, Acharya S, Yao T (2018b) Asian monsoon variations revealed from stable isotopes in precipitation. Clim Dyn 51(5–6):2267–2283

Yao T, Masson-Delmotte V, Gao J, Yu W, Yang X, Risi C, Ren W (2013) A review of climatic controls on δ18O in precipitation over the Tibetan Plateau: observations and simulations. Rev Geophys 51(4):525–548

Yu W, Wei F, Ma Y, Liu W, Zhang Y, Luo L, Qu D (2016) Stable isotope variations in precipitation over Deqin on the southeastern margin of the Tibetan Plateau during different seasons related to various meteorological factors and moisture sources. Atmos Res 170:123–130

Zahumenský I (2004) Guidelines on quality control procedures for data from automatic weather stations. World Meteorological Organization, Switzerland, pp 1–10

Zhai P, Zhang X, Wan H, Pan X (2005) Trends in total precipitation and frequency of daily precipitation extremes over China. J Clim 18(7):1096–1108

Zhang L (2006) Research on the water resources and hydrological cycle of the Qilian Mountain. Master thesis of Lanzhou University, pp 1–52 (In Chinese)

Zheng S, Hou F, Ni B (1983) The studies of hydrogen and oxygen stable isotopes in atmospheric precipitation in China. Chin Sci Bull 13:801–806 (In Chinese)

Zhou S, Nakawo M, Sakai A, Matsuda Y, Duan K, Pu J (2007) Water isotope variations in the snow pack and summer precipitation at July 1 Glacier, Qilian Mountains in northwest China. Chin Sci Bull 52(21):2963–2972

Zhou WF, Xiao HB, Sun AP, Zhang GQ, Xiao RX (2012) The relation between orographic cloud and vertical wind in Qilian. J Mt Sci 30(6):641–647 (In Chinese)

Zhu Q, Lin J, Shou S (2007) Theories and techniques of synoptic meteorology, 4th edn. Hina Meteorological Press, Beijing (In Chinese)

Zscheischler J, Westra S, Van Den Hurk BJ, Seneviratne SI, Ward PJ, Pitman A, Zhang X (2018) Future climate risk from compound events. Nat Clim Change 8(6):469
Acknowledgements
This study was supported by the Chinese Academy of Sciences (QYZDY-SSW-DQC021, QYZDJ-SSW- DQC039), the National Natural Science Foundation of China (41721091, 41630754), the State Key Laboratory of Cryospheric Science (SKLCS-ZZ-2020), Open funding from KLME and CIC-FEMD (KLME201901), and Key Laboratory of Land Surface Process and Climate Change in Cold and Arid Regions, Chinese Academy of Sciences (LPCC2019003).
Additional information
Publisher's Note
Springer Nature remains neutral with regard to jurisdictional claims in published maps and institutional affiliations.
About this article
Cite this article
Du, W., Kang, S., Qin, X. et al. Can summer monsoon moisture invade the Jade Pass in Northwestern China?. Clim Dyn 55, 3101–3115 (2020). https://doi.org/10.1007/s00382-020-05423-y
Received:

Accepted:

Published:

Issue Date:
Keywords
Extreme precipitation

Isotopic tracing (δ18O, δD)

WRF simulation

Monsoon moisture

Jade pass