Abstract
Ningaloo Niño/Niña is the dominant mode of interannual variability of sea surface temperature (SST) in the southeastern Indian Ocean. According to previous studies, both local air-sea interaction and remote forcing contribute to generation and amplification of the Ningaloo Niño/Niña. The latter forcing includes the atmospheric teleconnection and oceanic wave propagation through the Indonesian archipelago, mainly associated with the El Niño/Southern Oscillation (ENSO). One of the most important characteristics of the Ningaloo Niño/Niña is their asymmetry; the Ningaloo Niño is stronger than the Ningaloo Niña. Using a regional ocean modeling system (ROMS), the impact of oceanic wave propagation on the amplitude and asymmetry of SST anomalies associated with the Ningaloo Niño/Niña is investigated. For these purposes, a sensitivity experiment in which oceanic lateral boundary conditions are replaced by the monthly climatology is conducted. It is shown that the oceanic teleconnection transmitted from the western tropical Pacific can explain about 30% of the observed amplitude asymmetry in SST anomalies. Results from composite and heat budget analyses suggest that coastal downwelling (upwelling) Kelvin waves from the western tropical Pacific associated with La Niña (El Niño) that often co-occurs with the Ningaloo Niño (Niña) are stronger (weaker) and contribute to the asymmetry.
Access options
Buy single article
Instant access to the full article PDF.
US$ 39.95
Tax calculation will be finalised during checkout.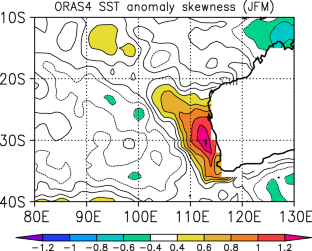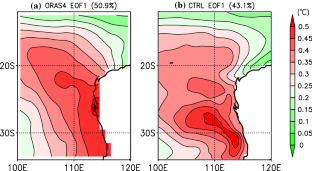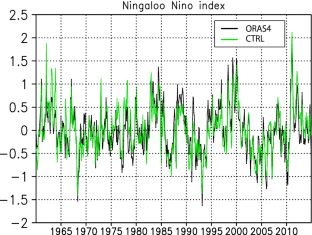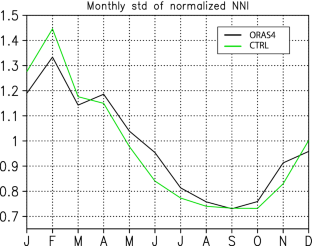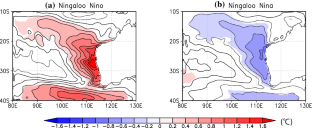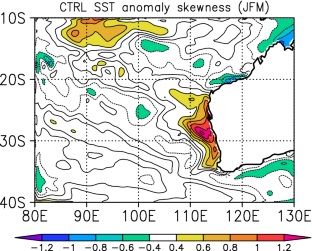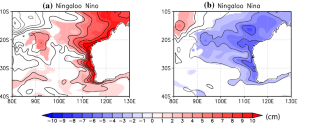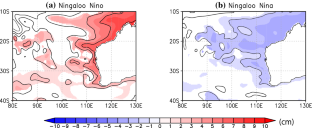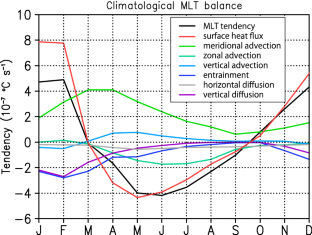 Additional information
Publisher's Note
Springer Nature remains neutral with regard to jurisdictional claims in published maps and institutional affiliations.
About this article
Cite this article
Kusunoki, H., Kido, S. & Tozuka, T. Contribution of oceanic wave propagation from the tropical Pacific to asymmetry of the Ningaloo Niño/Niña. Clim Dyn 54, 4865–4875 (2020). https://doi.org/10.1007/s00382-020-05268-5
Received:

Accepted:

Published:

Issue Date:
Keywords
Ningaloo Niño/Niña

Western Australian coast

Coastal Kelvin wave

Regional ocean model