Abstract
Consensus has been reached that precipitation extremes vary proportionally with global warming. Nevertheless, the underlying cause and magnitude of these factors affecting their relationships remain highly debated. To elucidate the complex relationship between precipitation extremes and temperature in China during the warm seasons (May through September), a 60-year (1958–2017) record of hourly rain gauge measurements, in combination with surface air temperature, RH, precipitable water (PW), and convective available potential energy (CAPE) collected from 120 radiosonde stations were examined. Spatially, the scaling relationship between precipitation extremes and temperature exhibits a large geographic difference across China. In particular, the Clausius–Clapeyron (CC) and sub-CC relationships tend to occur in northwest (ROI-N) and southeast China (ROI-S), whereas the super-CC relationship is found to mainly concentrates in central China (ROI-C). Additionally, the response of precipitation extremes to temperature becomes more sensitive as precipitation intensity increases, shifting from CC to super-CC at a certain point of inflection that varies by geographic regions. This shift occurs at approximately 15 °C in ROI-C and ROI-N, but at around 20 °C in ROI-S. Within the temperature range of the super-CC slope, the PW rises with the increases in temperature, whereas the CAPE decreases with rising temperature, which is contrary to the monotonic scaling of precipitation with temperature. From the perspective of interannual variation, the precipitation extremes correlate positively with temperature. This further confirms the notion that global warming, through jointly affecting PW and CAPE, is able to considerably regulate precipitation extremes.
This is a preview of subscription content,
to check access.
Access this article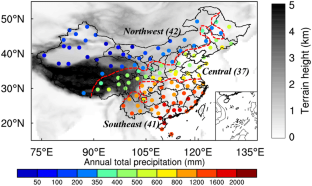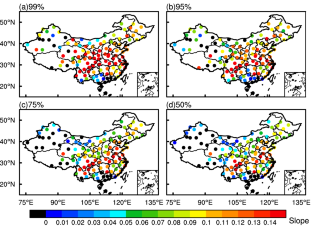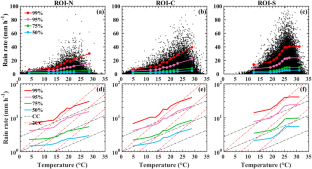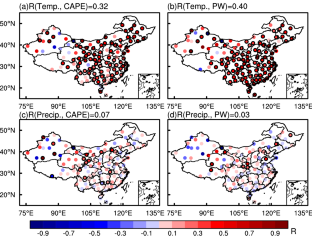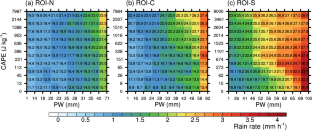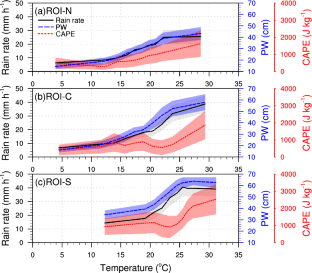 References
Adams DK, Souza EP (2009) CAPE and Convective Events in the Southwest during the North American Monsoon. Mon Weather Rev 137(1):83–98. https://doi.org/10.1175/2008mwr2502.1

Ali H, Mishra V (2017) Contrasting response of rainfall extremes to increase in surface air and dewpoint temperatures at urban locations in India. Sci Rep 7:1228. https://doi.org/10.1038/s41598-017-01306-1

Allen MR, Ingram WJ (2002) Constraints on future changes in climate and the hydrologic cycle. Nature 419:228–232. https://doi.org/10.1038/nature01092

Aumann HH, Behrangi A, Wang Y (2018) Increased frequency of extreme tropical deep convection: AIRS observations and climate model predictions. Geophys Res Lett 45(24):13530–13537. https://doi.org/10.1029/2018GL079423

Baker MB, Peter T (2008) Small-scale cloud processes and climate. Nature 451:299–300. https://doi.org/10.1038/nature06594

Bao JW, Sherwood SC, Alexander LW, Evans JP (2017) Future increases in extreme precipitation exceed observed scaling rates. Nat Clim Chang 7:128–132. https://doi.org/10.1038/nclimate3201

Berg P, Haerter JO (2013) Unexpected increase in precipitation intensity with temperature---a result of mixing of precipitation types? Atmos Res 119:56–61. https://doi.org/10.1016/j.atmosres.2011.05.012

Berg P, Haerter JO, Thejll P, Piani C, Hagemann S, Christensen JH (2009) Seasonal characteristics of the relationship between daily precipitation intensity and surface temperature. J Geophys Res Atmos.https://doi.org/10.1029/2009/2009JD012008

Berg P, Moseley C, Haerter JO (2013) Strong increase in convective precipitation in response to higher temperatures. Nat Geosci 6:181–185. https://doi.org/10.1038/ngeo1731

Bony S, Colman R, Kattsov VM, Allan RP et al (2006) How well do we understand and evaluate climate change feedback processes? J Clim 19:3445–3482. https://doi.org/10.1175/jcli3819.1

Brooks HE, Lee JW, Craven JP (2003) The spatial distribution of severe thunderstorm and tornado environments from global reanalysis data. Atmos Res 67–68:73–94. https://doi.org/10.1016/s0169-8095(03)00045-0

Chan SC, Kendon EJ, Roberts NM, Fowler HJ, Blenkinsop S (2016) Downturn in scaling of UK extreme rainfall with temperature for future hottest days. Nat Geosci 9:24–28. https://doi.org/10.1038/ngeo2596

Ding YH, Wang ZY, Sun Y (2008) Inter-decadal variation of the summer precipitation in East China and its association with decreasing Asian summer monsoon. Part I: Observed evidences. Int J Climatol 28(9):1139–1161. https://doi.org/10.1002/joc.1615

Ding YH, Chan JC (2005) The East Asian summer monsoon: an overview. Meteorol Atmos Phys 89(1–4):117–142. https://doi.org/10.1007/s00703-005-0125-z

Dong WH, Lin YL, Wright JS, Xie YX, Yin XG, Guo JP (2019) Precipitable water and CAPE dependence of rainfall intensities in China. Clim Dyn 52:3357–3368. https://doi.org/10.1007/s00382-018-4327-8

Emori S, Brown SJ (2005) Dynamic and thermodynamic changes in mean and extreme precipitation under changed climate. Geophys Res Lett.https://doi.org/10.1029/2005GL023272

Ginn WL, Lee ZC, Chan KY (2010) Past and future changes in the climate of Hong Kong. Acta Meteorol Sin 24:163–175

Guo JP, Liu H, Wang F, Huang JF, Xia F, Lou MY, Wu YR, Jiang JH, Xie T, Zhaxi YZ, Yung YL (2016a) Three-dimensional structure of aerosol in China: a perspective from multi-satellite observations. Atmos Res 178–179:580–589. https://doi.org/10.1016/j.atmosres.2016.05.010

Guo JP, Miao YC, Zhang Y, Liu H, Li ZQ, Zhang WC, He J, Lou MY, Yan Y, Bian LG, Zhai PM (2016b) The climatology of planetary boundary layer height in China derived from radiosonde and reanalysis data. Atmos Chem Phys 16:13309–13319. https://doi.org/10.5194/acp-16-13309-2016

Guo JP, Su TN, Li ZQ, Miao YC, Li J, Liu H, Xu H, Cribb M, Zhai PM (2017) Declining frequency of summertime local-scale precipitation over eastern China from 1970–2010 and its potential link to aerosols. Geophys Res Lett 44:5700–5708. https://doi.org/10.1002/2017GL073533

Guo JP, Liu H, Li ZQ, Rosenfeld D, Jiang MJ, Xu WX, Jiang JH, He J, Chen DD, Min M, Zhai PM (2018) Aerosol-induced changes in the vertical structure of precipitation: a perspective of TRMM precipitation radar. Atmos Chem Phys 18:13329–13343. https://doi.org/10.5194/acp-18-13329-2018

Guo JP, Li Y, Cohen JB, Li J, Chen DD, Xu H, Liu L, Yin JF, Hu KX, Zhai PM (2019) Shift in the temporal trend in boundary layer height trend in China using long-term (1979–2016) radiosonde data. Geophys Res Lett 46(11):6080–6089. https://doi.org/10.1029/2019GL082666

Haerter JO, Berg P (2009) Unexpected rise in extreme precipitation caused by a shift in rain type? Nat Geosci 2:372–373. https://doi.org/10.1038/ngeo523

Hardwick-Jones R, Westra S, Sharma A (2010) Observed relationships between extreme sub-daily precipitation, surface temperature, and relative humidity. Geophys Res Lett 37:L22805. https://doi.org/10.1029/2010gl045081

Harnack RP, Jensen DT, Cermak JR III (1998) Investigation of upper-air conditions occurring with heavy summer rain in Utah. Int J Climatol 18(7):701-723. https://doi.org/10.1002/(SICI)1097-0088(19980615)18:7<701::AID-JOC265>3.0.CO;2-S

Hohenegger C, Brockhaus P, Bretherton CS, Schär C (2009) The soil moisture–precipitation feedback in simulations with explicit and parameterized convection. J Clim 22(19):5003–5020. https://doi.org/10.1175/2009JCLI2604.1

Hyland RW, Wexter A (1983) Formulation for the thermodynamic properties of the saturated phase of H2O from 173.15K to 473.15 K. Ashrae Trans 89(2A):500–519

IPCC (2013) Climate change 2013: the physical science basis: Working Group I Contribution to the Fifth Assessment Report of the Intergovernmental Panel on Climate Change. In: Stocker TF, Qin D, Plattner G-K, Tignor M, Allen SK, Boschung J, Nauels A, Xia Y, Bex V, Midgley PM (eds) Cambridge University Press, Cambridge, p 1535

Kishtawal CM, Niyogi D, Tewari M, Pielke Sr RA, Shepherd JM (2010) Urbanization signature in the observed heavy rainfall climatology over India. Int J Climatol 30(13):1908–1916. https://doi.org/10.1002/joc.2044

Lenderink G, Barbero R, Loriaux JM, Fowler HJ (2017) Super-clausius-clapeyron scaling of extreme hourly convective precipitation and its relation to large-scale atmospheric conditions. J Clim 30:6037–6052. https://doi.org/10.1175/jcli-d-16-0808.1

Lenderink G, Barbero R, Westra S, Fowler HJ (2018) Reply to comments on 'temperature-extreme precipitation scaling: a two-way causality?''.' Int J Climatol 38(12):4664–4666. https://doi.org/10.1002/joc.5799

Lenderink G, van Meijgaard E (2008) Increase in hourly precipitation extremes beyond expectations from temperature changes. Nat Geosci 1:511–514. https://doi.org/10.1038/ngeo262

Lenderink G, Van Meijgaard E (2010) Linking increases in hourly precipitation extremes to atmospheric temperature and moisture changes. Environ Res Lett 5(2):025208. https://doi.org/10.1088/1748-9326/5/2/025208

Lenderink G, Mok HY, Lee TC, van Oldenborgh GJ (2011) Scaling and trends of hourly precipitation extremes in two different climate zones - Hong Kong and the Netherlands. Hydrol Earth Syst Sci 15:3033–3041. https://doi.org/10.5194/hess-15-3033-2011

Lepore C, Allen JT, Tippett MK (2016) Relationships between hourly rainfall intensity and atmospheric variables over the contiguous United States. J Clim 29:3181–3197. https://doi.org/10.1175/jcli-d-15-0331.1

Lepore C, Veneziano D, Molini A (2015) Temperature and CAPE dependence of rainfall extremes in the eastern United States. Geophys Res Lett 42:74–83. https://doi.org/10.1002/2014gl062247

Li ZQ, Guo JP, Ding AJ et al (2017) Aerosol and boundary-layer interactions and impact on air quality. Natl Sci Rev 4(6):810–833. https://doi.org/10.1093/nsr/nwx117

Li ZQ, Lau WK-M, Ramanathan V et al (2016) Aerosol and monsoon climate interactions over Asia. Rev Geophys 54(4):866–929. https://doi.org/10.1002/2015RG000500

Li ZQ, Wang Y, Guo JP et al (2020) East Asian Study of Tropospheric aerosols and their impact on Regional clouds, precipitation, and climate (EAST-AIRCPC). J Geophys Res Atmos 124:13026–13054. https://doi.org/10.1029/2019JD030758

Liu R, Liu SC, Cicerone RJ, Shiu C-J, Li J, Wang JL, Zhang YH (2015) Trends of extreme precipitation in eastern China and their possible causes. Adv Atmos Sci 32(8):1027–1037. https://doi.org/10.1007/s00376-015-5002-1

Liu Z, Ming Y, Zhao C, Lau NC, Guo JP, Bollasina M, Yim SHL (2020) Contribution of local and remote anthropogenic aerosols to a record-breaking torrential rainfall event in Guangdong Province. Chin Atmos Chem Phys 20:223–241. https://doi.org/10.5194/acp-20-223-2020

Liu Z, Yim SHL, Wang C, Lau NC (2018) The impact of the aerosol direct radiative forcing on deep convection and air quality in the Pearl River Delta region. Geophys Res Lett 45(9):4410–4418. https://doi.org/10.1029/2018GL077517

Marengo JA, Jones R, Alves LM, Valverde MC (2009) Future change of temperature and precipitation extremes in South America as derived from the PRECIS regional climate modeling system. Int J Climatol 29:2241–2255. https://doi.org/10.1002/joc.1863

Miao CY, Sun QH, Borthwick AGL, Duan QY (2016) Linkage between hourly precipitation events and atmospheric temperature changes over China during the Warm Season. Sci Rep 6:22543. https://doi.org/10.1038/srep22543

Nie J, ​ Sobel AH, Shaevitz DA, Wang S (2018) Dynamic Amplification of Extreme Precipitation Sensitivity. Proc Natl Acad Sci USA 115(38):9467–9472. https://doi.org/10.1073/pnas.1800357115

Oki T, Kanae S (2006) Global hydrological cycles and world water resources. Science 313:1068–1072. https://doi.org/10.1126/science.1128845

Pall P, Aina T, Stone DA, Stott PA, Nozawa T, Hilberts AGJ, Lohmann D, Allen MR (2011) Anthropogenic greenhouse gas contribution to flood risk in England and Wales in autumn 2000. Nature 470:382–385. https://doi.org/10.1038/nature09762

Pall P, Allen MR, Stone DA (2007) Testing the Clausius-Clapeyron constraint on changes in extreme precipitation under CO2 warming. Clim Dyn 28:351–363. https://doi.org/10.1007/s00382-006-0180-2

Panthou G, Mailhot A, Laurence E, Talbot G (2014) Relationship between surface temperature and extreme rainfalls: a multi-time-scale and event-based analysis. J Hydrometeorol 15:1999–2011. https://doi.org/10.1175/JHM-D-14-0020.1

Pfahl S, Madonna E, Boettcher M, Joos H, Wernli H (2014) Warm conveyor belts in the ERA-Interim dataset (1979–2010). Part II: Moisture origin and relevance for precipitation. J Clim 27(1):27–40. https://doi.org/10.1175/JCLI-D-13-00223.1

Prein AF, Rasmussen RM, Ikeda K, Liu CH, Clark MP, Holland GJ (2017) The future intensification of hourly precipitation extremes. Nat Clim Chang 7:48–52. https://doi.org/10.1038/nclimate3168

Priestley CHB (1966) The limitation of temperature by evaporation in hot climates. Agric Meteorol 3(3–4):241–246. https://doi.org/10.1016/0002-1571(66)90031-8

Roderick T, Wasko C, Sharma A (2019) Atmospheric moisture measurements explain increases in tropical rainfall extremes. Geophys Res Lett 46(3):1375–1382. https://doi.org/10.1029/2018GL080833

Rosenfeld D, Andreae MO, Asmi A et al (2014) Global observations of aerosol-cloud-precipitation-climate interactions. Rev Geophys 52(4):750–808. https://doi.org/10.1002/2013RG000441

Schultz DM, Schumacher PN, Doswell CA III (2000) The intricacies of instabilites. Mon Weather Rev 128:4143–4148. https://doi.org/10.1175/1520-0493(2000)129<4143:TIOI>2.0.CO;2

Shaw SB, Royem AA, Riha SJ (2011) The relationship between extreme hourly precipitation and surface temperature in different hydroclimatic regions of the United States. J Hydrometeorol 12:319–325. https://doi.org/10.1175/2011jhm1364.1

Trapp RJ, Diffenbaugh NS, Brooks HE, Baldwin ME, Robinson ED, Pal JS (2007) Changes in severe thunderstorm environment frequency during the 21st century caused by anthropogenically enhanced global radiative forcing. Proc Natl Acad Sci USA 104(50):19719–19723. https://doi.org/10.1073/pnas.0705494104

Trenberth KE, Dai AG, Rasmussen RM, Parsons DB (2003) The changing character of precipitation. Bull Am Meteor Soc 84:1205–1218. https://doi.org/10.1175/BAMS-84-9-1205

Trenberth KE, Shea DJ (2005) Relationships between precipitation and surface temperature. Geophys Res Lett 32:L14703. https://doi.org/10.1029/2005GL022760

Van Ulden AP, van Oldenborgh GJ (2006) Large-scale atmospheric circulation biases and changes in global climate model simulations and their importance for climate change in Central Europe. Atmos Chem Phys 6:863–881. https://doi.org/10.5194/acp-6-863-2006

Utsumi N, Seto S, Kanae S, Maeda EE, Oki T (2011) Does higher surface temperature intensify extreme precipitation? Geophys Res Lett.https://doi.org/10.1029/2011gl048426

Van de Vyver H, Van Schaeybroeck B, De Troch R, Hamdi R, Termonia P (2019) Modeling the scaling of short-duration precipitation extremes with temperature. Earth Space Sci 6(10):2031–2041. https://doi.org/10.1029/2019EA000665

Wang Y (2015) Air pollution or global warming: Attribution of extreme precipitation changes in eastern China—Comments on "Trends of Extreme Precipitation in Eastern China and Their Possible Causes." Adv Atmos Sci 32(10):1444–1446. https://doi.org/10.1007/s00376-015-5109-4

Wang Y, Ma P-L, Jiang JH, Su H, Rasch PJ (2016) Toward reconciling the influence of atmospheric aerosols and greenhouse gases on light precipitation changes in Eastern China. J Geophys Res Atmos 121:5878–5887. https://doi.org/10.1002/2016JD024845

Wang Y, Zhou L (2005) Observed trends in extreme precipitation events in China during 1961–2001 and the associated changes in large-scale circulation. Geophys Res Lett 32(9):L09707. https://doi.org/10.1029/2005GL022574

Wasko C, Sharma A, Westra S (2016) Reduced spatial extent of extreme storms at higher temperatures. Geophys Res Lett 43:4026–4032. https://doi.org/10.1002/2016GL068509

Westra S, Fowler HJ, Evans JP et al (2014) Future changes to the intensity and frequency of short-duration extreme rainfall. Rev Geophys 52:522–555. https://doi.org/10.1002/2014rg000464

Xu M, Chang C-P, Fu C, Qi Y, Robock A, Robinson D, Zhang H-m (2006) Steady decline of east Asian monsoon winds, 1969–2000: Evidence from direct ground measurements of wind speed. J Geophys Res Atmos 111:D24111. https://doi.org/10.1029/2006jd007337

Xu XY, Yu JQ, Li HL, Yang L (2016) Comparative study on calculation methods of dew-point temperature. J Meteorol Environ 32(3):107–111

Yan Y, Miao YC, Guo JP, Liu SH, Liu H, Lou MY, Liu L, Chen DD, Xue WT, Zhai PM (2019) Synoptic patterns and sounding-derived parameters associated with summertime heavy rainfall in Beijing. Int J Climatol 39(3):1476–1489. https://doi.org/10.1002/joc.5895

Zhang Y, Xu YL, Dong WJ, Cao LJ, Sparrow M (2006) A future climate scenario of regional changes in extreme climate events over China using the PRECIS climate model. Geophys Res Lett 33(24):L24702. https://doi.org/10.1029/2006GL027229

Zhang Y, Zhang LJ, Guo JP, Feng JM, Cao LJ, Wang Y, Zhou Q, Li LX, Li B, Xu H, Liu L, An N, Liu H (2018) Climatology of cloud-base height from long-term radiosonde measurements in China. Adv Atmos Sci 35(2):158–168. https://doi.org/10.1007/s00376-017-7096-0

Zhang XB, Zwiers FW, Li GH, Wan H, Cannon AJ (2017) Complexity in estimating past and future extreme short-duration rainfall. Nat Geosci 10:255–259. https://doi.org/10.1038/NGEO2911

Zhou TJ, Yu RC (2005) Atmospheric water vapor transport associated with typical anomalous summer rainfall patterns in China. J Geophys Res Atmos 110:D08104. https://doi.org/10.1029/2004jd005413

Zhu QG, Lin JR, Shou SW, Tang DS (2014) Principles and methods of meteorology. Chin Meteorol Press 4:320–321
Acknowledgements
This work was supported by the National Key R&D Program of China under Grants 2017YFC1501401, and National Natural Science Foundation of China under Grants 41771399, and 91544217, and Chinese Academy of Meteorological Sciences under Grants 2017Z005. We appreciate the radiosonde measurements and hourly precipitation data provided by the China Meteorological Data Service Center (http://data.cma.cn/en).
Additional information
Publisher's Note
Springer Nature remains neutral with regard to jurisdictional claims in published maps and institutional affiliations.
Electronic supplementary material
Below is the link to the electronic supplementary material.
About this article
Cite this article
Guo, J., Yan, Y., Chen, D. et al. The response of warm-season precipitation extremes in China to global warming: an observational perspective from radiosonde measurements. Clim Dyn 54, 3977–3989 (2020). https://doi.org/10.1007/s00382-020-05216-3
Received:

Accepted:

Published:

Issue Date:

DOI: https://doi.org/10.1007/s00382-020-05216-3
Keywords