Abstract
Located in the Yangtze River Valley and surrounded by mountains, South-Central China (SCC) frequently suffered from natural disasters such as torrential precipitation, landslide and debris flow. Here we provide corroborative evidence for a link between the late spring (May) snow water equivalent (SWE) over Siberia and the summer (July–August, abbr. JA) rainfall in SCC. We show that, in May, anomalously low SWE over Siberia is robustly related to a large warming from the surface to the mid-troposphere, and to a stationary Rossby wave train from Siberia eastward toward the North Atlantic. On the one hand, over the North Atlantic there exhibits a tripole pattern response of sea surface temperature anomalies in May. It persists to some extent in JA and in turn triggers a wave train propagating downstream across Eurasia and along the Asian jet, as the so-called Silk Road pattern (SRP). On the other hand, over northern Siberia the drier soil occurs in JA, accompanied by an overlying anomalous anticyclone through the positive feedback. This anomalous anticyclone favors the tropospheric cooling over southern Siberia, and the meridional (northward) displacement of the Asian jet (JMD) due to the change in the meridional temperature gradient. The combination of the SRP and the JMD facilitates less water vapor transport from the tropical oceans and anomalous descending motion over SCC, and thus suppresses the precipitation. These findings indicate that May Siberian SWE can be exploited for seasonal predictability of SCC precipitation.
Access options
Buy single article
Instant access to the full article PDF.
US$ 39.95
Tax calculation will be finalised during checkout.
Subscribe to journal
Immediate online access to all issues from 2019. Subscription will auto renew annually.
US$ 119
Tax calculation will be finalised during checkout.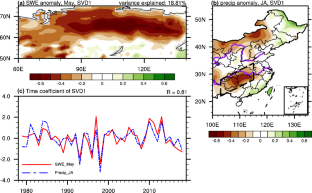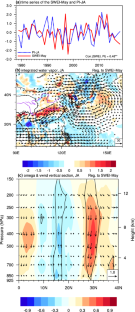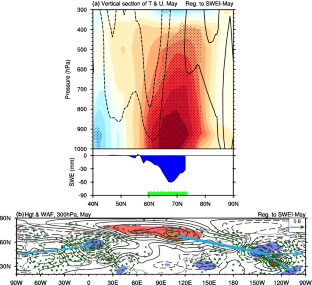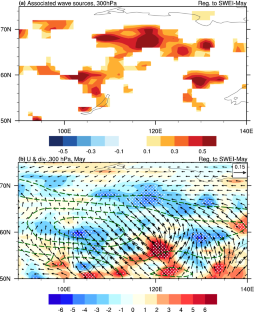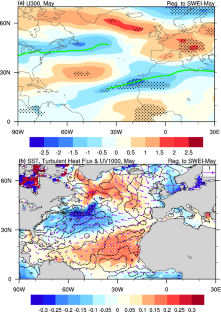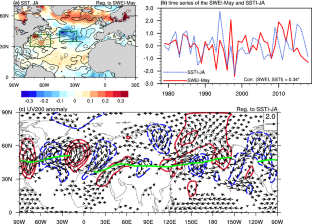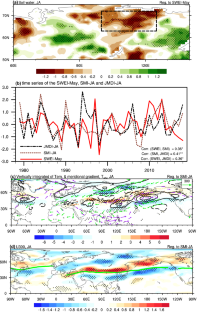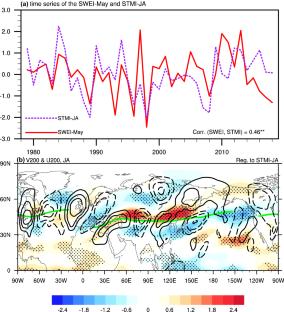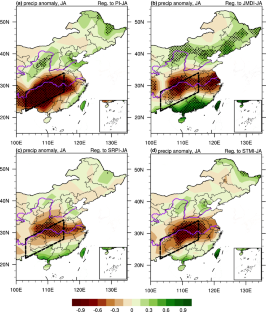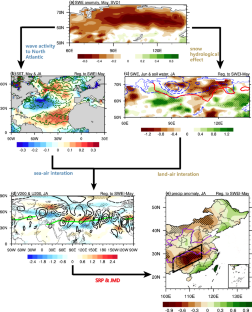 References
Balsamo G et al (2015) ERA-interim/land: a global land surface reanalysis data set. Hydrol Earth Syst Sci 19:389–407

Bamzai A, Marx L (2000) COLA AGCM simulation of the effect of anomalous spring snow over Eurasia on the Indian summer monsoon. Q J R Meteorol Soc 126:2575–2584

Bamzai AS, Shukla J (1999) Relation between Eurasian snow cover, snow depth, and the Indian summer monsoon: an observational study. J Clim 12:3117–3132

Barnett TP, Dümenil L, Schlese U, Roeckner E, Latif M (1989) The effect of Eurasian snow cover on regional and global climate variations. J Atmos Sci 46:661–686

Chen G, Huang R (2012) Excitation mechanisms of the teleconnection patterns affecting the July precipitation in Northwest China. J Clim 25:7834–7851

Cohen J, Rind D (1991) The effect of snow cover on the climate. J Clim 4:689–706

Cohen J, Barlow M, Kushner PJ, Saito K (2007) Stratosphere–troposphere coupling and links with Eurasian land surface variability. J Clim 20:5335–5343

Dash S, Singh G, Shekhar M, Vernekar A (2005) Response of the Indian summer monsoon circulation and rainfall to seasonal snow depth anomaly over Eurasia. Clim Dyn 24:1–10

Dash S, Parth Sarthi P, Panda S (2006) A study on the effect of Eurasian snow on the summer monsoon circulation and rainfall using a spectral GCM. Int J Climatol J R Meteorol Soc 26:1017–1025

Dee DP et al (2011) The ERA-interim reanalysis: configuration and performance of the data assimilation system. Q J R Meteorol Soc 137:553–597

Dickson RR (1984) Eurasian snow cover versus Indian monsoon rainfall—an extension of the Hahn–Shukla results. J Clim Appl Meteorol 23:171–173

Duan H, Wang S, Feng J (2013) The national drought situation and its impacts and causes in the summer 2013. J Arid Meteorol 31:633–640

Fan K, Wang H, Choi Y (2008) A physically-based statistical forecast model for the middle-lower reaches of the Yangtze River Valley summer rainfall. Chin Sci Bull 53:602–609

Fasullo J (2004) A stratified diagnosis of the Indian monsoon—Eurasian snow cover relationship. J Clim 17:1110–1122

Fischer EM, Seneviratne SI, Vidale PL, Lüthi D, Schär C (2007) Soil moisture–atmosphere interactions during the 2003 European summer heat wave. J Clim 20:5081–5099

Fletcher CG, Hardiman SC, Kushner PJ, Cohen J (2009) The dynamical response to snow cover perturbations in a large ensemble of atmospheric GCM integrations. J Clim 22:1208–1222

Groisman PY, Karl TR, Knight RW (1994) Observed impact of snow cover on the heat balance and the rise of continental spring temperatures. Science 263:198–200

Gu W, Li C, Wang X, Zhou W, Li W (2009) Linkage between mei-yu precipitation and North Atlantic SST on the decadal timescale. Adv Atmos Sci 26:101–108

Hahn DG, Shukla J (1976) An apparent relationship between Eurasian snow cover and Indian monsoon rainfall. J Atmos Sci 33:2461–2462

Halder S, Dirmeyer PA (2017) Relation of Eurasian snow cover and Indian summer monsoon rainfall: importance of the delayed hydrological effect. J Clim 30:1273–1289

Henderson GR, Peings Y, Furtado JC, Kushner PJ (2018) Snow–atmosphere coupling in the Northern Hemisphere. Nat Clim Change 8:954–963

Hong X, Lu R (2016) The meridional displacement of the summer Asian Jet, Silk Road pattern, and tropical SST anomalies. J Clim 29:3753–3766

Huang R, Chen W, Yang B, Zhang R (2004) Recent advances in studies of the interaction between the East Asian winter and summer monsoons and ENSO cycle. Adv Atmos Sci 21:407–424

Lin Z, Lu R (2005) Interannual meridional displacement of the East Asian upper-tropospheric jet stream in summer. Adv Atmos Sci 22:199

Linderholm HW et al (2011) Interannual teleconnections between the summer North Atlantic Oscillation and the East Asian summer monsoon. J Geophys Res Atmos 116:D13107

Liu Y, Fan K (2014) An application of hybrid downscaling model to forecast summer precipitation at stations in China. Atmos Res 143:17–30

Lu R-Y, Oh J-H, Kim B-J (2002) A teleconnection pattern in upper-level meridional wind over the North African and Eurasian continent in summer. Tellus A Dyn Meteorol Oceanogr 54:44–55

Meng L, Long D, Quiring SM, Shen Y (2014) Statistical analysis of the relationship between spring soil moisture and summer precipitation in East China. Int J Climatol 34:1511–1523

Orsolini YJ, Zhang L, Peters DH, Fraedrich K, Zhu X, Schneidereit A, van den Hurk B (2015) Extreme precipitation events over north China in August 2010 and their link to eastward-propagating wave-trains across Eurasia: observations and monthly forecasting. Q J R Meteorol Soc 141:3097–3105

Rayner N et al (2003) Global analyses of sea surface temperature, sea ice, and night marine air temperature since the late nineteenth century. J Geophys Res 108:1063–1082

Robock A, Mu M, Vinnikov K, Robinson D (2003) Land surface conditions over Eurasia and Indian summer monsoon rainfall. J Geophys Res Atmos 108:4131

Rossby T (1996) The North Atlantic current and surrounding waters: at the crossroads. Rev Geophys 34:463–481

Sardeshmukh PD, Hoskins BJ (1988) The generation of global rotational flow by steady idealized tropical divergence. J Atmos Sci 45:1228–1251

Shen H, He S, Wang H (2019) Effect of summer Arctic sea ice on the reverse August precipitation anomaly in Eastern China between 1998 and 2016. J Clim 32:3389–3407

Sun B (2017) Seasonal evolution of the dominant modes of the Eurasian snowpack and atmospheric circulation from autumn to the subsequent spring and the associated surface heat budget. Atmos Ocean Sci Lett 10:191–197

Sung MK, Kwon WT, Baek HJ, Boo KO, Lim GH, Kug JS (2006) A possible impact of the North Atlantic Oscillation on the east Asian summer monsoon precipitation. Geophys Res Lett 33:L21713

Takala M et al (2011) Estimating northern hemisphere snow water equivalent for climate research through assimilation of space-borne radiometer data and ground-based measurements. Remote Sens Environ 115:3517–3529

Takaya K, Nakamura H (2001) A formulation of a phase-independent wave-activity flux for stationary and migratory quasigeostrophic eddies on a zonally varying basic flow. J Atmos Sci 58:608–627

Tian B, Fan K (2012) Relationship between the late spring NAO and summer extreme precipitation frequency in the middle and lower reaches of the Yangtze River. Atmos Ocean Sci Lett 5:455–460

Walsh JE, Jasperson WH, Ross B (1985) Influences of snow cover and soil moisture on monthly air temperature. Mon Weather Rev 113:756–768

Wang H (2002) The instability of the East Asian summer monsoon–ENSO relations. Adv Atmos Sci 19:1–11

Wang B, Wu R, Fu X (2000) Pacific–East Asian teleconnection: how does ENSO affect East Asian climate? J Clim 13:1517–1536

Wang B, Liu J, Yang J, Zhou T, Wu Z (2009) Distinct principal modes of early and late summer rainfall anomalies in East Asia. J Clim 22:3864–3875

Wegmann M, Orsolini Y, Dutra E, Bulygina O, Sterin A, Brönnimann S (2017) Eurasian snow depth in long-term climate reanalyses. The Cryosphere 11:923–935

Wu B, Yang K, Zhang R (2009) Eurasian snow cover variability and its association with summer rainfall in China. Adv Atmos Sci 26:31–44

Xie P, Arkin PA (1997) Global precipitation: a 17-year monthly analysis based on gauge observations, satellite estimates, and numerical model outputs. Bull Am Meteorol Soc 78:2539–2558

Xie S-P, Hu K, Hafner J, Tokinaga H, Du Y, Huang G, Sampe T (2009) Indian ocean capacitor effect on Indo–Western Pacific climate during the summer following El Niño. J Clim 22:730–747

Xu L, Dirmeyer P (2011) Snow-atmosphere coupling strength in a global atmospheric model. Geophys Res Lett. https://doi.org/10.1029/2011GL048049

Xu L, Dirmeyer P (2013) Snow–atmosphere coupling strength. Part II: albedo effect versus hydrological effect. J Hydrometeorol 14:404–418

Xu B, Chen H, Sun S, Gao C (2018) Large discrepancy between measured and remotely sensed snow water equivalent in the northern Europe and western Siberia during boreal winter. Theor Appl Climatol 137:133–140

Yang J, Liu Q, Xie SP, Liu Z, Wu L (2007) Impact of the Indian Ocean SST basin mode on the Asian summer monsoon. Geophys Res Lett 34:L02708

Yasunari T, Kitoh A, Tokioka T (1991) Local and remote responses to excessive snow mass over Eurasia appearing in the northern spring and summer climate. J Meteorol Soc Jpn Ser II 69:473–487

Yim S-Y, Jhun J-G, Lu R, Wang B (2010) Two distinct patterns of spring Eurasian snow cover anomaly and their impacts on the East Asian summer monsoon. J Geophys Res 115:D22113

Zhang R, Zuo Z (2011) Impact of spring soil moisture on surface energy balance and summer monsoon circulation over East Asia and precipitation in East China. J Clim 24:3309–3322

Zhang YL, Li BY, Zheng D (2002) A discussion on the boundary and area of the Tibetan Plateau in China (Chinese). Geogr Res 21:1–8

Zhang R, Zhang R, Zuo Z (2017) Impact of Eurasian spring snow decrement on East Asian summer precipitation. J Clim 30:3421–3437

Zuo Z, Yang S, Zhang R, Xiao D, Guo D, Ma L (2015) Response of summer rainfall over China to spring snow anomalies over Siberia in the NCEP CFSv2 reforecast. Q J R Meteorol Soc 141:939–944
Acknowledgements
This study was supported by the National Key R&D Program of China (Grant No. 2016YFA0600703), the National Natural Science Foundation of China (Grant Nos. 41421004, 41605059, 41875118, and 41505073). Fei Li acknowledges support from the RCN Nansen Legacy Project (Grant 276730) and the Bjerknes Climate Prediction Unit with funding from the Trond Mohn Foundation (Grant BFS2018TMT01). Yvan J. Orsolini acknowledges support from the Research Council of Norway (Grant No. SNOWGLACE #244166).
Additional information
Publisher's Note
Springer Nature remains neutral with regard to jurisdictional claims in published maps and institutional affiliations.
Electronic supplementary material
Below is the link to the electronic supplementary material.
About this article
Cite this article
Shen, H., Li, F., He, S. et al. Impact of late spring Siberian snow on summer rainfall in South-Central China. Clim Dyn 54, 3803–3818 (2020). https://doi.org/10.1007/s00382-020-05206-5
Received:

Accepted:

Published:

Issue Date:
Keywords
Siberian snow water equivalent

Precipitation in South-Central China

Sea surface temperature over the North Atlantic

Siberian soil moisture

The Silk Road pattern

The meridional displacement of the Asian jet