Abstract
This study examines the West Pacific (WP) pattern, one of the primary modes of low-frequency variability during boreal winter, isolated in 11 global climate model seasonal hindcasts. WP mode separation are verified using three metrics: selected mode number, explained variance, and pattern correlation coefficient of the loading vector. When it comes to the pattern reproducibility, it turns out that the WP is tightly linked to the Atlantic jet and stationary wave. To diagnose details of mean biases in terms of WP reproducibility, atmospheric mean fields are composited for two groups: one group replicates well the key feature, a north–south dipole pattern, while the other manifests considerable displacements and magnitude disparities. The group with a lower pattern correspondence to the observation shows noticeable biases with the southeastward-shifted Atlantic dipole of the stationary wave and downstream-expanded Atlantic jet, which is attributed to the increase in meridional gradient of near surface temperature and resultant enhanced local baroclinicity. Magnified jet tail in the eastern North Atlantic (NA) can intensify the barotropic energy conversion thereby the wave energy actively passes toward both east and west. The excessive wave energy over the Arabian Peninsula and the central North Pacific can be favorable for the formation of a ridge, therefore it possibly leads to disorganized WP patterns at both ends of NA basin. A series of analysis suggests the importance of a realistic winter climatology simulation over NA for better WP representation through the interaction between different scales as well as different basins.
Access options
Buy single article
Instant access to the full article PDF.
US$ 39.95
Tax calculation will be finalised during checkout.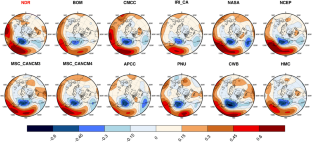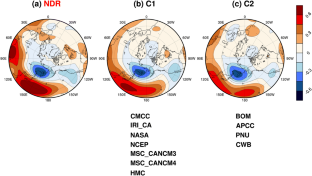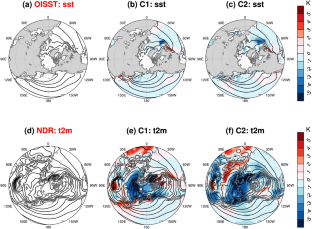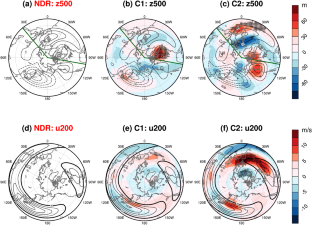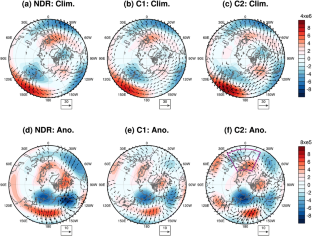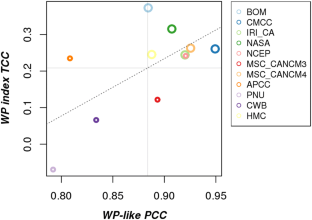 References
Barnston A, Livezey R (1987) Classification, seasonality and persistence of low-frequency atmospheric circulation patterns. Mon Weather Rev 115:1083–1126

Baxter S, Nigam S (2015) Key role of the North Pacific Oscillation-West Pacific pattern in generating the extreme 2013/14 North American winter. J Clim 28:8109–8117. https://doi.org/10.1175/JCLI-D-14-00726.1

Black RX, Dole RM (1993) The dynamics of large-scale cyclogenesis over the North Pacific Ocean. J Atmos Sci 50:421–442

Cai W, Wu L, Lengaigne M et al (2019) Pantropical climate interactions. Science 363:eaav4236

Chang EKM (2009) Diabatic and orographic forcing of northern winter stationary waves and storm tracks. J Clim 22:670–688

Chang CP, Harr P, Ju J (2001) Possible roles of Atlantic circulations on the weakening Indian monsoon rainfall–ENSO relationship. J Clim 14:2376–2380

Dee DP, Uppala SM, Simmons AJ et al (2011) The ERA-Interim reanalysis: configuration and performance of the data assimilation system. Q J R Meteorol Soc 137:553–597

Ding H, Greatbatch RJ, Latif M, Park W (2015a) The impact of sea surface temperature bias on equatorial Atlantic interannual variability in partially coupled model experiments. Geophys Res Lett 42:5540–5546. https://doi.org/10.1002/2015GL064799

Ding H, Keenlyside N, Latif M et al (2015b) The impact of mean state errors on equatorial Atlantic interannual variability in a climate model. J Geophys Res Ocean 120:1133–1151. https://doi.org/10.1002/2014JC010384

Evans KJ, Black RX (2003) Piecewise tendency diagnosis of weather regime transitions. J Atmos Sci 60:1941–1959

Franzke C, Feldstein SB, Lee S (2011) Synoptic analysis of the Pacific-North American teleconnection pattern. Q J R Meteorol Soc 137:329–346. https://doi.org/10.1002/qj.768

Ham Y-G, Kug J-S (2015) Role of north tropical atlantic SST on the ENSO simulated using CMIP3 and CMIP5 models. Clim Dyn 45:3103–3117

Held IM, Ting M, Wang H (2002) Northern winter stationary waves: theory and modeling. J Clim 15:2125–2144. https://doi.org/10.1007/s00382-020-05198-2

Honda M, Yamane S, Nakamura H (2007) Inter-basin link between the North Pacific and North Atlantic in the upper tropospheric circulation: Its dominance and seasonal dependence. J Meteorol Soc Japan Ser II 85:899–908

Hsu H-H, Wallace JM (1985) Vertical structure of wintertime teleconnection patterns. J Atmos Sci 42:1693–1710. https://doi.org/10.1175/1520-0469(1985)042%3c1693:VSOWTP%3e2.0.CO;2

Kalnay EC, Kanamitsu M, Kistler R et al (1996) The NCEP/NCAR 40-year reanalysis project. Bull Am Meteorol Soc 77:437–471

Kanamitsu M, Ebisuzaki W, Woollen J et al (2002) Ncep–doe amip-ii reanalysis (r-2). Bull Am Meteorol Soc 83:1631–1644

Lau KM, Boyle JS (1987) Tropical and extratropical forcing of the large-scale circulation: a diagnostic study. Mon Weather Rev 115:400–428. https://doi.org/10.1175/1520-0493(1987)115%3c0400:TAEFOT%3e2.0.CO;2

Lee Y, Black RX (2013) Boreal winter low-frequency variability in CMIP5 models. J Geophys Res Atmos 118:6891–6904

Linkin ME, Nigam S (2008) The North Pacific Oscillation-west Pacific teleconnection pattern: mature-phase structure and winter impacts. J Clim 21:1979–1997. https://doi.org/10.1175/2007JCLI2048.1

Luo D, Gong T, Zhong L (2008) Dynamical relationship between the phase of North Atlantic Oscillations and the meridional excursion of a preexisting jet: an analytical study. J Atmos Sci 65:1838–1858. https://doi.org/10.1175/2007JAS2560.1

MacLachlan C, Arribas A, Peterson KA et al (2015) Global seasonal forecast system version 5 (GloSea5): a high-resolution seasonal forecast system. Q J R Meteorol Soc 141:1072–1084. https://doi.org/10.1002/qj.2396

Mo KC, Livezey RE (1986) Tropical-extratropical geopotential height teleconnections during the Northern Hemisphere winter. Mon Weather Rev 114:2488–2515. https://doi.org/10.1175/1520-0493(1986)114%3c2488:TEGHTD%3e2.0.CO;2

Nakamura H, Tanaka M, Wallace JM (1987) Horizontal structure and energetics of Northern Hemisphere wintertime teleconnection patterns. J Atmos Sci 44:3377–3391. https://doi.org/10.1175/1520-0469(1987)044%3c3377:HSAEON%3e2.0.CO;2

Plumb RA (1985) On the three-dimensional propagation of stationary waves. J Atmos Sci 42:217–229

Reynolds RW, Rayner NA, Smith TM et al (2002) An improved in situ and satellite SST analysis for climate. J Clim 15:1609–1625

Richter I, Xie S-P, Behera SK et al (2014) Equatorial Atlantic variability and its relation to mean state biases in CMIP5. Clim Dyn 42:171–188. https://doi.org/10.1007/s00382-012-1624-5

Robinson DP, Black RX (2005) The statistics and structure of subseasonal midlatitude variability in NASA GSFC GCMs. J Clim 18:3294–3316

Scaife AA, Arribas A, Blockley E et al (2014) Skillful long-range prediction of European and North American winters. Geophys Res Lett 41:2514–2519. https://doi.org/10.1002/2014GL059637

Seber GAF (2009) Multivariate observations. Wiley, New York

Simmons AJ, Wallace JM, Branstator GW (1983) Barotropic wave propagation and instability, and atmospheric teleconnection patterns. J Atmos Sci 40:1363–1392

Smith DM, Scaife AA, Eade R, Knight JR (2016) Seasonal to decadal prediction of the winter North Atlantic Oscillation: emerging capability and future prospects. Q J R Meteorol Soc 142:611–617. https://doi.org/10.1002/qj.2479

Spath H (1985) The cluster dissection and analysis theory fortran programs examples. Prentice-Hall Inc, Upper Saddle River

Takaya K, Nakamura H (2001) A formulation of a phase-independent wave-activity flux for stationary and migratory quasigeostrophic eddies on a zonally varying basic flow. J Atmos Sci 58:608–627

Thompson DWJ, Wallace JM (1998) The Arctic Oscillation signature in the wintertime geopotential height and temperature fields. Geophys Res Lett 25:1297–1300

Wallace JM, Gutzler DS (1981) Teleconnections in the geopotential height field during the Northern Hemisphere winter. Mon Weather Rev 109:784–812

Wang C, Kucharski F, Barimalala R, Bracco A (2009) Teleconnections of the tropical Atlantic to the tropical Indian and Pacific Oceans: a review of recent findings. Meteorol Zeitschrift 18:445–454

Westby RM, Lee Y-Y, Black RX (2013) Anomalous temperature regimes during the cool season: long-term trends, low-frequency mode modulation, and representation in CMIP5 simulations. J Clim 26:9061–9076

Zebiak SE (1993) Air-sea interaction in the equatorial Atlantic region. J Clim 6:1567–1586. https://doi.org/10.1175/1520-0442(1993)006%3c1567:AIITEA%3e2.0.CO;2
Acknowledgements
This research was supported by the APEC climate center.
Additional information
Publisher's Note
Springer Nature remains neutral with regard to jurisdictional claims in published maps and institutional affiliations.
About this article
Cite this article
Lee, YY., Oh, JH. West Pacific teleconnection pattern in dynamical seasonal predictions: how is it connected to the Atlantic atmospheric mean bias?. Clim Dyn 54, 3671–3683 (2020). https://doi.org/10.1007/s00382-020-05198-2
Received:

Accepted:

Published:

Issue Date:
Keywords
West Pacific teleconnection pattern

Dynamical seasonal prediction

Inter-model comparison

Low-frequency climate variability

Boreal winter climatological mean bias

Atlantic jet

Atlantic stationary wave