Abstract
This paper aims to identify those regions within the South American continent where the Regional Climate Models (RCMs) have the potential to add value (PAV) compared to their coarser-resolution global forcing. For this, we used a spatial-scale filtering method based on the wavelet theory to distinguish the regional climatic signal present in atmospheric surface fields from observed data (CPC and TRMM) and 6 RCM simulations belonging to the CORDEX Project. The wavelet used for filtering was Haar wavelet, but a comparative analysis with Daubechies 4 wavelet indicated that meteorological fields or regional indices were not very sensitive to the wavelet selected. Once the longer wavelengths were filtered, we focused on analyzing the spatial variability of extreme rainfall and the spatiotemporal variability of maximum and minimum surface air temperature on a daily basis. The results obtained suggest essential differences in the spatial distribution of the small-scale signal of extreme precipitation between TRMM and regional models, together with a large dispersion between models. While TRMM and CPC register a large signal throughout the continent, the RCMs place it over the Andes Cordillera and some over tropical South America. PAV signal for surface air temperature was found over the Andes Cordillera and the Brazilian Highlands, which are regions characterized by complex topography, and also on the coasts of the continent. The signal came specially from the small-scale stationary component. The transient part is much smaller than the stationary one, except over la Plata Basin where they are of the same order of magnitude. Also, the RCMs and CPC showed a large spread between them in representing this transient variability. The results confirm that RCMs have the potential to add value in the representation of extreme precipitation and the mean surface temperature in South America. However, this condition is not applicable throughout the whole continent but is particularly relevant in those terrestrial regions where the surface forcing is strong, such as the Andes Cordillera or the coasts of the continent.
Access options
Buy single article
Instant access to the full article PDF.
USD 39.95
Price excludes VAT (USA)
Tax calculation will be finalised during checkout.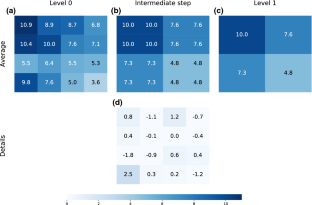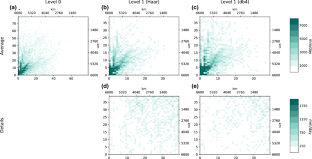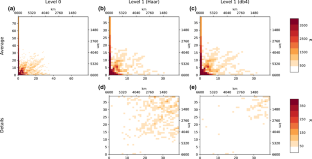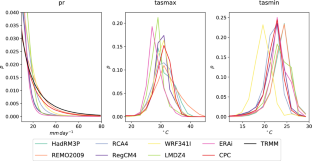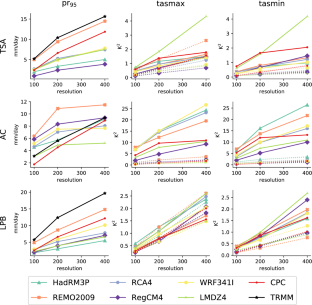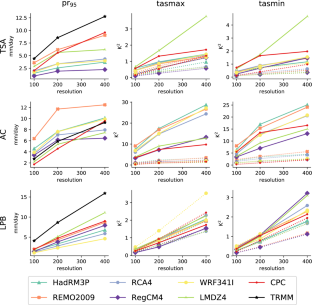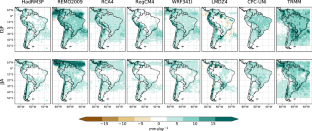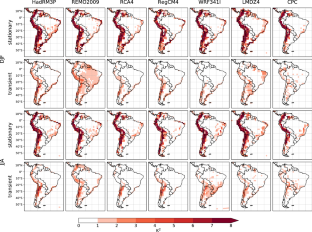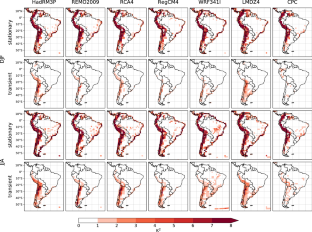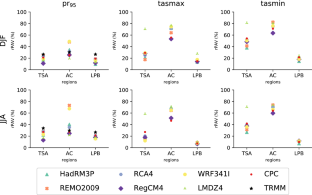 References
Abdalla S, Isaksen L, Janssen P, Wedi N (2013) Effective spectral resolution of ecmwf atmospheric forecast models. ECMWF Newslett 137:19–22

AghaKouchak A, Behrangi A, Sorooshian S, Hsu K, Amitai E (2011) Evaluation of satellite-retrieved extreme precipitation rates across the central United States. J Geophys Res 116(D2):D02115

Bettge TW, Baumhefner DP (1980) A method to decompose the spatial characteristics of meteorological variables within a limited domain. Mon Weather Rev 108(7):843–854

Bielli S, Laprise R (2006) A methodology for the regional-scale-decomposed atmospheric water budget: application to a simulation of the canadian regional climate model nested by NCEP-NCAR reanalyses over North America. Mon Weather Rev 134(3):854–873

Bielli S, Laprise R (2007) Time mean and variability of the scale-decomposed atmospheric water budget in a 25-year simulation of the Canadian Regional Climate Model over North America. Clim Dyn 29(7–8):763–777

Bresson R, Laprise R (2009) Scale-decomposed atmospheric water budget over North America as simulated by the Canadian Regional Climate Model for current and future climates. Clim Dyn 36(1–2):365–384

Carril AF, Menendez C, Nunez M, Treut HL (2002) Mean flow-transient perturbation interaction in the Southern Hemisphere: a simulation using a variable-resolution GCM. Clim Dyn 18(8):661–673

Coppola E, Giorgi F, Raffaele F, Fuentes-Franco R, Giuliani G, Lopart-Pereira M, Mamgain A, Mariotti L, Diro GT, Torma C (2014) Present and future climatologies in the phase I CREMA experiment. Clim Change 125(1):23–38

Daubechies I (1988) Orthonormal bases of compactly supported wavelets. Commun Pure Appl Math 41(7):909–996

Dee DP, Uppala SM, Simmons AJ, Berrisford P, Poli P, Kobayashi S, Andrae U, Balmaseda MA, Balsamo G, Bauer P, Bechtold P, Beljaars ACM, van de Berg L, Bidlot J, Bormann N, Delsol C, Dragani R, Fuentes M, Geer AJ, Haimberger L, Healy SB, Hersbach H, Hólm EV, Isaksen L, Kållberg P, Köhler M, Matricardi M, McNally AP, Monge-Sanz BM, Morcrette J-J, Park B-K, Peubey C, de Rosnay P, Tavolato C, Thépaut J-N, Vitart F (2011) The ERA-Interim reanalysis: configuration and performance of the data assimilation system. Quart J R Meteorol Soc 137(656):553–597

Denis B, Côté J, Laprise R, Olume V (2002a) Spectral decomposition of two-dimensional atmospheric fields on limited-area domains using the Discrete Cosine Transform (DCT). Mon Weather Rev 130(7):1812–1829

Denis B, Laprise R, Caya D, Côté J (2002b) Downscaling ability of one-way nested regional climate models: the Big-Brother Experiment. Clim Dyn 18(8):627–646

Desrochers PR, Yee SYK (1999) Wavelet applications for mesocyclone identification in doppler radar observations. J Appl Meteorol 38(7):965–980

Di Luca A, de Elía R, Laprise R (2012) Potential for added value in precipitation simulated by high-resolution nested Regional Climate Models and observations. Clim Dyn 38(5–6):1229–1247

Di Luca A, de Elía R, Laprise R (2013a) Potential for added value in temperature simulated by high-resolution nested RCMs in present climate and in the climate change signal. Clim Dyn 40(1–2):443–464

Di Luca A, de Elía R, Laprise R (2013b) Potential for small scale added value of RCM's downscaled climate change signal. Clim Dyn 40(3–4):601–618

Di Luca A, Argüeso D, Evans JP, de Elía R, Laprise R (2016) Quantifying the overall added value of dynamical downscaling and the contribution from different spatial scales. J Geophys Res 121(4):1575–1590

Dirmeyer PA, Cash BA, Kinter JL, Jung T, Marx L, Satoh M, Stan C, Tomita H, Towers P, Wedi N, Achuthavarier D, Adams JM, Altshuler EL, Huang B, Jin EK, Manganello J (2012) Simulating the diurnal cycle of rainfall in global climate models: resolution versus parameterization. Clim Dyn 39(1–2):399–418

Domingues MO, Mendes O, da Costa AM (2005) On wavelet techniques in atmospheric sciences. Adv Space Res 35(5):831–842

Errico RM (1985) Spectra computed from a limited area grid. Mon Weather Rev 113(9):1554–1562

Falco M, Carril AF, Menéndez CG, Zaninelli PG, Li LZ (2018) Assessment of CORDEX simulations over South America: added value on seasonal climatology and resolution considerations. Clim Dyn 52:4771–4786

Feser F (2006) Enhanced detectability of added value in limited-area model results separated into different spatial scales. Mon Weather Rev 134(8):2180–2190

Feser F, von Storch H (2005) A spatial two-dimensional discrete filter for limited-area-model evaluation purposes. Mon Weather Rev 133(6):1774–1786

Feser F, Rockel B, von Storch H, Winterfeldt J, Zahn M (2011) Regional climate models add value to global model data: a review and selected examples. Bull Am Meteorol Soc 92(9):1181–1192

Gao X, Xu Y, Zhao Z, Pal JS, Giorgi F (2006) On the role of resolution and topography in the simulation of East Asia precipitation. Theor Appl Climatol 86(1–4):173–185

Gibba P, Sylla MB, Okogbue EC, Gaye AT, Nikiema M, Kebe I (2018) State-of-the-art climate modeling of extreme precipitation over Africa: analysis of CORDEX added-value over CMIP5. Theor Appl Climatol 137:1041–1057

Giorgi F (2006) Regional climate modeling: status and perspectives. J Phys IV (Proceedings) 139(1):101–118

Giorgi F, Gutowski WJ (2015) Regional dynamical downscaling and the CORDEX initiative. Ann Rev Environ Resour 40(1):467–490

Giorgi F, Coppola E, Solmon F, Mariotti L, Sylla M, Bi X, Elguindi N, Diro G, Nair V, Giuliani G, Turuncoglu U, Cozzini S, Güttler I, O'Brien T, Tawfik A, Shalaby A, Zakey A, Steiner A, Stordal F, Sloan L, Brankovic C (2012) RegCM4: model description and preliminary tests over multiple CORDEX domains. Clim Res 52:7–29

Giorgi F, Coppola E, Raffaele F, Diro GT, Fuentes-Franco R, Giuliani G, Mamgain A, Llopart MP, Mariotti L, Torma C (2014) Changes in extremes and hydroclimatic regimes in the CREMA ensemble projections. Clim Change 125(1):39–51

Gordon C, Cooper C, Senior CA, Banks H, Gregory JM, Johns TC, Mitchell JFB, Wood RA (2000) The simulation of SST, sea ice extents and ocean heat transports in a version of the Hadley Centre coupled model without flux adjustments. Clim Dyn 16(2–3):147–168

Güttler I, Stepanov I, Branković C, Nikulin G, Jones C (2015) Impact of horizontal resolution on precipitation in complex orography simulated by the regional climate model RCA3*. Mon Weather Rev 143(9):3610–3627

Hong S-Y, Kanamitsu M (2014) Dynamical downscaling: fundamental issues from an NWP point of view and recommendations. Asia-Pac J Atmos Sci 50(1):83–104

Hourdin F, Musat I, Bony S, Braconnot P, Codron F, Dufresne J-L, Fairhead L, Filiberti M-A, Friedlingstein P, Grandpeix J-Y, Krinner G, LeVan P, Li Z-X, Lott F (2006) The LMDZ4 general circulation model: climate performance and sensitivity to parametrized physics with emphasis on tropical convection. Clim Dyn 27(7–8):787–813

Huffman GJ, Bolvin DT, Nelkin EJ, Wolff DB, Adler RF, Gu G, Hong Y, Bowman KP, Stocker EF (2007) The TRMM Multisatellite Precipitation Analysis (TMPA): quasi-global, multiyear, combined-sensor precipitation estimates at fine scales. J Hydrometeorol 8(1):38–55

IPCC (2013) Climate Change 2013: the physical science basis. In: Stocker TF, Qin D, Plattner G-K, Tignor M, Allen SK, Boschung J, Nauels A, Xia Y (eds) Contribution of working group I to the fifth assessment report of the intergovernmental panel on climate change. Cambridge University Press, Cambridge

Jacob D, Elizalde A, Haensler A, Hagemann S, Kumar P, Podzun R, Rechid D, Remedio AR, Saeed F, Sieck K, Teichmann C, Wilhelm C (2012) Assessing the transferability of the regional climate model REMO to different COordinated regional climate downscaling EXperiment (CORDEX) regions. Atmosphere 3(4):181–199

Jameson L, Waseda T (2000) Error estimation using wavelet analysis for data assimilation: EEWADAi*. J Atmos Ocean Technol 17(9):1235–1246

Kanamitsu M, DeHaan L (2011) The added value index: a new metric to quantify the added value of regional models. J Geophys Res 116(D11):D11106

Kupiainen M, Jansson C, Samuelsson P, Jones C (2014) Rossby Centre regional atmospheric model, RCA4. Rossby Center News Letter, Rossby

Laprise R (2003) Resolved scales and nonlinear interactions in limited-area models. J Atmos Sci 60(5):768–779

Laprise R (2008) Regional climate modelling. J Comput Phys 227(7):3641–3666

Lee J-W, Hong S-Y (2013) Potential for added value to downscaled climate extremes over Korea by increased resolution of a regional climate model. Theor Appl Climatol 117(3–4):667–677

Lenz C-J, Früh B, Adalatpanah FD (2017) Is there potential added value in COSMO–CLM forced by ERA reanalysis data? Clim Dyn 49(11–12):4061–4074

Liu S, Xue M, Xu Q (2007) Using wavelet analysis to detect tornadoes from doppler radar radial-velocity observations. J Atmos Ocean Technol 24(3):344–359

Lo JC-F, Yang Z-L, Pielke RA (2008) Assessment of three dynamical climate downscaling methods using the Weather Research and Forecasting (WRF) model. J Geophys Res 113(D9):D09112

Lucas-Picher P, Laprise R, Winger K (2016) Evidence of added value in North American regional climate model hindcast simulations using ever-increasing horizontal resolutions. Clim Dyn 48:2611–2633

Mallat SG (1989) A theory for multiresolution signal decomposition: the wavelet representation. IEEE Trans Pattern Anal Mach Intell 11(7):674–693

Marchesiello P, Capet X, Menkes C, Kennan SC (2011) Submesoscale dynamics in tropical instability waves. Ocean Model 39(1–2):31–46

Menéndez CG, Saulo AC, Li Z-X (2001) Simulation of South American wintertime climate with a nesting system. Clim Dyn 17(2–3):219–231

Mishra SK, Sahany S, Salunke P (2017) CMIP5 vs. CORDEX over the Indian region: how much do we benefit from dynamical downscaling? Theor Appl Climatol 133:1133–1141

National Geophysical Data Center (2006) 2-minute Gridded Global Relief Data (ETOPO2) v2. National Geophysical Data Center, Colorado

Parker RJ, Reich BJ, Sain SR, Parker RJ, Reich BJ, Sain SR (2015) A multiresolution approach to estimating the value added by regional climate models. J Clim 28(22):8873–8887

Prömmel K, Geyer B, Jones JM, Widmann M (2010) Evaluation of the skill and added value of a reanalysis-driven regional simulation for Alpine temperature. Int J Climatol 30(5):760–773

Roads J, Chen S, Cocke S, Druyan L, Fulakeza M, LaRow T, Lonergan P, Qian J, Zebiak S (2003) International Research Institute/Applied Research Centers (IRI/ARCs) regional model intercomparison over South America. J Geophys Res 108(D14):4425

Rojas M (2006) Multiply nested regional climate simulation for Southern South America: sensitivity to model resolution. Mon Weather Rev 134(8):2208–2223

Scheel MLM, Rohrer M, Huggel C, Santos Villar D, Silvestre E, Huffman GJ (2011) Evaluation of TRMM Multi-satellite Precipitation Analysis (TMPA) performance in the Central Andes region and its dependency on spatial and temporal resolution. Hydrol Earth Syst Sci 15(8):2649–2663

Shapiro R, Force A, Field LGH (1970) Smoothing, filtering, and boundary effects. Rev Geophys 8(2):359

Shuman FG (1957) Numerical methods in weather prediction: II. Smoothing and filtering. Mon Weather Rev 85(11):357–361

Sifuzzaman M, Islam MR, Ali MZ (2009) Application of wavelet transform and its advantages compared to Fourier transform. J Phys Sci 13:121–134

Skamarock WC (2004) Evaluating mesoscale NWP models using kinetic energy spectra. Mon Weather Rev 132(12):3019–3032

Skamarock WC, Klemp JB, Dudhia J, Gill DO, Barker DM, Wang W, Powers JG (2005) A description of the advanced research WRF version 2

Solman SA, Blazquez J (2019) Multiscale precipitation variability over South America: analysis of the added value of cordex rcm simulations. Clim Dyn 53:1547–1565

Su F, Hong Y, Lettenmaier DP (2008) Evaluation of TRMM Multisatellite Precipitation Analysis (TMPA) and its utility in hydrologic prediction in the La Plata Basin. J Hydrometeorol 9(4):622–640

Xie P, Chen M, Shi W (2010) CPC unified gauge-based analysis of global daily precipitation. American Meteorological Society, Boston

Yano J-I, Moncrieff MW, Wu X, Yamada M (2001) Wavelet analysis of simulated tropical convective cloud systems. Part I: basic analysis. J Atmos Sci 58(8):850–867
Acknowledgements
This work was partially supported by the Argentinean agencies CONICET (PIP 11220150100402CO, PIP 11220110101018), ANPCyT (PICT-2014-0887, PICT-2015-3097, PICT-2014-1480) and UBACyT (20020130100403BA), and by the French National Program LEFE/INSU (AO2015-876370). The first author was supported by CONICET.
Additional information
Publisher's Note
Springer Nature remains neutral with regard to jurisdictional claims in published maps and institutional affiliations.
Electronic supplementary material
Below is the link to the electronic supplementary material.
About this article
Cite this article
Falco, M., Carril, A.F., Li, L.Z.X. et al. The potential added value of Regional Climate Models in South America using a multiresolution approach. Clim Dyn 54, 1553–1569 (2020). https://doi.org/10.1007/s00382-019-05073-9
Received:

Accepted:

Published:

Issue Date:

DOI: https://doi.org/10.1007/s00382-019-05073-9
Keywords
Added value

Regional Climate Model

CORDEX

Wavelet

South America