Abstract
The climate variability in the Western North Pacific (WNP), which is surrounded by densely populated countries, is closely tied to the lives of the people in the East Asia in terms of climate and socioeconomics. Along with global warming, remarkable interannual and interdecadal variations in sea surface temperature (SST) and sea surface height have been observed in the WNP. Here we demonstrated that boreal summer SST variability in the western hemisphere warm pool (WHWP, a.k.a. Atlantic Warm Pool) near the Intra-Americas Sea, which is known as the second largest warm pool on the planet, has considerably contributed to the climate variability in the WNP in subsequent winter. This is possible due to westward propagation of Rossby waves associated with a WHWP-SST warming (cooling) in mid-summer to early fall season, which induces northerly (southerly) wind anomalies over the North Pacific. In the presence of northeasterly mean trade winds, the anomalous meridional winds interact with SST and precipitation anomalies. Such air-sea coupling processes gradually move equatorward and westward along the climatological migration of the Pacific Intertropical Convergence Zone, and it has finally an effect on the climate variability over the WNP in winter. Further diagnosis verifies that WHWP-WNP connection exists not only on interannual time scale but also on decadal time scale. The analysis using state-of-the-art climate models reasonably supports this argument. A better understanding of the WHWP influence is expected to improve forecasts for the WNP climate and assist socioeconomic development in the East Asia.
This is a preview of subscription content, log in to check access.
Access options
Buy single article
Instant access to the full article PDF.
US$ 39.95
Price includes VAT for USA
Subscribe to journal
Immediate online access to all issues from 2019. Subscription will auto renew annually.
US$ 199
This is the net price. Taxes to be calculated in checkout.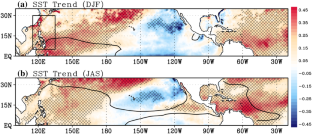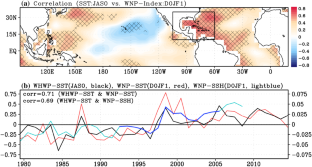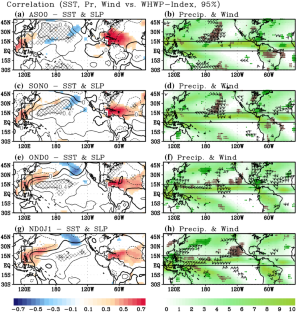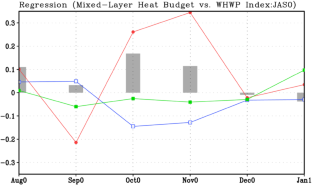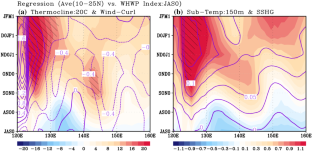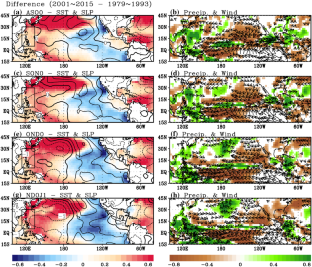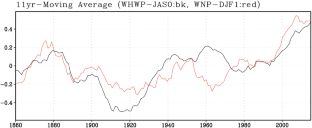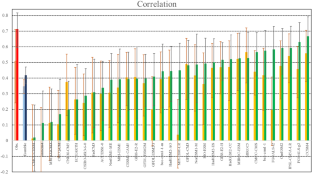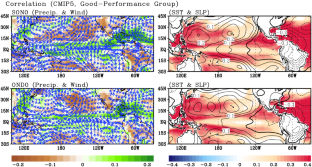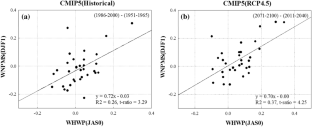 References
Alexander M, Scott J (2002) The influence of ENSO on air-sea interaction in the Atlantic. Geophys Res Lett 29(14). https://doi.org/10.1029/2001GL014347

An SI, Kim JW, Im SH, Kim BM, Park JH (2012) Recent and future sea surface temperature trends in tropical Pacific warm pool and cold tongue regions. Clim Dyn 39:1373–1383

Behringer DW, Xue Y (2004) Evaluation of the global ocean data assimilation system at NCEP: The Pacific Ocean. In: Eighth symposium on integrated observing and assimilation systems for atmosphere, oceans, and land surface, AMS 84th annual meeting, Washington State Convention and Trade Center, Seattle, Washington, pp 11–15

Bond NA, Overland JE, Spillane M, Stabeno P (2003) Recent shifts in the state of the North Pacific. Geophys Res Lett 30(23):2183. https://doi.org/10.1029/2003GL018597

Carton JA, Giese BS, Grodsky SA (2005) Sea level rise and the warming of the oceans in the Simple Ocean Data Assimilation (SODA) ocean reanalysis. J Geophys Res 110:C09006. https://doi.org/10.1029/2004JC002817

Chang P, Fang Y, Saravanan R, Ji L, Seidel H (2006) The cause of the fragile relationship between the Pacific El Niño and the Atlantic Niño. Nature 443:324–328

Chen W, Graf HF, Huang RH (2000) The interannual variability of East Asian Winter Monsoon and its relation to the summer monsoon. Adv Atmos Sci 17(1):48–60

Cheng X, Qi Y, Zhou W (2008) Trends of sea level variations in the Indo-Pacific warm pool. Glob Planet Chang 63:57–66

Chung PH, Li T (2013) Interdecadal relationship between the mean state and El Niño types. J Clim 26:361–379

de Boyer Montégut C, Madec G, Fischer AS, Lazar A, Iudicone D (2004) Mixed layer depth over the global ocean: an examination of profile data and a profile-based climatology. J Geophys Res Oceans 109:C12003. https://doi.org/10.1029/2004JC002378

Deser C, Phillips AS, Alexander MA (2010) Twentieth century tropical sea surface temperature trends revisited. Geophys Res Lett 37:L10701. https://doi.org/10.1029/2010GL043321

Di Lorenzo E et al (2008) North Pacific Gyre oscillation links ocean climate and ecosystem change. Geophys Res Lett 35:L08607. https://doi.org/10.1029/2007GL032838

Enfield DB, Mayer DA (1997) Tropical Atlantic sea surface temperature variability and its relation to El Niño-Southern Oscillation. J Geophys Res: Oceans 102:929–945

Ham YG, Kug JS, Park JY, Jin FF (2013a) Sea surface temperature in the north tropical Atlantic as a trigger for El Niño/Southern oscillation events. Nat Geosci 6:112–116

Ham YG, Kug JS, Park JY (2013b) Two distinct roles of Atlantic SSTs in ENSO variability: North tropical Atlantic SST and Atlantic Niño. Geophys Res Lett 40:4012–4017. https://doi.org/10.1002/grl.50729

Ham YG, Chikamoto Y, Kug JS, Kimoto M, Mochizuki T (2017) Tropical Atlantic-Korea teleconnection pattern during boreal summer season. Clim Dyn 49:2649–2664

Hamlington B, Leben R, Strassburg M, Kim KY (2014) Cyclostationary empirical orthogonal function sea-level reconstruction. Geosci Data J 1:13–19

Hartmann DL (2015) Pacific sea surface temperature and the winter of 2014. Geophys Res Lett 42:1894–1902

Huffman GJ, Adler RF, Bolvin DT, Gu G (2009) Improving the global precipitation record: GPCP version 2.1. Geophys Res Lett 36:L17808. https://doi.org/10.1029/2009GL040000

Kim S, Kug J‐S (2018) What controls ENSO teleconnection to East Asia? Role of western North Pacific precipitation in ENSO teleconnection to East Asia. J Geophys Res Atmos 123:10406–10422. https://doi.org/10.1029/2018JD028935

Kistler R, Collins W, Saha S, White G, Woollen J, Kalnay E, Chelliah M, Ebisuzaki W, Kanamitsu M, Kousky V (2001) The NCEP–NCAR 50–year reanalysis: Monthly means CD–ROM and documentation. Bull Am Meteorol soc 82:247–267

Leatherman SP, Zhang K, Douglas BC (2000) Sea level rise shown to drive coastal erosion. Eos Trans Am Geophys Union 81:55–57

Li T, Wang B (2005) A review on the western North Pacific monsoon: synoptic-to-interannual variabilities. Terr Atmos Oceanic Sci 16:285–314

Li X, Xie SP, Gille ST, Yoo C (2016) Atlantic-induced pan-tropical climate change over the past three decades. Nat Clim Chang 6:275–279

Lima FP, Wethey DS (2012) Three decades of high-resolution coastal sea surface temperatures reveal more than warming. Nat commun 3:704

Liu Z, Gan J (2012) Variability of the Kuroshio in the East China Sea derived from satellite altimetry data. deep sea research Part I. Oceanographic Res Pap 59:25–36

Lysne JA, Deser C (2002) Wind-driven thermocline variability in the Pacific: a model–data comparison. J Clim 15:829–845

McGregor S, Timmermann A, Stuecker MF, England MH, Merrifield M, Jin FF, Chikamoto Y (2014) Recent Walker circulation strengthening and Pacific cooling amplified by Atlantic warming. Nat Clim Chang 4:888–892

Merrifield MA (2011) A shift in western tropical Pacific sea level trends during the 1990s. J Clim 24:4126–4138

Nitta T (1987) Convective activities in the tropical western Pacific and their impact on the Northern Hemisphere summer circulation. J Meteorol Soc Jap Ser II 65:373–390

Park JH, An SI (2014) The impact of tropical western Pacific convection on the North Pacific atmospheric circulation during the boreal winter. Clim Dyn 43:2227–2238

Park JH, An SI, Kug JS (2017) Interannual variability of western North Pacific SST anomalies and its impact on North Pacific and North America. Clim Dyn 49:3787–3798. https://doi.org/10.1007/s00382-017-3538-8

Park JH, Kug JS, Li T, Behera SK (2018a) Predicting El Niño-Southern oscillation beyond 1-year Lead: effect of western hemisphere warm Pool. Sci Rep 8:14957

Park JH, Li T, Yeh SW, Kim H (2018b) Effect of recent Atlantic warming in strengthening Atlantic–Pacific teleconnection on interannual timescale via enhanced connection with the Pacific meridional mode. Clim Dyn (under revision)

Qiu B (2003) Kuroshio extension variability and forcing of the Pacific decadal oscillations: responses and potential feedback. J Physl Oceanogr 33:2465–2482

Reynolds RW, Rayner NA, Smith TM, Stokes DC, Wang W (2002) An improved in situ and satellite SST analysis for climate. J Clim 15:1609–1625

Reynolds RW, Smith TM, Liu C, Chelton DB, Casey KS, Schlax MG (2007) Daily high-resolution-blended analyses for sea surface temperature. J Clim 20:5473–5496

Son H-Y, Park J-Y, Kug J-S, Yoo J, Kim C-H (2014) Winter precipitation variability over Korean Peninsula associated with ENSO. Clim Dyn 42(11–12):3171–3186

Vimont DJ, Battisti DS, Hirst AC (2001) Footprinting: a seasonal connection between the tropics and mid-latitudes. Geophys Res lett 28:3923–3926

Vimont DJ, Wallace JM, Battisti DS (2003) The seasonal footprinting mechanism in the Pacific: implications for ENSO. J Clim 16:2668–2675

Wang C, Enfield DB (2001) The tropical Western hemisphere warm pool. Geophys Res Lett 28:1635–1638

Wang C, Enfield DB (2003) A further study of the tropical Western Hemisphere warm pool. J Clim 16:1476–1493

Wang B, Wu R, Fu X (2000) Pacific–East Asian teleconnection: how does ENSO affect East Asian climate? J Clim 13:1517–1536

Wang C, Enfield DB, Lee SK, Landsea CW (2006) Influences of the Atlantic warm pool on Western Hemisphere summer rainfall and Atlantic hurricanes. J Clim 19:3011–3028

Wang C, Lee SK, Enfield DB (2008) Atlantic warm pool acting as a link between Atlantic multidecadal oscillation and Atlantic tropical cyclone activity. Geochem Geophys Geosyst 9:Q05V03. https://doi.org/10.1029/2007GC001809

Wang SY, L'Heureux M, Chia HH (2012) ENSO prediction one year in advance using western North Pacific sea surface temperature. Geophys Res Lett 39:L05702. https://doi.org/10.1029/2012GL050909

Wang SY, L'Heureux M, Yoon JH (2013) Are greenhouse gases changing ENSO precursors in the Western North Pacific? J Clim 26:6309–6322

Watanabe M, Kimoto M (1999) Tropical-extratropical connection in the Atlantic atmosphere-ocean variability. Geophys Res Lett 26:2247–2250

Whitmarsh F, Zika D, Czaja A (2015) Ocean heat uptake and the global surface temperature record. Grantham Institute Briefing Paper 14

Williams RG (2012) Oceanography: centennial warming of ocean jets. Nat Clim Chang 2:149–150

Wu L, Cai W, Zhang L, Nakamura H, Timmermann A, Joyce T, McPhaden MJ, Alexander M, Qiu B, Visbeck M (2012) Enhanced warming over the global subtropical western boundary currents. Nat Clim Chang 2:161–166

Yeh SW, Kim CH (2010) Recent warming in the Yellow/East China Sea during winter and the associated atmospheric circulation. Cont Shelf Res 30:1428–1434

Yu JY, Kao Pk, Paek H, Hsu HH, Hung CW, Lu MM, An SI (2015) Linking emergence of the central Pacific El Niño to the Atlantic multidecadal oscillation. J Clim 28:651–662

Yu J, Li T, Tan Z, Zhu Z (2016) Effects of tropical North Atlantic SST on tropical cyclone genesis in the western North Pacific. Clim Dyn 46:865–877

Zhang L, Wang C (2012) Remote influences on freshwater flux variability in the Atlantic warm pool region. Geophys Res Lett 39(19):19714. https://doi.org/10.1029/2012GL053530

Zhang L, Wang C, Song Z, Lee SK (2014) Remote effect of the model cold bias in the tropical North Atlantic on the warm bias in the tropical southeastern Pacific. J Adv Model Earth Sys 6:1016–1026
Acknowledgements
J.-S. Kug is supported by the Korea Meteorological Administration Research and Development Program under Grant KMI2018-03214, and the National Research Foundation of Korea(NRF) Grant funded by the Korea government(MSIT) (NRF-2018R1A5A1024958). This work was jointly supported by NSFC grant 41630423, NSF grant AGS-1565653, NOAA NA18OAR4310298, and JAMSTEC JIJI project. This is SOEST contribution number 10641, and IPRC contribution number 1360.
Additional information
Publisher's Note
Springer Nature remains neutral with regard to jurisdictional claims in published maps and institutional affiliations.
About this article
Cite this article
Park, J., Kug, J., An, S. et al. Role of the western hemisphere warm pool in climate variability over the western North Pacific. Clim Dyn 53, 2743–2755 (2019). https://doi.org/10.1007/s00382-019-04652-0
Received:

Accepted:

Published:

Issue Date:
Keywords
Western North Pacific

Western Hemisphere Warm Pool (Atlantic Warm Pool)

Air-Sea Coupling