Abstract
This study investigates the influence of the Indian Summer Monsoon (ISM) on the atmospheric circulation over the Arabian Peninsula (AP) using the European Centre for Medium Range Weather Forecasts' twentieth century reanalysis (ERA-20C) for the period 1901–2010. After describing the summer climate of the AP using various dynamic and thermodynamic parameters, we investigate the link between extreme ISMs and atmospheric circulation over the AP on inter-annual time scale. Analysis of composites of different parameters during extreme monsoon (strong and weak) years reveals that the ISM plays an important role in the summer circulation over the AP and adjoining regions. The major noticeable changes in modulating circulation during extreme monsoons are: (1) a strengthening of lower tropospheric northerly winds, westerly winds passing through the Tokar Gap, Shamal winds, and the upper tropospheric easterly jet stream during strong ISM; (2) a northward (southward) shift of the subtropical westerly jet stream during strong (weak) monsoon years; (3) the development of strong upper level ridge above the surface thermal low during strong ISM years, which result in a baroclinic structure over the AP and adjoining regions; (4) an increase in adiabatic warming, and hence aridity, over the AP during strong monsoon years, caused by intense subsidence of the middle to upper troposphere due to zonal overturning circulation; and (5) convective instability during strong monsoon years caused by an intensification of the upward motion over the southern AP. Furthermore, during strong monsoons, the availability of excess moisture leads to atmospheric instability, which in turn triggers the formation of clouds that lead to more rainfall over the southwestern AP. Finally, the westward propagation of a Gill-type Rossby waves induced by the ISM play an important role in the variations of the AP summer climate by enhancing the warm core structure over the AP and through their interaction with the midlatitude westerlies during strong monsoons.
Access options
Buy single article
Instant access to the full article PDF.
US$ 39.95
Tax calculation will be finalised during checkout.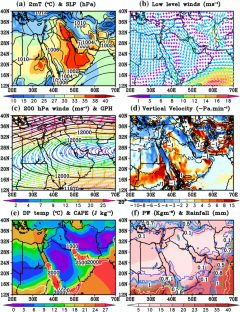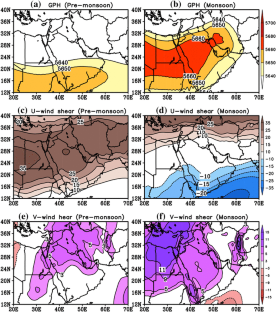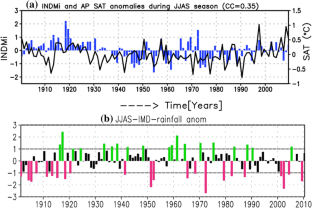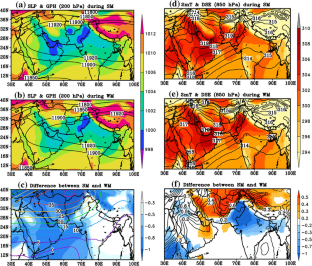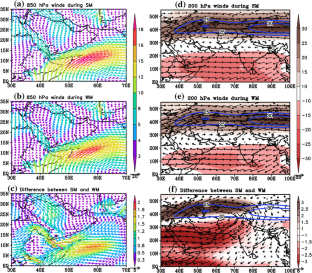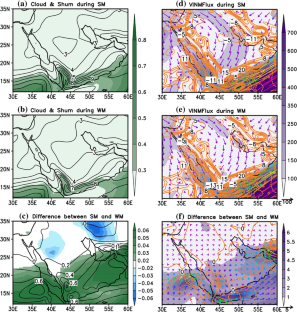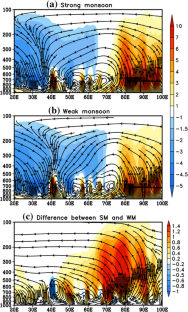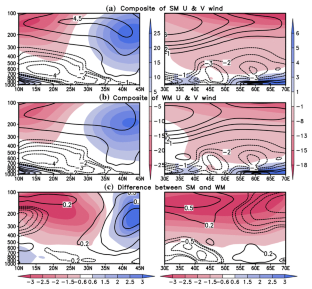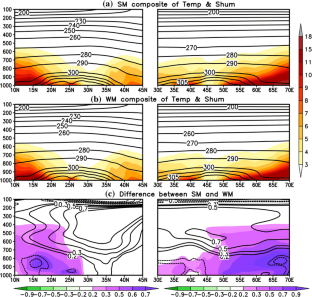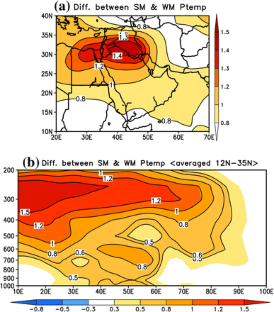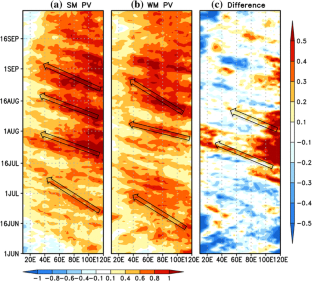 References
Abdullah MA, Al-Mazroui M (1998) Climatological study of the southwestern region of Saudi Arabia. I. Rainfall analysis. Clim Res 9:213–223

Al-Khalaf AA (2015) Multidecadal changes in the relationship between ENSO and wet-season precipitation in the Arabian Peninsula. J Clim 28::4743–4752. https://doi.org/10.1175/JCLI-D-14-00388.1

Attada R, Dasari HP, Chowdary JS, Yadav RK, Omar K, Ibrahim H (2018) Surface air temperature variability over the Arabian Peninsula and its links to circulation patterns. Int J Climatol (Accepted)

Babu CA, Samah AA, Varikoden H (2011) Rainfall climatology over Middle East Region and its variability. Int J Water Resour Arid Environ 1:180–192

Babu CA, Jayakrishnan PR, Varikoden H (2016) Characteristics of precipitation pattern in the Arabian Peninsula and its variability associated with ENSO. Arab J Geosci 9:186. https://doi.org/10.1007/s12517-015-2265-x

Barlow M, Zaitchik B, Paz S, Black E, Evans J, Hoell A (2015) A review of drought in the Middle East and southwest Asia. J Clim. https://doi.org/10.1175/JCLI-D-13-00692.1

Bell GD, Keyser D (1993) Shear and curvature vorticity and potential-vorticity interchanges: interpretation and application to a cutoff cyclone event. Mon Weather Rev 121:76–102

Blake DW, Krishnamurti TN, Low-Nam SV, Fein JS (1983) Heat low over the Saudi Arabian desert during May 1979 (Summer MONEX). Mon Weather Rev 111:1759–1775

Chakraborty A, Behera SK, Mujumdar M, Ohba R, Yamagata T (2006) Diagnosis of tropospheric moisture over Saudi Arabia and influences of IOD and ENSO. Mon Weather Rev 134:598–617. https://doi.org/10.1175/MWR3085.1

Cherchi A, Annamalai H, Masina S, Navarra A, Alessandri A (2016) Twenty-first century projected summer mean climate in the Mediterranean interpreted through the monsoon-desert mechanism. Clim Dyn 47:2361. https://doi.org/10.1007/s00382-015-2968-4

Dasari HP, Langodan S, Viswanadhapalli Y, Vadlamudi BR, Papadopoulos VP, Hoteit I (2018) ENSO influence on the interannual variability of the Red Sea convergence zone and associated rainfall. Int J Climatol 38:761–775. https://doi.org/10.1002/joc.5208

Davis SR, Pratt LJ, Jiang H (2015) The Tokar Gap jet: regional circulation, diurnal variability, and moisture transport based on numerical simulations. J Clim 28(15):5885–5907. https://doi.org/10.1175/JCLI-D-14-00635.1

Ding Q, Wang B (2005) Circumglobal teleconnection in the Northern Hemisphere summer. J Clim 18:3483–3505

Furl C, Sharif HO, Alzahrani M, El Hassan A, Mazari N (2014) Precipitation amount and intensity trends across southwest Saudi Arabia. JAWRA J Am Water Resour Assoc 50(1):74–82

Giannakopoulou MH, Touni R (2012) The Persian Gulf summertime low-level jet over sloping terrain. Q J R Meteorol Soc 138(662):145–157

Gill AE (1980) Some simple solutions for heat induced tropical circulation. Q J R Meteorol Soc 106:447–462

Hasanean HM (2005) Variability of teleconnections between the Atlantic subtropical high and the Indian monsoon low and related impacts on summer temperature over Egypt. Atmos Sci Lett 6:176–182

Hasanean H, Almazroui M (2015) Rainfall: features and variations over Saudi Arabia, a review. Climate 3(3):578–626

Holton J, Hakim GJ (2012) An introduction to dynamic meteorology, vol 88, 5th edn, ISBN: 9780123848673

Hoskins BJ, McIntyre ME, Robertson AW (1985) On the use and significance of isentropic potential vorticity maps. Q J R Meteorol Soc 111:877–946 (Corrigendum 113:402–404)

Huffman GJ, Adler RF, Bolvin DT, Gu GJ, Nelkin EJ, Bowman KP, Hong Y, Stocker EF, Wolff DB (2007) The TRMM multisatellite precipitation analysis (TMPA): quasi-global, multiyear, combined-sensor precipitation estimates at fine scales. J Hydrometeorol 8:38–55

Jennings RP, Singarayer J, Stone EJ et al (2015) The greening of Arabia: multiple opportunities for human occupation of the Arabian Peninsula during the Late Pleistocene inferred from an ensemble of climate model simulations. Quatern Int 382:181–199. https://doi.org/10.1016/j.quaint.2015.01.006

Jiang H, Farrar JT, Beardsley RC, Chen R, Chen C (2009) Zonal surface wind jets across the Red Sea due to mountain gap forcing along both sides of the Red Sea. Geophys Res Lett 36:L19605

Jin Q, Wei J, Yang ZL (2014) Positive response of Indian summer rainfall to Middle East dust. Geophys Res Lett 41:4068–4074. https://doi.org/10.1002/2014GL059980

Kang I-S, Rashid IU, Kucharski F, Almazroui M, Alkhalaf AK (2015) Multidecadal changes in the relationship between ENSO and wet-season precipitation in the Arabian Peninsula. J Clim 28(12):4743–4752

Köppen W (1936) Das geographische System der Klimate. In: Koppen W, Geiger R (eds) Handbuch der Klimatologie, vol 1. GebrBorntrager, Berlin, pp 1–44

Krishnamurthy V, Shukla J (2008) Seasonal persistence and propagation of intraseasonal patterns over the Indian monsoon region. Clim Dyn 30:353–369

Krishnamurti TN, Thomas A, Simon A, Kumar V (2010) Desert air incursions, an overlooked aspect, for the dry spells of the Indian summer monsoon. J Atmos Sci 67:3423–3441. https://doi.org/10.1175/2010JAS3440

Kwarteng AY, Dorvlo AS, Vijaya Kumar GT (2009) Analysis of a 27-year rainfall data (1977–2003) in the Sultanate of Oman. Int J Climatol 29:605–617. https://doi.org/10.1002/joc.1727

Langodan S, Cavaleri L, Vishwanadhapalli Y, Pomaro A, Bertotti L, Hoteit I (2017) The climatology of the Red Sea—part 1: the wind. Int J Climatol 37:4509–4517. https://doi.org/10.1002/joc.5103

Lin H (2009) Global extratropical response to diabatic heating variability of the Asian summer monsoon. J Atmos Sci 66:2697–2713

Lin H, Wu Z (2012) Indian summer monsoon influence on the climate in the North Atlantic–European region. Clim Dyn 39:303–311. https://doi.org/10.1007/s00382-011-1286-8

Lin YL, Liu L, Tang G, Spinks J, Jones W (2013) Origin of the pre-Tropical Strom Debby (2006) African easterly wave-mesoscale convective system. Meteorol Atmos Phys 120:123–144

Masarik MT, Schubert WH (2013) Analytical solutions of the potential vorticity invertibility principle. J Adv Model Earth Syst 5:366–381

Matsuno T (1966) Quasi-geostrophic motions in the equatorial area. J Meteorol Soc Jpn 44(1):25–43

Ortega S, Webster PJ, Toma V, Chang HR (2017) Quasi-biweekly oscillations of the South Asian monsoon and its co-evolution in the upper and lower troposphere. Clim Dyn 49:3159. https://doi.org/10.1007/s00382-016-3503-y

Poli P et al (2016) ERA-20C: an atmospheric reanalysis of the 20th century. J Clim. https://doi.org/10.1175/JCLI-D-15-0556.1

Rajeevan M, Bhate J, Kale JD, Lal B (2006) A high-resolution daily gridded rainfall for the Indian region: analysis of break and active monsoon spells. Curr Sci 91:296–306

Raju A, Parekh A, Kumar P, Gnanaseelan C (2015) Evaluation of the impact of AIRS profiles on prediction of Indian summer monsoon using WRF variational data assimilation system. J Geophys Res Atmos 120:8112–8131. https://doi.org/10.1002/2014JD023024

Ramaswamy C (1962) Breaks in the Indian summer monsoon as a phenomenon of interaction between easterly and the subtropical westerly jet streams. Tellus 14:337–349

Rizou D, Flocas HA, Athanasiadis P, Bartzokas A (2014) Relationship between the Indian summer monsoon and the large-scale circulation variability over the Mediterranean. Atmos Res 152:159–169

Rodwell MJ, Hoskins BJ (1996) Monsoons and the dynamics of deserts. Q J R Meteorol Soc 122:1385–1404

Rodwell MJ, Hoskins BJ (2001) Subtropical anticyclones and summer monsoons. J Clim 14:3192–3211

Schiemann R, Glazirina MG, Schär C (2007) On the relationship between the Indian summer monsoon and river flow in the Aral Sea basin. Geophys Res Lett 34(5):L05706. https://doi.org/10.1029/2006gl028926

Shalaby A, Rappenglueck B, Eltahir E (2015) The climatology of dust aerosol over the Arabian Peninsula. Atmos Chem Phys Discuss 15:1523–1571

Singh P, Vasudevan V, Chowdary JS, Gnanaseelan C (2014) Subseasonal variations of Indian summer monsoon with special emphasis on drought and excess rainfall years. Int J Clim 35:570–582

Spinks J, Lin YL (2015) Variability of the subtropical highs, African easterly jet and easterly wave intensities over North Africa and Arabian Peninsula in late summer. Int J Climatol 35:3540–3555. https://doi.org/10.1002/joc.4226

Spinks J, Lin YL, Mekonnen A (2015) Effects of the subtropical anticyclones over North Africa and Arabian Peninsula on the African easterly jet. Int J Climatol 35:733–745. https://doi.org/10.1002/joc.4017

Trenberth KE, Stepaniak DP, Caron JM (2000) The global monsoon as seen through the divergent atmospheric circulation. J Clim 13:3969–3993

Tyrlis E, Lelieveld J, Steil B (2013) The summer circulation over the eastern Mediterranean and the Middle East: influence of the South Asian monsoon. Clim Dyn 40(5):1103–1123. https://doi.org/10.1007/s00382-012-1528-4

Tyrlis E, Skerlak B, Sprenger M, Wernli H, Zittis G, Lelieveld J (2014) On the linkage between the Asian summer monsoon and tropopause fold activity over the Eastern Mediterranean and the Middle East. J Geophys Res 119:3202–3221

Viste E, Sorteberg A (2011) Moisture transport into the Ethiopian highlands. Int J Climatol. https://doi.org/10.1002/joc.3409

Viúdez A, Haney RL (1996) On the shear and curvature vorticity equations. J Atmos Sci 53(22):3384–3394

Wang B, Wu RG, Lau KM (2001) Interannual variability of the Asian summer monsoon: contrasts between the Indian and the western North Pacific–east Asian monsoons. J Clim 14:4073–4090

Webster PJ, Yang S (1992) Monsoon and ENSO: selectively interactive systems. Q J R Meteorol Soc 118:877–926

Webster PJ, Magana VO, Palmer T, Shukla J, Tomas R, Yanai MU, Yasunari T (1998) Monsoons: processes, predictability, and the prospects for prediction. J Geophys Res Oceans (1978–2012) 103:14451–14510. https://doi.org/10.1029/97JC02719

Wilks D (2006) Statistical methods in the atmospheric sciences: an introduction, 2nd edn. Academic Press, Cambridge

Wu R, Wang B (2001) Multi-stage onset of the summer monsoon over the Western North Pacific. Clim Dyn 17:277–289

Yang S et al (2004) Upstream subtropical signals preceding the Asian summer monsoon circulation. J Clim 17:4213–4229

Yu Y, Notaro M, Kalashnikova OV, Garay MJ (2016) Climatology of summer Shamal wind in the Middle East. J Geophys Res Atmos 121:289–305. https://doi.org/10.1002/2015JD024063

Zarrin A, Ghaemi H, Azadi M, Mofidi A, Mirzaei E (2011) The effect of the Zagros mountains on the formation and maintenance of the Iran anticyclone using RegCM4. Meteor Atmos Phys 112(3–4):91–100

Zhai P, Bower AS (2013) The response of the Red Sea to a strong wind jet near the Tokar Gap in summer. J Geophys Res Oceans 118:422–434. https://doi.org/10.1029/2012JC008444

Ziv B, Saaroni H, Alpert P (2004) The factors governing the summer regime of the eastern Mediterranean. Int J Climatol 24:1859–1871. https://doi.org/10.1002/joc.1113

Ziv B, Saaroni H, Pargament R, Harpaz T, Alpert P (2014) Trends in rainfall regime over Israel, 1975–2010, and their relationship to large-scale variability. Reg Environ Change 14:1751–1764
Acknowledgements
This study was supported by the King Abdullah University of Science and Technology (KAUST), Saudi Arabia and the Saudi ARAMCO-KAUST Marine Environmental Research Center (SAKMERC). It made use of the Supercomputing Laboratory and computer clusters at KAUST. The authors thank the anonymous reviewers for the insightful comments on the manuscript.
About this article
Cite this article
Attada, R., Dasari, H.P., Parekh, A. et al. The role of the Indian Summer Monsoon variability on Arabian Peninsula summer climate. Clim Dyn 52, 3389–3404 (2019). https://doi.org/10.1007/s00382-018-4333-x
Received:

Accepted:

Published:

Issue Date:
Keywords
Arabian Peninsula

Indian Summer Monsoon

Warm core structure

Rossby wave