Abstract
We evaluate the spatio-temporal variability of atmospheric moisture in northern South America. The spatial structure of moisture is discussed in seasonal and interannual time scales. We combine the principal component analysis of moisture flux divergence and the physical information flow to measure the relative influence of global climate phenomena in the leading modes of regional variability. Our results highlight the inherent complexity of spatial structure in this region due to the interaction of the Tropical Andes, the regional circulation changes related to the annual migration of the ITCZ, the low-level jet structures of regional atmospheric transport and the moisture transport from surrounding marine areas. Modes of variability related to oscillations in the tropical and extratropical Atlantic and Tropical Pacific are the most important sources of variability underlying the regional atmospheric moisture. To emphasize ENSO related variability, we propose a seasonal state classification index that unambiguously classifies the local evolution of precipitation in El Niño and La Niña years, showing the occurrence of marked differences in local moisture content in each of these phases.
Access options
Buy single article
Instant access to the full article PDF.
US$ 39.95
Tax calculation will be finalised during checkout.
Subscribe to journal
Immediate online access to all issues from 2019. Subscription will auto renew annually.
US$ 119
Tax calculation will be finalised during checkout.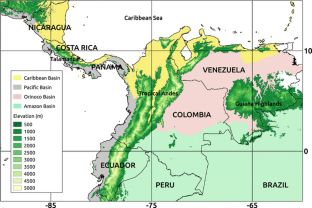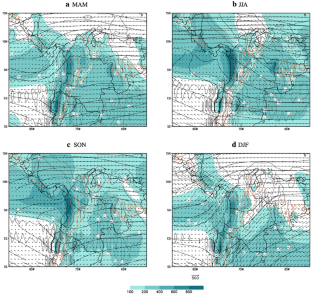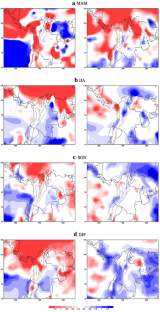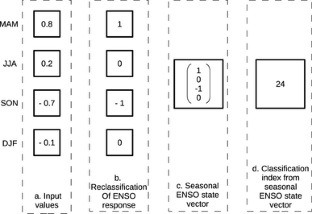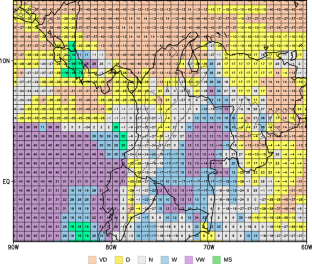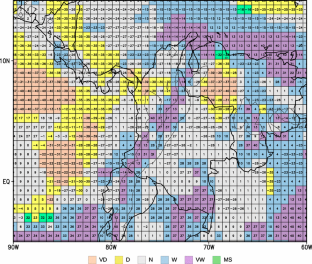 References
Aide TM, Clark ML, Grau HR, López-Carr D, Levy MA, Redo D, Bonilla-Moheno M, Riner G, Andrade-Núñez MJ, Muñiz M (2012) Deforestation and reforestation of latin america and the caribbean (2001–2010). Biotropica 45(2):262–271. https://doi.org/10.1111/j.1744-7429.2012.00908.x

Amador JA (2008) The intra-Americas sea low-level jet. Ann N Y Acad Sci 1146(1):153–188. https://doi.org/10.1196/annals.1446.012

Arias PA, Martínez JA, Vieira SC (2015) Moisture sources to the 2010–2012 anomalous wet season in northern South America. Clim Dyn. https://doi.org/10.1007/s00382-015-2511-7

Ashok K, Behera SK, Rao SA, Weng H, Yamagata T (2007) El Niño Modoki and its possible teleconnection. J Geophys Res. https://doi.org/10.1029/2006jc003798

Barros VR, Field CB, Dokke DJ, Mastrandrea MD, Mach KJ, Bilir TE, Chatterjee M, Ebi KL, Estrada YO, Genova RC, Girma B, Kissel ES, Levy AN, MacCracken S, Mastrandrea PR, White LL (2014) Climate change 2014: impacts, adaptation, and vulnerability–Part B: regional aspects–Contribution of Working Group II to the Fifth Assessment Report of the Intergovernmental Panel on Climate Change. Cambridge University Press, Cambridge

Bass MS, Finer M, Jenkins C, Clinton N, Kreft H, Cisneros-Heredia DF, McCracken SF et al (2010) Global conservation significance of Ecuadors Yasuní national park. PLoS ONE 5(1):e8767. https://doi.org/10.1371/journal.pone.0008767

Bhushan S, Barros AP (2007) A numerical study to investigate the relationship between moisture convergence patterns and orography in central Mexico. J Hydrometeorol 8(6):1264–1284. https://doi.org/10.1175/2007JHM791.1

Buytaert W, Célleri R, Timbe L (2009) Predicting climate change impacts on water resources in the Tropical Andes: effects of gcm uncertainty. Geophys Res Lett. https://doi.org/10.1029/2008GL037048

Capotondi A, Wittenberg AT, Newman M, Lorenzo ED, Yu JY, Braconnot P, Cole J, Dewitte B, Giese B, Guilyardi E, Jin FF, Karnauskas K, Kirtman B, Lee T, Schneider N, Xue Y, Yeh SW (2015) Understanding ENSO diversity. Bull Am Meteorol Soc 96(6):921–938. https://doi.org/10.1175/bams-d-13-00117.1

Carvajal YE, Jiménez HE, Materón HM (1998) Incidencia del fenómeno del Niño en la hidroclimatología del valle del río Cauca-Colombia. B Inst Fr Étud Andines 27(3):743–751

Carvalho LMV, Jones C, Posadas AND, Quiroz R, Bookhagen B, Liebmann B (2012) Precipitation characteristics of the South American Monsoon system derived from multiple datasets. J Clim 25(13):4600–4620. https://doi.org/10.1175/jcli-d-11-00335.1

Chelliah M, Bell GD (2004) Tropical multidecadal and interannual climate variability in the NCEP–NCAR reanalysis. J Clim 17(9):1777–1803. https://doi.org/10.1175/1520-0442(2004) 017%3c1777:tmaicv%3e2.0.co;2

Cheng H, Sinha A, Cruz FW, Wang X, Edwards RL, d'Horta FM, Ribas CC, Vuille M, Stott LD, Auler AS (2013) Climate change patterns in amazonia and biodiversity. Nature Commun 4:1411. https://doi.org/10.1038/ncomms2415

Chiang JCH, Vimont DJ (2004) Analogous pacific and Atlantic Meridional modes of tropical atmosphere-ocean variability. J Clim 17(21):4143–4158. https://doi.org/10.1175/jcli4953.1

Córdoba-Machado S, Palomino-Lemus R, Gámiz-Fortis SR, Castro-Díez Y, Esteban-Parra MJ (2014) Influence of Tropical Pacific SST on seasonal precipitation in Colombia: prediction using el Niño and el niño Modoki. Clim Dyn 44(5–6):1293–1310. https://doi.org/10.1007/s00382-014-2232-3

Córdoba-Machado S, Palomino-Lemus R, Gámiz-Fortis SR, Castro-Díez Y, Esteban-Parra MJ (2015) Assessing the impact of El Niño Modoki on seasonal precipitation in colombia. Glob Planet Change 124:41–61. https://doi.org/10.1016/j.gloplacha.2014.11.003

Dee D, Uppala S, Simmons A, Berrisford P, Poli P, Kobayashi S, Andrae U, Balmaseda M, Balsamo G, Bauer P et al (2011) The ERA-Interim reanalysis: configuration and performance of the data assimilation system. Q J R Meteorol Soc 137(656):553–597

Diaz HF, Bradley RS (eds) (2004) The Hadley circulation: present, past and future. Springer, The Netherlands. https://doi.org/10.1007/978-1-4020-2944-8

Douglass DH, Knox RS, Curtis S, Giese BS, Ray S (2017) Historical phase-locked El Niño episodes. Atmos Clim Sci 07(01):48–64. https://doi.org/10.4236/acs.2017.71005

Drumond A, Marengo J, Ambrizzi T, Nieto R, Moreira L, Gimeno L (2014) The role of the amazon basin moisture in the atmospheric branch of the hydrological cycle: a lagrangian analysis. Hydrol Earth Syst Sci 18(7):2577–2598. https://doi.org/10.5194/hess-18-2577-2014

Durán-Quesada A, Reboita M, Gimeno L (2012) Precipitation in Tropical America and the associated sources of moisture: a short review. Hydrol Sci J 57(4):612–624. https://doi.org/10.1080/02626667.2012.673723

Durán-Quesada AM, Gimeno L, Amador J, Nieto R (2010) Moisture sources for Central America: Identification of moisture sources using a Lagrangian analysis technique. J Geophys Res Atmos. https://doi.org/10.1029/2009JD012455

Enfield DB, Mestas-Nuñez AM, Mayer DA, Cid-Serrano L (1999) How ubiquitous is the dipole relationship in Tropical Atlantic sea surface temperatures? J Geophys Res 104(C4):7841–7848. https://doi.org/10.1029/1998jc900109

Enfield DB, Mestas-Nuñez AM, Trimble PJ (2001) The Atlantic Multidecadal Oscillation and its relation to rainfall and river flows in the continental u.s. Geophys Res Lett 28(10):2077–2080. https://doi.org/10.1029/2000gl012745

Eslava (1994) Climatología del Pacífico Colombiano, 1st edn. Academía Colombiana de Ciencias Geofísicas

Etter A, McAlpine C, Phinn S, Pullar D, Possingham H (2006a) Unplanned land clearing of colombian rainforests: Spreading like disease? Landsc Urban Plan 77(3):240–254. https://doi.org/10.1016/j.landurbplan.2005.03.002

Etter A, McAlpine C, Wilson K, Phinn S, Possingham H (2006b) Regional patterns of agricultural land use and deforestation in Colombia. Agric Ecosyst Environ 114:369–386

Etter A, McAlpine C, Possingham H (2008) Historical patterns and drivers of landscape change in colombia since 1500: a regionalized spatial approach. Ann Assoc Am Geogr 98(1):2–23. https://doi.org/10.1080/00045600701733911

Garreaud R (2009) The Andes climate and weather. Adv Geosci 22(22):3–11

Geer AJ, Bauer P, Lopez P (2008) Lessons learnt from the operational 1d + 4d-var assimilation of rain- and cloud-affected ssm/i observations at ecmwf. QJR Meteorol Soc 134(635):1513–1525

Gonzalez P, Neilson RP, Lenihan JM, Drapek RJ (2010) Global patterns in the vulnerability of ecosystems to vegetation shifts due to climate change. Glob Ecol Biogeogr 19(6):755–768. https://doi.org/10.1111/j.1466-8238.2010.00558.x

Granger CWJ (1969) Investigating causal relations by econometric models and cross-spectral methods. Econometrica 37(3):424. https://doi.org/10.2307/1912791

Grau HR, Aide MT (2008) Globalization and land-use transitions in Latin America. Ecol Soc 13(2):16

Grimm AM, Tedeschi RG (2009) Enso and extreme rainfall events in south america. J Clim 22:1589–1609. https://doi.org/10.1175/2008JCLI2429.1

Hastings DA, Dunbar PK (1998) Development and assessment of the global land one-km base elevation digital elevation model (GLOBE). Int Arch Photogramm Remote Sens Spat Inf Sci 32(4):218–221

Herzog SK, Martínez R, Jrgensen PM, Tiessen H (2011) Climate change and biodiversity in the tropical Andes. Inter-American Institute for Global Change Research (IAI) and Scientific Committee on Problems of the Environment (SCOPE)

Hoyos I, Baquero-Bernal A, Jacob D, Rodríguez BA (2013) Variability of extreme events in the Colombian Pacific and Caribbean catchment basins. Clim Dyn 40(7–8):1985–2003. https://doi.org/10.1007/s00382-012-1487-9

Hoyos I, Arenas-Suárez T, Martínez JA, Rodríguez B (2014) Which climate traits can and cannot be represented by reanalyses and reconstructed data sets over colombia? In: LOTRED-SA 3rd International Symposium Climate change and human impact in central and South America over the last 2000 years Observations and Models, http://www.pages-igbp.org/download/docs/meeting-products/abstracts/2014-lotred-medellin.pdf

Hoyos I, Dominguez F, Cañón-Barriga J, Martínez JA, Nieto R, Gimeno L, Dirmeyer PA (2017) Moisture origin and transport processes in colombia, northern south america. Clim Dyn. https://doi.org/10.1007/s00382-017-3653-6

Hurrell JW (1995) Decadal trends in the North Atlantic Oscillation: regional temperatures and precipitation. Science 269(5224):676–679. https://doi.org/10.1126/science.269.5224.676

IDEAM (2005) Atlas climatológico de Colombia. IDEAM, Bogotá

Insel N, Poulsen CJ, Ehlers TA (2009) Influence of the Andes mountains on South American moisture transport, convection, and precipitation. Clim Dyn. https://doi.org/10.1007/s00382-009-0637-1

Jarvis A, Touval JL, Castro-Schmitz M, Sotomayor L, Graham-Hyman G (2010) Assessment of threats to ecosystems in South America. J Nature Conserv 18(3):180–188. https://doi.org/10.1016/j.jnc.2009.08.003

Jeong HI, Ahn JB (2016) A new method to classify ENSO events into Eastern and Central Pacific types. Int J Climatol 37(4):2193–2199. https://doi.org/10.1002/joc.4813

Johnson NC (2013) How many ENSO flavors can we distinguish? J Clim 26(13):4816–4827. https://doi.org/10.1175/jcli-d-12-00649.1

Josse C, Cuesta F, Navarro G, Barrena V, Cabrera E, Chacón-Moreno E, Ferreira W, Peralvo M, Saito J, Tovar A (2009) Ecosistemas de los Andes del Norte y Centro. Bolivia, Colombia, Ecuador, Perú y Venezuela. Secretaría General de la Comunidad Andina, Programa Regional ECOBONA-Intercooperation, CONDESAN-Proyecto Páramo Andino, Programa BioAndes, EcoCiencia, NatureServe, IAvH, LTA-UNALM, ICAE-ULA, CDCUNALM, RUMBOL SRL

Landauer R (1999) Information is a physical entity. Phys A Stat Mech Appl 263(1–4):63–67. https://doi.org/10.1016/s0378-4371(98)00513-5

Latif M (2001) Tropical pacific/atlantic ocean interactions at multi-decadal time scales. Geophys Res Lett 28(3):539–542. https://doi.org/10.1029/2000gl011837

Lewis WM, Hamilton SK, Lasi MA, Rodriguez M III, Saunders JF (2000) Ecological determinism on the orinoco floodplain. BioScience 50(8):681–692. https://doi.org/10.1641/0006-3568(2000) 050[0681:EDOTOF

Liang XS (2013) Local predictability and information flow in complex dynamical systems. Phys D Nonlinear Phenom 248:1–15. https://doi.org/10.1016/j.physd.2012.12.011

Liang XS (2014) Unraveling the cause-effect relation between time series. Phys Rev E 90(5):052150. https://doi.org/10.1103/physreve.90.052150

Liang XS (2016) Information flow and causality as rigorous notionsab initio. Phys Rev E 94(5):052201. https://doi.org/10.1103/physreve.94.052201

Liang XS, Kleeman R (2007) A rigorous formalism of information transfer between dynamical system components. i. discrete mapping. Phys D Nonlinear Phenom 231(1):1–9. https://doi.org/10.1016/j.physd.2007.04.002

Liebmann B, Camargo SJ, Seth A, Marengo JA, Carvalho LMV, Allured D, Fu R, Vera CS (2007) Onset and end of the rainy season in South America in observations and the ECHAM 4.5 atmospheric general circulation model. J Clim 20(10):2037–2050. https://doi.org/10.1175/jcli4122.1

Lin YL, Chiao S, Wang TA, Kaplan ML, Weglarz RP (2001) Some common ingredients for heavy orographic rainfall. Weather Forecast 16(6):633–660

Lorenz C, Kunstmann H (2012) The hydrological cycle in three state-of-the-art reanalyses: intercomparison and performance analysis. J Hydrometeor 13(5):1397–1420. https://doi.org/10.1175/jhm-d-11-088.1

Mantua NJ, Hare SR (2002) The pacific decadal oscillation. J Oceanog 58(1):35–44. https://doi.org/10.1023/a:1015820616384

Marengo JA, Liebmann B, Kousky VE, Filizola NP, Wainer IC (2001) Onset and end of the rainy season in the brazilian amazon basin. J Clim 14(5):833–852. https://doi.org/10.1175/1520-0442(2001) 014%3c0833:oaeotr%3e2.0.co;2

Marengo JA, Soares WR, Saulo C, Nicolini M (2004) Climatology of the low-level jet east of the Andes as derived from the NCEP-NCAR reanalyses: characteristics and temporal variability. J Clim 17(12):2261–2280

Mesa O, Poveda G, Carvajal L (1997) Introducción al clima de Colombia. Universidad Nacional

Misra V (2009) The amplification of the ENSO forcing over Equatorial Amazon. J Hydrometeorol 10(6):1561–1568. https://doi.org/10.1175/2009jhm1108.1

Muñoz E, Busalacchi AJ, Nigam S, Ruiz-Barradas A (2008) Winter and summer structure of the Caribbean Low-Level Jet. J Clim 21(6):1260–1276. https://doi.org/10.1175/2007jcli1855.1

Myers N, Mittermeier RA, Mittermeier CG, Da Fonseca GA, Kent J (2000) Biodiversity hotspots for conservation priorities. Nature 403(6772):853–858

Nieto R, Gallego D, Trigo R, Ribera P, Gimeno L (2008) Dynamic identification of moisture sources in the Orinoco basin in equatorial south america. Hydrol Sci J 53(3):602–617. https://doi.org/10.1623/hysj.53.3.602

Olson DM, Dinerstein E, Wikramanayake ED, Burgess ND, Powell GVN, Underwood EC, D'amico JA, Itoua I, Strand HE, Morrison JC, Loucks CJ, Allnutt TF, Ricketts TH, Kura Y, Lamoreux JF, Wettengel WW, Hedao P, Kassem KR (2001) Terrestrial ecoregions of the World: a new map of life on Earth. BioScience 51(11):933. https://doi.org/10.1641/0006-3568(2001) 051[0933:teotwa]2.0.co;2

Overland JE, Preisendorfer R (1982) A significance test for principal components applied to a cyclone climatology. Monthly Weather Review 110(1):1–4

Pabón J (2003) El cambio climático global y su manifestación en Colombia. Cuadernos Geografía 12:111–119

Penland C, Matrosova L (1998) Prediction of tropical Atlantic sea surface temperatures using linear inverse modeling. J Clim 11(3):483–496

Poveda G, Mesa OJ (2000) On the existence of Lloró (the rainiest locality on Earth): enhanced ocean-land-atmosphere interaction by a low-level jet. Geophys Res Lett 27(11):1675–1678

Poveda G, Pineda K (2009) Reassessment of Colombia's tropical glaciers retreat rates: are they bound to disappear during the 2010–2020 decade? Adv Geosci 22:107–116

Poveda G, Jaramillo A, Gil MM, Quiceno N, Mantilla RI (2001) Seasonality in enso-related precipitation, river discharges, soil moisture, and vegetation index in Colombia. Water Resour Res 37(8):2169–2178

Poveda G, Waylen PR, Pulwarty RS (2006) Annual and inter-annual variability of the present climate in northern South America and southern Mesoamerica. Palaeogeogr Palaeoclimatol Palaeoecol 234(1):3–27

Poveda G, álvarez DM, Rueda óA (2010) Hydro-climatic variability over the Andes of Colombia associated with ENSO: a review of climatic processes and their impact on one of the Earth's most important biodiversity hotspots. Clim Dyn 36(11–12):2233–2249. https://doi.org/10.1007/s00382-010-0931-y

Poveda G, Jaramillo L, Vallejo LF (2014) Seasonal precipitation patterns along pathways of South American low-level jets and aerial rivers. Water Resour Res 50(1):98–118. https://doi.org/10.1002/2013WR014087

Rabatel A, Francou B, Soruco A, Gomez J, Cáceres B, Ceballos JL, Basantes R, Vuille M, Sicart JE, Huggel C, Scheel M, Lejeune Y, Arnaud Y, Collet M, Condom T, Consoli G, Favier V, Jomelli V, Galarraga R, Ginot P, Maisincho L, Mendoza J, Ménégoz M, Ramirez E, Ribstein P, Suarez W, Villacis M, Wagnon P (2013) Current state of glaciers in the Tropical Andes: a multi-century perspective on glacier evolution and climate change. The Cryosphere 7(1):81–102. https://doi.org/10.5194/tc-7-81-2013

Restrepo JC, Ortíz JC, Maza M, Otero L, Alvarado M, Aguirre J (2012) Estimating fluvial discharge in the Caribbean seaboard of Colombia: magnitude, variability and extreme events. Coast Eng Proc 1(33):44 (management)

Restrepo JD, Kjerfve B (2000) Magdalena river: interannual variability (1975–1995) and revised water discharge and sediment load estimates. J Hydrol 235:137–149. https://doi.org/10.1016/S0022-1694(00)00269-9

Rienecker MM, Suarez MJ, Gelaro R, Todling R, Bacmeister J, Liu E, Bosilovich MG, Schubert SD, Takacs L, Kim GK, Bloom S, Chen J, Collins D, Conaty A, da Silva A, Gu W, Joiner J, Koster RD, Lucchesi R, Molod A, Owens T, Pawson S, Pegion P, Redder CR, Reichle R, Robertson FR, Ruddick AG, Sienkiewicz M, Woollen J (2011) MERRA: NASA's Modern-Era retrospective analysis for research and applications. J Clim 24(14):3624–3648. https://doi.org/10.1175/jcli-d-11-00015.1

Rodríguez-Eraso N, Pabón-Caicedo JD, Bernal-Suárez NR, Martínez-Collantes J (2010) Cambio climático y su relación con el uso del suelo en los Andes colombianos. IAVH

Roe GH (2005) Orographic precipitation. Annu Rev Earth Planet Sci 33:645–671. https://doi.org/10.1146/annurev.earth.33.092203.122541

Ropelewski CF, Halpert MS (1987) Global and regional scale precipitation patterns associated with the el Niño/Southern oscillation. Monthly Weather Rev 115(8):1606–1626. https://doi.org/10.1175/1520-0493(1987)115%3c1606:garspp%3e2.0.co;2

Ruiz D, Moreno HA, Gutiérrez ME, Zapata PA (2008) Changing climate and endangered high mountain ecosystems in Colombia. Sci Total Environ 398(1–3):122–132. https://doi.org/10.1016/j.scitotenv.2008.02.038

Runge J, Heitzig J, Marwan N, Kurths J (2012) Quantifying causal coupling strength: A lag-specific measure for multivariate time series related to transfer entropy. Physical Review E 86(6): https://doi.org/10.1103/physreve.86.061121

Sakamoto MS, Ambrizzi T, Poveda G (2012) Moisture sources and life cycle of convective systems over Western Colombia. Adv Meteorol 2011:1–11. https://doi.org/10.1155/2011/890759

Sánchez-Cuervo AM, Aide TM, Clark ML, Etter A (2012) Land cover change in Colombia: surprising forest recovery trends between 2001 and 2010. PLoS One 7(8):e43,943. https://doi.org/10.1371/journal.pone.0043943

Schreiber T (2000) Measuring information transfer. Phys Rev Lett 85(2):461–464. https://doi.org/10.1103/physrevlett.85.461

Serra YL, Kiladis GN, Hodges KI (2010) Tracking and mean structure of easterly waves over the intra-Americas sea. J Clim 23(18):4823–4840. https://doi.org/10.1175/2010jcli3223.1

Snow JW (1976) The climate of northern South America. In: Schwerdtfeger W (ed) Climates of central and South America, World survey of climatology, vol 12. Elsevier Scientific Publishing Co, Amsterdam, pp 295–403

Stips A, Macias D, Coughlan C, Garcia-Gorriz E, Liang XS (2016) On the causal structure between CO2 and global temperature. Scientific Reports 6(1): https://doi.org/10.1038/srep21691

Tedeschi RG, Cavalcanti IFA, Grimm AM (2012) Influences of two types of ENSO on South American precipitation. Int J Climatol 33(6):1382–1400. https://doi.org/10.1002/joc.3519

Tedeschi RG, Grimm AM, Cavalcanti IFA (2016) Influence of central and east ENSO on precipitation and its extreme events in south america during austral autumn and winter. Int J Climatol 36(15):4797–4814. https://doi.org/10.1002/joc.4670

Tejedor-Garavito N, Alvarez E, Arango SC, Murakami SA, Blundo C et al (2012) Evaluación del estado de conservación de los bosques montanos en los andes tropicales. Ecosistemas 21(1–2):148–166

Tovar C, Arnillas CA, Cuesta F, Buytaert W (2013) Diverging responses of tropical andean biomes under future climate conditions. PLoS One 8(5):e63,634. https://doi.org/10.1371/journal.pone.0063634

Trenberth KE, Fasullo JT, Mackaro J (2011) Atmospheric moisture transports from ocean to land and global energy flows in Reanalyses. J Clim 24(18):4907–4924. https://doi.org/10.1175/2011jcli4171.1

Velasco I, Fritsch JM (1987) Mesoscale convective complexes in the Americas. J Geophys Res 92(D8):9591. https://doi.org/10.1029/jd092id08p09591

Vuille M (2013) Climate change and water resources in the tropical Andes. Tech. rep, Inter-American Development Bank

Vuille M, Burns SJ, Taylor BL, Cruz FW, Bird BW, Abbott MB, Kanner LC, Cheng H, Novello VF (2012) A review of the South American monsoon history as recorded in stable isotopic proxies over the past two millennia. Clim Past 8(4):1309–1321. https://doi.org/10.5194/cp-8-1309-2012

Wang C (2007) Variability of the caribbean low-level jet and its relations to climate. Clim Dyn 29(4):411–422. https://doi.org/10.1007/s00382-007-0243-z

Wang C, Sk Lee (2007) Atlantic warm pool, Caribbean Low-Level Jet, and their potential impact on Atlantic hurricanes. Geophys Res Lett 34(2): https://doi.org/10.1029/2006gl028579

Wang X, Tan W, Wang C (2017) A new index for identifying different types of el Niño Modoki events. Climate Dynamics. https://doi.org/10.1007/s00382-017-3769-8

Waylen PR, Poveda G (2002) El Niño-Southern Oscillation and aspects of western South America hydro-climatology. Hydrol Process 16(6):1247–1260. https://doi.org/10.1002/hyp.1060

Weng H, Behera SK, Yamagata T (2008) Anomalous winter climate conditions in the pacific rim during recent el niño modoki and el niño events. Clim Dyn 32(5):663–674. https://doi.org/10.1007/s00382-008-0394-6

Wilks DS (2011) Statistical methods in the atmospheric sciences, vol 100. Academic Press, Cambridge

Wolter K, Timlin MS (2011) El niño/southern oscillation behaviour since 1871 as diagnosed in an extended multivariate ENSO index (MEI.ext). Int J Climatol 31(7):1074–1087. https://doi.org/10.1002/joc.2336

Zhang Y, Wallace JM, Battisti DS (1997) ENSO-like interdecadal variability: 1900–93. J Clim 10(5):1004–1020. https://doi.org/10.1175/1520-0442(1997)1997)010¡1004:eliv¿2.0.co;2

Zhou J, Lau KM (2001) Principal modes of interannual and decadal variability of summer rainfall over South America. Int J Climatol 21(13):1623–1644. https://doi.org/10.1002/joc.700
Acknowledgements
This research has been supported by Universidad de Antioquia through its programs CODI (Convocatoria Programática 2013, Project PRG 13-2-03) and by the USAID-NSF PEER program (Cycle 1, project 31).
About this article
Cite this article
Hoyos, I., Cañón-Barriga, J., Arenas-Suárez, T. et al. Variability of regional atmospheric moisture over Northern South America: patterns and underlying phenomena. Clim Dyn 52, 893–911 (2019). https://doi.org/10.1007/s00382-018-4172-9
Received:

Accepted:

Published:

Issue Date:
Keywords
Teleconnections

Information transference

Regional ENSO influence

Seasonal state index