Abstract
The autumn climate in Southwest China (SWC) experienced a notable wet-to-dry shift in 1994. Associated with this change in precipitation, decadal signatures of large-scale atmospheric circulation and SST identify a likely dynamical origin: the tropical warm pool (TWP) consisting of tropical northwest Pacific (TNWP, 3°S–12°N and 110°E–150°E) sector and tropical east Indian Ocean (TEI, 10°S–3°N and 80°E–110°E) sector. A cold-to-warm phase switch of TWP SST occurred in 1994, coinciding exactly with the timing of the regime transition of SWC precipitation. During post-1994 period, warm states in the TNWP and TEI sectors plays in a synergistic fashion to invoke dry decades in SWC. On the one side, warm SST over the TNWP sector excites an anomalous cyclone centered on the South China Sea directed opposite to the climatological moisture transport and strengthened zonal wind to its west accompanied by a weakening of the poleward flux; on the other side, warm SST over the TEI sector acts to intensify inflow into TEI with less concurrent transfer of moisture to SWC and to steer moisture to the northern Arabic Sea and away from the SWC-oriented track. Meanwhile, the troposphere over SWC is capped by subsidence, which is jointly contributed by TNWP and TEI. It then follows a reduced moisture supply, suppressed convective activity, and anomalous divergence in SWC, bringing a precipitation deficit there. In contrast, cold TWP SST during 1961–1994 favors wet conditions in SWC, given a perfectly symmetrical circulation pattern. Further, the dominant role of TWP is confirmed, because the modeled response to TWP SST forcing alone bears a great resemblance to the observed evidence. Finally, it is also found that the teleconnected influence induced by TWP is stronger in southern SWC than in northern SWC, which explains the south-north gradient of interdecadal signal of SWC precipitation.
Access options
Buy single article
Instant access to the full article PDF.
USD 39.95
Price excludes VAT (USA)
Tax calculation will be finalised during checkout.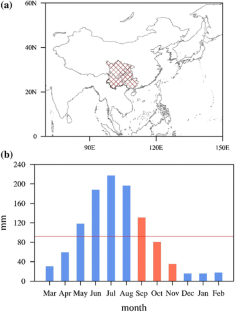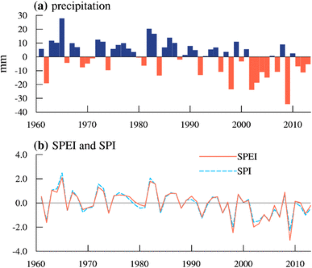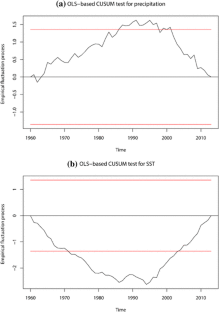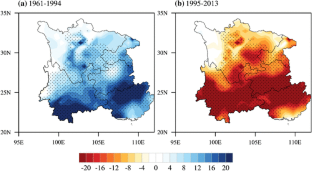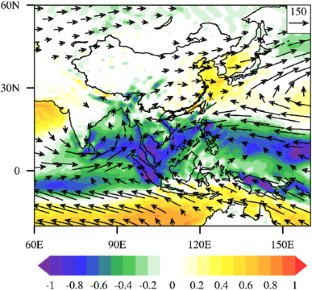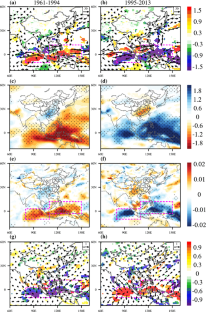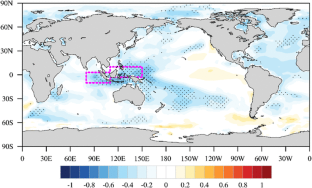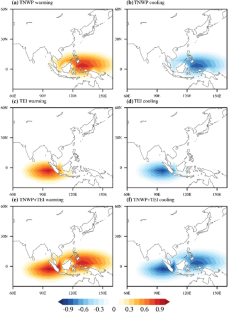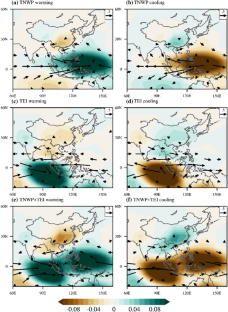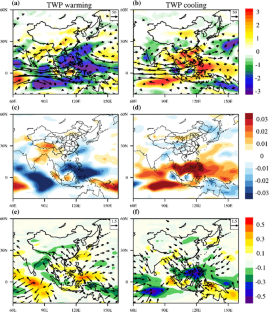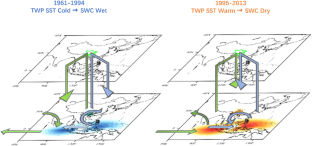 References
Barriopedro D, Gouveia CM, Trigo RM, Wang L (2012) The 2009/10 drought in China: possible causes and impacts on vegetation. J Hydrometeor 13:1251–1267

Chen W, Wang L, Xue Y, Sun S (2009) Variabilities of the spring river runoff system in East China and their relations to precipitation and sea surface temperature. Int J Climatol 29:1381–1394

Chen J, Wu R, Wen Z (2012) Contribution of South China Sea tropical cyclones to southern China summer rainfall increase around 1993. Adv Atmos Sci 29(3):585–598

Chen W, Feng J, Wu R (2013) Roles of ENSO and PDO in the link of the East Asian winter monsoon to the following summer monsoon. J Clim 26:622–635

Chen J, Wen Z, Wu R, Chen Z (2015) Influences of northward propagating 25–90-day and quasi-biweekly oscillations on Eastern China summer rainfall. Clim Dyn 45:105–124

Ding Y, Wang Z, Sun Y (2008) Inter-decadal variation of the summer precipitation in East China and its association with decreasing Asian summer monsoon. Part I: observed evidences. Int J Climatol 28:1139–1161

Duan H, Wang S, Feng J (2014) Drought events and its influence in 2013 in China. J Arid Meteorol 32(2):310–316

Feng J, Chen W, Tam C-Y, Zhou W (2011) Different impacts of El Niño and El Niño Modoki on China rainfall in the decaying phases. Int J Climatol 31:2091–2101

Feng J, Wang L, Chen W (2014a) How does the East Asian summer monsoon behave in the decaying phase of El Niño during different PDO phases? J Clim 27:2682–2698

Feng L, Li T, Yu W (2014b) Cause of severe droughts in Southwest China during 1951–2010. Clim Dyn 43(7–8):2033–2042

Gill AE (1980) Some simple solutions for heat-induced tropical circulation. Q J R Meteorol Soc 106:447–462

Harada Y, Kamahori H, Kobayashi C, Endo H, Kobayashi S, Ota Y, Onoda H, Onogi K, Miyaoka K, Takahashi K (2016) The JRA-55 reanalysis: representation of atmospheric circulation and climate variability. J Meteor Soc Japan 94:269–302

Harris I, Jones PD, Osborn TJ, Lister DH (2014) Updated high-resolution grids of monthly climatic observations—the CRU TS3.10 Dataset. Int J Climatol 34(3):623–642

Huang R, Liu Y, Wang L, Wang L (2012) Analyses of the causes of severe drought occurring in Southwest China from the fall of 2009 to the spring of 2010. Chin J Atmos Sci 36(3):443–457 (Chinese)

Jia X, Ge J (2017) Interdecadal changes in the relationship between ENSO, EAWM, and the wintertime precipitation over China at the end of the twentieth century. J Clim 30(6):1923–1937

Jia X, Lee J, Lin H, Alessandri A (2014) Interdecadal change in the Northern Hemisphere seasonal climate prediction skill: part I. The leading forced mode of atmospheric circulation. Clim Dyn 43:1595–1609

Jia X, Lin H, Ge J (2015) The interdecadal change of ENSO impact on wintertime East Asian climate. J Geophys Res 120(23):918–911 (935)

Kobayashi S, Ota Y, Harada Y, Ebita A, Moriya M, Onoda H, Onogi K, Kamahori H, Kobayashi C, Endo H, Miyaoka K, Takahashi K (2015) The JRA-55 Reanalysis: general specifications and basic characteristics. J Meteor Soc Japan 93:5–48

Kuan CM, Hornik K (1995) The generalized fluctuation test: a unifying view. Econometric Reviews 14(2):135–161

Li X, Zhou W (2016) Modulation of the interannual variation of the India-Burma Trough on the winter moisture supply over Southwest China. Clim Dyn 46(1–2):147–158

Li Y, Xu H, Liu D (2009) Features of the extremely severe drought in the east of Southwest China and anomalies of atmospheric circulation in summer 2006. Acta Meteorologica Sinica 67:122–132

Li X, Wen Z, Zhou W, Wang D (2012) Atmospheric water vapor transport associated with two decadal rainfall shifts over East China. J Meteor Soc Japan 90:587–602

Liu P, Sui CH (2014) An observational analysis of the oceanic and atmospheric structure of global-scale multi-decadal variability. Adv Atmos Sci 31(2):316–330

Maher N, England MH, Gupta AS, Spence P (2017) Role of Pacific trade winds in driving ocean temperatures during the recent slowdown and projections under a wind trend reversal. Clim Dyn. https://doi.org/10.1007/s00382-017-3923-3

National Meteorological Information Center (2012) Assessment report of China's ground precipitation 0.5° × 0.5° gridded dataset (V2.0). National Meteorological Information Center, Beijing (in Chinese)

Neale RB et al (2012) Description of the NCAR community atmosphere model (CAM 5.0). NCAR Tech. Note TN-486, p 274

Peng J, Zhang Q, Bueh C (2007) On the characteristics and possible causes of a severe drought and heat wave in the Sichuan-Chongqing region in 2006. Clim Environ Res 12(3):464–474 (Chinese)

Piao J, Chen W, Wei K, Liu Y, Graf HF, Ahn JB, Pogoreltsev A (2017) An abrupt rainfall decrease over the Asian inland plateau region around 1999 and the possible underlying mechanism. Adv Atmos Sci 34(4):456–468

Ploberger W, Krämer W (1992) The CUSUM test with OLS residuals. Econometrica 60(2):271–285

Power S, Casey T, Folland C, Colman A, Mehta V (1999) Inter-decadal modulation of the impact of ENSO on Australia. Clim Dyn 15(5):319–324

Smith TM, Reynolds RW, Peterson TC, Lawrimore J (2008) Improvements NOAAs historical merged land–ocean Temp Analysis (1880–2006). J Clim 21:2283–2296

Sun S et al (2016) Shift in potential evapotranspiration and its implications for dryness/wetness over Southwest China. J Geophys Res Atmos 121:9342–9355

Sun S et al (2017) Attributing the changes in reference evapotranspiration in Southwestern China using a new separation method. J Hydrometeor 18(3):777–798

Tan H, Cai R, Chen J, Huang R (2017) Decadal winter drought in Southwest China since the late 1990s and its atmospheric teleconnection. Int J Climatol 37(1):455–467

Vicente-Serrano SM, Beguería S, López-Moreno JI (2010) A multiscalar drought index sensitive to global warming: the standardized precipitation evapotranspiration index. J Clim 23:1696–1718

Wang L, Chen W (2012) Characteristics of multi-timescale variabilities of the drought over last 100 years in Southwest China. Adv Meteorol Sci Technol 2(4):21–26 (Chinese)

Wang Z et al (2012) Analysis of climate anomaly and causation in summer 2011. Meteorological Monthly 38:448–455 (Chinese)

Wang L, Chen W, Zhou W (2014) Assessment of future drought in Southwest China based on CMIP5 multimodel projections. Adv Atmos Sci 31(5):1035–1050

Wang L, Chen W, Zhou W, Huang G (2015a) Drought in Southwest China: a review. Atmos Oceanic Sci Lett 8:339–344

Wang L, Chen W, Zhou W, Huang G (2015b) Teleconnected influence of tropical Northwest Pacific sea surface temperature on interannual variability of autumn precipitation in Southwest China. Clim Dyn 45(9–10):2527–2539

Wang L, Chen W, Zhou W, Huang G (2016) Understanding and detecting super extreme droughts in Southwest China through an integrated approach and index. Q J R Meteorol Soc 142:529–535

Watanabe M, Jin FF (2003) A moist linear baroclinic model: coupled dynamical–convective response to El Niño. J Clim 16(8):1121–1139

Wu R, Yang S, Wen Z, Huang G, Hu K (2012) Interdecadal change in the relationship of southern China summer rainfall with tropical Indo-Pacific SST. Theor Appl Climatol 108:119–133

Yang J, Gong D, Wang W, Hu M, Mao R (2012) Extreme drought event of 2009/2010 over southwestern China. Meteor Atmos Phys 115:173–184

Yuan F, Chen W, Zhou W (2012) Analysis of the role played by circulation in the persistent precipitation over South China in June 2010. Adv Atmos Sci 29(4):769–781

Zeileis A, Kleiber C, Krämer W, Hornik K (2003) Testing and dating of structural changes in practice. Comput Stat Data Anal 44(1):109–123

Zhang R, Wu B, Zhao P, Han J (2008) The decadal shift of the summer climate in the late 1980s over Eastern China and its possible causes. Acta Meteorol Sin 22:435–445

Zhang C, Tang Q, Chen D, Li L, Liu X, Cui H (2017) Tracing changes in atmospheric moisture supply to the drying Southwest China. Atmos Chem Phys 17(17):10383–10393
Acknowledgements
We thank the anonymous reviewers for their constructive comments and suggestions. I'm grateful to Dr. Chao He from Jinan University for his help in porting the LBM package to the machine architecture. Part of this work was conducted at City University of Hong Kong. This work was supported by the National Natural Science Foundation of China Grant nos. 41505069, 41425019, 41461144001, 41721004 and 41530425, public science and technology research funds projects of ocean Grant no. 201505013, the State Key Laboratory of Tropical Oceanography, South China Sea Institute of Oceanology, Chinese Academy of Sciences (Project no. LTO1707), and the Shenzhen Science and Technology Plan Grant no. JCYJ20160422090117011.
About this article
Cite this article
Wang, L., Huang, G., Chen, W. et al. Wet-to-dry shift over Southwest China in 1994 tied to the warming of tropical warm pool. Clim Dyn 51, 3111–3123 (2018). https://doi.org/10.1007/s00382-018-4068-8
Received:

Accepted:

Published:

Issue Date:

DOI: https://doi.org/10.1007/s00382-018-4068-8
Keywords