Abstract
This study investigates the internal variability (IV) of a regional climate model, and considers the impacts of horizontal resolution and spectral nudging on the IV. A 16-member simulation ensemble was conducted using the Weather Research Forecasting model for three model configurations. Ensemble members included simulations at spatial resolutions of 50 and 12 km without spectral nudging and simulations at a spatial resolution of 12 km with spectral nudging. All the simulations were generated over the same domain, which covered much of North America. The degree of IV was measured as the spread between the individual members of the ensemble during the integration period. The IV of the 12 km simulation with spectral nudging was also compared with a future climate change simulation projected by the same model configuration. The variables investigated focus on precipitation and near-surface air temperature. While the IVs show a clear annual cycle with larger values in summer and smaller values in winter, the seasonal IV is smaller for a 50-km spatial resolution than for a 12-km resolution when nudging is not applied. Applying a nudging technique to the 12-km simulation reduces the IV by a factor of two, and produces smaller IV than the simulation at 50 km without nudging. Applying a nudging technique also changes the geographic distributions of IV in all examined variables. The IV is much smaller than the inter-annual variability at seasonal scales for regionally averaged temperature and precipitation. The IV is also smaller than the projected changes in air-temperature for the mid- and late twenty-first century. However, the IV is larger than the projected changes in precipitation for the mid- and late twenty-first century.
Access options
Buy single article
Instant access to the full article PDF.
US$ 39.95
Tax calculation will be finalised during checkout.
Subscribe to journal
Immediate online access to all issues from 2019. Subscription will auto renew annually.
US$ 119
Tax calculation will be finalised during checkout.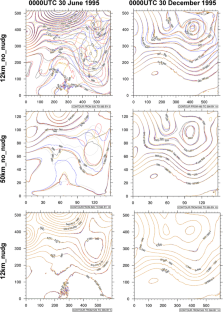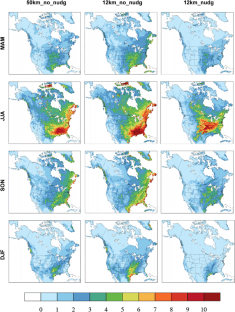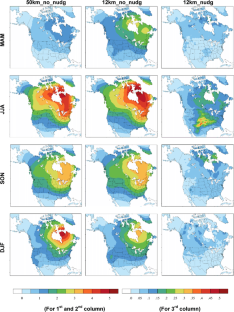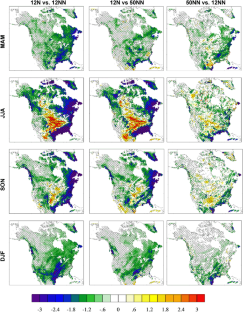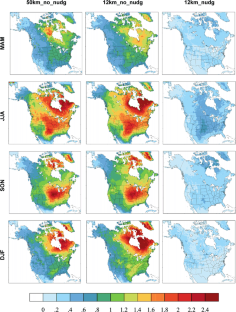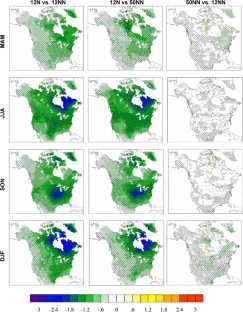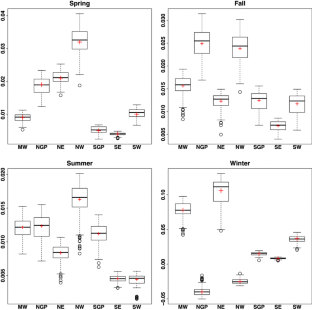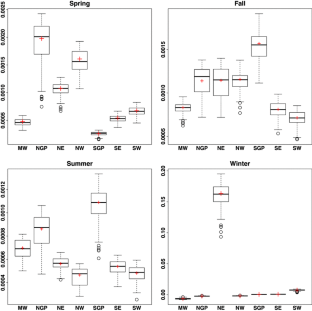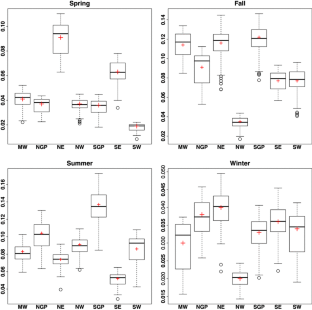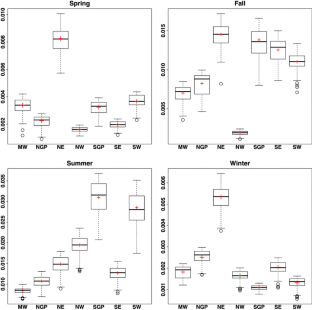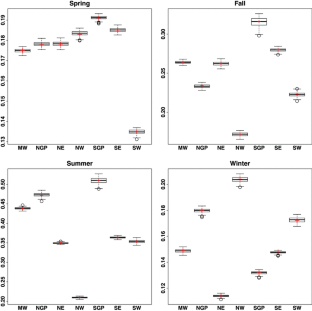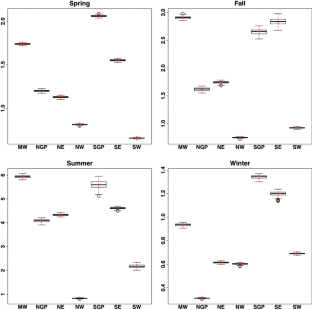 References
Alexandru A, de Elía R, Laprise R (2007) Internal variability in regional climate downscaling at the seasonal time scale. Mon Weather Rev 135:3221–3238

Braun M, Caya D, Frigon A, Slivitzky M (2012) Internal variability of the Canadian RCM's hydrological variables at the basin scale in Quebec and Labrador. J Hydrometeor 13:443–462. doi:10.1175/JHM-D-11-051

Caya D, Biner S (2004) Internal variability of RCM simulations over an annual cycle. Clim Dyn 22:33–46

Chen F, Dudhia J (2001) Coupling an advanced land surface–hydrology model with the Penn State–NCAR MM5 modeling system. Part I: model implementation and sensitivity. Mon Weather Rev 129:569–585

Christensen OB, Gaertner MA, Prego JA, Polcher J (2001) Internal variability of regional climate models. Clim Dyn 17:875–887

Deser C, Knutti R, Solomon S, Phillips AS (2012) Communication of the role of natural variability in future North American climate. Nat Clim Chang 2(11):775–779. doi:10.1038/nclimate1562

Done JM, Bruyère CL, Ge M, Jaye A (2014) Internal variability of North Atlantic tropical cyclones. J Geophys Res Atmos 119:6506–6519. doi:10.1002/2014JD021542

Gao Y, Leung LR, Lu J, Liu Y, Huang M, Qian Y (2014) Robust spring drying in the southwestern US and seasonal migration of wet/dry patterns in a warmer climate. Geophys Res Lett. doi:10.1002/2014GL059562

Giorgi F, Bi X (2000) A study of internal variability of regional climate model. J Geophys Res 105:29503–29521

Giorgi F, Mearns LO (1991) Approaches to the simulation of regional climate change: A review. Rev Geophys 29(2):191–216. doi:10.1029/90RG02636.

Girard E, Bekcic B (2005) Sensitivity of an arctic regional climate model to the horizontal resolution during winter: implications for aerosol simulation. Int J Climatol 25:1455–1471

Grell GA, Devenyi D (2002) A generalized approach to parameterizing convection combining ensemble and data assimilation techniques. Geophys Res Lett 29:1693–1697

Hawkins E, Sutton R (2009) The potential to narrow uncertainty in regional climate predictions. Bull Amer Meteorol Soc 90:1095–1107. doi:10.1175/2009BAMS2607.1

Iacono MJ, Delamere JS, Mlawer EJ, Shephard MW, Clough SA, Collins WD (2008) Radiative forcing by long-lived greenhouse gases: calculations with the AER radiative transfer models. J Geophys Res 113:D13103. doi:10.1029/2008JD009944

Lucas-Picher P, Caya D, de Elía R, Laprise R (2008) Investigation of regional climate models' internal variability with a ten-member ensemble of 10-year simulations over a large domain. Clim Dyn 31:927–940

Morrison H, Thompson G, Tatarskii V (2009) Impact of cloud microphysics on the development of trailing stratiform precipitation in a simulated squall line: Comparison of one- and two-moment schemes. Mon Weather Rev 137:991–1007. doi:10.1175/2008MWR2556.1

Nikiéma O, Laprise R (2011) Budget study of the internal variability in ensemble simulations of the Canadian RCM at the seasonal scale. J Geophys Res Atmos 116:D16112. doi:10.1029/2011JD015841

Noh Y, Cheon WG, Hong SY, Raasch S (2003) Improvement of the K-profile model for the planetary boundary layer based on large eddy simulation data. Bound Layer Meteorol 107:401–427

Vanitsem S, Chomé F (2005) One-way nested regional climate simulations and domain size. J Clim 18:229–233

von Storch H, Langenberg H, Feser F (2000) A spectral nudging technique for dynamical downscaling purposes. Mon Weather Rev 128:3664–3673

Wang J, Kotamarthi VR (2013) Assessment of dynamical downscaling in near-surface fields with different spectral nudging approaches using the nested regional climate model (NRCM). J Appl Meteorol Climatol 52:1576–1591

Wang J, Kotamarthi VR (2014) Downscaling with a nested regional climate model in near-surface fields over the contiguous United States. J Geophys Res Atmos 119:8778–8797. doi:10.1002/2014JD021696

Wang J, Kotamarthi VR (2015) High-resolution dynamically downscaled projections of precipitation in the mid and late 21st century over North America. Earth's Future. doi:10.1002/2015EF000304
Acknowledgements
This work is supported under a military interdepartmental purchase request from the Strategic Environmental Research and Development Program, RC-2242, through US Department of Energy (DOE) contract DE-AC02-06CH11357. The CCSM4 data are downloaded from https://www.earthsystemgrid.org/home.htm. Computational resources are provided by the DOE-supported National Energy Research Scientific Computing Center.
Electronic supplementary material
Below is the link to the electronic supplementary material.
About this article
Cite this article
Wang, J., Bessac, J., Kotamarthi, R. et al. Internal variability of a dynamically downscaled climate over North America. Clim Dyn 50, 4539–4559 (2018). https://doi.org/10.1007/s00382-017-3889-1
Received:

Accepted:

Published:

Issue Date:
Keywords
Internal variability

Regional climate model

Spectral nudging

High spatial resolution

Climate change