Abstract
Southeast India experienced a heavy rainfall during 30 Nov–2 Dec 2015. Particularly, the Chennai city, the fourth major metropolitan city in India with a population of 5 million, experienced extreme flooding and causalities. Using various observed/reanalysed datasets, we find that the concurrent southern Bay of Bengal (BoB) sea surface temperatures (SST) were anomalously warm. Our analysis shows that BoB sea surface temperature anomalies (SSTA) are indeed positively, and significantly, correlated with the northeastern Indian monsoonal rainfall during this season. Our sensitivity experiments carried out with the Weather Research and Forecasting (WRF) model at 25 km resolution suggest that, while the strong concurrent El Niño conditions contributed to about 21.5% of the intensity of the extreme Chennai rainfall through its signals in the local SST mentioned above, the warming trend in BoB SST also contributed equally to the extremity of the event. Further, the El Niño southern oscillation (ENSO) impacts on the intensity of the synoptic events in the BoB during the northeast monsoon are manifested largely through the local SST in the BoB as compared through its signature in the atmospheric circulations over the BoB.
Access options
Buy single article
Instant access to the full article PDF.
USD 39.95
Price includes VAT (USA)
Tax calculation will be finalised during checkout.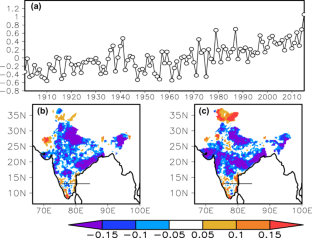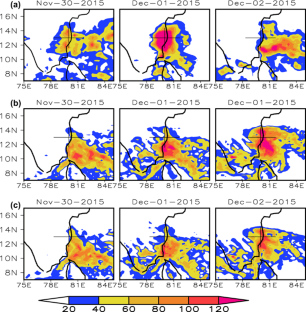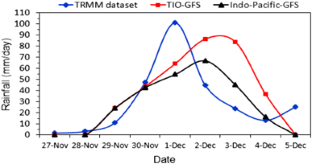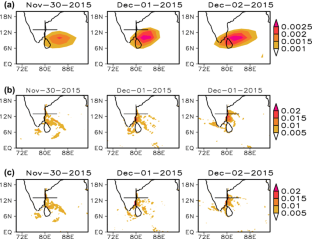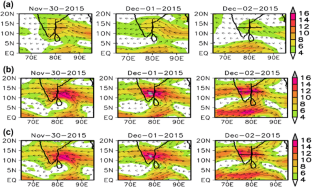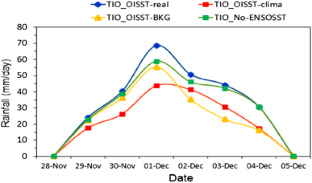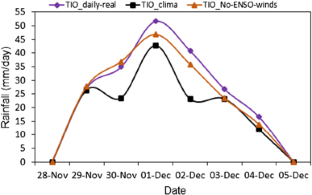 References
Alam MM, Hussain MA, Shafee S (2003) Frequency of Bay of Bengal cyclonic storms and depressions crossing different coastal zones. Int J Climatol 23(1119):1125. doi:10.1002/joc.927

Alory G, Wijffels S, Meyers G (2007) Observed temperature trends in the Indian Ocean over 1960–1999 and associated mechanisms. Geophys Res Lett 34:L02606. doi:10.1029/2006GL028044

Balaguru K, Taraphdar S, Leung LR, Foltz GR (2014) Increase in the intensity of post monsoon Bay of Bengal tropical cyclones. Geophys Res Lett 41(10):3594–3601 doi:10.1002/2014GL060197

Bhaskar Rao DV, Ashok K (1999) Simulation of tropical cyclone circulation over the Bay of Bengal, Part I—description of the model, initial data and results of the control experiment. Pure Appl Geophys 156:525–542

Bhaskar Rao DV, Ratna SB (2010) Mesoscale characteristics and prediction of an unusual extreme heavy rainfall event over Mumbai city, India. Atmos Res 95:255–269

Bhaskar Rao DV, Srinivas D, Dasari HP, Gubbala CS (2016) Prediction of tropical cyclone over North Indian Ocean using WRF model: sensitivity to scatterometer winds, ATOVS and ATMS radiances, (August). In: Proc. SPIE 9882, Remote Sensing and Modeling of the Atmosphere, Oceans, and Interactions VI, 988213 (May 3, 2016). doi:10.1117/12.2223615

Chakraborty A (2016) A synoptic scale perspective of heavy rainfall over Chennai in November 2015. Curr Sci 1–21

Cruz FT, Narisma GT (2016) WRF simulation of the heavy rainfall over Metropolitan Manila, Philippines during tropical cyclone Ketsana: a sensitivity study. Meteorol Atmos Phys 128(4):415–428. doi:10.1007/s00703-015-0425-x

Gadgil S, Joseph PV, Joshi NV (1984) Ocean-atmosphere coupling over monsoon regions. Nature 312:141–143

George G, Charlotte GB, Ruchith RD (2011) Interannual variation of northeast monsoon rainfall over southern peninsular India. Indian J Mar Sci 40(1):98–104

Girishkumar MS, Ravichandran M (2012) The influences of ENSO on tropical cyclone activity in the Bay of Bengal during October–December. J Geophys Res Oceans 117(2). doi:10.1029/2011JC007417

Hariprasad D, Venkata Srinivas C, Venkata Bhaskar Rao D, Anjaneyulu Y (2011) Simulation of Indian monsoon extreme rainfall events during the decadal period 2000–2009 using a high resolution mesoscale model. Adv Geosci A6:31–48

Hu S, Fedorov AV (2017) Theextreme El Niño of 2015–2016 andthe end of global warming hiatus, Geophys Res Lett. 44. doi:10.1002/2017GL072908

Jenamani RK, Bhan SC, Kalsi SR (2006) Observational/forecasting aspects of the meteorological event that caused a record highest precipitation in Mumbai. Curr Sci 90:1344–1362

Kalnay E et al (1996) The NCEP/NCAR 40-year reanalysis project. Bull Am Meteorol Soc 77:437–470. doi:10.1175/15200477(1996)312077<0437:TNYRP>2.0.CO;2

Kanase R, Salvekar P (2014) Study of weak intensity cyclones over Bay of Bengal using WRF model. Atmos Clim Sci 4:534–548. doi:10.4236/acs.2014.44049

Kirtsaeng S, Chantara S, Kreasuwun J (2010) Mesoscale simulation of a very heavy rainfall event over Mumbai, using the weather research and forecasting (wrf) model. Chiang Mai J Sci 37(3):429–442

Kripalani RH, Kumar P (2004) Northeast monsoon rainfall variability over south peninsular India vis-a-vis the Indian Ocean dipole mode. Int J Climatol 24(10):1267–1282 doi:10.1002/joc.1071

Krishnamurti TN, Jha B, Rasch PJ, Ramanathan V (1997) A high resolution global reanalysis highlighting the winter monsoon. Part I, reanalysis fields. Meteorol Atmos Phys 64:123–150. doi:10.1007/bf01029689

Kumar A, Dudhia J, Rotunno R, Niyogi D, Mohanty UC (2008) Analysis of the July 26, 2005 heavy rain event over Mumbai, India using the Weather Research and Forecasting (WRF) model. Q J R Met Soc 134:1897–1910

Pai DS, Sridhar L, Rajeevan M, Sreejith OP, Satbhai NS, Mukhopadyay B (2014) Development of a new high spatial resolution (0.25° × 0.25°) long period (1901–2010) daily gridded rainfall data set over India and its comparison with existing data sets over the region. Mausam 65(1):1–18

Prajeesh AG, Ashok K, Rao DVB, (2013) Falling monsoon depression frequency: a Gray-Sikka condition perspective. Sci Rep 3:1–8. doi:10.1038/srep02989

Prakash SMC, Sathiyamoorthy V, Gairola RM (2013) Increasing trend of northeast monsoon rainfall over the equatorial Indian Ocean and peninsular India. Theor Appl Climatol 112(1–2):185–191. doi:10.1007/s00704-012-0719-6

Rao Krishna PR, Jagannathan P (1953) A study of the northeast monsoon rainfall of Tamil Nadu. Indian J Meteorol Geophys 4:22

Rayner NA, Parker DE, Horton EB, Folland CK, Alexander LV, Rowell DP, Kent EC, Kaplan A (2003) Global analyses of sea surface temperature, sea ice, and night marine air temperature since the late nineteenth century. J Geophys Res 108:4407. doi:10.1029/2002JD002670

Reynolds RW, Smith TM, Liu C, Chelton DB, Casey KS, Schlax MG (2007) Daily high-resolution-blended analyses for sea surface temperature. J Clim 20:5473–5496

Sikka DR (1977) Some aspects of the life history, structure and movement of monsoon depressions. Pure appl Geophys 115:1501–1529

Sreekala PP, Rao SVB, Rajeevan M (2012) Northeast monsoon rainfall variability over south peninsular India and its teleconnections. Theor Appl Climatol 108(1–2):73–83. doi:10.1007/s00704-011-0513-x

Srinivas CV, Hariprasad D, Bhaskar Rao DV, Anjaneyulu Y, Baskaran R, Venkatraman B (2013) Simulation of the Indian summer monsoon regional climate using advanced research WRF model. Int J Climatol 33(5):1195–1210.347. doi:10.1002/joc.3505

Subbaramayya I, Ram Mohan Rao S (1984) Frequency of Bay of Bengal cyclones in the post–monsoon season. Mon Weather Rev 112:1640–1642

Subbaramayya I, Subba Rao M (1981) Cyclone climatology of north Indian seas. Indian J Mar Sci 10:1195–1210

Titchner H, Rayner N (2014) The Met Office Hadley Centre sea ice and sea surface temperature data set, version 2: 1. Sea ice concentrations. J Geophys Res Atmos 119:2864–2889. doi:10.1002/2013JD020316

Van Oldenborgh GJ, Friederike ELO, Haustein K, Krishna Achuta Rao K (2016) The heavy precipitation event of December 2015 in Chennai, india, and (December 2015), 87–91. J Bull Am Meteorol Soc. doi:10.1175/BAMS-D-16-0129.1

Yadav RK (2012) Why is ENSO influencing Indian northeast monsoon in the recent decades? Int J Climatol 32(14):2163–2180. doi:10.1002/joc.2430
Acknowledgements
The authors acknowledge useful suggestions from the two anonymous reviewers on the earlier version of the manuscript. BA and GD acknowledge discussions with Dr. Ch. Nagaraju, UCLA, on the WRF model experiments. The WRF experiments have been carried using the MoES/IITM HPC facility, for which we are grateful to the MoES/IITM. The sources/publications for the various data used are listed in the references and supplements. The figures in this work have been generated using the COLA/GRADS software.
Ethics declarations
Conflict of interest
The authors declare that they have no conflict of interest.
About this article
Cite this article
Boyaj, A., Ashok, K., Ghosh, S. et al. The Chennai extreme rainfall event in 2015: The Bay of Bengal connection. Clim Dyn 50, 2867–2879 (2018). https://doi.org/10.1007/s00382-017-3778-7
Received:

Accepted:

Published:

Issue Date:
Keywords
The Chennai extreme rainfall event

WRF model

Northeast monsoon

Bay of Bengal warming trend