Abstract
The Western US states Washington (WA), Oregon (OR) and California (CA) experienced extremely high temperatures in June 2015. The temperature anomalies were so extreme that they cannot be explained with global warming alone. We investigate the hypothesis that soil moisture played an important role as well. We use a land surface model and a large ensemble from the weather@home modelling effort to investigate the coupling between soil moisture and temperature in a warming world. Both models show that May was anomalously dry, satisfying a prerequisite for the extreme heat wave, and they indicate that WA and OR are in a wet-to-dry transitional soil moisture regime. We use two different land surface–atmosphere coupling metrics to show that there was strong coupling between temperature, latent heat flux and the effect of soil moisture deficits on the energy balance in June 2015 in WA and OR. June temperature anomalies conditioned on wet/dry conditions show that both the mean and extreme temperatures become hotter for dry soils, especially in WA and OR. Fitting a Gaussian model to temperatures using soil moisture as a covariate shows that the June 2015 temperature values fit well in the extrapolated empirical temperature/drought lines. The high temperature anomalies in WA and OR are thus to be expected, given the dry soil moisture conditions and that those regions are in the transition from a wet to a dry regime. CA is already in the dry regime and therefore the necessity of taking soil moisture into account is of lower importance.
This is a preview of subscription content, log in to check access.
Access options
Buy single article
Instant access to the full article PDF.
US$ 39.95
Price includes VAT for USA
Subscribe to journal
Immediate online access to all issues from 2019. Subscription will auto renew annually.
US$ 199
This is the net price. Taxes to be calculated in checkout.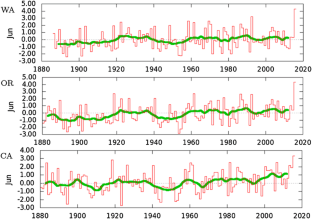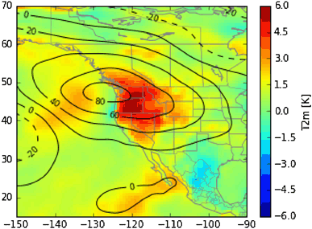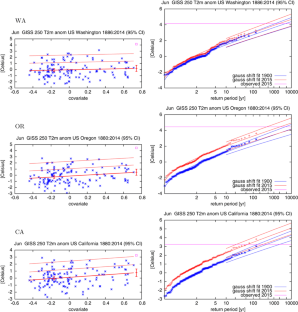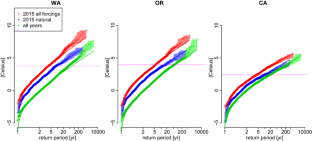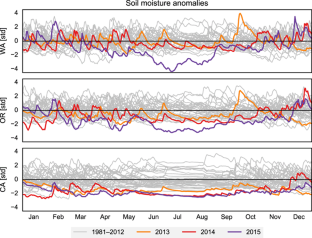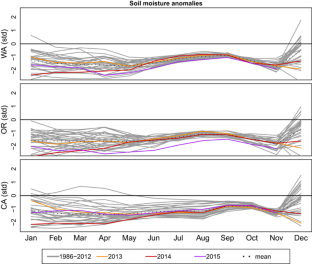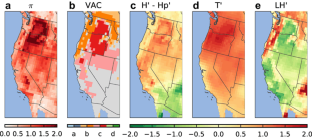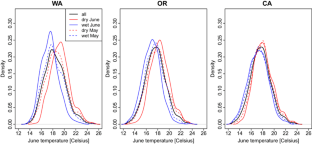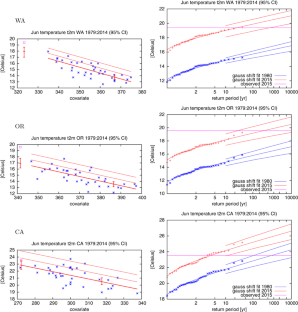 References
AghaKouchak A, Feldman D, Hoerling M, Huxman T, Lund J (2015) Recognize anthropogenic drought. Nature 524:409–411. doi:10.1038/524409a

Balsamo G, Albergel C, Beljaars A, Boussetta S, Brun E, Cloke H, Dee D, Dutra E, Muñoz Sabater J, Pappenberger F, de Rosnay P, Stockdale T, Vitart F (2015) Era-interim/land: a global land surface reanalysis data set. Hydrol Earth Syst Sci 19(1):389–407. doi:10.5194/hess-19-389-2015. http://www.hydrol-earth-syst-sci.net/19/389/2015/

Cheng L, Hoerling M, AghaKouchak A, Livneh B, Quan XW, Eischeid J (2016) How has human-induced climate change affected California drought risk? J Clim 29(1):111–120

Dee DP, Uppala SM, Simmons AJ, Berrisford P, Poli P, Kobayashi S, Andrae U, Balmaseda MA, Balsamo G, Bauer P, Bechtold P, Beljaars ACM, van de Berg L, Bidlot J, Bormann N, Delsol C, Dragani R, Fuentes M, Geer AJ, Haimberger L, Healy SB, Hersbach H, Hlm EV, Isaksen L, Kllberg P, Khler M, Matricardi M, McNally AP, Monge-Sanz BM, Morcrette JJ, Park BK, Peubey C, de Rosnay P, Tavolato C, Thpaut JN, Vitart F (2011) The era-interim reanalysis: configuration and performance of the data assimilation system. Q J R Meteorol Soc 137(656):553–597. doi:10.1002/qj.828

Diffenbaugh NS, Swain DL, Touma D (2015) Anthropogenic warming has increased drought risk in California. Proc Natl Acad Sci 112(13):3931–3936. doi:10.1073/pnas.1422385112. http://www.pnas.org/content/112/13/3931.abstract

Donat MG, Alexander LV, Yang H, Durre I, Vose R, Dunn RJH, Willett KM, Aguilar E, Brunet M, Caesar J, Hewitson B, Jack C, Klein Tank AMG, Kruger AC, Marengo J, Peterson TC, Renom M, Oria Rojas C, Rusticucci M, Salinger J, Elrayah AS, Sekele SS, Srivastava AK, Trewin B, Villarroel C, Vincent LA, Zhai P, Zhang X, Kitching S (2013) Updated analyses of temperature and precipitation extreme indices since the beginning of the twentieth century: The hadex2 dataset. J Geophys Res Atmos 118(5):2098–2118. doi:10.1002/jgrd.50150

Donlon CJ, Martin M, Stark J, Roberts-Jones J, Fiedler E, Wimmer W (2012) The operational sea surface temperature and sea ice analysis (ostia) system. Remote Sens Environ 116: 140–158. doi:10.1016/j.rse.2010.10.017. Advanced Along Track Scanning Radiometer(AATSR) Special Issue. http://www.sciencedirect.com/science/article/pii/S0034425711002197

Fischer EM, Seneviratne SI, Vidale PL, Lüthi D, Schär C (2007) Soil moisture–atmosphere interactions during the 2003 European summer heat wave. J Clim 20(20):5081–5099. doi:10.1175/JCLI4288.1 (ISBN 0894-8755)

Grize L, Huss A, Thommen O, Schindler C, Braun-Fahrlander C (2005) Heat wave 2003 and mortality in Switzerland. Swiss Med Wkly 135(13–14):200–205. doi:2005/13/smw-11009

Guillod BP, Orlowsky B, Miralles DG, Teuling AJ, Seneviratne SI (2015) Reconciling spatial and temporal soil moisture effects on afternoon rainfall. Nat Commun 6:7443. doi:10.1038/ncomms7443

Guirguis K, Gershunov A, Tardy A, Basu R (2014) The impact of recent heat waves on human health in California. J Appl Meteorol Climatol 53(1):3–19. doi:10.1175/JAMC-D-13-0130.1 (ISBN 1558-8424)

Hansen J, Ruedy R, Sato M, Lo K (2010) Global surface temperature change. Rev Geophys 48:4004. doi:10.1029/2010RG000345

Hauser M, Orth R, Seneviratne SI (2016) Role of soil moisture versus recent climate change for the 2010 heat wave in western Russia. Geophys Res Lett. 2016G: doi:10.1002/2016GL068036.L068036

Li S, Mote PW, Rupp DE, Vickers D, Mera R, Allen M (2015) Evaluation of a Regional climate modeling effort for the western United States using a superensemble from Weather@home. J Clim 28(19):7470–7488. doi:10.1175/JCLI-D-14-00808.1

Lobell DB, Bonfils C (2008) The effect of irrigation on regional temperatures: a spatial and temporal analysis of trends in california, 1934?2002. J Clim 21(10):2063–2071. doi:10.1175/2007JCLI1755.1

Massey N, Jones R, Otto FEL, Aina T, Wilson S, Murphy JM, Hassell D, Yamazaki YH, Allen MR (2015) weather@home—development and validation of a very large ensemble modelling system for probabilistic event attribution. Q J R Meteor Soc 141(690):1528–1545. doi:10.1002/qj.2455

Meehl GA, Claudia T (2004) More intense, more frequent, and longer lasting heat waves in the 21st century. Science 305(5686):994–997. doi:10.1126/science.1098704. http://science.sciencemag.org/content/305/5686/994

Min E, Hazeleger W, van Oldenborgh GJ, Sterl A (2013) Evaluation of trends in high temperature extremes in north-western Europe in regional climate models. Environ Res Lett 8(1):014011. doi:10.1088/1748-9326/8/1/014011

Miralles DG, van den Berg MJ, Teuling AJ, de Jeu RAM (2012) Soil moisture–temperature coupling: a multiscale observational analysis. Geophys Res Lett 39(21):L21707. doi:10.1029/2012GL053703

Miralles DG, Teuling AJ, van Heerwaarden CC, Vila-Guerau J, de Arellano (2014) Mega-heatwave temperatures due to combined soil desiccation and atmospheric heat accumulation. Nature Geosci 7(5):345–349

Mote P, Rupp D, Li S, Sharp D, Otto F, Uhe P, Xiao M, Lettenmaier D, Cullen H, Allen M (2016a) Perspectives on the causes of exceptionally low 2015 snowpack in the western United States. Geophys Res Lett 43(20)

Mote PW, Allen MR, Jones RG, Li S, Mera R, Rupp DE, Salahuddin A, Vickers D (2016b) Superensemble regional climate modeling for the western united states. Bull Am Meteorol Soc 97(2):203–215. doi:10.1175/BAMS-D-14-00090.1

Oleson KW, Lawrence DM, Gordon B, Flanner MG, Kluzek E, Peter J, Levis S, Swenson SC, Thornton E, Feddema J et al (2010) Technical description of version 4.0 of the community land model (clm)

Orth R, Sonia IS (2015) Introduction of a simple-model-based land surface dataset for Europe. Environ Res Lett 10(4):044012. http://stacks.iop.org/1748-9326/10/i=4/a=044012

Otto FEL, Massey N, van Oldenborgh GJ, Jones RG, Allen MR (2012) Reconciling two approaches to attribution of the 2010 russian heat wave. Geophys Res Lett 39(4):04702. doi:10.1029/2011GL050422 (ISBN 0094-8276)

Perkins SE, Lewis SC, King AD, Alexander LV (2014) Increased simulated risk of the hot australian summer of 2012/13 due to anthropogenic activity as measured by heat wave frequency and intensity. Bull Am Meteorol Soc 95(9):34–37

Rupp DE, Li S, Massey N, Sparrow SN, Mote PW, Allen M (2015) Anthropogenic influence on the changing likelihood of an exceptionally warm summer in Texas, 2011. Geophys Res Lett 42(7):2392–2400. doi:10.1002/2014GL062683.L062683

Seager R, Hoerling M (2014) Atmosphere and ocean origins of north American droughts. J Clim 27(12):4581–4606

Seager R, Hoerling M, Schubert S, Wang H, Lyon B, Kumar A, Nakamura J, Henderson N (2015) Causes of the 2011–14 California drought. J Clim 28(18):6997–7024

Seneviratne SI, Corti T, Davin EL, Hirschi M, Jaeger EB, Lehner I, Orlowsky B, Teuling AJ (2010) Investigating soil moisture–climate interactions in a changing climate: a review. Earth Sci Rev 99:125–161. doi:10.1016/j.earscirev.2010.02.004

Stegehuis AI, Vautard R, Ciais P, Teuling AJ, Jung M, Yiou P (2013) Summer temperatures in europe and land heat fluxes in observation-based data and regional climate model simulations. Clim Dyn 41(2):455–477

Stocker TF et al (eds) (2013) Climate change 2013: the physical science basis. Cambridge University Press, Cambridge and New York

Sun Y, Zhang X, Zwiers FW, Song L, Wan H, Ting H, Yin H, Ren G (2014) Rapid increase in the risk of extreme summer heat in eastern China. Nature Clim Change 4:1082–1085. doi:10.1038/nclimate2410

Swain DL (2015) A tale of two california droughts: Lessons amidst record warmth and dryness in a region of complex physical and human geography. Geophys Res Lett 42(22):9999–10003. doi:10.1002/2015GL066628. 2015GL066628

Taylor KE, Stouffer RJ, Meehl Gerald A (2012) An overview of CMIP5 and the experiment design. Bull Am Meteorol Soc 93(4):485–498. doi:10.1175/BAMS-D-11-00094.1

Tim C, Ariaan P, Sarah P, Alexandre P, Ghyslaine B, Katherine S (2014) More frequent, longer, and hotter heat waves for Australia in the twenty-first century. J Clim 27(15):5851–5871. doi:10.1175/JCLI-D-14-00092.1. http://dx.doi.org/10.1175/JCLI-D-14-00092.1

Van Loon AF, Gleeson T, Clark J, van Dijk AIJM, Stahl K, Hannaford J, Di Baldassarre G, Teuling AJ, Tallaksen LN, Uijlenhoet R, Hannah DM, Sheffield J, Svoboda M, Verbeiren B, Wagener T, Rangecroft S, Wanders N, van Lanen HAJ (2016) Drought in the anthropocene. Nat Geosci 9:89–91. doi:10.1038/ngeo2646

van Oldenborgh GJ (2007) How unusual was autumn 2006 in Europe? Clim Past 3(4):659–668. doi:10.5194/cp-3-659-2007. http://www.clim-past.net/3/659/2007/

Vogel MM, Orth R, Cheruy F, Hagemann S Lorenz R, van den Hurk BJJM, Seneviratne SI (2017) Regional amplification of projected changes in extreme temperatures strongly controlled by soil moisture-temperature feedbacks. Geophys Res Lett 44(3):1511–1519. doi:10.1002/2016GL071235

Whan K, Zscheischler J, Orth R, Shongwe M, Rahimi M, Asare EO, Seneviratne SI (2015) Impact of soil moisture on extreme maximum temperatures in Europe. Weather Clim Extremes 9:57–67. doi:10.1016/j.wace.2015.05.001. The World Climate Research Program Grand Challenge on Extremes? WCRP-ICTP Summer School on Attribution and Prediction of Extreme Events. http://www.sciencedirect.com/science/article/pii/S2212094715000201

Williams AP, Seager R, Abatzoglou JT, Cook BI, Smerdon JE, Cook ER (2015) Contribution of anthropogenic warming to California drought during 2012–2014. Geophys Res Lett 42(16):6819–6828. doi:10.1002/2015GL064924.L064924

Yin D, Roderick ML, Leech G, Sun F, Huang Y (2014) The contribution of reduction in evaporative cooling to higher surface air temperatures during drought. Geophys Res Lett 41(22):7891–7897. doi:10.1002/2014GL062039

Zscheischler J, Orth R, Seneviratne SI (2015) A submonthly database for detecting changes in vegetation–atmosphere coupling. Geophys Res Lett 42(22):9816–9824. doi:10.1002/2015GL066563.L066563
Acknowledgements
We would like to thank all of the volunteers who have donated their computing time to climateprediction.net and weather@home. We thank our colleagues at the Oxford eResearch Centre: A. Bowery, M. Rashid, S. Sparrow and D. Wallom for their technical expertise. We also thank the Met Office Hadley Centre PRECIS team for their technical and scientific support for the development and application of weather@home. We extend our appreciation to Sonia Seneviratne for her suggestions and feedback. This project was supported by the World Weather Attribution initiative and the EU project EUCLEIA under Grant Agreement 607085.
Additional information
The original version of this article was revised: In the original publication the bar down in the Fig. 7c–e was not colored. This error has now been corrected.
An erratum to this article is available at https://doi.org/10.1007/s00382-017-3824-5.
Electronic supplementary material
Below is the link to the electronic supplementary material.
About this article
Cite this article
Philip, S.Y., Kew, S.F., Hauser, M. et al. Western US high June 2015 temperatures and their relation to global warming and soil moisture. Clim Dyn 50, 2587–2601 (2018). https://doi.org/10.1007/s00382-017-3759-x
Received:

Accepted:

Published:

Issue Date:
Keywords
Temperature extremes

Land attribution

Global warming

Surface–atmosphere coupling

\(\pi\)

-metric

VAC-metric

Soil moisture

US West Coast states