Abstract
Quantitative proxy-based and high-resolution palaeoclimatic datasets are scarce for the lower reaches of the Yangtze River (LYR) basin. This region is in a transitional vegetation zone which is climatologically sensitive; and as a birthplace for prehistorical civilization in China, it is important to understand how palaeoclimatic dynamics played a role in affecting cultural development in the region. We present a pollen-based and regionally-averaged Holocene climatic twin-dataset for mean total annual precipitation (PANN) and mean annual temperature (TANN) covering the last 10,000 years for the LYR region. This is based on the technique of weighted averaging-partial least squares regression to establish robust calibration models for obtaining reliable climatic inferences. The pollen-based reconstructions generally show an early Holocene climatic optimum with both abundant monsoonal rainfall and warm thermal conditions, and a declining pattern of both PANN and TANN values in the middle to late Holocene. The main driving forces behind the Holocene climatic changes in the LYR area are likely summer solar insolation associated with tropical or subtropical macro-scale climatic circulations such as the Intertropical Convergence Zone (ITCZ), Western Pacific Subtropical High (WPSH), and El Niño/Southern Oscillation (ENSO). Regional multi-proxy comparisons indicate that the Holocene variations in precipitation and temperature for the LYR region display an in-phase relationship with other related proxy records from southern monsoonal China and the Indian monsoon-influenced regions, but are inconsistent with the Holocene moisture or temperature records from northern monsoonal China and the westerly-dominated region in northwestern China. Overall, our comprehensive palaeoclimatic dataset and models may be significant tools for understanding the Holocene Asian monsoonal evolution and for anticipating its future dynamics in eastern Asia.
Access options
Buy single article
Instant access to the full article PDF.
US$ 39.95
Tax calculation will be finalised during checkout.
Subscribe to journal
Immediate online access to all issues from 2019. Subscription will auto renew annually.
US$ 119
Tax calculation will be finalised during checkout.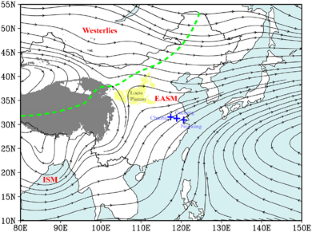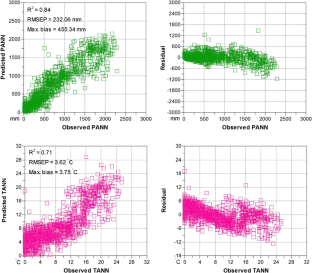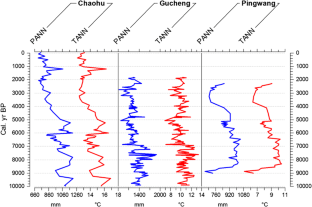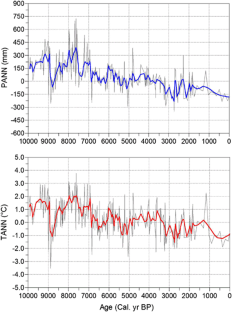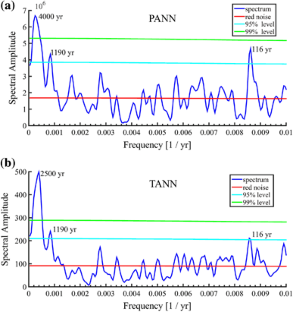 References
An ZS (2000) The history and variability of the East Asian paleomonsoon climate. Quat Sci Rev 19:171–187

Atahan P et al (2008) Holocene-aged sedimentary records of environmental changes and early agriculture in the lower Yangtze, China. Quat Sci Rev 27:556–570

Bartlein PJ et al (2011) Pollen-based continental climate reconstructions at 6 and 21 ka: a global synthesis. Clim Dyn 37:775–802

Birks HJB (1998) Numerical tools in palaeolimnology: progress, potentialities, and problems. J Paleolimnol 20:307–332

Birks HJB, Heiri O, Seppä H, Bjune AE (2010) Strengths and weaknesses of quantitative climate reconstructions based on late-Quaternary biological proxies. Open Ecol J 3:68–110

Bond G, Kromer B, Beer J, Muscheler R, Evans MN, Showers W, Hoffmann S, Lotti-Bond R, Hajdas I, Bonani G (2001) Persistent solar influence on North Atlantic climate during the Holocene. Science 278:1257–1266

Braconnot P, Harrison S, Kageyama M, Bartlein J, Masson V, Abe-Ouchi A, Otto-Bliesner B, Zhao Y (2012) Evaluation of climate models using palaeoclimatic data. Nat Clim Change 2:417–424

Cai YJ, Tan LC, Cheng H, An ZS, Edwards RL, Kelly MJ, Kong XG, Wang XF (2010) The variation of summer monsoon precipitation in central China since the last deglaciation. Earth Planet Sci Lett 291:21–31

Chen Z, Wang Z, Schneiderman J, Tao J, Cai Y (2005) Holocene climate fluctuations in the Yangtze delta of eastern China and the Neolithic response. Holocene 15:915–924

Chen FH et al (2008) Holocene moisture evolution in arid central Asia and its out-of-phase relationship with Asian monsoon history. Quat Sci Rev 27:351–364

Chen W, Wang W, Dai X (2009) Holocene vegetation history with implications of human impact in the Lake Chaohu area, Anhui Province, East China. Veget Hist Archaeobot 18:137–146

Chen FH, Chen XM, Chen JH, Zhou AF, Wu D, Tang LY, Zhang XJ, Huang XZ, Yu JQ (2014) Holocene vegetation history, precipitation change and Indian summer monsoon evolution documented by Xingyun Lake, Southwest China. J Quat Sci 29:661–674

Chen FH et al (2015) East Asian summer monsoon precipitation variability since the last deglaciation. Sci Rep 5:11186

Chen FH, Wu D, Chen JH, Zhou AF, Yu JQ, Shen J, Wang SM, Huang XZ (2016a) Holocene moisture and East Asian summer monsoon evolution in the northeastern Tibetan Plateau recorded by Lake Qinghai and its environs: A review of conflicting proxies. Quat Sci Rev 154:111–129

Chen FH, Jia J, Chen JH, Li GQ, Zhang XJ, Xie HC, Xia DS, Huang W, An CB (2016b) A persistent Holocene wetting trend in arid central Asia, with wettest conditions in the late Holocene, revealed by multi-proxy analyses of loess-paleosol sequences in Xinjiang, China. Quat Sci Rev 146:134–146

Clemens SC (2005) Millennial-band climate spectrum resolved and linked to centennial-scale solar cycles. Quat Sci Rev 24:521–531

Dyke AS (2004) An outline of North American deglaciation with emphasis on central and northern Canada. Dev Quat Sci 2:373–424

Dykoski CA, Edwards RL, Cheng H, Yuan DX, Cai YJ, Zhang ML, Lin YS, Qing JM, An ZS, Revenaugh J (2005) A high-resolution, absolute-dated Holocene and deglacial Asian monsoon record from Dongge Cave, China. Earth Planet Sci Lett 233:71–86

Fisher D, Zheng J, Burgess D, Zdanowicz C, Kinnard C, Sharp M, Bourgeois J (2012) Recent melt rates of Canadian arctic ice caps are the highest in four millennia. Glob Planet Change 84–85:3–7

Fleitmann D, Burns SJ, Mudelsee M, Neff U, Kramers J, Mangini A, Matter A (2003) Holocene forcing of the Indian monsoon recorded in a stalagmite from southern Oman. Science 300:1737–1739

Fuller DQ, Qin L, Zheng Y, Zhao Z, Chen X, Hosoya LA, Sun GP (2009) The domestication process and domestication rate in rice: spikelet bases from the lower Yangtze. Science 323:1607–1610

Gupta AK, Das M, Anderson DM (2005) Solar influence on the Indian summer monsoon during the Holocene. Geophys Res Lett 32:L17703

Haug GH, Hughen KA, Sigman DM, Peterson LC, Röhl U (2001) Southward migration of the Intertropical Convergence Zone through the Holocene. Science 293:1304–1308

Heiri O et al (2014) Validation of climate model-inferred regional temperature change for late-glacial Europe. Nat Commun 5:4914

Herzschuh U, Kramer A, Mischke S, Zhang CJ (2009) Quantitative climate and vegetation trends since the late glacial on the northeastern Tibetan Plateau deduced from Koucha Lake pollen spectra. Quat Res 71:162–171

Higginson MJ, Altabet MA, Lauren W, Herbert TD, Murray DW (2004) A solar (irradiance) trigger for millennial-scale abrupt changes in the southwest monsoon? Paleoceanography 19:77–100

Hou GL, Fang X (2011) Characteristics analysis and synthetical reconstruction of regional temperature series of the Holocene in China. J Palaeogeogr 14:243–252 (Chinese)

Hu CY, Henderson GM, Huang JH, Xie SC, Sun Y, Johnson KR (2008) Quantification of Holocene Asian monsoon rainfall from spatially separated cave records. Earth Planet Sci Lett 266:221–232

Huang F, Zhang M (2000) Pollen and phytolith evidence for rice cultivation during the Neolithic at Longqiuzhuang, eastern Jianghuai, China. Veget Hist Archaeobot 9:161–168

Huang CC, Pang J, Zha XC, Zhou Y, Su H, Li Y (2010) Extraordinary floods of 4100–4000 a BP recorded at the Late Neolithic ruins in the Jinghe River Gorges, middle reach of the Yellow River, China. Palaeogeogr Palaeoclimatol Palaeoecol 289:1–9

Innes JB, Zong Y, Chen Z, Chen C, Wang Z, Wang H (2009) Environmental history, palaeoecology and human activity at the early Neolithic forager/cultivator site at Kuahuqiao, Hangzhou, eastern China. Quat Sci Rev 28:2277–2294

Innes JB, Zong Y, Wang Z, Chen Z (2014) Climatic and palaeoecological changes during the mid- to late Holocene transition in eastern china: high-resolution pollen and non-pollen palynomorph analysis at Pingwang, Yangtze coastal lowlands. Quat Sci Rev 99:164–175

Jennings A, Andrews J, Pearce C, Wilson L, Olfasdotttir S (2015) Detrital carbonate peaks on the Labrador shelf, a 13–7 ka template for freshwater forcing from the Hudson Strait outlet of the Laurentide Ice Sheet into the subpolar gyre. Quat Sci Rev 107:62–80

Jiang W, Guo Z, Sun X, Wu H, Chu G, Yuan B, Hatté C, Guiot J (2006) Reconstruction of climate and vegetation changes of Lake Bayanchagan (Inner Mongolia): Holocene variability of the East Asian monsoon. Quat Res 65:411–420

Jin LY, Schneider B, Park W, Latif M, Khon V, Zhang XJ (2013) The spatial–temporal patterns of Asian summer monsoon precipitation in response to Holocene insolation change: a model-data synthesis. Quat Sci Rev 85:47–62

Juggins S (2007) C2 Version 1.5 User guide. Software for ecological and palaeoecological data analysis and visualisation. Newcastle University, Newcastle upon Tyne

Kalnay E, Kanamitsu M, Kistler R, Collins W, Deaven D, Gandin L, Iredell M, Saha S, White G, Woollen J, Zhu Y, Leetmaa A, Reynolds R (1996) The NCEP/NCAR 40-year reanalysis project. Bull Am Meteorol Soc 77:437–472

Koutavas A, Joanides S (2012) El Niño-Southern Oscillation extrema in the Holocene and Last Glacial Maximum. Paleoceanography 27:PA4208

Ladd M, Way RG, Viau AE (2015) The impact of using different modern climate data sets in pollen-based paleoclimate reconstructions of north America. Quat Sci Rev 112:78–85

Laskar J, Robutel P, Joutel F, Gastineau M, Correia ACM, Levrard B (2004) A long term numerical solution for the insolation quantities of the Earth. Astron Astrophys 428:261–285

Li KJ, Su TW, Liang HF (1996) Sunspot unit areas: a new parameter describing the long-term solar activity. Chin Sci Bull 49:2511–2516

Li Y, Wu J, Hou S, Shi C, Mo D, Liu B, Zhou L (2010) Palaeoecological records of environmental change and cultural development from the Liangzhu and Qujialing archaeological sites in the middle and lower reaches of the Yangtze River. Quat Int 227:29–37

Li C, Zheng Y, Yu S, Li Y, Shen H (2012) Understanding the ecological background of rice agriculture on the Ningshao plain during the Neolithic age: pollen evidence from a buried paddy field at the Tianluoshan cultural site. Quat Sci Rev 35:131–138

Li JY, Zhao Y, Xu QH, Zheng Z, Lu HY, Luo YL, Li YC, Li CH, Seppä H (2014a) Human influence as a potential source of bias in pollen-based climate reconstructions. Quat Sci Rev 99:112–121

Li Q, Wu H, Yu Y, Sun A, Markovic SB, Guo Z (2014b) Reconstructed moisture evolution of the deserts in northern China since the Last Glacial Maximum and its implications for the East Asian Summer Monsoon. Glob Planet Change 121:101–112

Li JY et al (2015) East Asian summer monsoon precipitation variations in China over the last 9500 years: a comparison of pollen-based reconstructions and model simulations. Holocene 26:592–602

Li JY et al (2017) Quantifying climatic variability in monsoonal northern China over the last 2200 years and its role in driving Chinese dynastic changes. Quat Sci Rev 159:35–46

Liu JB, Chen JH, Zhang XJ, Li Y, Rao ZG, Chen FH (2015) Holocene East Asian summer monsoon records in northern China and their inconsistency with Chinese stalagmite δ18O records. Earth Sci Rev 148:194–208

Londo JP, Chiang YC, Hung KH, Chiang TH, Schaal BA (2006) Phylogeography of Asian wild rice, Oryza rufipogon, reveals multiple independent domestications of cultivated rice, Oryza sativa. Proc Natl Acad Sci USA 103:9578–9583

Lu HY et al (2013) Variation of East Asian monsoon precipitation during the past 21 k.y. and potential CO2 forcing. Geology 41:1023–1026

Mauri A, Davis BAS, Collins PM, Kaplan JO (2015) The climate of Europe during the Holocene: a gridded pollen-based reconstruction its multi-proxy evaluation. Quat Sci Rev 112:109–127

Mjell TL, Ninnemann US, Eldevik T, Kleiven HF (2015) Holocene multidecadal- to millennial-scale variations in Iceland-Scotland overflow and their relationship to climate. Paleoceanography 30:558–569

Morrill C, Overpeck JT, Cole JE (2003) A synthesis of abrupt changes in the Asian summer monsoon since the last deglaciation. Holocene 13:465–476

Moy CM, Seltzer GO, Rodbell DT, Anderson DM (2002) Variability of El Niño/Southern Oscillation activity at millennial timescales during the Holocene epoch. Nature 420:162–165

Prentice IC (1980) Multidimensional scaling as a research tool in Quaternary palynology: a review of theory and methods. Rev Palaeobot Palynol 31:71–104

Ran M, Feng Z (2013) Holocene moisture variations across china and driving mechanisms: a synthesis of climatic records. Quat Int 313:179–193

Rao ZG, Li YX, Zhang JW, Jia GD, Chen FH (2016) Investigating the long-term palaeoclimatic controls on the δD and δ18O of precipitation during the Holocene in the Indian and East Asian monsoonal regions. Earth Sci Rev 159:292–305

Reimer PJ et al (2013) IntCal13 and Marine13 radiocarbon Age calibration curves 0–50,000 years cal BP. Radiocarbon 55:1869–1887

Ren G, Beug HJ (2002) Mapping Holocene pollen data and vegetation of China. Quat Sci Rev 21:1395–1422

Renssen H, Seppä H, Crosta, Goosse H, Roche DM (2012) Global characterization of the Holocene Thermal Maximum. Quat Sci Rev 48:7–19

Salonen JS, Ilvonen L, Seppä H, Holmström L, Telford RJ, Gaidamavicius A, Stancikaite M, Subetto D (2012) Comparing different calibration methods (WA/WA-PLS regression and Bayesian modelling) and different-sized calibration sets in pollen-based quantitative climate reconstruction. Holocene 22:413–424

Salonen JS, Luoto M, Alenius T, Heikkilä M, Seppä H, Telford RJ, Birks HJB (2014) Reconstructing palaeoclimatic variables from fossil pollen using boosted regression trees: comparison and synthesis with other quantitative reconstruction methods. Quat Sci Rev 88:69–81

Schulz M, Mudelsee M (2002) REDFIT: estimating red-noise spectra directly from unevenly spaced paleoclimatic time series. Comput Geosci 28:421–426

Seppä H, Bjune AE, Telford RJ, Birks HJB, Veski S (2009) Last nine-thousand years of temperature variability in Northern Europe. Clim Past 5:523–535

Shao X, Wang Y, Cheng H, Kong X, Wu J, Edwards RL (2006) Long-term trend and abrupt events of the Holocene Asian monsoon inferred from a stalagmite d18O record from Shennongjia in central China. Chin Sci Bull 51:1–8

Shen J, Liu XQ, Wang SM, Ryo M (2005) Palaeoclimatic changes in the Qinghai Lake area during the last 18,000 years. Quat Int 136:131–140

Shen CM, Liu KB, Morrill C, Overpeck JT, Peng JL, Tang LY (2008) Ecotone shift and major droughts during the mid-late Holocene in the central Tibetan Plateau. Ecology 89:1079–1088

Shu JW, Wang WM, Chen W (2007) Holocene vegetation and environment changes in the NW Taihu plain, Jiangsu Province, East China. Acta Micropalaeontol Sin 24:210–221 (in Chinese)

Shu JW, Wang WM, Jiang LP, Takahara H (2010) Early Neolithic vegetation history, fire regime and human activity at Kuahuqiao, Lower Yangtze River, East China: new and improved insight. Quat Int 227:10–21

Stott L, Cannariato K, Thunell R, Haug GH, Koutavas A, Lund S (2004) Decline of surface temperature and salinity in the western tropical Pacific Ocean in the Holocene epoch. Nature 431:56–59

Sun AZ, Feng ZD (2013) Holocene climatic reconstructions from the fossil pollen record at Qigai Nuur in the southern Mongolian Plateau. Holocene 23:1391–1402

Tao J, Chen MT, Xu S (2006) A Holocene environmental record from the southern Yangtze River delta, eastern China. Palaeogeogr Palaeoclimatol Palaeoecol 230:204–229

ter Braak CJF, Juggins S (1993) Weighted averaging partial least squares regression (WA-PLS): an improved method for reconstructing environmental variables from species assemblages. Hydrobiologia 269:485–502

Tian F, Cao X, Dallmeyer A, Ni J, Zhao Y, Wang Y, Herzschuh U (2016) Quantitative woody cover reconstructions from eastern continental Asia of the last 22 kyr reveal strong regional peculiarities. Quat Sci Rev 137:33–44

Viau AE, Gajewski K, Sawada MC, Fines P (2006) Millenial-scale temperature variability in North America during the Holocene. J Geophys Res 111:D09102

Viau AE, Ladd M, Gajewski K (2012) The climate of north America during the past 2000 years reconstructed from pollen data. Glob Planet Change 84–85:75–83

Wang W, Feng Z (2013) Holocene moisture evolution across the Mongolian Plateau and its surrounding areas: a synthesis of climatic records. Earth Sci Rev 122:38–57

Wang B, Wu R, Fu X (2000) Pacific–East Asia teleconnection: how does ENSO affect East Asian climate? J Clim 13:1517–1536

Wang Y, Cheng H, Edwards RL, He Y, Kong X, An Z, Wu J, Kelly MJ, Dykoski CA, Li X (2005) The Holocene Asian monsoon: links to solar changes and North Atlantic climate. Science 308:854–857

Wang S, Lü H, Liu J, Negendank JW (2007) The early Holocene optimum inferred from a high-resolution pollen record of Huguangyan Maar Lake in southern China. Chin Sci Bull 52:2829–2836

Wang YJ et al (2008) Millennial- and orbital-scale changes in the East Asian monsoon over the past 224,000 years. Nature 451:1090–1093

Wang YB, Liu XQ, Herzschuh U (2010) Asynchronous evolution of the Indian and East Asian Summer Monsoon indicated by Holocene moisture patterns in monsoonal central Asia. Earth Sci Rev 103:135–153

Wang Z, Li M, Zhang R, Zhuang C, Liu Y, Saito Y, Xie J, Zhao B (2011) Impacts of human activity on the late-Holocene development of the subaqueous Yangtze Delta, China, as shown by magnetic properties and sediment accumulation rates. Holocene 21:393–407

Wang Z, Zhuang C, Saito Y, Chen J, Zhan Q, Wang X (2012) Early mid-Holocene sea-level change and coastal environmental response on the southern Yangtze delta plain, China: implications for the rise of Neolithic culture. Quat Sci Rev 35:51–62

Wang H, Chen J, Zhang X, Chen F (2014a) Palaeosol development in the Chinese Loess Plateau as an indicator of the strength of the East Asian summer monsoon: evidence for a mid-Holocene maximum. Quat Int 334:155–164

Wang Y et al (2014b) Quantitative reconstruction of precipitation changes on the NE Tibetan Plateau since the Last Glacial Maximum e extending the concept of pollen source area to pollen-based climate reconstructions from large lakes. Clim Past 10:21–39

Wanner H et al (2008) Mid- to Late Holocene climate change: an overview. Quat Sci Rev 27:1791–1828

Wanner H, Solomina O, Grosjean M, Ritz SP, Jetel M (2011) Structure and origin of Holocene cold events. Quat Sci Rev 30:3109–3123

Wu W (1983) Holocene palaeogeography of the Hangzhou Bay. Acta Geogr Sin 38:113–126 (in Chinese)

Wu L, Wang XY, Zhou KS, Mo D, Zhu C, Gao C, Zhang G, Li L, Han W (2010) Transmutations of ancient settlements and environmental changes between 6000 and 2000 a BP in the Chaohu Lake Basin, East China. J Geogr Sci 20:687–700

Wu L, Li F, Zhu C, Li B (2012) Holocene environmental change and archaeology, Yangtze River Valley, China: review and prospects. Geosci Front 3:875–892

Xie SC et al (2013) Concordant monsoon-driven postglacial hydrological changes in peat and stalagmite records and their impacts on prehistoric cultures in central China. Geology 41:827–830

Xu QH, Xiao JL, Li YC, Tian F, Nakagawa T (2010) Pollen-based quantitative reconstruction of Holocene climate changes in the Daihai Lake area, Inner Mongolia, China. J Clim 23:2856–2868

Yancheva G et al (2007) Influence of the intertropical convergenze zone on the East Asian monsoon. Nature 445:74–77

Yang XD, Wang SM, Tong GB (1996) Character of palynology and changes of monsoon climate over the last 10000 years in Gucheng Lake, Jiangsu Province. Acta Bot Sin 38:576–581 (in Chinese)

Yang XL, Liu JB, Liang FY, Yuan DX, Yang Y, Lu YB, Chen FH (2014) Holocene stalagmite δ18O records in the East Asian monsoon region and their correlation with those in the Indian monsoon region. Holocene 24:1657–1664

Yao P, Huang CC, Pang JL, Zha XC, Li XG (2008) Palaeoflood hydrological studies in the middle reaches of the Beiluohe River. Acta Geogr Sin 63:1198–1206 (in Chinese)

Yi S, Saito Y, Zhao Q, Wang P (2003) Vegetation and climate changes in the Changjiang (Yangtze River) Delta, China, during the past 13,000 years inferred from pollen records. Quat Sci Rev 22:1501–1519

Yi S, Saito Y, Yang DY (2006) Palynological evidence for Holocene environmental change in the Changjiang (Yangtze River) delta, China. Palaeogeogr Palaeoclimatol Palaeoecol 241:103–117

Yu XF, Zhou W, Franzen LG, Feng X, Peng C, Jull AJT (2006) High-resolution peat records for Holocene monsoon history in the eastern Tibetan plateau. Sci China Ser D. Earth Sci 49:615–621

Zhang Q, Zhu C, Liu CL, Jiang T (2005) Environmental change and its impacts on human settlement in the Yangtze Delta, P.R. China. Catena 60:267–277

Zhao J, Chen CK (1999) Chinese Geography (in Chinese). Higher Education Press, Beijing

Zhao XH, Feng XS (2014) Periodicities of solar activity and the surface temperature variation of the Earth and their correlations. Chin Sci Bull 59:1284–1292

Zhao P, Zhu Y, Zhang R (2007) An Asian-Pacific teleconnection in summer tropospheric temperature and associated Asian climate variability. Clim Dyn 29:293–303

Zhao Y, Yu Z, Chen F, Zhang J, Yang B (2009) Vegetation response to Holocene climate change in monsoon-influenced region of China. Earth Sci Rev 97:242–256

Zheng Z et al (2008) Comparison of climatic threshold of geographical distribution between dominant plants and surface pollen in China. Sci China Ser D. Earth Sci 51:1107–1120

Zheng Z et al (2014) East Asian pollen database: modern pollen distribution and its quantitative relationship with vegetation and climate. J Biogeogr 41:1819–1832

Zhou X, Zhao P, Liu G (2009) Asian-Pacific Oscillation index and variation of East Asian summer monsoon over the past millennium. Chin Sci Bull 54:3768–3771

Zhu C, Chen X, Zhang GS, Ma CM, Zhu Q, Li ZX, Xu WF (2008) Spore-pollen-climate factor transfer function and paleoenvironment reconstruction in Dajiuhu, Shennongjia, central China. Chin Sci Bull 53:42–49

Zong Y, Lloyd JM, Leng MJ, Yim WWS, Huang G (2006) Reconstruction of Holocene monsoon history from the Pearl River estuary, southern China, using diatoms and carbon isotope ratios. Holocene 16:251–263

Zong Y, Chen Z, Innes JB, Chen C, Wang Z, Wang H (2007) Fire and flood management of coastal swamp enabled first rice paddy cultivation in east China. Nature 449:459–462

Zong Y, Innes JB, Wang Z, Chen Z (2011) Mid-Holocene coastal hydrology and salinity changes in the east Taihu area of the lower Yangtze wetlands, China. Quat Res 76:69–82

Zong Y, Wang Z, Innes JB, Chen Z (2012) Holocene environmental change and Neolithic rice agriculture in the lower Yangtze region of China: a review. Holocene 22:623–635
Acknowledgements
This work was financially funded by projects from the State Key Laboratory of Loess and Quaternary Geology in the Institute of Earth Environment of the Chinese Academy of Sciences (Y652001589), the West Light Foundation of The Chinese Academy of Sciences (XAB2016B01), the National Science Foundation of China (NSFC 41522305 and 41403018), other projects from the Chinese Academy of Sciences (QYZDB-SSW-DQC001 and 132B61KYSB20160003), and Qingdao National Laboratory for Marine Science and Technology of China (QNLM2016ORP0202).
About this article
Cite this article
Li, J., Dodson, J., Yan, H. et al. Quantitative Holocene climatic reconstructions for the lower Yangtze region of China. Clim Dyn 50, 1101–1113 (2018). https://doi.org/10.1007/s00382-017-3664-3
Received:

Accepted:

Published:

Issue Date:
Keywords
Lower Yangtze

China

Holocene

Climate

Pollen

Quantitative reconstructions