Abstract
The prediction skill of subseasonal forecast models is evaluated for a strong and long-lasting heat wave occurred in December 2013 over Southern South America. Reforecasts from two models participating in the WCRP/WWRP Subseasonal to Seasonal project, the Bureau of Meteorology POAMA and Beijing Climate Center model BCC-CPS were considered to evaluate their skill in forecasting temperature and circulation anomalies during that event. The POAMA reforecast of 32-member ensemble size, initialized every five days, and BCC-CPS reforecast of 4-member ensemble size for the same date of POAMA plus the previous 4 days were considered. Weekly ensemble-mean forecasts were computed with leadtimes from 2 days up to 24 days every 5 days. Weekly anomalies were calculated for observations from 13th of December to 31st of December 2013. Anomalies for both observations and reforecast were calculated with respect to their own climatology. Results show that the ensemble mean warm anomalies forecasted for week 1 and 2 of the heat wave resulted more similar to the observations for the POAMA model, especially for longer leads. The BCC-CPS performed better for leads shorter than 7 (14) for week 1 (2). For week 3 the BCC-CPS outperformed the POAMA model, particularly at shorter leads, locating more accurately the maxima of the anomalies. In a probabilistic approach, POAMA predicted with a higher chance than BCC-CPS the excess of the upper tercile of temperature anomalies for almost every week and lead time. The forecast of the circulation anomalies over South America could be used to explain the location of the highest temperature anomalies. In summary, for this case, models skill in forecasting surface temperature in a context of a heat wave resulted moderate at lead times longer than the fortnight. However, this study is limited to model-to-model analysis and a multi-model ensemble strategy might increase the skill.
This is a preview of subscription content, log in to check access.
Access options
Buy single article
Instant access to the full article PDF.
US$ 39.95
Price includes VAT for USA
Subscribe to journal
Immediate online access to all issues from 2019. Subscription will auto renew annually.
US$ 199
This is the net price. Taxes to be calculated in checkout.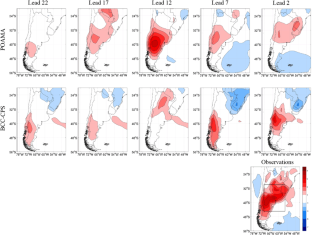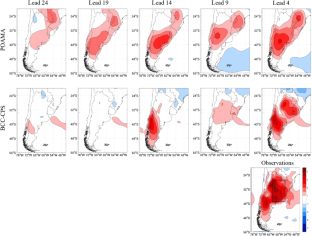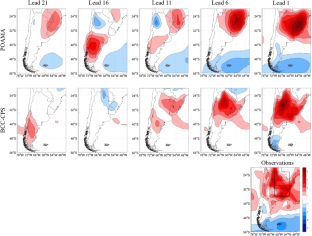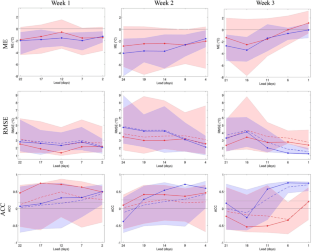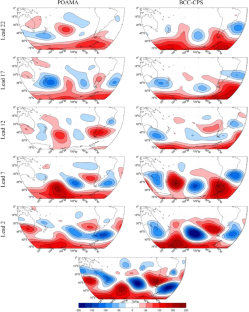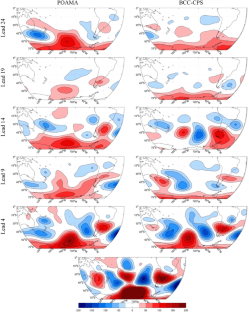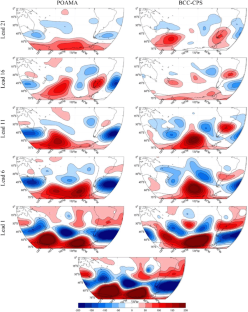 References
Barros VR, Boninsegna JA, Camilloni IA, Chidiak M, Magrín GO, Rusticucci M (2015) Climate change in Argentina: trends, projections, impacts and adaptation. Wiley Interdiscip Rev Clim Change 6(2):151–169. doi:10.1002/wcc.316

Brown BG, Gilleland E, Ebert EE (2011) Forecasts of spatial fields. Wiley, New York, pp 95–117. doi:10.1002/9781119960003.ch6

Cerne SB, Vera CS (2011) Influence of the intraseasonal variability on heat waves in subtropical South America. Clim Dyn 36(11–12):2265–2277

Cerne B, Vera C, Alvarez M (2015) Influencia de la variabilidad intraestacional en el desarrollo de la ola de calor de diciembre de 2013 en el este de Sudamérica. In: Congreso Argentino de Meteorología (CONGREMET) XII

Cottrill A, Hendon HH, Lim EP, Langford S, Shelton K, Charles A, McClymont D, Jones D, Kuleshov Y (2013) Seasonal forecasting in the Pacific using the coupled model POAMA-2. Weather Forecast 28(3):668–680. doi:10.1175/WAF-D-12-00072.1

Dee DP, Uppala SM, Simmons AJ, Berrisford P, Poli P, Kobayashi S, Andrae U, Balmaseda MA, Balsamo G, Bauer P, Bechtold P, Beljaars ACM, van de Berg L, Bidlot J, Bormann N, Delsol C, Dragani R, Fuentes M, Geer AJ, Haimberger L, Healy SB, Hersbach H, Hólm EV, Isaksen L, Kållberg P, Köhler M, Matricardi M, McNally AP, Monge-Sanz BM, Morcrette JJ, Park BK, Peubey C, de Rosnay P, Tavolato C, Thépaut JN, Vitart F (2011) The ERA-Interim reanalysis: configuration and performance of the data assimilation system. Q J R Meteorol Soc 137(656):553–597. doi:10.1002/qj.828

Gonzalez PLM, Vera CS (2014) Summer precipitation variability over South America on long and short intraseasonal timescales. Clim Dyn 43(7):1993–2007. doi:10.1007/s00382-013-2023-2

Griffies SM, Gnanadesikan A, Dixon KW, Dunne JP, Gerdes R, Harrison MJ, Rosati A, Russell JL, Samuels BL, Spelman MJ, Winton M, Zhang R (2005) Formulation of an ocean model for global climate simulations. Ocean Sci 1(1):45–79. doi:10.5194/os-1-45-2005

Hagerdorn R, Doblas-Reyes FJ, Palmer TN (2005) The rationale behind the success of multi-model ensembles in seasonal forecasting—I. Basic concept. Tellus A 57(3):219–233. doi:10.1111/j.1600-0870.2005.00103.x

Hannart A, Vera C, Cerne B, Otto FEL (2015) Causal influence of anthropogenic forcings on the Argentinian heat wave of December 2013. Bull Am Meteorol Soc 96(12):S41–S45. doi:10.1175/BAMS-D-15-00137.1

Hudson D, Marshall AG, Yin Y, Alves O, Hendon HH (2013) Improving intraseasonal prediction with a new ensemble generation strategy. Mon Weather Rev 141:4429–4449. doi:10.1175/MWR-D-13-00059.1

Liebmann B, Smith C (1996) Description of a complete (interpolated) outgoing longwave radiation dataset. Bull Am Meteorol Soc 77:1275–1277

Liu X, Wu T, Yang S, Li T, Jie W, Zhang L, Wang Z, Liang X, Li Q, Cheng Y, Ren H, Fang Y, Nie S (2016) MJO prediction using the sub-seasonal to seasonal forecast model of Beijing Climate Center. Clim Dyn. doi:10.1007/s00382-016-3264-7

Marshall AG, Hendon HH (2015) Subseasonal prediction of Australian summer monsoon anomalies. Geophys Res Lett 42(24):10913–10919. doi:10.1002/2015GL067086

Osman M (2017) Predictability and prediction skill on seasonal timescales over South America. Ph.D. thesis, Universidad de Buenos Aires. Facultad de Ciencias Exactas y Naturales (to be published)

SMN (2014) Informe especial debido a la ocurrencia de una ola de calor excepcional en argentina durante diciembre de 2013. Technical report. http://www.smn.gov.ar/serviciosclimaticos/clima/archivo/informe_temperatura_dic13.pdf

Vitart F, Ardilouze C, Bonet A, Brookshaw A, Chen M, Codorean C, Déqué M, Ferranti L, Fucile E, Fuentes M, Hendon H, Hodgson J, Kang H, Kumar A, Lin H, Liu G, Liu X, Malguzzi P, Mallas I, Manoussakis M, Mastrangelo D, MacLachlan C, McLean P, Minami A, Mladek R, Nakazawa T, Najm S, Nie Y, Rixen M, Robertson AW, Ruti P, Sun C, Takaya Y, Tolstykh M, Venuti F, Waliser D, Woolnough S, Wu T, Won DJ, Xiao H, Zaripov R, Zhang L (2016) The sub-seasonal to seasonal prediction (S2S) project database. Bull Am Meteorol Soc. doi:10.1175/BAMS-D-16-0017.1

Wilks D (2011) Statistical methods in the atmospheric sciences. Academic Press, Oxford. https://books.google.com.ar/books?id=IJuCVtQ0ySIC

Wu T (2012) A mass-flux cumulus parameterization scheme for large-scale models: description and test with observations. Clim Dyn 38(3):725–744. doi:10.1007/s00382-011-0995-3

Wu J, Ren HL, Zuo J, Zhao C, Chen L, Li Q (2016) MJO prediction skill, predictability, and teleconnection impacts in the Beijing Climate Center Atmospheric General Circulation Model. Dyn Atmos Oceans 75:78–90. doi:10.1016/j.dynatmoce.2016.06.001

Yin Y, Alves O, Oke PR (2011) An ensemble ocean data assimilation system for seasonal prediction. Mon Weather Rev 139(3):786–808. doi:10.1175/2010MWR3419.1
Acknowledgements
This work is based on S2S data. S2S is a joint initiative of the World Weather Research Programme (WWRP) and the World Climate Research Programme (WCRP). The original S2S database is hosted at ECMWF as an extension of the TIGGE database. We acknowledge The World Meteorological Organization and The International Centre for Theoretical Physics which have supported this work through the organization of the "Advanced School and Workshop on Subseasonal to Seasonal Prediction and Application to Drought Prediction". The research was supported by CONICET/PIP 112-20120100626CO, UBACyT 20020130100489BA, PIDDEF 2014/2017 Nro 15, and the CLIMAX Project funded by Belmont Forum. MSA is supported by a PostDoc grant from CONICET, Argentina. MO is supported by a Ph.D. grant from CONICET, Argentina.
About this article
Cite this article
Osman, M., Alvarez, M.S. Subseasonal prediction of the heat wave of December 2013 in Southern South America by the POAMA and BCC-CPS models. Clim Dyn 50, 67–81 (2018). https://doi.org/10.1007/s00382-017-3582-4
Received:

Accepted:

Published:

Issue Date:
Keywords
S2S

South America

SACZ

Heat wave